The Deeper Significance of the Mall on Stranger Things
The Netflix series reimagines the role that a shopping center can play in the lives of American teens—especially for its young female characters.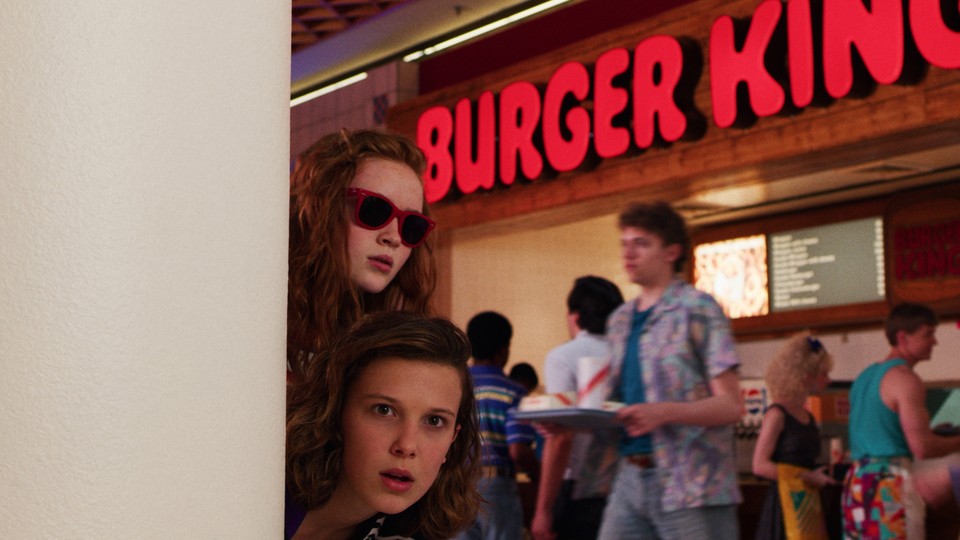 This story contains spoilers for Stranger Things 3.
When Stranger Things' Eleven (played by Millie Bobby Brown) sets foot in her town's brand-new mall for the first time, she is equally overwhelmed and dazzled. Her friend Max (Sadie Sink) steers her to The Gap and watches Eleven touch everything in sight. Finally, Eleven pauses to stare at a mannequin. "How do I know what I like?" the young, telekinetic girl asks. "You just try things on until you find something that feels like you. Not Hopper. Not Mike," Max explains gently, referencing Eleven's adoptive father and boyfriend. "You."
Netflix's nostalgic sci-fi series introduces significant changes in Season 3: It's the summer of 1985, and the nerdy kids who once played Dungeons & Dragons have blossomed into mall-going tweens, albeit ones who face supernatural monsters and Soviet agents along with the typical pains of growing up. Their fictional hometown of Hawkins, Indiana, is changing, too—thanks to a flashy new shopping center called Starcourt, which arrives just as the United States is experiencing a historic boom in mall construction. Before consumers started flocking to the internet two decades later, Hollywood sought to capture the role that malls played in American teens' lives. It was inevitable that Stranger Things, a show steeped in 1980s culture, would add to this canon with its own montage.
Eleven and Max's shopping scenes map onto a rich history of malls in movies and TV shows such as Clueless and Mean Girls. On-screen and off, places like Starcourt served as a rare middle ground between school and home, offering teenagers independence and a chance to experiment, via stores selling clothes and accessories, with self-expression. Most mall montages focus on transformation, and Stranger Things is no different. By the end of the sequence, Eleven has traded her worn button-down for an on-trend jumpsuit splashed with geometric shapes.
But the show understands that a makeover can mean more than impressing a love interest. Rather than portraying the girls as materialistic or silly, the scene depicts Eleven exploring her taste and identity for the first time—no small thing for a character who was nearly nonverbal in Season 1. Throughout Stranger Things 3, Starcourt invokes and transcends tropes associated with malls in teen pop culture, offering evidence of the show's empathy for its female characters along the way.
In terms of movie influences, the spirit of Amy Heckerling's 1982 classic, Fast Times at Ridgemont High, is palpable in Stranger Things' mall scenes, especially when the camera lingers over the food court. Fast Times opens on a group of teenage waitresses as they game-plan an interaction with an attractive customer. "Go for it, he's cute!" one server urges another. "Just take his order, look him in the eye, and if he says anything remotely funny, just laugh like you've never heard anything so funny." If the mall allows young women to grow, scenes like this suggest such development must occur in reaction to men.
The 1990s and early 2000s brought a fresh wave of memorable mall scenes, but the scope of female characters' motivations remained narrow. In 1995, Heckerling returned with Clueless, a riff on Jane Austen's Emma that stars the well-intentioned and overbearing Cher Horowitz, a Beverly Hills teen intent on playing matchmaker for those around her. In a typically witty exchange, Cher's father scolds her: "I'd like to see you have a little more direction." "I do have direction!" Cher protests. "Yeah, toward the mall," her stepbrother sneers.
In Clueless, one frightening scene injects life-or-death stakes into the locale when a group of boys dangle a girl over a second-floor railing. Before Cher knows it, the boy she's been flirting with abandons her to save the day. "Considering how clueless she was, Tai certainly had that damsel-in-distress act down," Cher observes wryly. For Clueless, the mall provides the raw materials for life-changing makeovers that might help characters win love. It also pits women against each other, presenting romantic pursuits as a zero-sum game.
In 2004, Mean Girls took a broader view of this fraught space. The movie follows Cady Heron as she tries to navigate her new school's social dynamics without sacrificing her sense of self. When the popular Regina George whisks her off to the mall, Cady is subjected to a series of tests. "I think I'm joining the Mathletes," Cady tells Regina, who scolds her, "That is social suicide." Later, Cady envisions the shopping center's main fountain as a watering hole surrounded by teens behaving like wild animals. In Mean Girls, the social order is performed—and more importantly, enforced—at the mall.
Though Stranger Things' third season at times feels weighed down by its references to '80s works, scenes at Starcourt expand upon their source material. Instead of reinforcing the social order or requiring female characters to continuously react to men and boys, Starcourt becomes a place where friendships are forged, identity is discovered, and monsters are conquered.
In Stranger Things 3, the mall is redefined as a space for female characters to flex their agency and authority, placing the focus on their self-discovery rather than on their romantic pursuits. One narrative strand, which unfurls almost entirely within Starcourt Mall, involves not the boutiques and restaurants but the hidden storage rooms and tunnels. This plotline also centers two female characters: Robin (Maya Hawke), who scoops ice cream with the former Hawkins High jock Steve (Joe Keery), and the young, scene-stealing Erica (Priah Ferguson).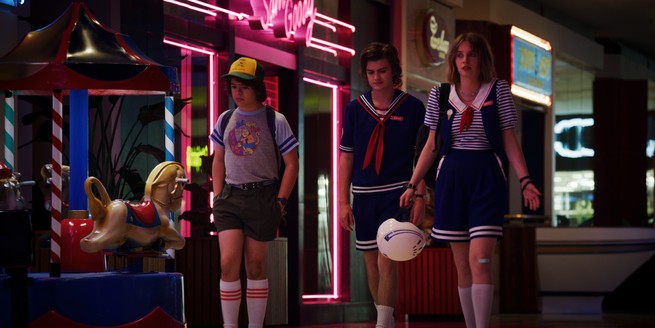 Robin quickly establishes complete authority over the mall's physical geography. After teaching herself Russian from a dictionary to decode a secret radio transmission, she scores a copy of Starcourt's blueprints and discovers the way into a mysterious storeroom. Her plan's only flaw is that it requires someone small enough to squeeze through Starcourt's air ducts. Enter Erica, who drives a hard bargain. "Oh, I can fit," the pint-size capitalist says, toying with her newfound power. "I just don't know if I want to." While past seasons of Stranger Things treated Eleven's abilities as a plot device and offered little insight into her motivations, Erica acts on her own explicitly stated terms.
Together, Robin and Erica become essential to Stranger Things' forward momentum, taking their friends Steve and Dustin (Gaten Matarazzo) along for the ride. In addition to mastering the mall's physical space, Robin also expands the emotional terrain that can be covered there. Her best scene unfolds in a Starcourt bathroom as she and Steve come down from a dose of Soviet truth serum. There, Steve begins a confessional speech, which at first glance appears to be another teen-movie trope in which bickering foils fall for each other. But as Steve hints at his admiration for her, Robin becomes visibly anxious. It turns out she's been concealing a secret this entire time—one she fears could ruin their relationship. "I'm not like your other friends," Robin begins, "and I'm not like Nancy Wheeler." Then she reveals the truth: Robin doesn't want to go out with Steve, because she doesn't want to go out with boys at all.
The beat that follows, while Steve absorbs this news, is more suspenseful than any monster battle or government-lab scene. Hawke communicates Robin's racing thoughts through the subtlest motions—flushed cheeks, averted eyes—and then Steve breaks the tension by resuming their banter, same as always. The scene illustrates just how much Robin has nudged Steve to mature, setting aside his shallowness to realize that social cachet is worth less than genuine connection. It's a poignant encounter for Stranger Things to stage in a place as ostensibly superficial as Starcourt.
Over time, the mall has faded from teen-focused movies and shows. When the leads of this year's Booksmart need new clothes, they simply call up a friendly teacher. Netflix's To All the Boys I've Loved Before focuses on a self-assured high schooler who matures by donating her clothes rather than browsing in shops for new ones. Today, American malls seem more likely to appear in haunting photographs than as the core of teens' social life. Regardless, Stranger Things shows that it's not too late to reimagine what the mall can mean for young people, particularly women, as they shape their own identities—no climactic kiss or makeover required.