What Quentin Tarantino's Box-Office Success Says About Hollywood
The director's new film smashed expectations during its opening weekend—the latest reminder that quality and originality can be a winning formula.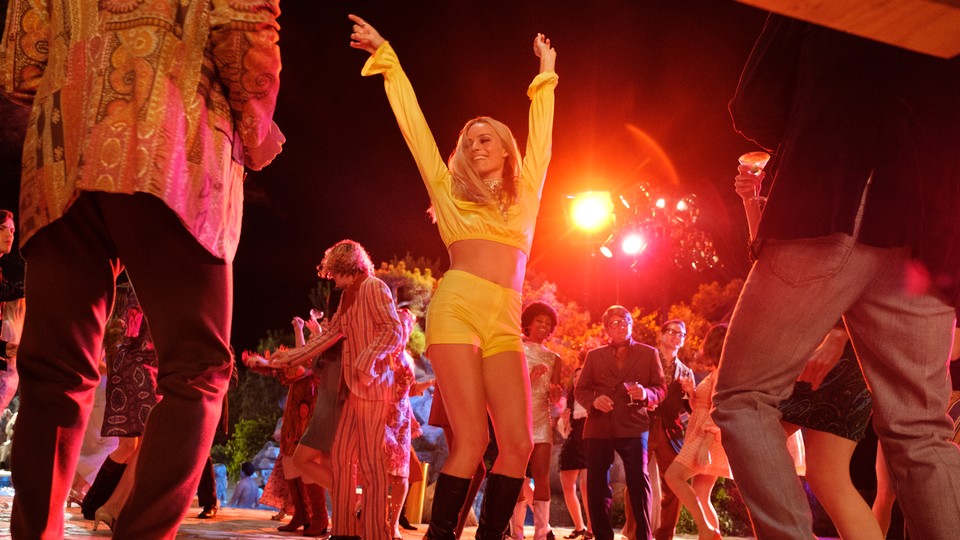 The Hollywood box-office story of 2019 has been one of hand-wringing over the future of cinema. Movie-ticket sales are down compared with last year, a litany of poorly developed sequels has failed to connect with audiences, and the only studio that's performing well is the Disney juggernaut, which is dominating the industry so profoundly that many analysts have wondered whether its nostalgic mix of Marvel, Star Wars, and animated remakes is the only way to turn a profit anymore. Then, last weekend, along came Quentin Tarantino with Once Upon a Time in Hollywood, a film that defies most contemporary metrics of how to make a hit—and it succeeded beyond all expectations.
Once Upon a Time in Hollywood is very long (161 minutes), it's rated R, it's based on no existing intellectual property, and it has staked its entire advertising approach on the movie stars (Leonardo DiCaprio, Brad Pitt, and Margot Robbie) above the title. The pure ticket-selling clout of marquee names has long since diminished, with formerly bulletproof A-listers such as Tom Cruise and Will Smith struggling to open recent projects. But DiCaprio remains a fairly safe bet, and Tarantino has long been a brand unto himself. Even by those standards, the film's $41 million opening weekend was surprising, beating estimates by about $10 million and giving the summer its first home-run hit that was neither part of a franchise nor a remake.
Strong reviews likely helped matters, along with buzz over the film's ending (which takes extravagant liberties with real-life Hollywood history). Of course, plenty of other well-reviewed movies have underperformed at the box office this year, including Olivia Wilde's teen comedy Booksmart, Laika's charming stop-motion animated Missing Link, and Sundance sensations such as Mindy Kaling's Late Night. The failure of the last has reportedly prompted Amazon to reconsider its commitment to releasing its films wide in theaters before bringing them to its streaming platform, a move that would further contribute to the paucity of non-franchise options in cinemas.
The all-encompassing success of Netflix, a company that largely spurns the theatrical experience, has become something of a bogeyman for major studios. Because of the streaming service, a mediocre year at the box office is often interpreted as a harbinger of cinema's death (The New York Times recently did a whole package on the bleak future of moviemaking). Too often, analysts forget the simplest notion of all: Good, entertaining, well-received blockbusters tend to do well, and bad ones tend to do poorly.
Two summers ago, similar fears arose over diminished movie-audience interest, when established franchises such as Transformers, Pirates of the Caribbean, and Cars released sequels to little acclaim and underwhelming grosses. The problem with all of those movies was that they were terrible, while some of 2017's most profitable hits included original, highly praised films such as Coco, Dunkirk, Get Out, and Girls Trip, which connected with audiences not because of brand recognition, but because of strong word of mouth.
Quality remains one of the best ways to compel people to leave the comfort of their homes and head to the theater; it's just been in short supply in this year's biggest releases. Still, 2019 has had a few films from respected directors that were given the necessary advertising push to make some real money, including Jordan Peele's Us and the new Tarantino. Some of the biggest flops of the year were long-delayed, badly reviewed sequels such as X-Men: Dark Phoenix and Men in Black: International; each felt like a desperate play from a studio looking to copy the Disney model, one where brand name is king and sequels are moneymaking guarantees.
But while Disney is flying high this year, enjoying the record-breaking gross of Avengers: Endgame and owning all five of the highest-grossing films of the year (Captain Marvel, Toy Story 4, The Lion King, and Aladdin being the others), its future is less secure than many people might realize. The company has successfully built out the Marvel trademark to turn even B-list heroes such as Doctor Strange and Ant-Man into superstars, but the future of that comic-book world is an even more experimental one, with largely unknown adaptations such as Eternals and Shang-Chi on the docket for 2020 and 2021. The Star Wars saga will end this year, at least for a little while, as Lucasfilm ponders its next steps, and the well of live-action remakes of Disney animated classics is about to run dry.
If sequels and remakes are the only way to succeed, then the Disney slate in 2020 looks risky: It includes two original Pixar movies (Onward and Soul), the fantasy adaptation Artemis Fowl, and the theme-park-inspired Jungle Cruise. There's not one Star Wars, and only two Marvel movies instead of the usual three. No doubt the company's receipts will be down compared with this massively dominant year, but the studio is trying to lay out a future for itself that doesn't rely solely on its own prior successes. That's advice other studios could heed going forward, and it's the successful gamble Sony took on Once Upon a Time in Hollywood.
To be sure, Tarantino has enjoyed decades of brand recognition as a director. But at the opposite end of this week's top 10 was The Farewell—Lulu Wang's wonderful family drama told on a small scale and largely in Mandarin—which has been universally acclaimed by critics and is slowly expanding around the country. It made $1.5 million on 135 screens, just a fraction of Once Upon a Time in Hollywood's release, but with a similar per-screen average of about $11,000, and it should have a profitable summer at the box office before beginning its awards campaign later this year. Even in a crowded superhero summer, quality storytelling still matters.