Drake's Troubling Reunion With Chris Brown
The viral music video for "No Guidance" signals the end of a beef between the two men, even as it papers over past misbehavior.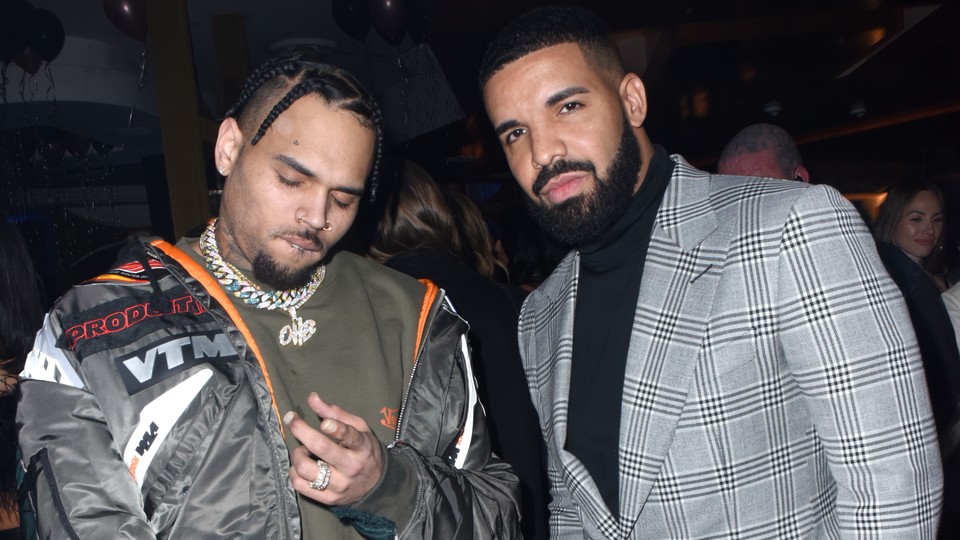 Last Friday, the R&B singer Chris Brown released the music video for his newest song, "No Guidance," an aptly titled nine-minute work featuring the rapper Drake. The two had been teasing the arrival of this collaboration for at least a whole human gestation period. Last week, Brown tweeted a photo of the two with the caption "Somethings coming." Drake most recently posted images of the duo partying to his Instagram in January. (The caption—"2019 cookup … Aubreezy"—involved a cringeworthy portmanteau of his given name, Aubrey, and Brown's nickname.) He'd also shared images of the pair palling around at his birthday party last October, the same month he invited Brown onstage to perform with him. Then, too, the caption was a rather arrogant reference to working together: "Best Duo or Group goes to … "
Suffice it to say, the answer is not "Aubreezy." The pair's new music video is a work of staggering cynicism—seemingly tailor-made, as many Drake productions are, to produce a wealth of memes. On this algorithmic level, it has already succeeded: Remixed images of the dance battle that erupts between the two men have indeed gone viral. The video is also No. 1 on YouTube's R&B Hotlist, and its Trending list for all music. "No Guidance" is a paint-by-numbers modern R&B track: Start with an effusive Drake compliment, end with a thirsty Brown yodel. The commercial success of a glorified You Got Served remix is hardly surprising in 2019.
But the project's musical vacuity is matched only by the curious obscenity of its existence. The long-teased project, so lengthy and overproduced as to seem inspired by the work of Quentin Tarantino, marks Drake's first official one-on-one collaboration with the man who famously assaulted Rihanna. Already, the video is being framed as a kind of lighthearted reconciliation gesture between the two men, who both dated the Bajan singer and reportedly fought each other in 2012. This approach to coverage fails to account for the gravity of either men's actions in the lead-up to the alleged fight and in the time since. Drake has very publicly declared his love for Rihanna; in choosing to collaborate with Brown, he now publicly aligns himself with the man who battered her.
It may be tempting to write the collaboration off as a purely commercial decision, but "No Guidance" marks the latest in a series of dubious ethical choices Drake has made in both his music and his personal dealings. Earlier this summer, a young woman in New York reportedly filed a grievance against her own attorney, whom she alleges worked against her best interests after she hired him to represent her in a sexual-assault case against Drake. Hip-hop media have reported the $350,000 settlement paid to her as Drake being "off the hook," or as a matter of salacious gossip. (Drake has said the allegations of rape, and of pregnancy, were false and initially filed a fraud lawsuit against the woman.)
Last September, weeks before his 32nd birthday, Drake made headlines when the Stranger Things actor Millie Bobby Brown told Access Hollywood the pair have a close friendship. "I love him. I met him in Australia and he's honestly so fantastic, and a great friend, a great role model," Brown, then 14, said. "We text—we just texted each other the other day and he was like 'I miss you so much,' and I was like 'I miss you more.'" She added that he gives her advice about boys.
Brown's comments, which she later insisted were evidence of a completely normal friendship, followed a rather strange summer for the rapper, whose June album Scorpion was marred partly by the Pusha T–driven reveal of Drake's secret son, Adonis. On Scorpion, Drake confirmed the rumor and rapped several discomfiting lines about having fathered a child with the former adult-film actor Sophie Brussaux. The record, studded with thinly veiled misogyny, cemented the Canadian rapper's position as an archetypal Nice Guy; it insisted on the complexity of his emotions and the ultimate goodness of his moral fiber.
This type of posturing has largely inoculated Drake from serious criticism despite his close personal and professional relationship with the rapper Baka Not Nice (who pleaded guilty to assaulting a woman, and whose human-trafficking charges were dropped when the alleged victim didn't want to testify). Drake's charity-driven and feminist-adjacent flourishes have also distracted from his history of drawing close to young women, and from his casually sexist lyrics. His entire musical and digital persona is a carefully curated image of goofy, nonthreatening masculinity. His name has become synonymous with emotional rap; his face has launched a thousand memes. (I'll admit, I've found the shtick endearing at some points in the past.) But the media's broader inability—or lack of desire—to convey the fact that men with Drake's sensibility are capable of harm is dangerous. It obscures the multiple ways that gendered transgressions can occur, as well as the ease with which fans continue to support the powerful men accused of them.
The "No Guidance" collaboration, in this context, is a particularly ghoulish move for the rapper. Brown continues to enjoy a large fan base, but the details of his violent assault of Rihanna, as well as his harassment of other women, remain public. That Rihanna went on to briefly reunite (and collaborate) with Brown doesn't justify Drake's decision. Survivors of abuse often interact with their attackers after the end of a relationship—sometimes willingly, and sometimes because of public or internalized pressure to smooth things over. (Crucially, Rihanna told Vogue last year that she and Drake are no longer friends, voicing her discomfort at his public profession of love in 2016; the rapper's posts with Brown began appearing five months after the Vogue interview.)
But what does Drake, titan of rap hits and purveyor of instant virality, have to gain from collaborating with Brown? Commercial success hardly seems like a satisfactory answer; even when critics have soured on his work, Drake has never struggled to maintain his streaming wins. "No Guidance" seems more driven by an interest in rehabilitation—of Brown's image as an individual, to be sure, but chiefly of the two men's as a unit. The video, in particular, registers as a work produced to signal the end of a beef and the start of an era in which silly things like so-called feuds over women don't keep mega-popular male artists from maximizing each other's earning appeal and earning fans' adulation. And once again, perhaps by design, women's pain is inconsequential.