Netflix's U.S. Subscriber Numbers Are Slipping
The company is seeing a dip in its American growth for the first time since 2011. What does that mean for the streaming service?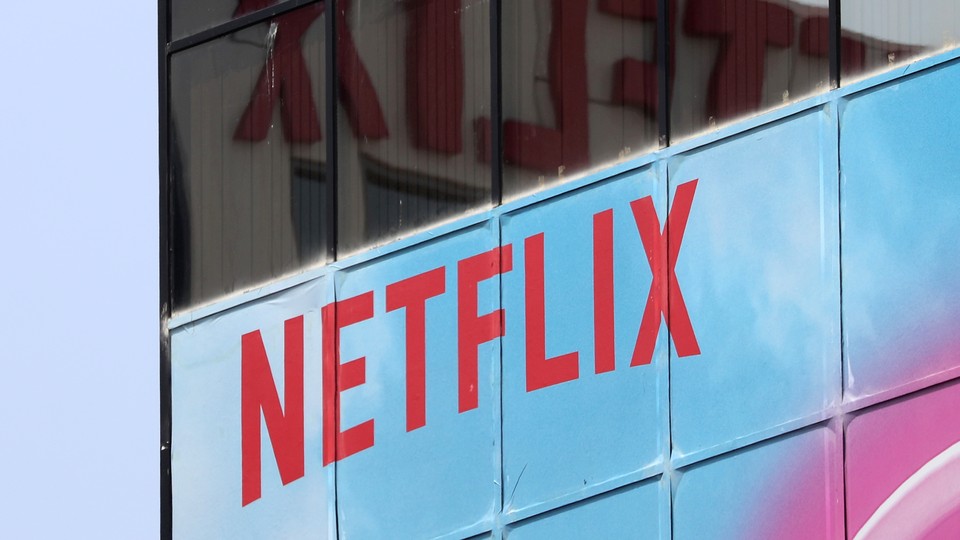 The last time Netflix lost subscribers in the United States, it was 2011, and the company was embroiled in a controversy over a price hike and an abortive plan to spin off its disc-rental service into a brand named Qwikster. That was also the last time Netflix seemed vulnerable, at the dawn of the streaming era, when more of its revenue started to come from online viewing rather than DVDs sent by mail. Qwikster was quickly (qwikly?) dropped, but the damage was done, with Netflix losing some 800,000 subscribers and almost half its stock value. Since then, numbers have only trended upward for the company—until now.
For the second quarter of 2019, Netflix had forecast a gain of 300,000 accounts in the United States, a modest uptick in its 151 million global subscriber base. Instead, it lost roughly 100,000 in America and gained only 2.7 million around the world (it had predicted a total growth of 5 million). The company's stock fell 10 percent as a result, perhaps not only because of the missed prediction, but also because of the indication that the service may have finally found its ceiling, even as it continues to spend wildly on new TV and movies.
Netflix doesn't think this is the beginning of a trend, blaming the soft numbers on price increases, a lack of must-see programming, and the fact that its first-quarter growth had been so strong that fewer new viewers were available, what it dubbed a "pull-forward" effect. "We expect … to return to more typical growth in Q3," the company said in a letter to shareholders, pointing out that popular programs such as Stranger Things, The Crown, and Orange Is the New Black were debuting in the latter half of 2019, along with Martin Scorsese's film The Irishman. If numbers tick up in the next report, this will be seen as little more than a blip.
Certainly, there is no financial trouble on the horizon for Netflix, which just bumped prices to $13 a month in the United States and has raised massive amounts of equity to fund its programming. But there is more competition nipping at its heels, from planned rivals Apple TV+, HBO Max, and Disney+ (all of which will launch in the next two years) to established brands such as Amazon Prime and Hulu Plus. Some of Netflix's most popular programming, such as archives of The Office and Friends, are being picked off by these competitors, which are no longer satisfied to let Netflix dominate the streaming market.
The loss of those shows (which were costly to license) means Netflix can devote more money to original programming that it owns in perpetuity, the company claims. The question is whether those new shows will have the same cultural cachet as a juggernaut such as Friends. For every hit that Netflix develops internally (such as Stranger Things), it green-lights another 10 shows that make less of a splash—an expensive approach to generating hits. One reason Netflix makes so many shows and films, though, is it's playing catch-up with giants such as Disney, WarnerMedia, and NBC/Universal, which all own the rights to 100 years' worth of their own programming that they can stock a streaming service with.
Netflix doesn't have that luxury, so it's trying to create a deep archive on the fly instead. In the days of Qwikster, the company's streaming library was entirely made up of licensed material, which other studios would lease to Netflix on the cheap because no other service wanted it. Now everyone in Hollywood realizes the value of online rights, and so shows such as Friends that finished production 15 years ago still cost $100 million a year to own. To keep viewer interest high, Netflix is going to need to create its own Friends rather than borrow someone else's.
Ted Sarandos, Netflix's chief content officer, admitted as much in an interview about the company's soft second quarter. "By making these early investments in original programming, [we're] getting our consumers … much more attuned to the expectation that we're going to create their next favorite show, not that we're going to be the place where you can get anything every time," he said. That expectation is going to be an adjustment for some viewers, and future quarters might be similarly rocky for Netflix. But while HBO or Disney might have a leg up in terms of its archives, it'll take many years to build a subscriber base as large as Netflix's, which continues to be the company's biggest advantage.