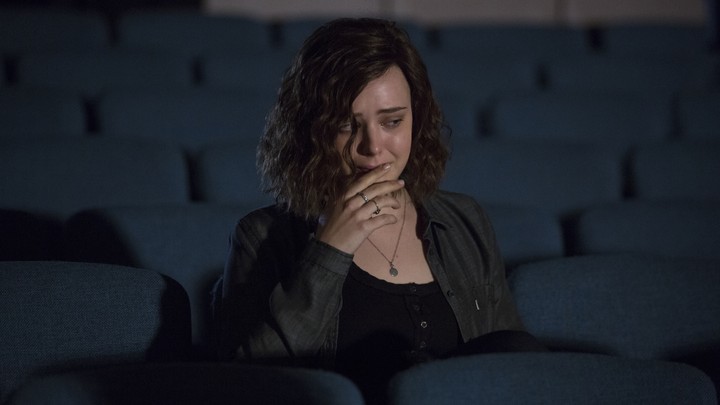 If you are having thoughts of suicide, please know that you are not alone. If you are in danger of acting on suicidal thoughts, call 911. For support and resources, call the National Suicide Prevention Lifeline at 800-273-8255 or text 741-741 for the Crisis Text Line.
When the first season of the Netflix teen drama 13 Reasons Why was released, in March 2017, the instantaneous clamor of viewers reacting to it online was followed by responses from mental-health experts expressing concerns about the show's portrayal of suicide. The series, based on a young-adult book of the same name by Jay Asher, is framed around one teenager's decision to end her own life, and the various people she sees as having contributed to her crisis. In the book, the act of the central character Hannah's suicide is mentioned only fleetingly. In the series, it was portrayed in brutal, explicit detail over several minutes.
Suicide-prevention advocates objected to a number of the show's elements, ranging from the perceived glorification of Hannah as a romantic heroine to the uselessness of the adults around her. But the depiction of Hannah's death was the aspect of the show that most troubled many experts, who argued it flouted long-standing media guidelines for portraying suicide, and could even lead to a potential contagion effect among teenage viewers.
More than two years later, Netflix announced on Tuesday that it made the decision to cut that scene entirely. In a newly edited version of the Season 1 finale that replaced the old version, Hannah (played by Katherine Langford) looks at her reflection in the bathroom mirror. The next immediate shot is of her mother, Olivia (Kate Walsh), discovering her body. The cut is seamless, and solemn.
A representative for Netflix declined my request for an interview with 13 Reasons Why's showrunner, Brian Yorkey, or other producers. In a public statement, Yorkey said:
Our creative intent in portraying the ugly, painful reality of suicide in such graphic detail in Season 1 was to tell the truth about the horror of such an act, and make sure no one would ever wish to emulate it. But as we ready to launch Season 3, we have heard concerns about the scene from Dr. Christine Moutier at the American Foundation for Suicide Prevention and others, and have agreed with Netflix to re-edit it. No one scene is more important than the life of the show, and its message that we must take better care of each other. We believe this edit will help the show do the most good for the most people while mitigating any risk for especially vulnerable young viewers.
That the decision to reedit the episode took two years to finalize speaks to how intense the discussions were among 13 Reasons Why's creative team over the specific treatment of suicide in the show's first season. (Season 2 debuted in 2018; a third season is expected to be released this summer.) Nic Sheff, one of the writers on the show, originally wrote an op-ed for Vanity Fair in 2017 arguing that the graphic detail of Hannah's death was necessary, because the horror of the scene should help dissuade viewers from copying her.
Dr. Helen Hsu, a clinical psychologist consulted by Netflix prior to the show's release, told me that year that the show's creators wanted to avoid romanticizing suicide by suggesting that it could ever be a serene or peaceful act. Following the show's release, its producers monitored reactions to the series online, and documented a wide range of responses. "I think what they felt," Moutier told me, "is that they were hearing very mixed messages." Some viewers even in recent weeks have responded positively to the portrayal of Hannah's death for how honestly and unflinchingly it showed the violence of ending one's life.
The conclusion from almost all mental-health experts, though, was that such a graphic scene represented more risk than it did reward. Dr. Dan Reidenberg, the executive director of Suicide Awareness Voices of Education, was consulted by Netflix before the first season debuted, and was reportedly so troubled by its messaging that he advised them not to release it. "Within the suicide-prevention field, there is very solid consensus around graphic portrayals needing to be avoided because of the risk of contagion," Moutier said. She was first consulted by Netflix after the show's release in 2017 regarding the addition of more informational content surrounding 13 Reasons Why. She helped develop the website 13ReasonsWhy.info, which is a resource for parents and educators regarding suicide prevention and mental health; the warning cards Netflix added to the beginning of episodes; and the series of short videos made by actors in the show encouraging viewers to seek help if they need it.
When Moutier and the AFSP first started working with Netflix, she assumed it was too late for any of the show's content to be tweaked or edited. Her goal was simply to make sure that the series was making supplementary information available to anyone who might need it. Prior to the release of the third season of 13 Reasons Why, though, the show's creators finally came around to the idea that the portrayal of Hannah's death might be unnecessarily damaging, and started to consult Moutier on its potential removal. In the two years since the show first debuted, several studies had emerged analyzing a possible spike in suicide attempts and suicidal ideation among young people that accompanied its release.
The team behind 13 Reasons Why, Moutier said, paid attention to all these studies and were concerned about their results. Netflix also commissioned its own study, conducted by Northwestern University, which found that viewers had increased empathy for others after watching the series, and were more likely to discuss mental-health issues with others. (The Netflix study didn't include questions about suicidal ideation or attempts.) One study from the University of Pennsylvania found that viewers who watched the show's second season were less likely to consider harming themselves. The mixed results, Moutier told me, speak to the fact that different people can have very different responses to the same cultural product. "Anything short of a well-done educational documentary is probably going to have a very heterogeneous level of impact," she said.
In the end, after much discussion, Yorkey and his team decided that the specific scene of Hannah's death was too potentially risky to justify its continued inclusion, particularly given the fact that the third season's release would inevitably bring new young viewers to the show. "Even if [13 Reasons Why] just lives on the platform, you have a group of children who are coming of age to start watching it from the beginning," Moutier said. She emphasized that the decision to cut the scene is "a big deal."
Part of the reason it was such a difficult one to make is because storytellers inevitably find their desire to create bold, provocative drama in tension with the most responsible ways of creating fiction. "The instincts that create the most highly engaging entertainment tend to be highly dramatic, fast-moving, sensational, and emotional," Moutier said. "And some of that absolutely comes into conflict with issues of suicide contagion." A product like 13 Reasons Why, which became a viral hit faster than its creators had ever anticipated, which is being heavily watched by young viewers, and which lives on a platform that encourages immersive consumption, also bears more risk than a show airing weekly on a national network or on cable. (Moutier said that she hadn't been consulted on the content of the show's upcoming third season.)
That's not to say that TV shows or films can't marry responsible storytelling with narrative excellence. Moutier cited the 2012 David O. Russell movie Silver Linings Playbook as a work that treated mental-health issues with thoughtfulness and nuance, as well as the former Netflix sitcom One Day at a Time, which was recently picked up for a fourth season by Pop TV. As younger generations—who stigmatize mental-health struggles less than their elders—grow up, she expects solicitous portrayal of topics like suicide, depression, bullying, and assault to increase in number. "I do have a lot of hope," she said, "that things are going to keep trending in that direction."
We want to hear what you think about this article. Submit a letter to the editor or write to letters@theatlantic.com.
Sophie Gilbert
is a staff writer at
The Atlantic,
where she covers culture.