The Future of Movies Is Marvel
The studio's upcoming slate of film and TV projects, announced over the weekend at Comic-Con, lays claim to its continued cultural ubiquity.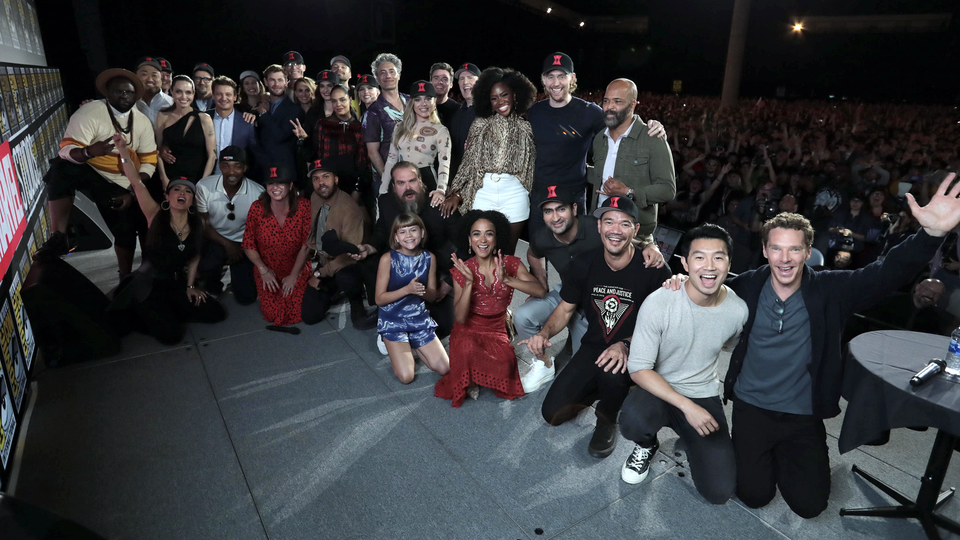 Minutes before the Marvel Studios team—headed by the company's president, Kevin Feige—took the stage at San Diego's Comic-Con on July 20, an official release went out to the press reaffirming its cultural dominance. Avengers: Endgame, the culmination of 22 movies over 11 years featuring Marvel superheroes, was officially going to become the highest-grossing film of all time. Its $2.79 billion gross has inched it past Avatar on the worldwide chart, unadjusted for inflation. As Feige prepared to announce Marvel's slate over the next two years, which will include five films and five streaming TV shows, he was essentially laying claim to the company's continued cultural ubiquity.
Ironically, or perhaps intentionally, the first project he announced was called The Eternals—a gambit based on a lesser-known comic book without brand-name heroes, but with a title that almost sounds like a threat. For more than a decade, the Marvel movie universe has rolled out success after success, building to the record-breaking smash of Endgame. As Hollywood frets over a serious ticket-sales slump this summer, three of 2019's top-five movies came from Marvel Studios. Will Feige's moviemaking enterprise actually prove eternal?
To the extent that it will, credit is due to the risks the producer has taken over the years, betting that audiences would be willing to invest in a never-ending series of intersecting films. The cumulative effect for Endgame, which concluded the stories of marquee heroes such as Iron Man (Robert Downey Jr.) and Captain America (Chris Evans), was reflected in its gargantuan box office, but it means the Marvel future is a wide-open one. Feige acknowledged that in his presentation by announcing several projects based on more obscure comic-book titles, demonstrating that his appetite for taking chances is hardly diminished.
After all, Feige could have walked into Comic-Con's notorious Hall H and trumpeted planned sequels to some of Marvel's most popular, highest-grossing hits: Guardians of the Galaxy, Black Panther, and Captain Marvel, all of which have new installments in the works. Instead, the only sequels coming in 2020 and 2021 are a follow-up to 2016's Doctor Strange (with the charmingly unwieldy title Doctor Strange in the Multiverse of Madness) and a new Thor movie, subtitled Love and Thunder, that will feature Natalie Portman as the hammer-wielding Norse god (the original Thor, Chris Hemsworth, will still be involved in some capacity).
Portman's casting continues to beef up Marvel's ensemble of heroes beyond the litany of white men who dominated the franchise's early years. Black Panther (Chadwick Boseman), in 2018, was the first hero of color to lead a Marvel Cinematic Universe film, and Captain Marvel (Brie Larson), in 2019, was the first woman. The talent behind the camera has also been dominated by white men, who have directed all but two Marvel movies; Feige is clearly looking to upend that pattern going forward as well.
The colossal success of Endgame gives Marvel somewhat of a cushion to expand into different directions as it plots a way forward. Surer successes such as Black Panther 2 and Captain Marvel 2 are on the horizon anyway (Feige confirmed they were in the works, but said they would debut sometime after 2021). Still, the five films he did announce mark opportunities for the studio to build out new characters who can beef up its next crossovers. Perhaps the safest bet is the next film on the schedule, the long-awaited Black Widow (May 1, 2020), which stars Scarlett Johansson as the erstwhile Avenger in a prequel that promises to be heavy on spy action; the up-and-coming Australian Cate Shortland (Berlin Syndrome) is directing, and Florence Pugh, David Harbour, and Rachel Weisz are Johansson's big-name co-stars.
On November 6, 2020, comes The Eternals, directed by Chloé Zhao (who made the incredible indie The Rider last year) and starring Angelina Jolie, Richard Madden, Kumail Nanjiani, Brian Tyree Henry, and Salma Hayek. Based on a niche series created in 1976 by the comics legend Jack Kirby, The Eternals will live or die entirely by the Marvel brand name: Each of its comic-book volumes never published more than 19 issues before being canceled. (For comparison's sake, the Avengers has published continually since 1963.) But if Zhao's vision hits with audiences, this could be a flagship title for Marvel Studios going forward.
The 2021 films include the two aforementioned sequels to Doctor Strange (May 7) and Thor (November 5), and a new film centered on the martial-arts hero Shang-Chi, titled Shang-Chi and the Legend of the Ten Rings (February 12). Marvel's first Asian-led film, written by the Chinese American screenwriter David Callaham and directed by the Japanese American Destin Daniel Cretton (Short Term 12), it will star the relative unknown Simu Liu, as well as Awkwafina and the Hong Kong cinematic legend Tony Leung. Shang-Chi is hardly a household name, but in terms of comic-book sales, he's arguably about as popular a hero as Doctor Strange or Ant-Man, both of whom have become blockbuster regulars under the Marvel Studios umbrella.
More established heroes are being leveraged to help introduce the Disney+ service, which will launch this fall and serve as a streaming hub for all Marvel properties. The Falcon (Anthony Mackie) and Winter Soldier (Sebastian Stan) will headline one limited series, while the Scarlet Witch (Elizabeth Olsen) and Vision (Paul Bettany) will star in another. The characters Loki (Tom Hiddleston) and Hawkeye (Jeremy Renner) will get their own shows, which Feige has promised will feed into the Marvel movies at large (unlike the defunct Netflix shows that ostensibly existed alongside them).
The return of Portman to the Thor franchise is maybe the surest, and simultaneously the most surprising, indication of Marvel's dominance in Hollywood. When she appeared in the first Thor movie as the hero's girlfriend, Jane Foster, she was coming off an Oscar win for Black Swan, adding some serious prestige to a project starring a Hollywood newcomer (Hemsworth). Portman reprised her role in the Thor sequel, but departed the series after that and never cropped up in the big crossover Avengers hits (her nonverbal cameo in Endgame was a deleted scene from a prior Thor film).
Portman had reportedly distanced herself from Marvel over the firing of Patty Jenkins as the director of the second Thor film, a personnel move that made the studio seem slow to push for representation behind the camera. Now Thor has become one of Marvel's most exciting franchises, supercharged by the director Taika Waititi (who made the third-entry Ragnarok and will helm Love and Thunder) and helped along by newer heroes such as Valkyrie (played by Tessa Thompson, who confirmed on Saturday that she would be revealed as the first LGBTQ hero in the Marvel world). Portman's return is the best indication yet that Marvel is only gaining cachet, and that Feige's grand experiment has many new directions to explore. To cap things off, Feige brought another star onstage for the night's final announcement: the Oscar winner Mahershala Ali, who will play the vampire slayer Blade. Franchise fatigue may set in, but that doesn't matter to Feige—he'll just keep conjuring new sub-franchises to fight it off.