The Paradox of Madonna's Gun-Control Music Video
A graphic depiction of violence has served mostly to offend survivors of such violence.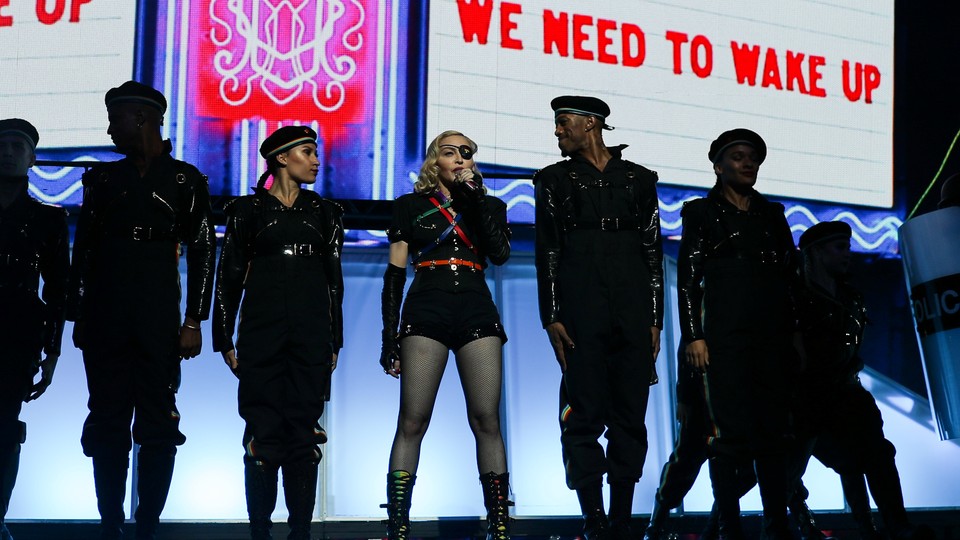 Madonna has presented herself as a fierce warrior against gun violence lately, and the result largely has been offensive to people who've survived gun violence. Last week, she released a music video that depicted a massacre at a discotheque, and Patience Carter, who lived through the shooting at Pulse nightclub in Orlando, Florida, tweeted, "I applaud the attempt, but I am truly disturbed." Brandon Wolf, a survivor of the same event, said, "Appreciate the message, but please remember that there are people behind the prop you're using." Emma González, a prominent advocate among the Parkland, Florida, school-shooting survivors, took a few days to collect her thoughts, and then announced this: "Madonna's new video for her song #GodControl was fucked up, it was horrible."
It's particularly striking to see González object. "I Rise," the final song on Madonna's new album, Madame X, opens with a sample of González speaking at a rally following the 2018 Marjory Stoneman Douglas High School shooting. González's words on that song—"Us kids don't know what we're talking about. That we're too young to understand how the government works. We call B.S."—are delivered in a sharp, arresting yell, which cuts a contrast with the rather generic empowerment fare that then unfurls. "Died a thousand times, managed to survive, I can't break down now," Madonna sings over slow-clacking drums and semi-poignant violins.
There's been praise for "God Control" from gun-control advocates as well—March for Our Lives thanked Madonna for "using your platform"—but the generally mixed response is typical of the strange spot that the Queen of Pop finds herself in 14 albums into her career. Though patchy throughout, Madame X has a claim as the most adventuresome, politically bold work in her catalog. But unforced errors and clumsy attempts at creating conversation have complicated what could be a triumphant chapter for her. Her insistence on communicating often in the crudest, most blunt terms have proved a distraction, yet again.
"God Control," the third track on Madame X, runs more than six minutes long and feels like a few songs in one. To open, Madonna sing-mumbles sadly about the state of the nation: "I think we understand why people get a gun / I think I understand why we all give up." A children's choir cuts in, magisterially delivering the not-so-subtle pun of the title: "We lost God control." Then the track transmutes into a schmaltzy, irresistible take on Philadelphia soul, evoking polyester pants and cocaine spoons. "It's a hustle," Madonna pants amid generally zany verses about "a new democracy." It's hard to say what exactly is going on, but it's likely a camp commentary on the way people can dance in the face of crisis. Moreover, the song is catchy and amusing. It works.
The video takes any of the song's ambiguity and subtext, and lights it up in dynamite. The director Jonas Åkerlund cuts between scenes of Madonna typing the lyrics on a typewriter and scenes of a flamboyant disco party being shot up by someone with an assault weapon. The video moves backwards in time, from the height of the massacre to the portion earlier in the night when Madonna's character was at the club dancing. The pop-pop-pop of the gun is horrifyingly loud and mixed over the music. At her typewriter, as she hears the news of the shooting, Madame X cries. Text at the end of the video delivers stats on gun violence and calls for firearms control.
Madonna argues that the video is disturbing on purpose, as it's a "wake-up call," per her lyrical refrain. "This is really happening," she told People. "This is what it looks like. Does it make you feel bad? Good, 'cause then maybe you will do something about it." But it's clear by now that the people whom the video made "feel bad" have been doing things about it. Survivors of shootings who have, in fact, rallied for gun control say they feel used as props. Their critique is sensible enough. It's not as though gun violence has gone undepicted in our mayhem-packed pop culture. It's not like tragedies such as Pulse and Parkland haven't been galvanizing shocks in their own right. The "God Control" clip stylizes trauma and amplifies it, but it doesn't push the conversation anywhere new. People unsympathetic to Madonna's cause are not likely to be moved; people sympathetic to her cause are left feeling drained.
Then again, enervating her supporters has been Madonna's M.O. in recent years. When in 2017, at the Women's March, she said she thought about "blowing up the White House," she was making an honest statement of frustration that got weaponized by Donald Trump and his spokespeople to attack the resistance movement against him. When this year the New York Times contributor Vanessa Grigoriadis attempted a sympathetic but unflinching profile focusing on Madonna's rare place as a 60-year-old diva-pioneer-provocateur, Madonna said the article made her feel "raped," using a term that the writer had implied Madonna employed too casually.
Asking Madonna to tone things down at this point is silly—she's made a career by teetering on the line of good taste—but to listen to Madame X is to wonder whether small recalibrations away from shock for shock's sake could revitalize her career. Influenced by time she spent living in Lisbon and traveling in Latin America and Europe, the music flirts between peppy, moody intrigue and unnecessarily grating detours. Vocally, she tends toward an over-auto-tuned kind of singing. Her knack for clunky lyrics is perverse. "We built a cartel just for love," she says, not so cleverly, on one of her two otherwise strong duets with the Colombian singer Maluma. Another track, "Killers Who Are Partying," has her laundry-listing marginalized people across the world and suggesting she is one of them: gay, African, Muslim—it's all the same, goes her implication.
Now the genuinely strange amalgam that is the song "God Control" has been sacrificed to an unwatchable costumed bloodbath in the name of making a point. As always, Madonna doesn't let consumers sink into her pop-political experiments; she doesn't let her good ideas stand on their own. They must always come with a wince—and what's too bad is that the people most likely to wince are the ones she claims to want to help.