Chance the Rapper Wants You to Get Married
The Big Day, the artist's latest album, doesn't just describe his happily-ever-after life: It evangelizes it.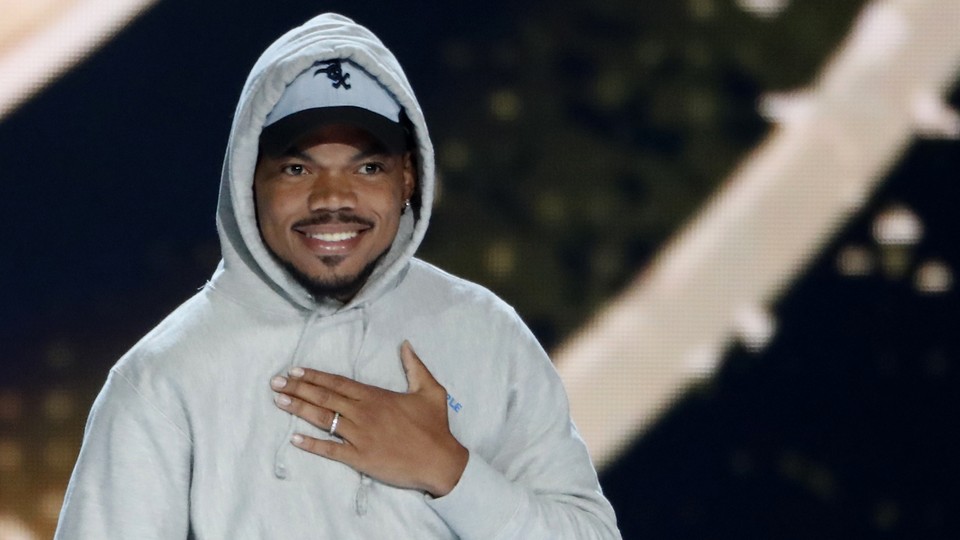 It's easy to root for Chance the Rapper, but it can still be hard to believe the variety of people who do. "What an album. Bravo," tweeted New York City Mayor Bill de Blasio—whose last notable musical opinion was saying "I love ska" on CNN—just hours after Chance's The Big Day hit streaming services last Friday. In 2017, the New York Times' David Brooks, who once fretted about hip-hop's themes, devoted a column to Chance entitled "What Sincerity Looks Like." Donald Trump even once thanked the rapper—for defending Kanye West's MAGA phase—though that accolade was swiftly returned to sender.
Chance's appeal to political types is oddly fitting given the 26-year-old son of a bureaucrat's activism in his hometown of Chicago. But his broad success really owes to his artistic sensibility: upbeat, accessible, humane, smart, and often fun for the whole family. To listen to Chance is to absorb a mix of social messaging and personal anecdotes spiced with hammy humor and broad applause lines—not unlike reading a vote seeker's memoir.
Chance's rainbow-spectrum popularity is well on display in The Big Day, which Chance calls his "debut" after a string of highly praised, high-selling mixtapes since 2013. Other voices swarm, including in samples of R&B legends (En Vogue, Brandy), on verses from rappers both veteran (Nicki Minaj, Gucci Mane) and new (DaBaby, MadeinTYO), and in skits from comic-acting standbys (John Witherspoon, Keith David, Cree Summer). Three varieties of whimpering white-boy singers join in too, with the heartthrob Shawn Mendes enticing Gen Y, the emo-ish rocker Ben Gibbard making Millennials and Gen Xers cry, and Randy Newman representing Chance's not-insubstantial Boomer base.
These elements do not blend together smoothly, but they're not really meant to. Rather, The Big Day calls to mind a toy chest or a carnival midway, jumbled with shiny, diverse amusements. The constant is Chance's great voice, a Tommy Pickles croak that, across warbled melodies and auctioneer-speed raps, never loses its personality—even if it's always used to deliver neat, easily digested sentiments. The music, whether acoustic folk or Chicago footwork, throws off warmth but rarely scalds. It wasn't always quite this mild: His 2013 breakthrough, Acid Rap, featured bolt-you-to-your-seat tales, and 2016's Coloring Book used gospel to elevate Chance's aw-shucks shtick. On The Big Day, though, long stretches of party fare give way to stabs at emotional rawness that don't quite connect. The hint of salesmanship is too strong.
The problem might initially appear to be Chance's subject matter, but really it's his attitude about that subject matter that's grating. He married his childhood sweetheart, the mother of his child, earlier this year, and from its title to its interstitial skits, The Big Day celebrates romance, monogamy, and family. These are "traditional" themes, but he's presenting them—not without reason—as radical in a moment of declining wedlock rates, which he references explicitly. On "Big Fish," a glowering trap track on which Chance sounds his most embattled and Drake-like, the rapper complains that music-industry execs "don't sell marriage no more." He's out to change that.
Chance is right that pop often glamorizes hookups, but the truth is that the superstar tier has been downright domestic lately. For years now, Beyoncé and Jay-Z's albums have tried to sex up wedded life. Kanye West's recent few releases staged psychodramas about monogamy and aging. Kendrick Lamar isn't married—he reportedly just had a kid with his longtime fiancée—but his work obsesses over how to resist temptations of the flesh. (Even Drake is easing into his role as a dad.) All of these artists continue to command attention by injecting intrigue—infidelity, angst, doubts, and staying together anyway—back into the notion of "happily ever after." It's glaring, too, how often celebrations of nuclear familydom—including Chance's—are also spectacles of wealth, reinforcing that marriage in America has become a luxury item. Any good pitch for tying the knot should reckon with that economic reality.
But Chance isn't interested in complicating the settled life; he's interested in complicating the unsettled life. The charming but dorky "Eternal" aims to get people shuffling to disses against mistresses and manstresses, who, unlike husbands and wives, make their Kool-Aid with Splenda and don't show up to soccer games with snacks. On the confessional "We Go High," he recounts his eventual wife breaking up with him for lying to her, and the picture he paints of their separation is truly dismal: "I tried to do the single-dad mingle-dance at the club with the iron in my wrinkled pants," he raps, adding, "You could fall much faster than you think you can." This playboy life is no fun.
By contrast, the married life is glory, at least from the honeymoon stage that The Big Day embodies. On "Do You Remember"—whose wistful brunch-band groove is made even more tranquilizing by Gibbard's presence—Chance memorializes summer 2019 ("the last summer of the teens") with premature nostalgia for personal milestones and Will Smith in Aladdin. The slow-rolling "Handsome" has him lavishing praise on his beau's looks and his own, and he leaves the explicit sex talk to the master vulgarian Megan Thee Stallion. Over funky drumming and hoots on "Let's Go on the Run," he puts on his most muppety voice to express a desire to "hug and hug and hug and hug." Adorable though these songs often are, it's hard not to think about Wife Guy memes about men who stake their identity on appearing to be a good husband.
Chance is entitled to his glee, but he does go negative to talk about other people's negativity. The album's villains are naysayers and what-abouters commenting on his life, and he dismisses them with blithe assertions of faith. "Everyone seem like they got something to say," he complains on the '90s R&B tribute "I Got You (Always and Forever)." "Like the day after the Big Day is supposed to be super bad like we won't stay / It's supposed to be super scary like we don't pray." There's nothing wrong with defiant optimism: It's what long-term commitment is built on. (Chance's defensiveness does recall his embarrassing history of freaking out at random criticism on the internet.) But tracks like "The Big Day" and "Found a Good One (Single No More)," largely instrumental workouts with bizarre glitch-out passages, hint at a deeper nervousness or tension that a more interesting album would unpack.
The lyrics instead mostly preoccupy themselves with wordplay that swings between excellence and something worse than a dad joke. Chance has clearly sweated over every bar, but the best ones are blunt and evocative rather than clever per se. One highlight comes as he pays tribute to Chicago's hardiness: "I love my city … They walk on eggshells and landmines / They communicate with hand signs." On "Let's Go on the Run," he imagines getting a "big ol' house / With a giant pair of Timbs just to kick folks out," which is the kind of ridiculous, funny, sweet kind of image he excels at. On the other end of the spectrum are word-association exercises that scan as metaphor but are actually nonsense. Take this Biblical mess: "This story arc so sharp that it made the streets flood / This the type of covenant you keep love, deep love."
Chance's powers are greatest when he's not making grand pronouncements but rather is engaged in the simple act of storytelling. The finest song is the closer, "Zanies and Fools," on which he and Nicki Minaj spin twisty narratives about finding love early in life (for Minaj, the verse represents a marriage announcement). Chance's meet-cute is indeed cute: He encountered his eventual wife, Kirsten Corley, when they were just kids at a Christmas party. There, Corley performed a Destiny's Child tribute: "Out from the back came three lil' survivors / In formation, choreo tighter." It's a transporting scene that doubles as great mythmaking about destiny and love. It's also a sign that Chance still knows how to deliver a message in a way that doesn't seem like an ad—a skill that his politician fans, in particular, must covet.