The 'African Giant' Challenging Musical Boundaries
With a new album, a solo track on Beyoncé's Lion King compilation, and a global fan base, Burna Boy is pushing the limits imposed on artists from the continent.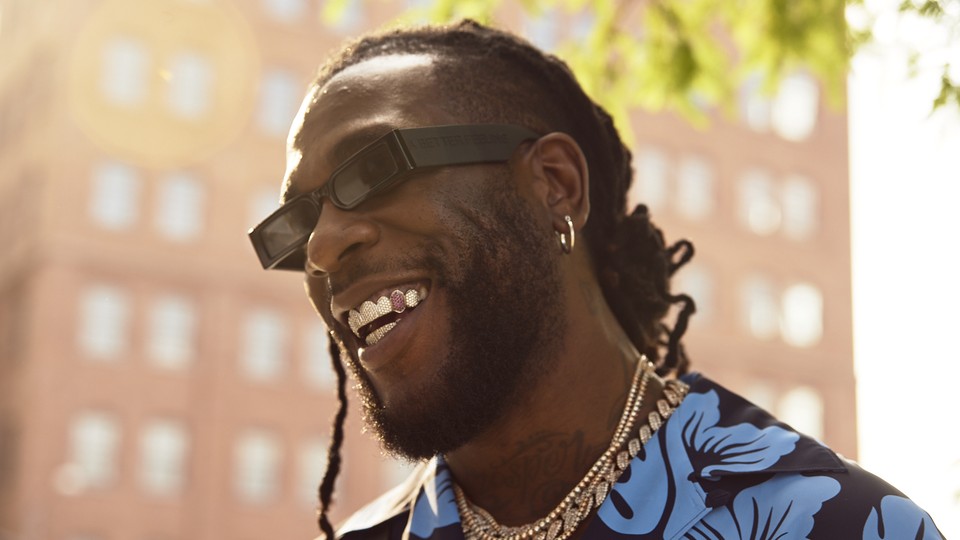 In January, when Coachella announced the lineup for its annual music festival in California, the Nigerian-born singer Burna Boy—one of only two African artists set to perform—quickly reacted to the placement of his name on the promotional materials. "I really appreciate you," he wrote in an Instagram Story after the poster reveal. "But I don't appreciate the way my name is written so small in your bill. I am an AFRICAN GIANT and will not be reduced to whatever that tiny writing means. Fix tings quick please."
At the time, the Afro-fusion singer's dramatic response to the perceived slight earned him some light criticism from those (fans included) who thought the Instagram post betrayed an outsized ego, even for a musician. But when Coachella didn't amend the flyers, Burna Boy doubled down: His label sent press a reimagined festival poster—one that listed his name in place of all the other performers. Soon afterward, he announced the "African Giant" tour and the title of his forthcoming album—you guessed it—African Giant. (Onstage at Coachella in April, he eschewed the ire in favor of crowd-centric ebullience, especially when performing alongside his fellow Nigerian artist Mr Eazi.)
In person, a week before African Giant's release, Burna Boy carried himself with all the casual bravado his self-appointed nickname suggests. The singer, born Damini Ogulu, leaned back in his seat as we spoke, pausing often to smoke or flash a diamond-encrusted smile. When I asked about the choice to lean in to the grandiose moniker, he was adamant that the name points to something bigger than his own ego: "It's just something that I consider a fact, [being] No. 1," the singer said of his musical standing on the continent as we talked in Brooklyn. "An American artist can come to Africa and rap his English rap with his slangs that we don't even get, but we say it."
"Why didn't he change his language to make us understand him better?" Burna asked me, then returned my response—Because Americans aren't expected to adapt to different audiences—with a reply that I took to be more self-evident than arrogant: "So why do I have to?"
For all of the jokes about Burna's braggadocio, the Coachella dustup does point to a larger issue: African artists, even those with followings the size of Burna's and Eazi's, are continually underestimated and mischaracterized by American music-industry gatekeepers. Coachella, long considered a launching pad for indie artists' careers, boasts a remarkably diverse array of musicians each year. Even so, Burna and Eazi were among its first two Africa-based performers, 20 years into the festival's existence. (The Nigerian singer Wizkid, for one, was slated to appear in 2018, but visa issues kept him from attending.) That delay echoes an industry-wide concern based chiefly on misconceptions about African music.
Burna's music, for example, is most intuitively categorized as "Afro-fusion," which encompasses a melange of influences including pop, R&B, dancehall, reggae, and Afrobeat, the latter genre pioneered by the late Nigerian legend Fela Kuti. The 28-year-old Burna often sings in Yoruba and welcomes comparisons to Kuti, whom he cites as an inspiration. (Sometimes he does this quite cheekily: On "Streets of Africa," a stellar track from his 2018 mixtape, Outside, Burna calls himself "Fela Kuti with the hoes," a reference to Kuti's notorious womanizing.) The link between the two isn't incidental: Burna's grandfather managed the late singer, whose music—alongside American artists such as DMX, Jay-Z, and Wu-Tang Clan, and Jamaican artists such as Vybz Kartel and Buju Banton—soundtracked Burna's early years in Port Harcourt, Nigeria.
But in the West, Kuti's Afrobeat has taken on a more nebulous afterlife. American and British music arbiters tend to lazily label much of the modern music emerging from Africa, and especially West Africa, "Afrobeats." Though the umbrella term has made for easy categorization, it strips African artists of their musical distinctions. "When people say 'Afrobeats,' they're talking about Nigerian pop music. It's a name that was basically created just to take all of this different Nigerian music and package it together so that it could be digestible and distributable," Tunde Ogundipe, Spotify's global lead of African music and culture, told me earlier this week. "Those that coined the term, they don't really care for accuracy or historical context."
African Giant implicitly challenges the limits imposed on artists from the continent. Burna's most cohesive and expansive record to date, African Giant is musically diverse and narratively challenging. It includes features from frequent collaborators such as the 24-year-old Nigerian rapper Zlatan, while placing Burna solidly within a long African musical legacy. The album's most notable feature, for instance, is from Angélique Kidjo, the 59-year-old Beninese American singer who's been called "Africa's premier diva."
"Different," the African Giant track on which Kidjo sings, also includes a verse from the reggae exemplar Damian Marley. Still, it was the Kidjo feature that exhilarated Burna. "That's really the one person where it's like I personally sought [her] out to make that happen. I looked. I've actually looked for her for years," he said. "When I say years, I mean like 2011. Years." When an A&R representative at Universal Music Group helped connect the two, the characteristically nonchalant Burna was beside himself: "She's the first person I've spoken to on the phone and I was almost shaking … It's a big honor to me."
The singer's early years in southern Nigeria were fraught, characterized by what he often glibly categorizes as "street culture." It's a shorthand for any number of wayward behaviors (including some run-ins with the law), but his wins feel hard-earned. Nothing about his rise is, as Western publications have erroneously labeled it, a "surprise."
Outside Nigeria and the continent, Burna's music first made waves in the United Kingdom, which boasts a large Nigerian and Afro-diasporic population. It's become a second home to Burna, who resides in London. The U.K. is where his debut studio album, 2013's L.I.F.E. (Leaving an Impact for Eternity), and its energetic single, "Like to Party," first found a broad audience. In the years since, he's produced music at a prolific rate, spending countless nights (always nights, he specified to me, laughing at his inability to wake up early) in the studio.
His next two records—2015's On a Spaceship and 2016's Redemption—showcased an artist well aware of his lyrical prowess and marketability. With 2018's Outside, Burna established himself as a formidable musical peer, collaborating with artists such as J Hus and Lily Allen. His dedication to various dimensions of his craft is clear, too: "Ye," for example, is an eminently sing-along-friendly track that also cleverly positions Burna as an inheritor of homegrown musical genius. At one point, referencing the dreadlocks that fall over his face, he observes people "calling me Lagbaja," the famed Afrobeat musician who performed in masks.
Lagbaja, like Kuti, looms large over Burna, whose turn toward social storytelling on African Giant draws largely from the lessons of his childhood. "My grandfather had a statue of a fist in the middle of the house, so I had to grow up to that," he said with a laugh. "He kinda made me dig more into the history of where I come from and all of that." Of the role music played in that extracurricular education, he noted that sociopolitical change and artistic production have often been symbiotic endeavors: "When something happens in Africa, an artist will sing about it and stuff. We have all the records; we have everything. Free Mandela records and all that."
On African Giant tracks such as the M.anifest-assisted "Another Story," which begins with a radio dispatch explaining Nigeria's colonial history, Burna readily steps into the role of national storyteller. "I'm 28 years old. In my country, that's considered very young. It's almost like the youth don't matter to the up-and-ups," he said, referring to the nation's elders. He wants to infuse his music with lessons about the past in part because, as he told me, "everybody that's in power has been there since we gained independence in 1960."

He continued: "Why would you blame the youth for not knowing certain history? You can't blame them or call them dumb [when the elders keep the history to themselves] … As they say, knowledge is power. So I just felt the need to kinda let people of my age group and younger in on some little history that I am [pretty] sure that almost 90 percent of us have no clue about."
Hours after we spoke, Burna took the stage a few miles over, at Brooklyn's Prospect Park. In front of several thousand people, he sang and danced with an energy that appeared unaffected by the punishing heat. Summarizing his onstage magnetism is difficult, but Burna himself managed to. At one point, he asked the crowd who the "real lion king" was, a cocky reference to the release that very day of the CGI remake of the film—and to the fact that he has a song, the only solo song by an African performer, on the Beyoncé-curated album that accompanies the movie.
Watching him perform, hypnotizing concertgoers with almost impossible ease, I was reminded of what he'd said to me earlier: "Going onstage—that's my joy. You know like when you're in school and you're just waiting for the bell to go off so you can leave the class and go and play outside? That's me in life."
That exuberance infuses African Giant, too. The album incorporates a potent emphasis on national record-keeping while maintaining the sultry, atmospheric quality that Burna's early records established. Tucked among odes to Nigerian defiance, for example, African Giant includes a standout collaboration with the Jamaican dancehall artist Serani and the American R&B singer Jeremih, and a woozy R&B bop with the British singer Jorja Smith. The project showcases Burna at his strongest: versatile, melodic, and confident. It's the product of a musician who's ready to be taken seriously beyond his core demographic without sacrificing the influences that shaped him.
African Giant also includes collaborations with two mega-popular American rappers, the Los Angeles–bred YG and the Atlanta phenom Future. Listening to the tracks, it's hard not to think about the speech Burna's mother, Bose Ogulu, gave after he won Best International Act (an admittedly dubious category) at the BET Awards earlier this year. Accepting the accolade in his stead, "Mama Burna" drew a direct through line from Burna's music to that of the other artists in the room. "Thank you very much, BET. Thank you, Africa, because that is the constituency for which we got noticed in the first place," she said. "And the message from Burna, I believe, would be that every black person should please remember that you were Africans before you became anything else." (Burna samples her speech on "Spiritual," the album's final track. African Giant literally ends with her words.)
For Burna, a rapidly expanding platform in the United States and Europe has meant not just commercial success, but also an opportunity to highlight the connective tissue that spans varying genres of black music. He's ready to collaborate with the Jamaican reggae singer Koffee, who covered "Ye" with near-perfect Yoruba tonality—and whom he called his "spiritual little sister" when we spoke. He mused that he's excited about "the reconnection of the black race." The ambition is a lofty one, but Burna feels it all coming together. Or as he said about having Future and YG on tracks that signal a distinctly Nigerian sound, "It's almost like bringing my brothers home."