I Wasn't a Fan of BTS. And Then I Was.
The Korean pop superstars' devoted following and chart-topping success have won them comparisons to the Beatles. Why was I surprised to get swept up in their magic?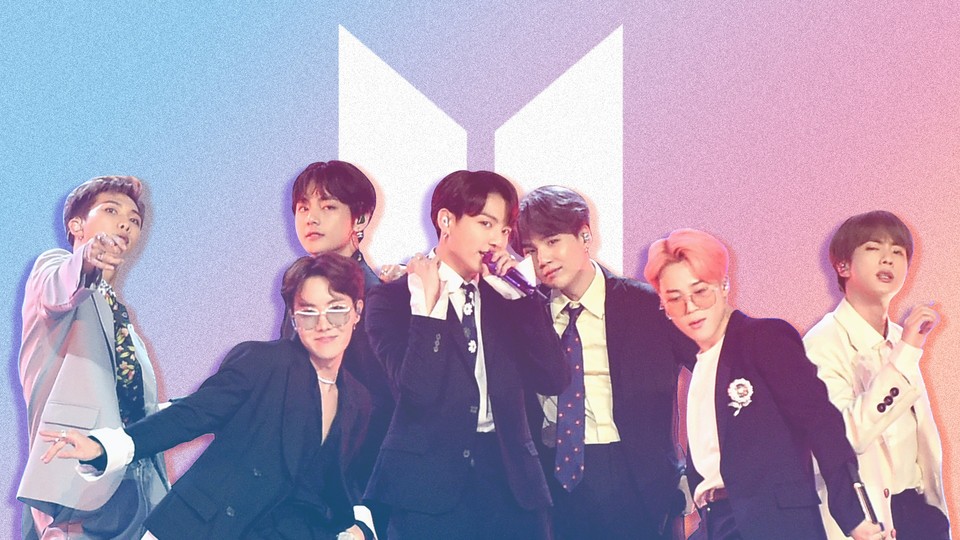 I was already yawning when I sat down to watch Saturday Night Live one evening this past April. The host that night was Emma Stone, and the musical guest was BTS. I knew little about the seven-member South Korean pop group—even though they had millions of fans worldwide, released multiple Billboard 200 chart-toppers, and had recently delivered a speech at the United Nations. On Twitter, I saw plenty of enthusiasm, but also mockery directed at BTS and their followers. While I knew they would be the first K-pop act to perform on SNL, I had never listened to a BTS song before Stone introduced the first musical break.
The oh whoa ooh whoa backing vocals floated in, and a teasing bass line began as the lights went up to reveal seven figures—their backs to the camera—in dark suits and an array of hair colors. They swayed from side to side and spun around. Then the one with the pink hair started singing.
If you want, you can watch the video of BTS performing their breezy pop confection "Boy With Luv" on YouTube, where it has 21 million views, making it by far the most popular musical appearance SNL has uploaded to date. You might love it; it might not be your thing. Or it might not be your thing but something about BTS intrigues you anyway, like their synchronicity, their good looks, or the fact that they dance hard while singing and rapping live. Or how when the song ends, the guys stretch their hands toward the crowd, beaming and bowing as cheers drown out their thank-yous.
Before that night, I wasn't a fan of BTS. After seeing them perform "Boy With Luv" and their 2018 banger "Mic Drop," I decided to at least learn their names. One week later, I could tell you that BTS's leader is 24-year-old RM, who taught himself to speak English by watching Friends. Then there are Jin, Suga, J-Hope, Jimin (the pink-haired one from SNL), V, and Jungkook, all of whom do some mix of singing, dancing, rapping, producing, and songwriting. After learning their stage names, I absorbed their real names, birthdays, and personality quirks, as well as their musical strengths and weaknesses. Because the group's lyrics are mostly in Korean, I picked up some Hangul and can now sing along, albeit imperfectly, to much of their discography. I binged their weekly variety show and random live-streams. I bought merch. I became close friends with strangers over BTS. I traveled to another state to watch them perform in a stadium with 55,000 people.
To confess the details of my obsession is cathartic and, given the stigma around fangirling, a little embarrassing. Yet my whirlwind evolution from a nonbeliever to an "ARMY"—as the septet's diverse and devoted fans are known—isn't a rare one. After exploding in global popularity in 2017, the Korean idol group (also known as the Bangtan Boys) reached an even greater level of superstardom this year. In 2018, they embarked on a world tour and appeared on a slew of major U.S. talk and awards shows. Their latest record, Map of the Soul: Persona, made them the first group to have three No. 1 albums in a single year since the Beatles. So it was fitting that when BTS appeared on The Late Show in May, they did so on the same stage where the Beatles made their American TV debut, a parallel that the episode embraced. You don't need to like BTS to appreciate the significance of seven young Asian men, who sing mostly in Korean, being compared to the most famous boy band of all time on U.S. television.
All of which is to say that I'm not the only person who was captivated overnight by BTS; plenty of other recent converts have taken to social media to recount their own rapid transformation from novice to stan. For me, the journey into BTS's genre-bending oeuvre and their community of fans has produced a joy and intensity I never thought I'd experience as an adult listener. At times, I felt like I was violating some sort of social boundary. I've learned, though, that being a fan of BTS means becoming intimately familiar with the many prejudices and hierarchies of taste that casually belittle the thing you love—and then deciding that none of it has any real power over you.
---
In the beginning, I treated BTS like a puzzle to be solved. I pored over YouTube comments for phrases and terms I didn't understand. Why are people saying "I purple you"? What does it mean to have a "bias" or to be "OT7"? Why is Jungkook called the "golden maknae"? I watched not only music videos and performances, but also meme compilations, dance practices, interviews, and explanations of the complicated fictional universe running through BTS's work. I tried to approach the group with a distance that came naturally to me as a journalist but that was also probably informed by an inchoate desire to not become a boy-band fan.
The more I dove in, though, the less I cared. I watched BTS perform their 2018 anthem "Idol" on The Tonight Show and wondered how their lungs didn't explode from exertion. I watched the sumptuous short film for their 2016 hit "Blood, Sweat, and Tears" and couldn't tell whether I was more impressed by the choreography or the high-concept storytelling. And I was entranced by the video for "Spring Day," with its dreamlike cinematography and references to Ursula K. Le Guin and Bong Joon-ho's film Snowpiercer. When I learned that the video is often interpreted as a tribute to the school-age victims of 2014's Sewol ferry disaster, I replayed it and cried.
BTS were by no means destined for such heights, having debuted in 2013 with a tiny company in an industry ruled by three giant record labels. Since at least 2017, critics have been trying to formulate a unified theory to explain BTS's success in the mainstream U.S. music scene in particular, eclipsing other K-pop crossovers. Writers invariably point to the group's early adoption and savvy use of social media to connect with fans, who have in turn helped BTS smash record after record. Critics also mention BTS's socially conscious lyrics, their openness about taboos such as mental health, their empathy for the struggles of younger generations, and their emphatic message of self-love.
Complicating their rise to popularity, of course, are the politics of any non-American group dominating the U.S. charts. The South Korean music critic Kim Youngdae told me that when he attended BTS's first American performance in 2014 in Los Angeles, a crowd of a couple of hundred people seemed huge to him. In 2017, he attended the Billboard Music Awards, where BTS shocked viewers by winning the Top Social Artist Award and breaking Justin Bieber's six-year streak. After the ceremony, bewildered American journalists in the audience asked Kim to explain who these guys were. Predictably, the win also led to racist backlash online from people scoffing at the "Asian One Direction."
Such reactions stem from a cultural tendency to see Asian musical performers—and non-English-speaking artists in general—as inferior, said Kim, who recently published a book about BTS. "The American mainstream music industry is really hesitant to call Asian artists 'pop stars.' They're okay with characterizing them as a subculture, or as an Asian American movement," Kim told me. "But the entertainment industry always has to acknowledge the hottest or biggest thing, whether they like it or not." This institutional conservatism was precisely what the massive numbers of ARMYs were equipped to overcome, Kim said: By voting for BTS for Top Social Artist (an award the group has won three years in a row), buying their music, and streaming their videos, fans forced the industry to pay attention.
A break from book promo: I saw BTS last night with my mother, who is a huge fan. She was super nervous about being the oldest person there, but was placated when we saw a Korean grandpa with a full head of white hair in line.

— Maurene Goo (@maurenegoo) May 6, 2019
With that attention has come a resistance based not so much on BTS's talent or music, but on their identity as K-pop idols. For some, the group's Koreanness is reason enough to dismiss them, as one Teen Vogue piece argued after an Australian TV network ran a xenophobic segment about the group. (Individual members are also regularly subjected to racist online attacks.) It's common to see critics make snide comments about BTS because of their youth or their boy-band status. The author of a recent New York Times story said she wanted to "gag" after learning some people saw both Madonna and "a K-pop band of 20-somethings" as "legendary."
The tradition of sneering at "boy bands" and their fans—who are often, but not always, young women—is an old one rooted in ageism and misogyny. While this stigma extends to BTS—even SNL's promos played off the idea of ARMYs as mindless tween fangirls—Kim believes the "boy band" label isn't entirely accurate. "When Americans see the handsome boys dancing together, for them that's obviously the format of the boy band," Kim said. But for Korean people and for fans, he added, they're "more like a hip-hop group with vocal abilities who can also dance supremely well ... For a lot of people, 'boy band' would automatically discount their musical ability and authenticity."
Because that label is so limiting, I tend to explain BTS's appeal like this: Imagine if the players on your favorite sports team (the members train like athletes, after all) were also your favorite musicians and the stars of your favorite reality-TV show and you also thought of them as family members. Even so, I can't speak to what draws everyone to the group; ARMY is no monolith, comprising followers of all ages, races, genders, nationalities, and religious backgrounds. While the community's ethos of inclusion is one of its strengths, the size of the fan base also means that ugly elements do exist and internal disagreements can sometimes arise. (For example, last weekend it was announced that BTS would perform in Saudi Arabia in October. This prompted both elation from many Arab and Muslim fans in the region and criticism from others who pointed, in part, to the country's human-rights abuses and the fact that BTS has raised more than $2 million for UNICEF, which is providing aid for victims of the Saudi-fueled conflict in Yemen.)
Most new fans I've spoken with however, have described ARMY as an unusually welcoming community that works to address bad behavior within its ranks. Like myself, the writer and editor Laura Hudson first encountered BTS through SNL and posted about her experience on Twitter:
Oh no I finally watched BTS on SNL and 12 hours later I know all their names and musical proficiencies and have opinions on who are the best singers and dancers and which of their hair colors and styles have historically looked the best oh no pic.twitter.com/gSAwiWwTje

— Laura Hudson (@laura_hudson) April 17, 2019
"I wrote that tweet, and then ARMY came," Hudson told me. Though she had covered other fandoms as a critic, she was taken aback by how open BTS supporters were. "People were like, 'Yeah, it's great, love it with us!' That's what I wish more fandom was like," Hudson said. "As a journalist, there's the immediately skeptical part of me where I'm like, Is it a cult?" she went on. "But if it is a cult ... it seems like one that's focused on positivity and acceptance."
As new and slightly older fans, we also talked about not being able to have meaningful discussions about BTS with many people in our lives, and about how tiring it is to constantly, on some level, be policing our enjoyment. After explaining all the things she likes about BTS—their "nontraditional presentation of masculinity," the joyfulness of their performances, the dizzying complexity of their storytelling—Hudson sighed. There are so many social forces, she noted, that get in the way of people allowing themselves to love what they love. "The simplest thing about it is: It makes me happy," Hudson told me of BTS's music. "But if it were also secretly garbage, I wouldn't be able to enjoy it."
---
While writing this piece, I thought a lot about the concept of guilty pleasure, a term that doesn't feel quite right for what BTS is to me. I don't feel guilty so much as I feel like I should feel guilty. I revisited a 2018 New Yorker piece in which the critic Emily Nussbaum argued against calling The CW series Jane the Virgin a "guilty pleasure," and I was struck by how much of her analysis of that show can also apply to BTS: "A bright-pink filibuster exposing the layers in what the world regards as shallow" could describe Map of the Soul: Persona, which invokes Jungian psychology to continue BTS's exploration of identity. "A deeply heartfelt production ... sophisticated about and truly interested in all the varieties of love, from familial to carnal" could refer to the ambitious Love Yourself trilogy.
Nussbaum called Jane the Virgin "a smart show that parents and teen-agers can watch together—which, in a better world, might be a recommendation to a larger audience"; indeed, many BTS fans are parents or grandparents, but great for the whole family rarely conjures much respect. Some U.S. audiences might also have preconceived notions about the culturally specific formats of telenovela and K-pop, and as a result fail to evaluate Jane the Virgin and BTS on their own terms.
It takes work to ignore a lifetime's worth of social messaging about what kind of pop culture is okay to take seriously. For me, it helped that BTS offered more than entertainment; following their music and learning more about the members' personal struggles allowed me to better cope with an ongoing anxiety disorder and prompted me to take better care of my physical health. There were moments during the first month after that SNL episode aired when I leaned consciously into my BTS frenzy. It was almost as though beneath my excitement lay a fear that this hallucination I was sharing with millions of other people would evaporate, and that I'd go back to being an adult who didn't follow a boy band as a hobby and who rolled her eyes at earnest lyrics about loving oneself.
Obviously, that hasn't happened. For now, the hallucination continues, only as time passes it feels less like a dream and more like regular life. I'll just learn their names, I told myself back in April. Somewhere out there, seven guys named Namjoon, Seokjin, Yoongi, Hoseok, Jimin, Taehyung, and Jungkook were laughing at me.