Beyoncé Remixed the Meaning of The Lion King
The Gift, a companion album for the rebooted Disney film, sees the superstar connecting to "something way bigger." What is it?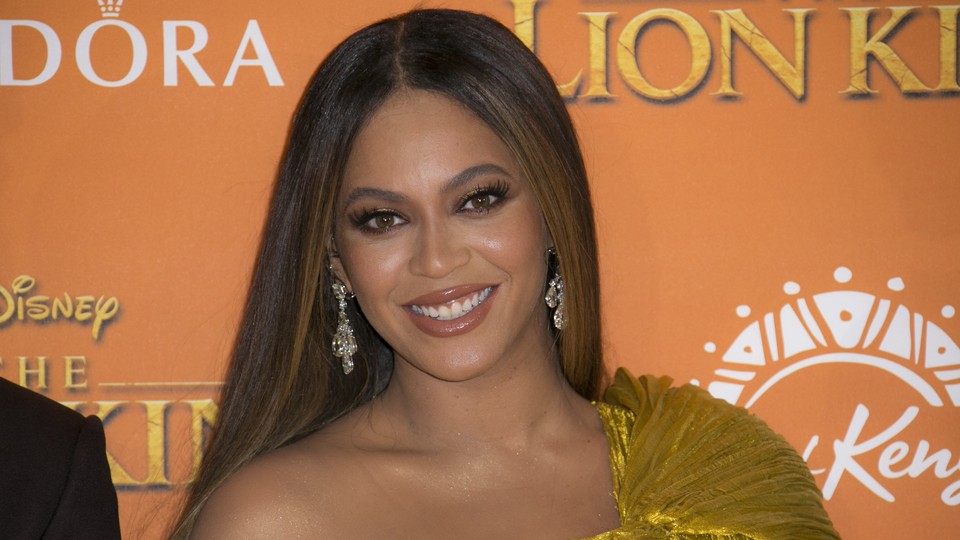 When it was released in 1994, The Lion King was billed as Disney animation's first original story: No fairy tale inspired it. But in the development process, the creators noticed—and then played up—similarities to Shakespeare's Hamlet in the script they'd come up with. They thought about the Old Testament figures Joseph and Moses too. Some viewers called out similarities to the Japanese cartoon Kimba the White Lion. Others saw a resemblance between Simba and the 13th-century ruler often referred to as the Lion King of Mali. Still others who've seen the original or the 2019 remake think of the Egyptian myth of Horus. Or of Black Panther's T'Challa. Or of Game of Thrones' Jon Snow.
The Lion King resembles so many other works less because it is retelling an old story and more because it is telling a simple story, one that people across cultures can't help but see themselves in. It is about exile, awakening, and restoration; it is about growing up, death, and duty. Narratives of its kind are like some lightweight super-material, able to bend to multiple purposes, but not break. The 1994 Lion King radiated madcap whimsy and awe. The new one is serious and clenched. Both get their messages across.
No wonder that Beyoncé gravitated toward The Lion King. Fundamentally, she's a mythmaker. Again and again, she's taken universally fascinating narratives and refitted them so that they can be newly enjoyed up close, in the detail work, and from afar, as a whole picture. Her 2016 project Lemonade concerned an ultra-abstract, almost elemental story: sour turning sweet, lemons becoming lemonade. But it was also a tale about betrayal and reconciliation in marriage. It was also about the possibility of black families disarming centuries-old traps set for them. As music, it thrived on inversions and surprising alchemy: rock rages that felt good, swaying reggae that felt bad, forgiveness ballads disguised as breakup songs and vice versa.
The Lion King's remake presented Beyoncé with the chance to participate in a surefire cultural phenomenon without having to spend too much time in the voice-acting studio. But undoubtedly the social implications appealed too. The new Lion King takes what had largely been a white fantasy about Africa and repopulates it with black actors, somewhat in the manner that Beyoncé has used America's biggest stages—the Super Bowl, Coachella—to flip regressive race hierarchies. It also represented an opportunity to record music that uses the film's potent themes for Beyoncé's own purposes: connecting the spectacle of her own success to a greater whole.
Released a week after the official soundtrack's rerecordings of Hans Zimmer's 1994 score and Elton John's 1994 show tunes, Beyoncé's contribution, The Gift, is in the tradition of star-studded "soundtrack albums." Beyoncé (and her team) oversaw A&R and production, and she sings on most of the songs, and so it's not a stretch to consider The Gift a Beyoncé album—even if one major goal is spotlighting African talent. She called the project "sonic cinema," which may sound pretentious, but it's really a way of saying it's another of her sing-along exercises in storytelling and signifying.
The first song, "Bigger," is a restrained mood-setter on which she sings and raps over sustained organ chords and washes of cymbals. She's done tone poems like this before—more overtures than pop songs—but this one has the distinction of being straightforwardly inspirational and written in the second person. She's telling a "you" that you're "part of something way bigger": "Not just a speck in the universe / Not just some words in a Bible verse / You are the living word." As if to acknowledge the brazenness of her giving such a direct pep talk, she eventually sings, "I'm not just preachin'; I'm takin' my own advice." (Who says Beyoncé's not humble!)
The tie here with the movie is clear. The Lion King's first act follows a young scion being taught about the vast designs he's part of: royal succession (Simba will rule "everything the light touches") as well as the ecological and existential "circle of life." For "Bigger," Beyoncé is taking on the role of teacherly Mufasa, and you are Simba. That you, of course, can include the listener, but moreover, it refers to Beyoncé's own three kids. "I'll be the roots, you be the tree / Pass on the fruit that was given to me / Legacy, ah, we're part of something way bigger," she sings, sending her voice up into piercing trills and back down again. All of this is classic Beyoncé magic, going very wide and very personal at once.
She doesn't quite maintain so tight a web of connected meanings throughout. Much of The Lion King's plot turns on exile—Simba's estrangement from his birthright—but The Gift doesn't make super obvious how exactly Beyoncé, a star since age 18, relates to that theme. She could have shoehorned in her marital drama or journey toward greater creative independence, but instead, the middle portions of the album sport swaggering, triumphal fare. Her Jay-Z and Childish Gambino workout "Mood 4 Eva" comes with an intro suggesting it's a version of "Hakuna Matata," but the celebration that ensues isn't the no-worries kind: "When we walk up in the club I need them sirens goin' off / Then we can look up in the sky / The tears we cry let us know that we alive," Beyoncé bellows, sanctifying the impulse to turn up. While in the middle portion of the movie Simba avoids greatness, the song (and much of the album) is all about embracing it. Jay-Z compares himself to, among other black idols, Mansa Musa, a legendarily wealthy descendant of the Lion King of Mali.
Really, the exile preoccupying The Gift is mostly implied. It's political, spiritual, and demographic exile; it's racial disconnection and erasure. "This soundtrack is a love letter to Africa," Beyoncé said in a Robin Roberts interview, explaining why she set out to fill the album with voices from that continent. This "love letter" would seem to respond to the whiteness of the original Lion King soundscape—only "Circle of Life" featured African singers—as well as extend Beyoncé's interest in connecting her own work with wider black experiences. To be sure, it's a flawed attempt: The Gift bafflingly omits East African voices, despite The Lion King's deep debt to that region. But the African sounds that do make it in give the album its sense of purpose while also adding rich and varied textures.
The continent's influence is partly rendered in the music itself. On the mostly solo Beyoncé track "Find Your Way Back," for example, the airy guitar strums of Ghanaian highlife evoke a twilight between hope and melancholy. Later, the thrilling "My Power" dramatizes the climactic Scar-Simba battle to the punishing beat of gqom, South African house music. Throughout The Gift, the rhythmic trickiness of Nigerian Afrobeats and the lilt of Jamaican dembow not only widen the expected palette, but also serve as reminders of how much the African diaspora already shapes Western pop. To many Americans, the novelty of the arrangements will be noticeable, but not disorienting, as their drive-time radio has been trending toward these sounds already.
What's most exciting is the dynamism of the African voices. An early track, "Don't Jealous Me," showcases the Nigerian artists Tekno, Mr Eazi, and Yemi Alade, who each radiate intoxicating confidence across their varying vocal tones and cadences. On "Ja Ara E," the Nigerian star Burna Boy employs his smooth, sad delivery to vest lyrics about a search for "miraculous blessings" with a pungent sense of longing. The power of "My Power" owes in large part to an indomitable verse from Busiswa and a taunting, catchy one from Moonchild Sanelly, both of whom are from South Africa.
There are, however, times when the many higher goals of the album seem to short-circuit the songwriting. Beyoncé knows what an anthem sounds like, but most of the collaboration-heavy songs don't earn that label. Rather than accumulating energy, tracks such as the otherwise exciting "Don't Jealous Me" and the fluttery "Keys to the Kingdom" just rotate through verses and then, unceremoniously, end. It's likely no coincidence that the punchiest songs are the ones where she herself gets to connect the political, personal, and mythical themes of the project. For example, "Otherside" moves from beautiful to stunning when the Nigerian producer Bankulli enters by chanting in Yoruba and Beyoncé joins him, low and smoldering, in Swahili. "Mababu Katika Mawingu" goes their refrain, which translates to "grandfathers in the clouds"—a nod not only at a key Lion King scene, but also at the shared heritage that Beyoncé is trying to evoke and reclaim throughout the album.
The catchiest and sweetest track is "Brown Skin Girl," which has the Guyanese-American singer SAINt JHN and the Nigerian artist Wizkid join Beyoncé in trying to undo the stigmas of colorism. The breezy sing-along serves as an implicit rebuke to the years of questioning Beyoncé has received about her own relationship with her skin color, but she's not just managing her image here—she's doing social work with a personal edge. Blue Ivy, the target of her serenade, adorably sings the final verse, and the connection is clear: Her daughter is an heir to greatness as much as Simba is. Of course, anyone can find ways to plug into stories of destiny, as such stories have been told many ways—but never quite like this.