The Slow, Messy Evolution of LGBTQ Dating Shows
With a new season featuring a "sexually fluid" cast, the MTV competition series Are You the One? bucks persistent trends in reality television.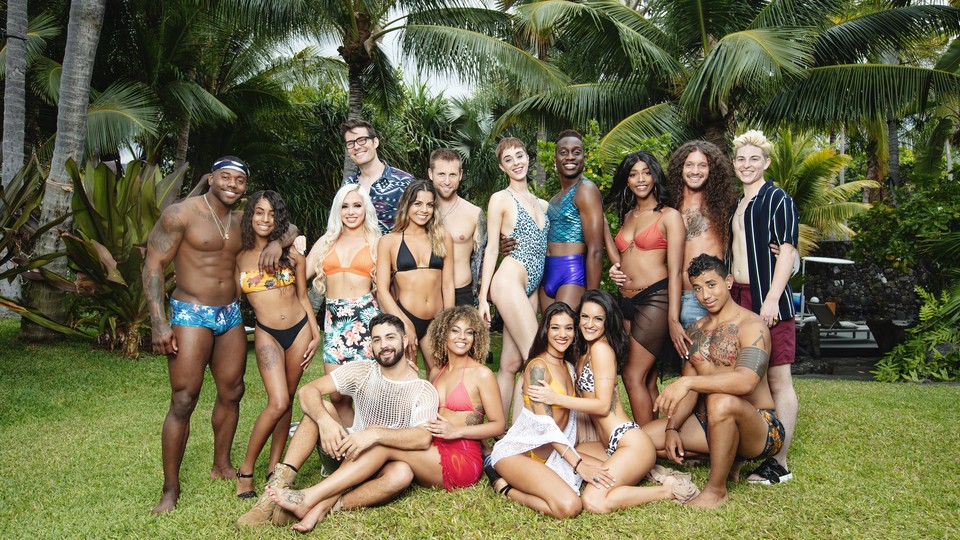 The MTV reality dating series Are You the One? pairs the pursuit of romance with a pretty sweet deal: If every one of the show's contestants correctly identifies their "perfect match," the group splits a grand prize of $1 million. In each of the show's first seven seasons, 20 singles (and sometimes an additional wild card or two) were put through a "rigorous matchmaking process" and chosen to live together in a massive house. They were diverse in geographic and racial background but uniformly young, brash, attractive, and heterosexual. "Welcome to the most ambitious matchmaking experiment ever attempted," then-host Ryan Devlin told the starry-eyed singles. "You're here because you all have one thing in common: You suck at relationships." Naturally, chaos always ensued.
Now the diabolical series, which premiered in 2014, has introduced a new element to the equation. Each of the 16 cast members in its eighth season is, in the show's preferred parlance, "sexually fluid." There are eight pairs of perfect matches, but the contestants (and viewers) cannot assume they'll fall along heteronormative lines. In a highlight clip that finds the cast explaining why their season—and representation of queer people on television—is so important, one member offered a straightforward assessment: "If you have a reality TV show that includes the entire spectrum of, like, racial, sexual, and gender identities, you're gonna have a really interesting show!" And he's right—the season is already among the show's best.
Prior seasons of Are You the One? had been standard, unscripted fare: entertaining but vacuous. This new installment, though, serves a multi-layered purpose. For heterosexual audiences, it's didacticism wrapped in an alcohol-soaked reality-TV bow, while for LGBTQ viewers, it's an opportunity to be seen—for better or worse—more intimately than many dating shows have previously allowed. The new season of Are You the One? premiered right at the tail end of June—Pride Month. Like the hyper-branded festivities it coincided with, the show is a fascinating tonal mashup: The episodes that have aired thus far weave lessons about sexuality and gender (and the politics of dating while queer) into every element of the show. Cast members introduce themselves with backstories that account for upbringings spent in the closet or involve being the only publicly queer kid in middle school.
In this, Are You the One? offers a refreshing divergence from many past incarnations of LBGTQ-focused dating shows. Though the series doesn't eschew boozed-up romantic drama, it never plays its participants' sexual orientations as the source of spectacle. They're people who are messy and queer—not messy because they're queer. With the exception of Netflix's quietly revelatory Dating Around, many dating shows with LGBTQ (and especially bisexual) contestants have treated them as hypersexual or prurient anomalies, as enigmas who are incapable of settling down.
Consider, for example, the reality-TV boom of the late '90s and early aughts. On Are You the One?'s own network, MTV, a surge of programming that depicted non-celebrities interacting sloppily with one another shifted the television landscape. Many of these shows weren't explicitly dating-focused (The Real World, Road Rules, Room Raiders), but several MTV and VH1 romantic-competition series attracted wide audiences. MTV's first "dating reality series," Singled Out, aired from 1995–98, but within the next decade, shows like DisMissed, Parental Control, Flavor of Love, and Next had effectively gamified love and public attention: Even if contestants didn't charm the objects of their affection, their outrageous behavior often enthralled viewers.
In an entertainment landscape that so clearly prized interpersonal chaos, the introduction of LGBTQ story lines was unsurprisingly salacious. The 2003 Bravo series Boy Meets Boy, for instance, took the straightforward premise of The Bachelor and applied an ethically dubious twist: The gay leading man, James, and his heterosexual best friend, Andra, initially had no idea that the mix of suitors competing for James's heart on national television included both gay and straight men. When it was revealed to them, midway through production, their objective shifted from a putatively romantic pursuit to guessing which men had been tricking James all along.

Boy Meets Boy presented this as an intriguing plot development, but the show replicated the kind of dangerous guesswork queer people must undertake each day—for gay men like James, incorrectly identifying another man as gay could lead to consequences far more dire than losing a game show. Disappointingly, James and Andra's selection process also included regurgitating harmful intra-community stereotypes about bisexual people. (So, too, did Playing It Straight, the 2004 Fox series that required its female lead to guess which of the men on a massive Nevada ranch were gay in order to win prize money.)
A Shot at Love With Tila Tequila, by contrast, burdened its contestants, not its lead, with the shady reveal. The 2007 MTV show began with Tila, then a popular MySpace personality and men's magazine model, meeting the 16 straight men and 16 lesbians who had been picked to live in a house and compete for her love. Prior to the end of the first episode, none of the contestants were informed of Tila's bisexuality—or the presence of contestants who didn't share their gender. That pilot, which was literally titled "Surprise! I Like Boys and Girls," introduced Tila as a confused arbiter of her own sexual orientation. "This show's the perfect experience because it's really gonna help me figure out Do I really like a guy? or Do I really like a girl?" she mused in one of the intro sequences. A more profound assessment of bisexuality never emerged, from Tila or anyone else. Indeed, the show was later mired in controversy following reports that Tila isn't actually bisexual (and she has since gone on to court attention from neo-Nazis), but it ran for two seasons and inspired a spin-off.

Now, nearly 12 years after the premiere of A Shot at Love—and several queer-centric productions, and a whole bunch of Special Gay Episodes later—Are You the One? takes a wildly different approach to depicting queer, and particularly bi/pansexual, attraction. This season has gotten more complicated than the show's prior iterations, but it's intriguing for reasons beyond the new statistical challenge. Of course, the series still operates within the framework of reality television. There are unnecessary fights, illicit makeouts, and love triangles galore. Everyone is perilously hot (and predictably thin). But as the entertainment industry has slowly shifted to offer more nuanced portrayals of queer people, Are You the One? attempts to apply that impulse to the rowdiest corner of television. As Remy, one of the participants, notes, "Some of us are not what you would want to maybe represent you, and that's fine, but we're real people, and we exist and deserve to be seen, and we deserve to express how we feel."
Are You the One? isn't the most respectability-driven model of representation, but for a series about 16 young people hanging out and hooking up in one giant house, it manages to be impressively earnest. In one early scene, for example, the show's only transmasculine cast member, Kai, asks Jenna, the woman he's been connecting with since the first day, if she'd be willing to join him while he takes his routine testosterone shots. Rather than feel voyeuristic or inappropriate, the moment is tender and, for many viewers, familiar. "I lived the first 20-something years of my life as a completely different person, and now I'm in a new frame of mind, I'm in a new body, I've got a brand new $10,000 chest!" Kai says in the confessional booth, opening his shirt to reveal top-surgery scars. "But I also feel like I'm new to relationships." When Jenna tells him his commitment to figuring out his relationship to gender inspires her, he blushes wildly.
The fact that Kai's later revealed to be a swaggering playboy doesn't undo the welcome surprise of his onscreen candor about physical transition, a process he describes as nonlinear. (It is, however, worth noting that the season, like many other queer productions, manages to include several storylines about its transmasculine cast member being pursued. The lone transfeminine person, meanwhile, struggles with others' femmephobia.) The show also features a relationship expert, the famed lesbian matchmaker Dr. Frankie Bashan, who steps in to advise the singles on how to avoid unhealthy romantic dynamics, especially those that can emerge within insulated communities. And each episode ends with a reference to the show's website, which lists resources for LGBTQ viewers and those looking to support them. Are You the One? remains a thrillingly tumultuous show, but for once, that chaos is driven by the queer cast members themselves.