Why Rita Moreno Almost Quit Show Business
"They didn't know what to do with a Latina girl."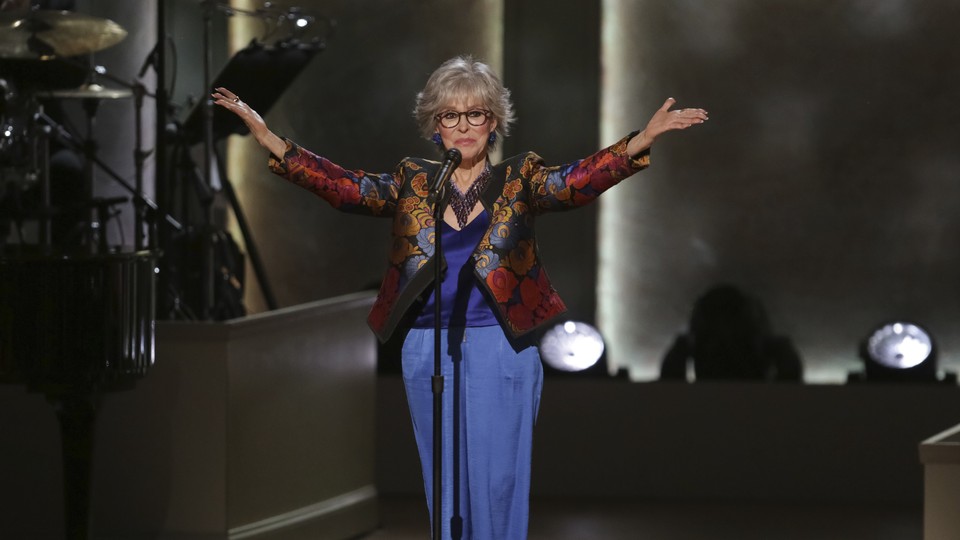 Rita Moreno's performance as Anita in the 1961 movie West Side Story is the role that made the actor's career, but she almost quit before shooting started. The first line in her solo number, "America," was supposed to go, "Puerto Rico, you ugly island, island of tropic diseases," and Moreno, who'd moved from Puerto Rico at the age of 5, couldn't bear to slander her beloved home. In the end, Stephen Sondheim rewrote the line, and Moreno kept her part, and went on to win both an Oscar and a Golden Globe for it.
The moment was characteristic of her career writ large, Moreno told an audience Wednesday at the Aspen Ideas Festival, co-hosted by The Atlantic. For every early triumph she achieved, there was an accompanying burden, or humiliation, to be surmounted. During the filming of West Side Story, the makeup artists used makeup so dark that "you could see my color underneath," she said. When she challenged producers, saying she didn't need makeup, as a Puerto Rican, to play a Puerto Rican, they responded by asking her whether she was racist. During her earliest days in Hollywood, Moreno was "stalked," she said, by Buddy Adler, a production head for 20th Century Fox, and so aggressively propositioned at a party by Harry Cohn, a co-founder and the president of Columbia Pictures, that she fled in tears.
Despite it all, Moreno, at 87, has presided over one of the most lauded careers in Hollywood. She was one of the earliest performers to claim EGOT status, winning an Emmy, a Grammy, an Oscar, and a Tony by the age of 45. She has a Presidential Medal of Freedom, a star on the Walk of Fame, a Kennedy Center Honors award, and a Peabody Career Achievement Award, among others. Her most recent Critics' Choice nomination came in 2018, for her role in the transformative Netflix sitcom One Day at a Time, and in 2020 she has a new role in Steven Spielberg's West Side Story remake, an opportunity she said was thrilling "beyond words." (Moreno is also an executive producer of the movie.)
Her career essentially started in 1936, when Moreno's mother had saved enough money working in the United States to return to Puerto Rico and pick up her daughter. Though the 5-year-old Moreno was brokenhearted to leave home, which she described as "nothing but joy and happiness and a lot of laughter," in New York she began to take dance classes. By 13, she'd been scouted by Hollywood agents, which led to a seven-year contract with Louis B. Mayer's MGM Studios. No one there, she said, could pronounce her real name, Rosa Dolores Alverío, and they thought "Rosita Moreno" sounded "too Italian." So she became Rita instead, a nod to Rita Hayworth, whose uncle had been Moreno's dance teacher.
Moreno's early career was defined by disappointment, since she was always being typecast in generically ethnic roles. "They didn't know what to do with a Latina girl," she said, to the point where the makeup kits for many of her first acting jobs involved "a shoebox with no shoes, earrings, and dark makeup." She played Hawaiian characters, Native American characters, Egyptian characters, Filipino characters, and a young Burmese woman named Tuptim in The King and I. Even after her success in West Side Story, Moreno struggled to get agents to submit her for roles "that had nothing to do with being Hispanic, or at least [let me be] Hispanic with dignity." As a result, she abandoned movies for seven years, mostly acting in summer theater, before taking a job in the original cast of the PBS children's series The Electric Company.
It's tempting to think about what else she might have achieved if given fewer barriers into the industry and more equitable treatment as a young woman of color in Hollywood. But to see Moreno still at such effervescent power, even after more than seven decades in the industry, is thrilling. Yesterday it was announced that One Day at a Time had been picked up by Pop TV for a fourth season, after being canceled by Netflix. "Show business is my life," Moreno said. "And it's an amazing life, really."