The Real Meaning of Trump's 'She's Not My Type' Defense
The president, in attempting to downplay E. Jean Carroll's rape allegation against him, isn't talking about attraction. He's talking about protection.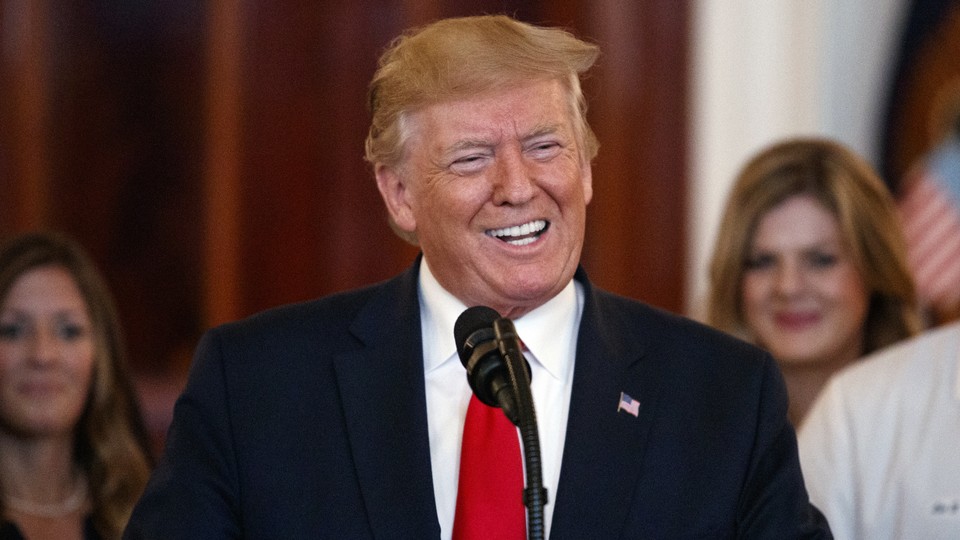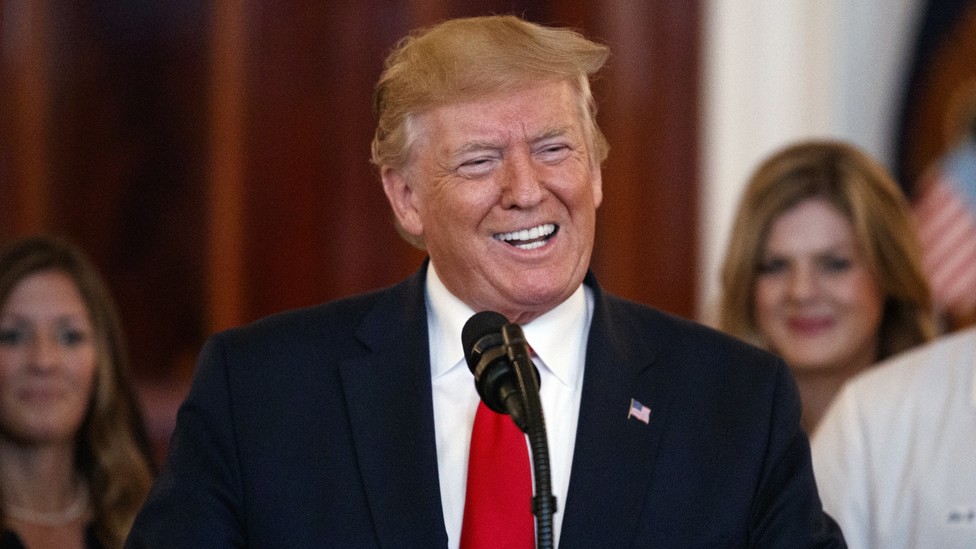 "I'll say it with great respect. Number one, she's not my type. Number two, it never happened. It never happened, okay?"
That was Donald Trump, speaking yesterday with reporters from The Hill. The president was addressing, in part, the latest allegation of sexual assault to be brought against him, this time from the advice columnist and author E. Jean Carroll: In the mid-1990s, Carroll alleged in a recent essay, Trump, cornering her in a dressing room of the department store Bergdorf Goodman, raped her.
The Hill prefaced the headline of its published interview with an all-caps "EXCLUSIVE," which is technically true but not fully: Trump, after all, has deployed the logic of "She's not my type" many times before, in attempting to defend himself from charges of sexual misconduct. He used a similar dismissal as a presidential candidate in October 2016, after the former People magazine journalist Natasha Stoynoff accused him of attacking her—"He was pushing me against the wall and forcing his tongue down my throat," she said—during an interview she had conducted with him at Mar-a-Lago, in 2005:
Take a look. You take a look. Look at her. Look at her words. You tell me what you think. I don't think so.
Trump used the defense as well in response to Jessica Leeds, who accused him of groping her while the two were seated next to each other on an airplane in the early 1980s. ("He was like an octopus … His hands were everywhere," Leeds described the alleged incident to The New York Times.) Here is Trump, at a 2016 campaign rally, responding to Leeds's allegation:
Believe me, she would not be my first choice, that I can tell you. You don't know. That would not be my first choice.
The crowd, delighted at this, cheered.
There is, as always, a certain clarity to Trump's cruelty. The president seems to understand, on some level, something profoundly true about the creaking mechanics of misogyny: Sexual abuse is not, ultimately, about sexual attraction. It is about power. It is about one person's exertion of will over another. In this way, "She's not my type" is deeply entangled with the president's long-standing habit of dismissing unruly women through his negative assessments of their attractiveness: the women as the sexual commodities, Donald Trump as the discerning consumer.
So when he is mocking women's appearances—as he has done with Rosie O'Donnell and Carly Fiorina and Arianna Huffington and Bette Midler and Mika Brzezinski and Stormy Daniels and Heidi Cruz and Heidi Klum and so very many others—Trump is not, ultimately, talking about their looks. He is talking, via jokes about fat pigs and ugly dogs, about the women's relative ability to please men (specifically, the one man he seems to care about: himself). He is attempting, with some desperation—"fat pig" is not typically evidence of a tranquil mind at work—to defend the status quo that has thus far arranged itself so neatly around his own desires. He is working, with the aid of petty insults, to protect a patriarchal system, the very one that is threatened when women such as E. Jean Carroll come forward to declare their refusal to serve as the passive recipients of men's roving will.
This is how, in 2018, The New York Times summed up Trump's repeated attempts to diminish the women who refuse to comply with him:
Mr. Trump has accused women of having "fat, ugly" faces and of repelling voters because of their looks. He called one woman a "crazed, crying lowlife" and said another was a "dog" who had the "face of a pig." He said Hillary Clinton's bathroom break during a 2015 presidential debate was "too disgusting" to talk about. He has repeatedly mocked women for being overweight.
The rhetoric here may be singular; it is also familiar. You can see the same strain of panic on display among the men who protested when the women of their own times argued for a measure of equality. In 1866, the Albany Evening Journal mocked a group of women asking for a constitutional amendment "prohibiting disfranchising citizens on grounds of sex": Those women, it speculated, must "have hook-billed noses, crow's feet under their sunken eyes, and a mellow tinting of the hair." A century later, Esquire defined feminism as "a bunch of ugly women screaming at each other on television." Newscasts ran punnily scoffing chyrons like "Women Are Revolting." The writer Norman Mailer, prior to debating the Australian feminist Germaine Greer, informed her, upon seeing her in person, "You're better looking than I thought."
Donald Trump, who manages to function at once as a change in degree and a change in kind, replicates those dynamics. Even he knows that calling a woman too ugly to rape will not stand; he finds, then, marginally subtler ways to lash out at those who will not do his bidding. And his euphemisms are promptly amplified. As the news of the Hill interview proliferated yesterday evening, The New York Times, chastened after its executive editor admitted that the paper had not done enough to cover Carroll's allegations when they were initially made public, updated its article about Carroll. It changed its headline from "'I Was Banged Up Against the Wall,' E. Jean Carroll, Trump Accuser, Tells CNN" to "Trump Calls Accuser a Liar: 'She's Not My Type.'"
The Twitter feed @nyt_diff, which tracks such updates, captured the change:
So here is the newspaper of record, doing its job: updating the story as new information comes in. But here is that paper, also, editing its report on the E. Jean Carroll story away from the perspective of the woman—the future president, Carroll alleges, threw her against a wall before he raped her—and toward that of the man. The shift in subject is profoundly familiar. Men look at women. Women watch themselves being looked at.
As of this writing, the headline on the Times' constantly updating story has been amended to "'She's Not My Type': Accused Again of Sexual Assault, Trump Resorts to Old Insult"—a summary that at least captures a more holistic sense of the different perspectives informing the situation. Many other news organizations, however, did not make similar updates. Google News, today, is a testament to Trump's preferred framing of things. "Trump says columnist who accused him of sexual assault is 'not my type.'" "Donald Trump says sexual assault accuser E Jean Carroll 'not my type.'" On it goes. And the story, in the process, becomes not one about an alleged incident of sexual violence, or about an alleged serial sexual predator occupying the Oval Office, or about another woman—the 22nd woman—coming forward to accuse the president of the United States of sexual misconduct. It becomes a story about a man who has a type, and a woman who fails to live up to it.