How Rihanna's Fenty Line Is Challenging Luxury-Fashion Norms
The singer places her new collection squarely within a black aesthetic tradition—and in doing so, reimagines the industry's ideal customer.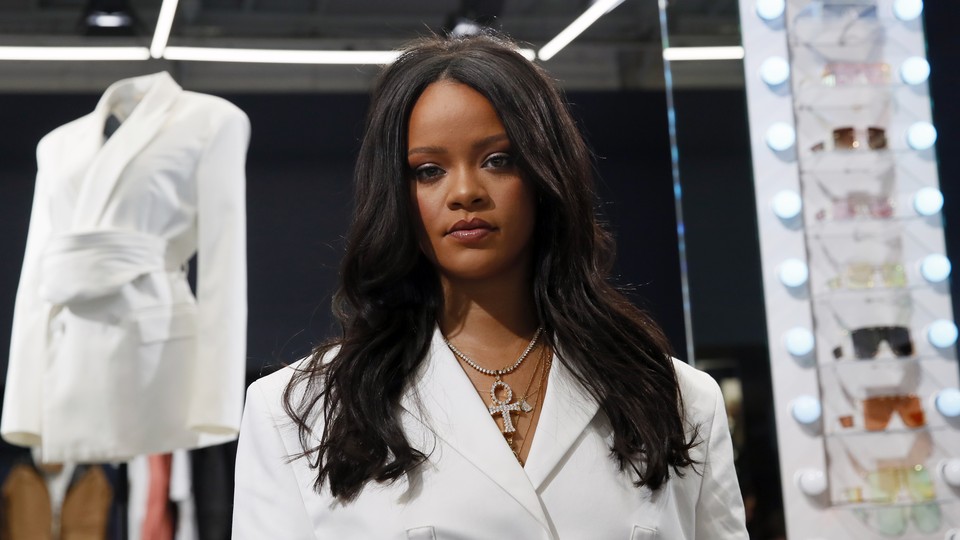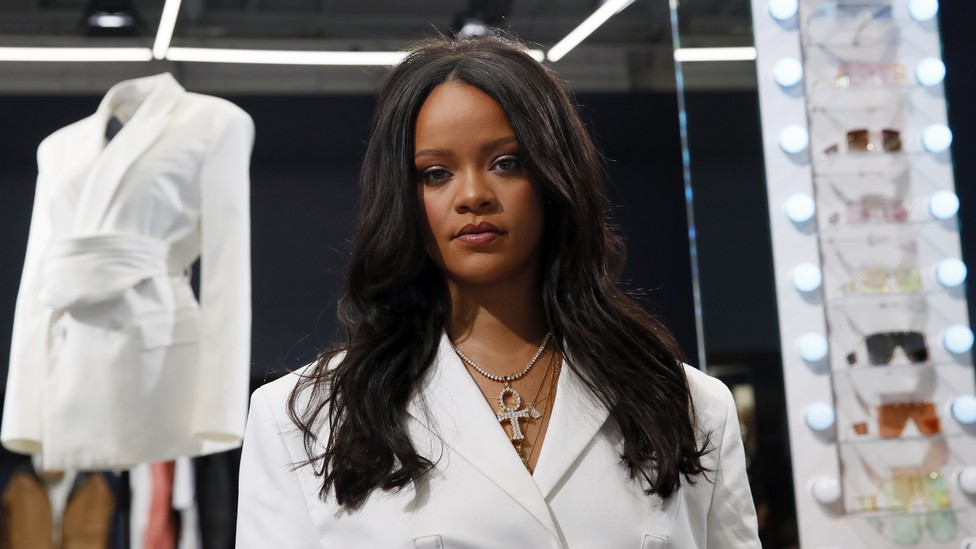 "Kwame Brathwaite. archive." In just three words, Rihanna shared with her Instagram and Twitter followers the inspiration behind her debut fashion line, Fenty. Accompanying the caption was a vintage photograph—taken by the Brooklyn-born documentary photographer Kwame Brathwaite—of three stylish black women models, one donning an elaborate head wrap and two sporting Afros. The banner on the wall behind them reads Buy Black in bold block letters. Later that day, Vogue Australia published an interview with Rihanna that gave context to the beauty and fashion mogul's post.
"When I was coming up with the concept for this release," she said, "we were just digging and digging, and we came up with these images—they made me feel they were relevant to what we are doing right now." She then mentioned that my own research on Brathwaite had offered her a critical introduction to his work. As someone who has written about Brathwaite's life and career, I can see why Rihanna was drawn to his archive. His photographs of the Grandassa Models, one of the first troupes of curvy, natural-haired black models in the United States—who also designed their own African-inspired garments—celebrate the same pioneering spirit and black-fashion aesthetic as Fenty.
The first new maison in France's LVMH empire since 1987, Fenty is also the luxury conglomerate's first house to ever be created by a black woman. The line was launched for the general public last week, days after an exclusive pop-up event in Paris. Described by Rihanna as "strong and edgy," the collection features a minimalist color palette, short hemlines, bold shoulders, corsets galore, and statement accessories. Those who are familiar with 1990s American fashion history can see in Fenty the volume of April Walker's Walker Wear hoodies, the androgyny of J.Lo by Jennifer Lopez's velour tracksuits, the "ghetto fabulous" bling of the rapper Eve's Fetish handbags, and the feminine glam of Kimora Lee Simmons's Baby Phat.
But many critics were hoping for the garments to be more than luxury versions of '90s-streetwear throwbacks—an aesthetic that has pervaded high-fashion runways in recent years, thanks to designers such as Virgil Abloh, Kanye West, and Shayne Oliver of Hood by Air. Early reviews of Fenty have been mixed, with some criticizing the price points and others proclaiming that the line is as badass as Rihanna herself. However, Fenty's explicit references to Brathwaite suggest that Rihanna wants to create more than just flashy garments: She's building a black-centered business model with the potential to elevate designers of color and reimagine the ideal luxury customer.
Rihanna and her team, including the style director Jahleel Weaver, seem to have recognized that Fenty needed a story for the brand that was not only fresh enough to appeal to younger fashionistas, but also weighty enough to place the garments within a broader stylistic heritage. Luxury-fashion houses use such narratives to paint a three-dimensional world—and a lifestyle—that's alluring to consumers, while giving institutions an identity not tied to any one creative director. Compelling stories also give the clothes an intrinsic worth, making them collection pieces that hold their value over decades, which is what has historically separated the luxury market from the ephemerality of "mid-market" and "fast" fashion. The challenge for Fenty was to operate within the recognized customs of luxury while also disrupting the establishment in ways that felt true to Rihanna's image.
Enter Brathwaite and the Grandassa Models. Now 81, Brathwaite was virtually unknown outside of Harlem's black-nationalist community until 2014, when his family began working to make his photo archive public. Brathwaite quickly became the toast of the fine-arts world and an icon for many in black Hollywood. The son of a Barbadian tailor and a homemaker, a teenaged Brathwaite co-founded the Harlem-based African Jazz-Art Society and Studios in 1956 and, six years later, the Grandassa Models. Brathwaite and his crew translated the teachings of the Jamaican intellectual Marcus Garvey—and those of his lesser-known protégé, Carlos Cooks, the leader of the African Nationalist Pioneer Movement—for the hip, young jazz lovers of their generation. The Grandassa fashion shows, called "Naturally" and depicted in the 1967 photo on Rihanna's Instagram post, helped to popularize the phrase Black is beautiful.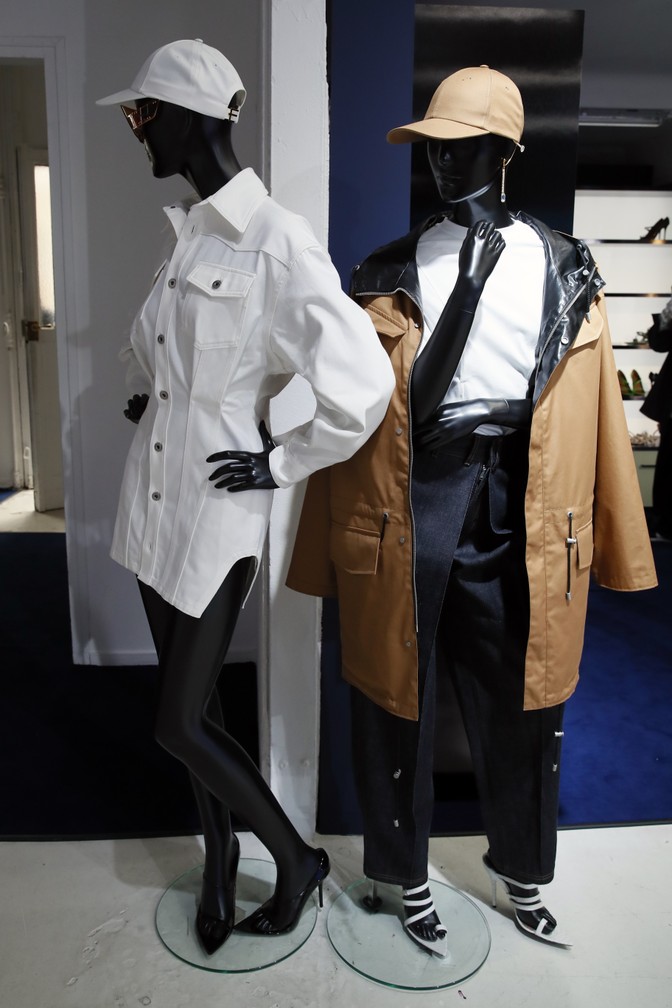 By fusing the Fenty brand with Brathwaite's vibrant work, Rihanna is positioning herself as an incisive student of fashion history. The debut line's website imbricates photos of Fenty garments with those of Brathwaite, making visible an entire ecosystem of style—with its own taste, culture, icons, fabrication techniques, and so forth—that has largely been ignored by the Western luxury-fashion industry. Haute-couture designers, instead, often scour black communities around the globe for the latest streetwear looks to slap their brand on; the Marc Jacobs dreadlock debacle and Kylie Jenner's alleged theft of the black-owned indie brand Plugged NYC's looks are just two recent examples.
As a cultural critic, I've observed this process: First, designers attempt to "elevate" garments, pilfered from black folks, to the realm of high fashion by putting the clothes on white models. Next, they create a narrative aimed at white (European) consumers that dislocates the garment (or hairstyle) from the community that innovated the look. Then, they force those same marginalized people to imagine themselves in the white world that designers have created for their clothes. With Fenty, Rihanna is upending this practice of appropriation by placing black diasporic fashion history center stage. Thus, Brathwaite is more than a muse; he's a cultural and political nexus around whom the Fenty world is constructed.
Most immediately, this marriage gives Fenty's garments a kind of ethnographic richness and creative depth. Because of the Brathwaite-grounded origin story, I can now see in the clothing references to the zoot-suit culture of the 1940s; the styling of the 1950s South African group the Manhattan Brothers, in their dapper suits and Florsheim shoes, and the seductive sheath dresses of the lead vocalist Miriam Makeba; Bob Marley in the denim-on-denim look he popularized in the 1970s; and the "around-the-way girl" wardrobe of the singer Mary J. Blige in the early 1990s. But, and perhaps more importantly, I see influences from Rihanna's Caribbean upbringing: the bare legs of everyday Barbadian women who were rocking short skirts and pum-pum shorts long before the Western fashion world called them "miniskirts" and "hot pants." Rihanna drapes these childhood memories in the most decadent fabrics, stitched by some of the most skilled couturiers in the world.
In the long term, Rihanna's business model for Fenty has the potential to reimagine what luxury looks like and whom it is for. Weaver recently told T: The New York Times Style Magazine: "Luxury has been defined in the past as one woman … You know who the Saint Laurent woman is; you understood who the Céline woman was." Unfortunately, this "woman" (or ideal consumer) was imagined, either intentionally or by default, to be a wealthy white European woman. The promulgation of such an archetype has created a form of gatekeeping, in part through lifestyle policing and racial profiling in high-end stores, that bars many people of color from participating in the Western luxury market (despite the fact that African Americans alone have an estimated buying power of $1.2 trillion). Fenty, by contrast, uses a direct-to-consumer model, which bypasses the in-store experience altogether. And Fenty has established a talent "hub," which seeks to cultivate young designers and tastemakers of color who wouldn't typically be part of the usual pipeline into fashion's upper echelon (one of Kanye West's long-standing gripes).
It appears that Rihanna may already be thinking about the possibilities of a diffusion line, which would make Fenty available at lower price points. Rihanna—a woman from working-class roots who still remembers how she had to save up for months to afford a pair of Timberland boots—has said that one of her first questions about the cost of luxury was: "So how much is this gonna cost at retail? How can we bring the price down without compromising on quality?"
Luxury fashion is changing. Rihanna cannot, and frankly should not have to, revolutionize the industry on her own. But it is admittedly thrilling for many fashion fans to see the kind of world a black woman can build—and the rich, overlooked history she can tap into—when she's given artistic autonomy.