Netflix Is a Business, Not a Movement
While the streaming service has taken over cinema, it's important not to overstate the company's virtues or downplay its vulnerabilities.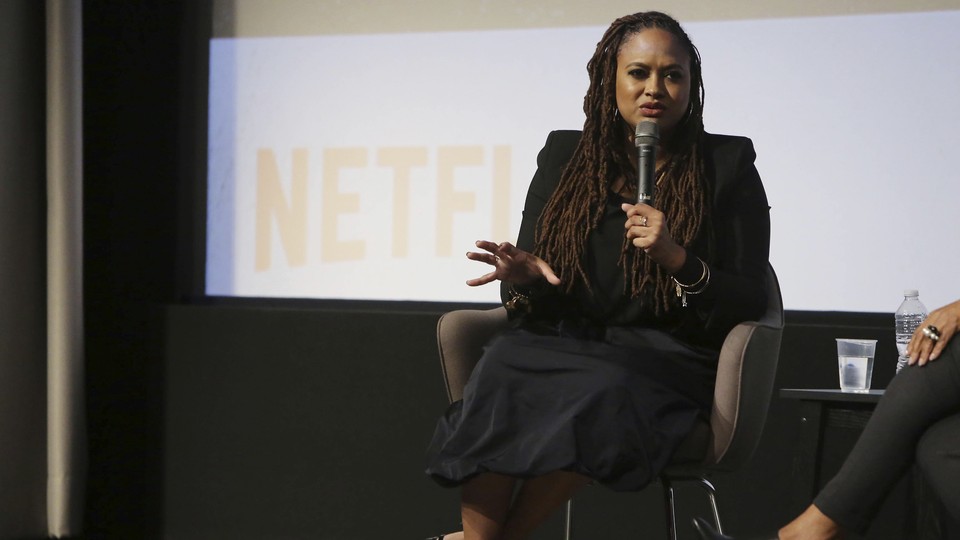 Updated at 1:40 p.m. ET on June 24, 2019.
From the way Netflix is described by some Hollywood luminaries in The New York Times' extensive package on the future of moviemaking, the company's executives should be jumping for joy. Netflix has apparently pulled off the rarest of tricks: It no longer registers to most people as a business. It's a way of life, a utility, a universally understood medium, its brand name used in an offhand way to describe a piece of technology, like the Xerox or the Jet Ski before it. According to many industry figures, Netflix is not the next stage in cinema's evolution; movie theaters are merely an outdated version of Netflix.
If that sounds hyperbolic, read Ava DuVernay's interview with Kyle Buchanan. "I'm trying to urge people to realize that their privilege-preferred presentation of cinema is outdated," she told him. "That is not the reality of most people's experience with film, and that is not sustainable any longer." Then there's Joe Russo, co-director of Avengers: Endgame, who said, "You've got so many options for viewing content that there has to be a need for you to leave your home. What is going to drive you to do that?" Or look at Tom Rothman, the head of Sony Pictures—a theatrical distributor—who admitted, "Young people don't go to 'the' movies; they go to 'a' movie."
Perusing the Times' excellent collection of interviews with actors, filmmakers, producers, and executives, one might come away with the conclusion that theatergoing isn't dying—it's already dead, and streaming services led by Netflix are the future of entertainment. A glance at this summer's box-office totals could provide more doom and gloom: Poorly reviewed, warmed-over sequels such as Dark Phoenix and Men in Black: International have tanked with viewers, and even expected smash hits such as Toy Story 4 have underperformed. If studios don't know how to get audiences to cinemas, then how can the medium survive? A deeper look at the industry's comments in the Times piece shows there is some reason for optimism, but more than anything, it's clear that nobody has a definitive answer for what the future will look like.
As a director, DuVernay has worked with giant studios (she made A Wrinkle in Time for Disney and is making the superhero film The New Gods for Warner Bros.), indie distributors (who put out her earlier films, such as Middle of Nowhere), and Netflix (who distributed her documentary 13th and the miniseries When They See Us). That broad range of experiences gives DuVernay a good sense of how the industry is changing, which makes her interview particularly chilling. "Fifteen bucks? You don't care about real people seeing this," she said of how much theaters charge customers. "If it's not Avengers: Endgame, there's a huge disconnect between the desire, capacity, and need of people to consume films in the theater, or not consume them at all."
DuVernay's argument, which has been echoed in virtually every debate about Netflix and its online competitors, is that streaming has a wider reach and that movies on the service can get to more people instantly. She points out that "more than a quadruple amount" of people saw her documentary 13th than saw Selma in theaters, despite the latter's famous subject matter (Martin Luther King Jr.) and major distributor (Paramount). But it's an odd argument, one that seems to ignore the fact that Selma was quickly available to rent and buy online, just after it played in theaters, and its rights were eventually sold to various streaming services, further broadening its audience. More people saw it then, and more money was made. It's a good example of the way that theatrical and online experiences can operate symbiotically, if not simultaneously.
More important, Netflix isn't bringing movies to its subscribers out of altruism. Though DuVernay and others paint streaming cinema as a lofty operation spreading movies to "real people," Netflix is a business like any other, one locked in a seemingly unresolvable war with the movie-theater industry, which it views as a rival. DuVernay's argument that "real people" don't see movies in theaters is vague and not exactly backed up by data. Twelve percent of Americans see at least one movie a month in theaters; Netflix has about 60 million U.S. subscribers, or a fifth of the country.* Both are huge money-making endeavors, and the idea that one has to die for the other to prosper is hard to grasp.
One fact that's largely being ignored about streaming media is that more drastic change is coming. Right now, film operations such as Disney, WarnerMedia, and Universal are mostly focused on big-ticket cinema releases; Netflix and Amazon have thrived partly by buying the online rights to other movies in order to pad out their collections. But Disney et al. are all in the process of launching their own Netflix competitors, each of which will exist for a monthly fee. This coming glut of streaming services is why companies such as Netflix have been so eager to pump out film and TV that they outright own.
Soon subscribers to online libraries are going to be paying higher prices for smaller archives. Whether people will be willing to shell out for multiple streaming services remains to be seen, but either way, established platforms such as Netflix will struggle to fill out their offerings as projects such as Disney+ take back their studios' intellectual property. That will be a future where movie theaters still matter—where presenting something special, outside of the carousel of options on your TV screen, might be enough to justify a $15 ticket.
Some of the Times interviews bear out that thinking. "I like the idea of movies showing [in theaters] and then going to streaming and devices. I'm a loyalist to that degree," said Octavia Spencer, whose low-budget horror film Ma has been hugely profitable in cinemas. "That social aspect of sharing a movie with friends and strangers and family, that's such a strong part of our tradition," said Jon M. Chu, the director of 2018's smash hit Crazy Rich Asians. "I don't want to diss on Netflix too much, because they make amazing stuff, and they're giving shots to people who would not have been given shots 10 years ago, but I also think Netflix would rather have five things that people kind of like than one thing people really love," said the comedian and actor Kumail Nanjiani.
Netflix is still a young company, one that's sitting on a mountain of debt and creating new film and TV at a rate that feels unsustainable. Analysts might be wringing their hands at recent flops, but 2018 was still the highest-grossing year on record for theaters worldwide, and big studios are a long way off from closing up shop. For more than a century, business and art have managed to co-exist to buoy this fruitful art form. "When you say that you care about the future of this space, this medium, this legacy, then you have to think about what happens next, and I just don't think enough people are doing that," DuVernay said. She's right.
---
* This story originally misstated that 53 percent of Americans see at least one movie a month in theaters.