The Strangely Charming World of Los Espookys
The absurdist Spanish-language series may seem like an unconventional choice for HBO, but it proves the value of comic alchemy.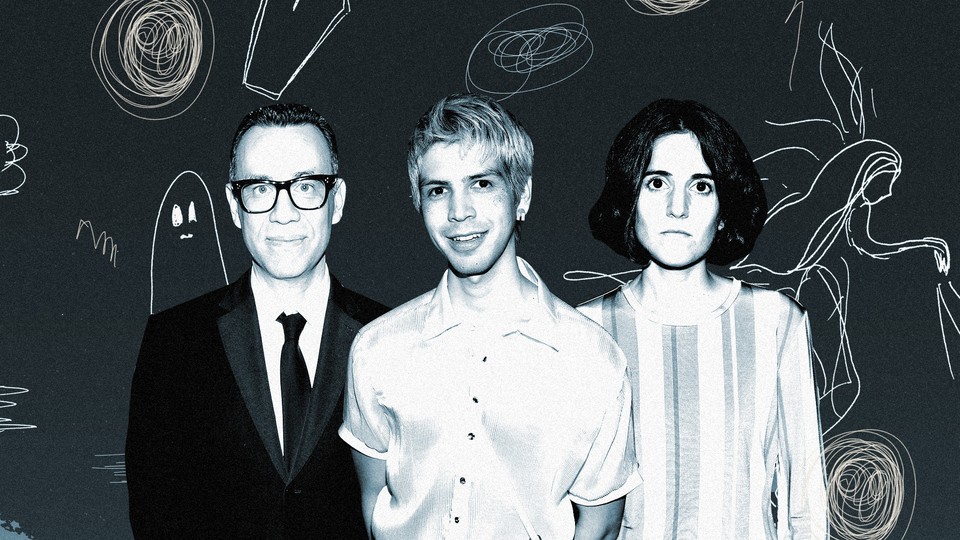 The premise of HBO's Los Espookys sounds straightforward enough: The half-hour comedy follows a group of horror enthusiasts in an unnamed Latin American country who are hired to set up eerie scenarios—monster sightings, haunted houses, exorcisms, etc.—using their special effects and makeup skills. They're a band of misfits attempting to fly their freak flags for a living.
But try to describe any specific aspect of the show created by the Saturday Night Live alum Fred Armisen and the comedians Julio Torres and Ana Fabrega, and things get weird. Take Andrés, the Espookys' most inventive brainstormer. Played by Torres, Andrés is a character who sounds only a little strange at first: His hair is blue. (Cool.) He's the adoptive heir to a chocolate fortune. (Sure.) He has a water demon living parasitically inside of him. (Wait, what?)
To hear Torres explain how he arrived at that plot point is to hear a writer-comedian sound like he's playing a game of word association with himself. "Just the color blue … " he began telling me over the phone, "just exploring that with, the hair is blue, and water is a big component, and then, okay, I guess he has a water demon inside of him? Like, that's the next logical thing." Fabrega, also on the call, laughs. "Just a natural fit!"
Then again, Los Espookys, which debuted last week and airs on HBO every Friday, is a show whose charms stem from its inexplicability. Blending magical realism with absurdist humor, the series tells a modest tale of four friends with a shared passion, but also comes across as an outlandish fever dream. Aside from a water demon, there's also a cursed mirror and a seemingly possessed host of a news program devoted to sensational stories. "There were certain moments when we were writing where I truly felt, and I would tell Ana, 'Okay, this is where HBO says, What the hell are you doing?'" Torres recalls. "That moment never came, to the point that I'm like, 'Is it okay that no one stopped this? Like, have they seen it?'"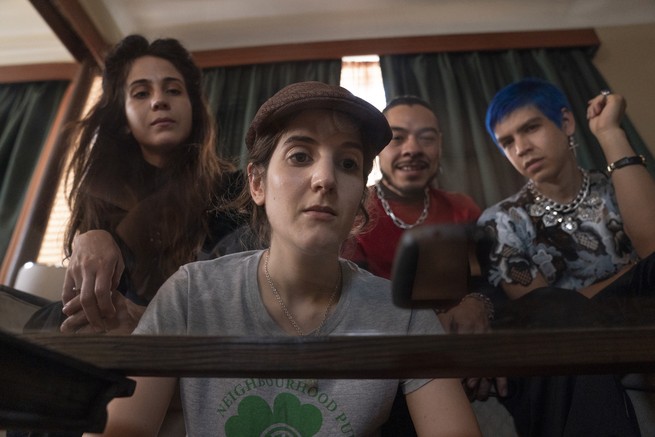 That high concept isn't the only reason Los Espookys was a risky pitch. Most of the show's characters speak Spanish, requiring English subtitles, and would be played by relative unknowns to an American audience. (Armisen plays a minor role.) In fact, Armisen had been hoping the series would land at HBO Latino when he met with the HBO programming chief Amy Gravitt, who oversees original comedies on the premium network. She didn't see it that way, though. "The way I look at my slate, I like to balance out our larger, broader-appeal comedies with these specific comedic voices," Gravitt told me. "When you go down the alternative path, you're usually giving a voice to somebody who hasn't had a shot before, so there's something really exciting about that. You have a chance to experiment." Los Espookys' unconventionality, in other words, makes it worthwhile. And in its eccentric, concentrated package is a wealth of broader observations—on Latin American culture, on identity, on friendship.
Armisen built the skeleton of Los Espookys on his experiences in Mexico City. He based Renaldo (Bernardo Velasco), the group's leader, on a prosthetics artist he met during a research trip there. ("He had long hair," Armisen remembers. "I wanted the main guy to be this guy, a guy who's into horror and is also proudly Mexican.") He came up with Andrés's adoptive family's business after thinking of the booming chocolate industry in his mother's native Venezuela. And he imbued the show, shot in Chile, with positivity: In Latin America, he pointed out, people aren't unnerved by horror; they rejoice in it.
"When I was a kid, I lived in Brazil, and I just remember in their soap operas how death was a really big scene," Armisen told me, adding that he'd originally wanted to name the show Mexico City (Only Good Things Happen). "Horror, death, and the celebration of it really just coexists there."
While Armisen crafted the story, Torres and Fabrega defined the show's offbeat humor. The pair, rising comic stars who met years ago in the New York stand-up scene, share a whimsical comedic sensibility—both ace deadpan delivery while also incorporating a quirky stage presence and sharp observational humor. Fabrega's early stand-up sometimes involved dressing up in a costume and delivering her jokes at a snail's pace, and during her time as a writer on The Chris Gethard Show, she'd perform goofy bits with a straight face. Torres, now a writer on SNL, has created some of the late-night show's most high-concept digital shorts, usually involving a single joke—an overdesigned sink, the typeface used for the film Avatar—transformed into a meditation on existence. "Our solo work is so different, but the middle of our Venn diagram is so big," Fabrega observes.
From them comes an earnestness within every joke and running gag on Los Espookys. Fabrega's carefree character, Tati, takes on ever more odd jobs—breaking in strangers' shoes, operating the second hand in a clock tower—but she's so agreeable and takes them so seriously that it's impossible to watch without thrilling in them, too. Úrsula (Cassandra Ciangherotti), Tati's sister and the group's practical-effects wizard, puts on a withdrawn air, but she never fails to support Tati's goals. Overall, there's a youthful energy to the foursome's work: The flashy scenarios they put together for clients aren't polished or all that professional; they're scrappily assembled, and much of the joy of watching Los Espookys is in seeing how much mileage they can get out of some face paint and hastily glued-on prosthetics.
That said, Los Espookys isn't afraid of incorporating a dash of real-world commentary. Andrés's boyfriend, Juan Carlos (José Pablo Minor), is an avatar for Latin America's ostensibly progressive upper-middle class—he's queer, yes, but he also talks about preventing maids from voting. ("There's still such a caste system in place," Fabrega noted. "Through Juan Carlos, we address those things.") Tati gets roped into a pyramid scheme run by a bloviating American businessman named Mark Stevens (John Early). And throughout the series, the vapid, bratty U.S. ambassador (Greta Titelman) tosses off one-liners about green cards and the border crisis, the show's way of casually critiquing immigration law. "It always felt really funny and humanizing to be like, Andrés is at times clairvoyant, but he can't go to America without a visa," Torres said. "That's what we felt was so drastic and funny, that, like, 'Oh no, he can burst lightbulbs when he's really angry, but he would be detained at the airport for having the wrong paperwork because he was born in the wrong country.'"
No, the show isn't leaning hard into discussing bigger social issues—"It's not like Season 2 will be all about ending gun violence," Fabrega said—but sprinkling in some observations felt natural given its setting. "Little pieces like that [felt] like they would be fun to explore in such an absurdist landscape like this," Torres explained. "It was very organic."
Ultimately, Los Espookys achieves a unique comic alchemy: It's empathetic yet critical, magical yet familiar, bizarre yet uncomplicated. Its title implies fright but also winks at the show's droll tone. Still, for his part, Armisen has no idea how it got made. "If I knew what that ingredient was, I would just keep pitching," he admitted. Gravitt, though, offered a simple explanation: "It's just a good-natured group of characters that I hadn't seen on television before." Including that water demon.