The Fitness Craze That Changed the Way Women Exercise
Fifty years after Jazzercise was founded, it is still shaping how Americans work out—for better or for worse.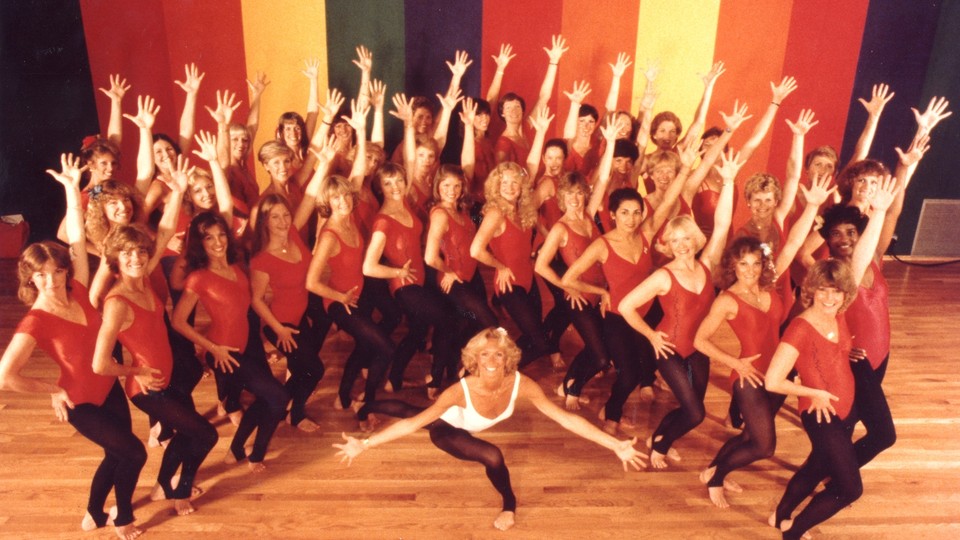 "You're not in Jazzercise, ladies," a trim, tattooed fitness instructor chided me and the roomful of women who were attempting to work up a sweat one morning a few months ago. I'd never done Jazzercise, but I knew what she meant. The caustic cue conjured grainy VHS tapes—the kind that circulate on social media for their Totally '80s aesthetic—featuring a gyrating blonde who's all limbs, leotard, and embarrassing exclamations like "Find that boogie body." My instructor was calling us uncool.
Tempting as it may be to dismiss Jazzercise to the dustbin of fitness history, the dance-cardio program—which turns 50 this month—is more than a punch line. The format founded in a dance-studio basement by Judi Sheppard Missett, the front woman in the videos, established the style and substance of "boutique fitness," the fastest-growing segment of today's $26 billion fitness industry. Jazzercise set the standard not only for contemporary choreographed offerings, but also for the franchise model exemplified by the likes of Curves, Pure Barre, and Barry's Bootcamp.
Perhaps most crucially, serving a female clientele when exercise was perceived as the domain of men, Jazzercise invited women to find the "joy" and "flair" in working out. The program challenged an enduring machismo that still limits women's full participation in many exercise environments. The feel-good fitness language that Jazzercise birthed, however, blended newly empowering affirmations with old beauty directives that prized a thin and conventional sort of prettiness—a mixed ethos that pervades U.S. fitness culture today.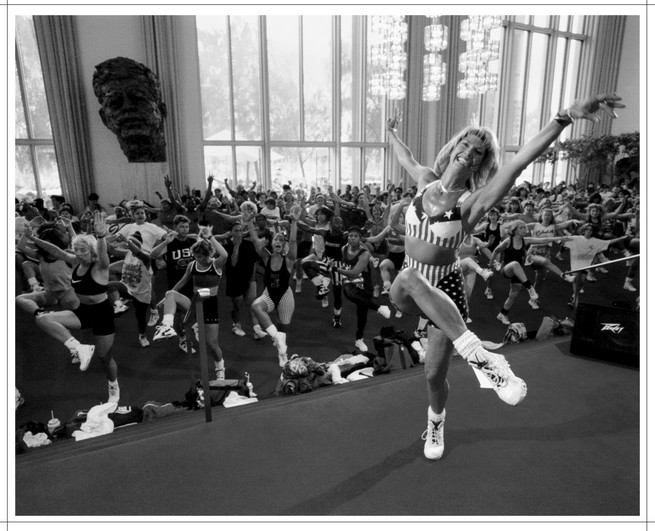 "We're still here," Missett reminds me when I ask about her career in the past tense during an interview. According to her forthcoming memoir, Building a Business With a Beat, Jazzercise has netted $2 billion in cumulative sales. Taught primarily in freestanding suburban centers or in community spaces such as churches and schools, Jazzercise is in every U.S. state and 25 other countries. At the height of its popularity, in the mid-1980s, Jazzercise was the second-fastest-growing franchise business in the country, after Domino's Pizza.
In the 1960s, this future was unimaginable for many women. For most, the idea of "going to the gym" was uncommon, and the word exercise might call to mind the Presidential Fitness Challenge common in physical-education classes or muscle-bound bodybuilders. When Missett, then a recent Northwestern graduate, took a fitness test at her local YMCA, the employee puzzled over her results: The rubric had been conceived for a male physique, and Missett's considerable strength defied his expectations, given that "all" she did was dance.
Back at Chicago's prestigious Gus Giordano studio, where Missett taught dance, she noticed other obstacles to women becoming physically active. Mothers sat to the side as their young daughters practiced; the idea of grown women dancing for fitness, or fun, was unfamiliar. How, Missett wondered, could she design a class that allowed women to enjoy dancing with the same abandon as their uninhibited daughters? She soon got her answer. After she toned down the technique and turned the women away from the mirror, her adult classes filled. Jazzercise—first called Jazz Dance for Fun and Fitness—was born.
---
While exercise spaces for women existed at the time, they often assumed that women valued prettiness and poise over feeling powerful. As early as the 1930s, a Chicago "figure salon" invited women to "soothe the nerves and control the curves," according to a 1936 piece in the Chicago Tribune. For decades, these businesses were largely owned by men, whose rationale for sex segregation—such as having "ladies' days" at the bodybuilder Vic Tanny's chain of clubs—was more about maintaining proper distance between the sexes than enabling women to freely enjoy exercise.
But ideas about women's bodies and who should have agency over them, at the gym and elsewhere, were changing. New research touted the benefits of aerobic exertion, expanding the popular understanding of exercise to include arenas outside of smelly weight rooms. Many proponents of women's liberation sought to obliterate old ideas about female frailty and celebrated what women's bodies could do, whether breastfeeding or playing basketball. Along with Missett, women such as Jacki Sorensen, who developed the competing "aerobic dancing," and Lydia Bach, who imported Lotte Berk's barre workout from London, infused this philosophy into exercise.
Jazzercise, with its mostly female clientele and high-energy vibe, was of this moment that Missett seized and helped shape. Her family relocated to San Diego in 1972, where a body-conscious health culture was kicking up. Military wives packed Missett's classes, which she said she taught so frequently that she nearly permanently lost her voice. When her students' husbands were reassigned, many of these women were so heartbroken imagining life without Jazzercise that Missett created an official certification program, and then a franchise system, turning exercise into employment for thousands of women and creating global brand ambassadors before such a term existed.
Thousands of letters Missett has saved relay how Jazzercise moved women not only to lose inches, but also, in some cases, to leave abusive husbands, demand raises, and generally find joy in their bodies and lives. Jazzercise's empowerment effect could be especially intense, because enjoying classes could become a career (more than 90 percent of franchisees begin as students; even more are women). I've interviewed women whose first solo travel, in their 30s, was to a Jazzercise convention. They found in the franchise a rare opportunity for employment and camaraderie that fit in with the demands of child-rearing. Missett relishes such stories of how Jazzercise has enabled women's economic independence, including her own: She gleefully recounts a triumph in 1975 over a sexist Parks and Rec bureaucrat who balked at writing a big paycheck to a "little exercise girl."
Three years later, Missett released her first book, which mostly offered advice on exercises and apparel. By contrast, Missett's new memoir nods to history more than most other business, or fitness, books. She cites the 1974 Equal Credit Opportunity Act as crucial context for the rise of Jazzercise. Outlawing discriminatory practices that had subjected women to the humiliation of bringing a man along to apply for credit, the measure enabled women to become entrepreneurs and consumers. And she liberally quotes famous figures such as Gloria Steinem and Madeleine Albright. Yet Missett doesn't include any of the era's feminist watersheds that were centrally about women claiming bodily autonomy. Title IX, Roe v. Wade, the Fat Underground's manifesto that declared "YOU HAVE NOTHING TO LOSE!"—birthing the body-positive language so prevalent today, including in Jazzercise—they are all conspicuously absent.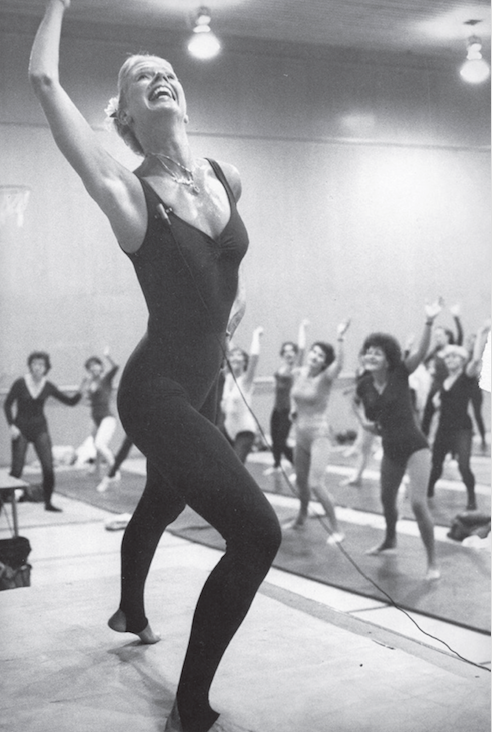 "Those women marching in the streets," Missett told me when we spoke in 2015, had little in common with the movement she simultaneously launched in studios. It's true; Jazzercise and Jane Fonda are often lumped together, but politically, their respective origins in historically conservative San Diego and liberal Beverly Hills diverge. Fonda founded her own dance-aerobics program in 1979 to fund the leftist Campaign for Economic Democracy; her best-selling book connected exercise to causes such as environmentalism and overcoming oppressive beauty standards. Missett avoided politics and favored suburbs like one New Jersey community she described, in which a Presbyterian reverend at first balked at renting out his church to women in "body stockings." In a recent interview, Missett acknowledged that many Jazzercisers were influenced by "hearing about other women who were stepping up and believing that they had some power over their own lives." But these "ordinary women," she explained, sought the "nonthreatening environment" of Jazzercise. They were "not necessarily changing the world, but they were changing their world."
---
Four decades before SoulCycle, Missett unquestionably created new spaces for women to build strength, self-esteem, and economic independence. Yet this form of liberation could also conveniently keep women trim and graceful. Some critics say Jazzercise not only left dominant and disempowering beauty ideals intact, but also helped perpetuate them. As one woman told me of seeing Jazzercise on television as a child in the 1980s, "It was the first time I realized I was supposed to work on my body … to look how I don't naturally." It's also hard to overlook how the women whose hustle Missett so admires in Building a Business With a Beat—for keeping fit and running a franchise amid the demands of homemaking and a husband's career—deftly navigated a patriarchal system that remained fundamentally unchallenged, if more palatable, after a great workout.
I contemplated this a few weeks ago while pulsing through pliés at the behest of an energetic barre instructor in a REBEL GIRL top. "Abs in," she chirped. "Bikini season's coming!" The dissonance between her outfit and her encouragement highlights the limits of the rebellion that comes in a 10-class bundle, purchased at least partly in pursuit of a six-pack. This tension—between you-go-girl messaging and the stubborn fact that thin remains "in"—is ubiquitous in the overwhelmingly female fitness world that Jazzercise helped create.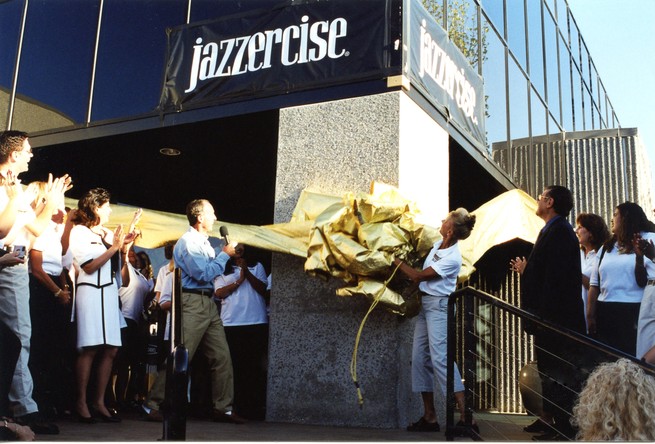 "Well, I am thin and white," Missett acknowledged when I relayed a frequent association with Jazzercise as "something for skinny white ladies." But she resisted the characterization as unfair; just that morning she had taken her daughter's class—Shanna Missett Nelson currently heads Jazzercise Inc.—and "there were all ages, from 20-somethings to 60-somethings, all sizes and shapes, and we had African American and Hispanic women, a Muslim woman."0
The Jazzercise class I attended in Manhattan this spring, in a subterranean back room of an old-school weight-lifting gym, was exceptionally diverse in terms of age, race, and size, given that the archetypal boutique-fitness consumer is assumed to be thin and white. As we smiled and sweated, I also noticed none of the usual peacockery of high-end exercise: no expensive athleisure, sultry selfies, or jockeying for the front row. In contrast to the confusing and sometimes contradictory world of such classes—where an hour-long experience can tack between breathless exhilaration, genuine camaraderie, and Mean Girls–level body-policing—Jazzercise was, well, friendly.
I attributed this welcoming vibe to a group of women who seem to experience Jazzercise as more than a workout. My instructor, Alexandra Lance, was born into the brand: Her mother taught at a Jazzercise center throughout her pregnancy. In Beaumont, Texas, Lance was a Junior Jazzerciser—the kids' version of the class—and babysat at the center before becoming certified herself. Molly Olsen, who owns the Jazzercise Flatiron franchise and who personally welcomed me to the class in which she herself participated, shared a similar experience in the Atlanta suburbs. Starting in elementary school, Olsen took her mother's classes while saving up for certification. For five years, she taught with her mother, who recently retired after more than two decades.
"It's not the most lucrative endeavor," Olsen, who works as a law librarian, told me of Jazzercise. Lance agreed that "it's just enough to make it worth it to get paid to work out versus paying to work out." Yet both women relate to Jazzercise as something loftier than a side hustle. "I think I can speak for all Jazzercise instructors," Lance said, "that we do it because we love it—not because of the money or fame or other perks of being a fitness instructor."
Boutique fitness is successful among women for many reasons, but "me time"—or in today's argot, "self-care"—is unquestionably one. Missett was early to appreciate the attractiveness of the proposition to women who expended so much energy on others to focus, for an hour, on themselves. That's why child care has long been a fixture at Jazzercise; it's also why Olsen and Lance associate teaching and taking Jazzercise with carrying on a tradition, or in business-speak, why the brand is "sticky." As boutique fitness has gone high-end, however, sleek studios are more likely to offer blowouts than babysitting. Arguably, such choices are designed to safeguard these spaces—and justify their prices—as temples of self-care, but a lack of child care also creates yet another obstacle to participating in an exercise culture rightly criticized as elitist.
Elitist but expansive, that is. Today, C-suite executives socialize in spin class, fitness studios are strip-mall staples, and bachelorette parties include cardio-dancing before carousing. This world has been shaped by the core elements of Jazzercise: community through choreographed fitness. Technically and economically accessible programming, in franchise form. An undeniably pro-woman, if less certainly feminist, message. Ironically, the brand's biggest obstacle remains overcoming its own success. Despite integrating intervals and strength training, to many, Jazzercise still evokes the leotards and leg warmers of its heyday. Yet, "if we were what we were 40 years ago," Missett insisted, "we wouldn't still be here. We are always changing."