How Art Can Double as Historical Corrective
Two recent projects, a jazz concert about the Great Migration and a book about "wayward" young women, ambitiously recontextualize black life and art in early-20th-century America.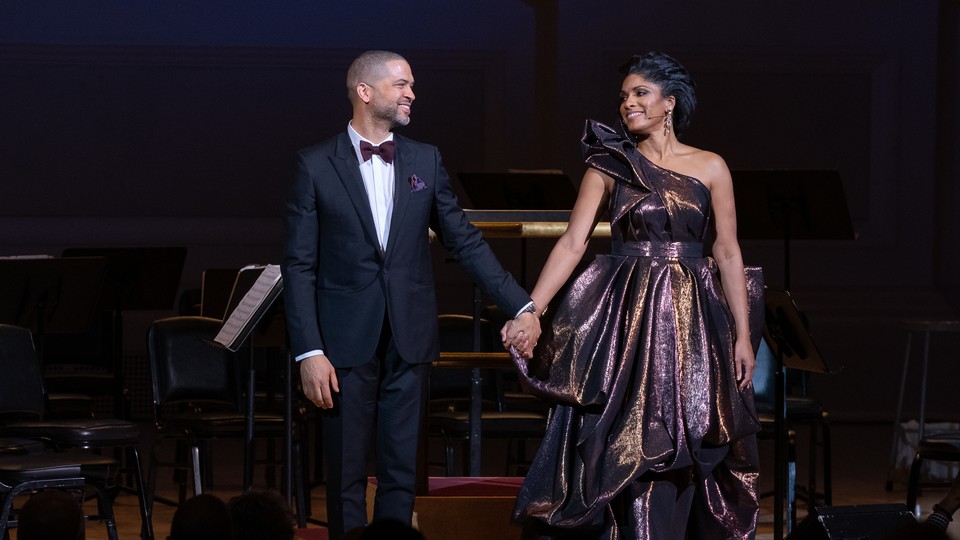 Alicia Hall Moran moved across the stage at Carnegie Hall's Stern Auditorium in late March, her mezzo-soprano carrying across the sold-out venue of almost 3,000. Supported by her husband, the MacArthur-winning jazz pianist Jason Moran, and by the Harlem Chamber Players orchestra, she unspooled an original song in dreamlike tones: "You don't need me to tell you / All the things that one can do / In sunny California."
Titled "Believe Me," the piece might well refer to Hall Moran's own family history: Many of her relatives, including her great-uncle Hall Johnson, the famed composer and arranger, moved to California in the early 1900s, escaping the racial hostilities of the South. But in Los Angeles, even as they prospered, they found something less than total freedom. So "Believe Me" ends on an ambiguous note, suggesting an odyssey still ongoing: "All the things we didn't say / All the things we did not do / We just kept on walking."
This performance was one of many high moments in "Two Wings: The Music of Black America in Migration," a concert designed by the Morans to explore the songs and sounds that accompanied black lives throughout the Great Migration. That movement, from roughly 1915 to 1970, saw millions of African Americans moving into cities across the country as they fled the neo-slavery of sharecropping. The Morans' expansive presentation (which traveled to Washington, D.C., and Berlin after Carnegie Hall, and to Chicago last month) was written with the help of Isabel Wilkerson's landmark history of the migration, The Warmth of Other Suns, but it put me in mind of another book: Saidiya Hartman's Wayward Lives, Beautiful Experiments, a groundbreaking work published just a month before "Two Wings" debuted.
In writing Wayward Lives, Hartman exhumed the often-buried stories of working-class black women in the early 20th century as they moved to northern cities en masse. She dug into the testimonies of "wayward" young women who had been sent to mental hospitals and reformatories, and into the press coverage of lesser-known entertainers in Harlem. Through deep archival work, Hartman managed to recover the powerful subjectivity of her characters, often by giving voice to their thoughts and desires—and to the music and art they made.
Like Hartman, the Morans are devoted to elevating voices that have not often been heard, and to articulating connections between the highest levels of black society and the lowest. "Two Wings," which spans nearly three hours, featured performances from some of the leading voices in gospel, jazz, folk, and Western classical music; for the Morans, it was an opportunity to put a version of the black American musical canon into venues that, even today, seldom make space for its full breadth. The Morans' guest performers throughout the evening included the gospel-piano virtuoso Joseph Joubert; the Imani Winds quintet; the vocalist, pianist, and pastor Smokie Norful; and Wilkerson, who read passages from Other Suns.
As the Morans assembled the "Two Wings" program over a two-year period, they let the Wilkerson book's stories echo alongside their own family lore. Hall Johnson's history, for instance, resonated with the narratives from Other Suns, like the one of a doctor who moved his family to L.A. only to find a palm tree burning on his lawn the night he arrived. "It was not unlike the crosses that burned in the South," Wilkerson writes, "except this was California."
Hartman's book, meanwhile, traces a quiet social realignment taking place during this era—what the author calls "the revolution before Gatsby." Before the flappers caused a stir in the 1920s; before it became socially acceptable for, say, white women to smoke cigarettes in public; and before women had even gained the right to vote, the young women she writes about were stubbornly demanding new forms of personal liberation, simply by living their lives as they pleased. More often gainfully employed than their male counterparts, black women in the early 20th century might have been breadwinners, proud single parents, unapologetic libertines, same-sex spouses, or community leaders. They were engaged in what Hartman describes as "a beautiful experiment in how-to-live"—a process not just of assimilating into the city, but also of rewriting American social norms in their image.
In doing this research, relying mostly on sources that sought to either condemn or corral the women she was writing about, Hartman found herself grappling "with the power and authority of the archive and the limits it sets on what can be known." Her practice, in this sense, has much in common with the Morans'. Jazz and classical musicians are lovers of archives, and they're able to unlock powerful emotional and intellectual work from within old material. But the most nuanced practitioners are also troubled by its limitations.
"Two Wings," in this way, works as historical corrective, guided by a commitment to scrambling, reordering, and recontextualizing the history of bodies "in motion." (The very act of bringing this cast of musicians into Carnegie Hall had an element of transgression. As Moran wrote in the concert's program notes, "We're ready to etch our mark in the walls.") "Two Wings" includes Harlem Renaissance–era jazz tunes, gospel hymns, the Morans' own compositions, and a piece by the oft-overlooked classical composer George Walker. The Morans hired Norful to deliver a sermon and sing "Dear God" (declaring melismatically, "Thank you for my life"), and they put him immediately after Lawrence Brownlee, a primo operatic tenor. Program order can connote seniority, Hall Moran noted in an interview, so putting Norful after an opera singer, in a setting where he normally might not be heard at all, felt significant.
Not that Brownlee was an easy act to follow. He sang "There's a Man Going 'Round Taking Names," a traditional piece best known for the version by the blues legend Leadbelly, with simple, repetitious lyrics that refer to a slaver, or an officer of the law, or perhaps the grim reaper. Brownlee's voice stretched like leather toward his highest notes; as the song ended, he held a single word ("Death!"), and Moran pounded the keys with both hands. Spare, dissonant harmonies rang at either end of the keyboard—Moran was doing an Ellington thing, a Monk thing, something rebellious and foreboding.
"Two Wings" was conceived as part of Carnegie Hall's Migrations festival, which was meant to highlight the importance of mass movements in shaping American history, and perhaps to tacitly rebuke the ethno-nationalism of President Donald Trump's immigration policies. Moran told me that when Carnegie Hall first invited him to produce a concert for the festival, he made it clear that he wouldn't perform without Hall Moran. "What you think I am is because of her," he remembered telling the organizers. Besides, migration has long been a central theme of Hall Moran's work, snaking through original songs such as "Open Door," "Deep River," and "Oklahoma Girl." Her debut album's title, Here Today, itself suggests constant transience.
But even songs of fugitivity and displacement can become a kind of home. Referring to three early-jazz pieces played in succession during "Two Wings," each by a different soloist, Moran wrote in the program notes: "Each of these pieces reflects a place. They give us a sense of the hood and the air, the cause and the effect, effectively the call and the response."
The Morans talked about the importance of place when I caught up with them last month at their home in Harlem. Over the past two decades, they have seen the faces in their building on Riverside Drive change as gentrification has forced many residents out. "None of the other black families are still here. Most of the Dominican families are not here," Hall Moran told me. "It's a white building now." As Hartman outlines in her book, the couple's famous neighborhood became primarily black only after white violence chased black people out of Lower Manhattan and Midtown in the early 20th century. By defining Harlem as a refuge not from the American South but from the white mob waiting just a few dozen blocks below, Hartman shows that black bodies have never been allowed to rest: Even in the earliest years of the migration, the idea that freedom might be found in the North was proving to be a fallacy.
Moran has found something similar happening in Chicago, where "Two Wings" recently landed. Over the past 20 years, hundreds of thousands of black Chicagoans have left the city, many moving to Atlanta and Birmingham and other points south, escaping inadequate public housing and schools, and high rates of crime. In 2014, when Moran and the artist Theaster Gates were working with high-school musicians in the Kenwood Academy Jazz Band, a young member of the ensemble was shot and killed just two weeks before their concert premiere. The children at Kenwood face poverty-related traumas that are just as directly tied to policies of discrimination as what Moran's relatives were dealt in the South.
Taken together, "Two Wings" and Wayward Lives invite audiences and readers to understand the history of African American migration as ongoing, a condition of existence in a hostile country. Amidst that movement, the ever-growing repertoire of black American song—whether performed on stages big or small—has provided a grounding force and a source of inspiration. "In the broken circle of the dance floor, Mabel and her friends readied to get free," Hartman writes in Wayward Lives, describing Mabel Hampton, who danced to jazz at Harlem Renaissance cabarets. "It didn't matter whether it was a basement dive or a music hall. In its broadest sense, choreography—this practice of bodies in motion—was a call to freedom."