James Holzhauer Prompted a Fundamental Question About Jeopardy
Is the goal to make more money or stay on the show?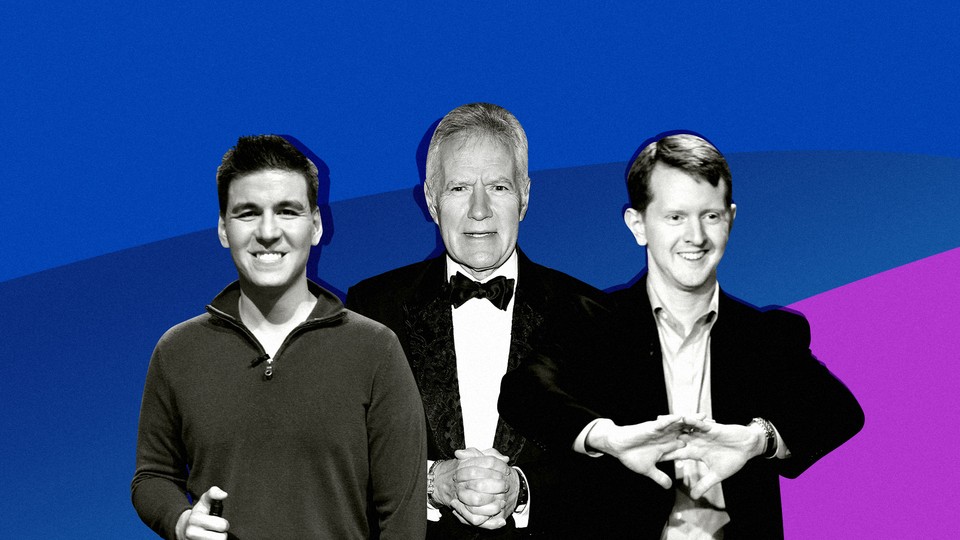 Jeopardy had never seen a contestant like James Holzhauer before. During his 32-game win streak, which ended Monday night, the 34-year-old professional sports gambler piled up nearly $2.5 million in prize money. He also set a new single-day-earnings record—$131,127—that exceeded the previous record holder's sum by more than $50,000.
Holzhauer made so much money so quickly thanks to an aggressive strategy: He typically played at a fast pace, picked high-value clues before low-value ones, and then fearlessly bet the money he'd accumulated. "Playing a seemingly risky game actually minimizes my chances of losing," he told me previously. His style of play also, according to multiple headline writers, "broke" Jeopardy, lucratively departing from convention.
While Holzhauer may be off the show for now (he will appear in a tournament on the program's next season), it's possible that he'll alter the way the game is played in the future—that he'll leave Jeopardy not broken exactly, but changed.
Andy Saunders, who runs the blog The Jeopardy! Fan, anticipates a couple of differences in players' approaches. "I think you'll see more people starting at the $1,000 row," Saunders says, referring to Holzhauer's favored strategy of picking high-value clues from the bottom of the board instead of working his way down, as is Jeopardy custom. And once they build up some cash reserves and find a tile they can wager on, "I think that people will start to be more aggressive in their Daily Double bets," Saunders told me. They've seen big bets pay off for Holzhauer, he reasoned, and will be less hesitant to put, say, $5,000 or $10,000 on the line.
The result? "Some more exciting games, some more volatile scores," Saunders said. Players' numbers might fluctuate more rapidly, enhancing the drama.
Tactics, though, were only one element of Holzhauer's success, and perhaps the most easily replicated. His trivia prowess and buzzer timing were also crucial. Trivia-wise, Saunders thinks that "people probably could study enough to get to James's level of knowledge, but that would take a lot of work." As for the buzzer, "That's probably going to be the most difficult thing for people to replicate," Saunders said, calling Holzhauer "a rare talent" in that regard.
When I asked Brad Rutter, who has won the most money overall on Jeopardy, whether future contestants might follow Holzhauer's example, he made the point that Holzhauer held the advantage of being able to look at money on Jeopardy as a gambler does—primarily as a score, not cash. "Most people don't have the experience of doing that," Rutter told me. "The numbers do have dollar signs in front of them, so it's hard not to think of them as actual money." He thought this component of Holzhauer's edge would be tough to emulate.
At any rate, Saunders noted that any changes in play will likely not be discernible until September (at the earliest), when Jeopardy's next season will start airing. Holzhauer's final episode was taped in mid-March, which means that his win streak was over before shows featuring him started airing—and which in turn means that any Jeopardy hopeful looking to borrow from his tactics wouldn't appear on TV anytime soon.
Those tactics helped Holzhauer win prize money at an unprecedented pace. He ultimately fell just short of the regular-season-winnings record set by Ken Jennings in 2004, but—putting the prestige of record-setting aside for a moment—he made about as much money as Jennings did.
It took Jennings 74 wins to make $2.52 million, while Holzhauer made $2.46 million after only 32 victories. If Jeopardy were a job, Holzhauer was more than twice as productive as Jennings.
Which raises a sort of fundamental question: What is the point of being on Jeopardy? Is it to stay on the show for as long as possible, reliably dispatching all challengers night after night, as Jennings did? Or is it to collect as much cash as possible on each show, as Holzhauer did?
Holzhauer himself doesn't actually think there was a trade-off. "Gamblers have two conflicting goals: maximizing long-term winnings while minimizing the chance of going broke," he wrote to me in an email. "This limits your bet sizes in sports, but I think the goals actually work symbiotically on Jeopardy, i.e. I actually increase my chances of winning by making seemingly overaggressive bets."
When I asked Jennings whether the cash or the wins carry more weight, he argued for the primacy of the win streak. "I guess the dollar total matters a few months later when the check from Sony [which produces the show] arrives," he wrote in an email. "But when you're standing on that set, believe me, the only thing that matters is whether you win that game or you don't."
"It really points out what a one-of-a-kind talent James Holzhauer is that we're even having this discussion," Jennings went on. "Before James, everyone just assumed that the cash and the streak were essentially the same record: You would break one by breaking the other."
Bob Boden, a TV executive and game-show expert (in college, he interned on The Price Is Right), picked fortune over fame. "I'm sure that Ken Jennings is extremely proud of the win streak, as he should be, but money is king and the core value of Jeopardy is rewarding smart people with financial gain," he told me.
Further, Boden speculated that cash might matter more to Holzhauer personally. "I think the mind of a gambler is to get the biggest payout in the quickest possible time and move on to the next game," he said. "I'm not sure that he [was] in it for the long haul as much as he [was] to make a big stash of cash and then run away."
Rutter, the owner of the overall cash record, saw the value in both aims. He noted that Jennings was able to parlay his win streak into a career as an author and podcaster. "But then again," Rutter said, "cash is cash, and it can be exchanged for goods and services."
He also didn't think that the records are necessarily revealing of how the two compare in terms of Jeopardy skill. "I think James has proven he's on the same tier as Ken," Rutter said. "Past that, it's very, very hard to break down who might actually be better." A metric called a "Coryat score" attempts to capture players' raw trivia and buzzer skills (Holzhauer's is higher than Jennings's) but Rutter said it's not a perfect yardstick. A head-to-head matchup might be revealing, but it'd need to be repeated many times to be a truly meaningful comparison. "I guess it's really just a matter of taste," Rutter concluded.
Whatever the goals of its players, the point of Jeopardy, as a TV show, is clear: Its job is to attract viewers. In this regard, Holzhauer outperformed his competitors, too. About a month into his run, Jeopardy's same-day viewership exceeded that of every other primetime show, giving the program its best weekly ratings in more than a decade. And more recent figures indicate that Jeopardy's ratings dropped to their usual levels during its annual Teachers' Tournament in May, when Holzhauer wasn't competing. (Jeopardy declined my request to interview a producer.)
But even if more people were tuning in, not everyone was happy about Holzhauer's seeming invincibility, as his favored strategy disturbed the usual rhythm of the show. One Washington Post opinion writer called him a "menace," lamenting that he brought to Jeopardy "the same grim, data-driven approach to competition that has spoiled (among other sports) baseball."
Peter David, a writer of comics and novels, has been watching Jeopardy for 50-plus years—he remembers when the clues in the first round of the show weren't worth $200, $400, $600, $800, or $1,000, but $10, $20, $30, $40, or $50. He still tunes in every night with his wife, Kathleen.
David told me with a sigh that he'd been following Holzhauer's run. "I like it when the game is exciting, not when it's predictable," he explained in an interview that took place before Monday's episode was broadcast. "And when you know this guy is going to win, how exciting can that be? I get no joy out of watching him clobber everybody else."
He said he would have been less inclined to observe the nightly clobbering were it not for Kathleen. "She likes to watch it for the questions, which I can understand," he said. "So I watch it to make my wife happy."
"I basically ignore the contestants, for the most part," Kathleen told me after Peter passed her the phone. "I'm more interested in finding out how much of a royal smart person I am."
Others, though, were won over by Holzhauer's record-breaking performances. Sweta Shrestha, a 23-year-old college student in Vancouver, has been fascinated by the show lately. "I try to make it a point to get home [in] time to watch it," she told me while Holzhauer was still on air. She said she was drawn in by Holzhauer's strategy—she studies math—as well as, "obviously, huge scores." To her, even if the outcome of a single episode might have been predictable during Holzhauer's reign, the longer-term narrative was compelling and impressive.
I asked Holzhauer if he thought he made the show more entertaining, or less. "I would be hella excited to see a contestant like me on the show," he said. "When I see a player hit a Daily Double in a trailing position, I chant 'Bet it all! Try to win!' People who hate change [were] probably waiting for me to go away so they [could] watch again."
He declined to speculate as to why he was a polarizing presence. "My goal [was] to win at Jeopardy, not to entertain every single viewer," he added. "If you're not my wife or the risk manager of a sportsbook, your opinion of me doesn't really matter."
Boden, meanwhile, told me that Holzhauer is "a game-show producer's dream." The way Boden sees it, some viewers will pull for a player who every night stands a chance of breaking one record or another, while those who root against him will be curious to see if he'll stumble. Either way, "you still are entertained by Jeopardy, and that is the most desirable outcome a producer could ever wish for," Boden said. Today the people who make Jeopardy are probably wishing for another Holzhauer.