Big Little Lies Ponders What Makes a Man
The second season of the acclaimed HBO series, about a group of California women who share an unlikely bond, explores the inheritances of masculinity.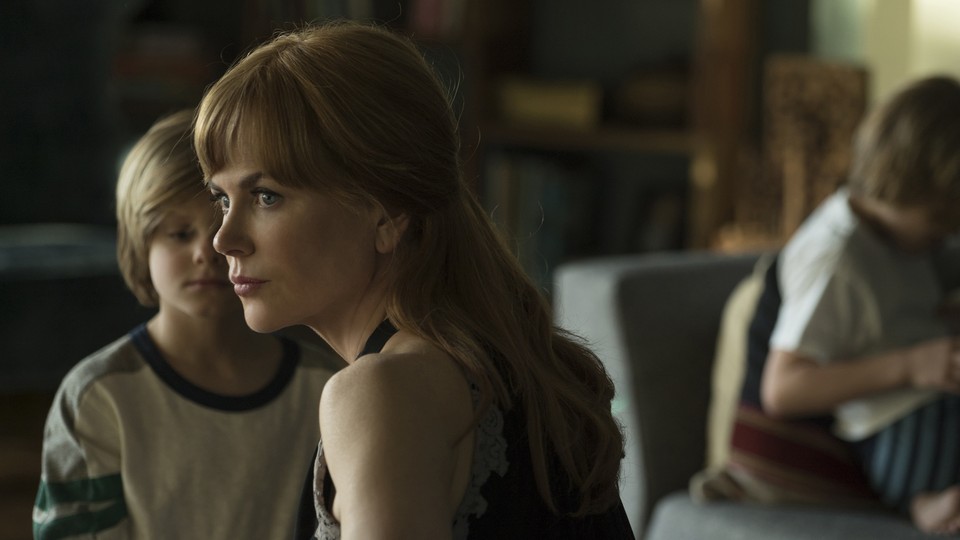 This article contains spoilers through Season 2, Episode 1 of Big Little Lies.
The women of Big Little Lies spend their lives picking up the pieces men leave behind. In its first season, which was initially conceptualized as a stand-alone adaptation of the Liane Moriarty novel, the HBO series earned both critical acclaim and a touch of gendered condescension as it introduced viewers to five women navigating murder and myopia in Monterey: Madeline (Reese Witherspoon), Celeste (Nicole Kidman), Jane (Shailene Woodley), Renata (Laura Dern), and Bonnie (Zoë Kravitz). The season ended with the death of Perry (Alexander Skarsgård), Celeste's abusive husband, who attacked her at a themed fundraiser held at their children's elementary school—and mysteriously fell down the stairs leading up to the seaside campus.

The Season 2 premiere, which aired Sunday, finds some of the women reeling after Perry's passing. Bonnie, who ultimately pushed him to his death while he was attacking Celeste, is undone by the weighty secret she's forced to keep from her family. Celeste, whom Kidman plays with astonishing pathos, wavers between feeling relief at the removed threat to her life and yearning for the husband she loved. Though the other three women have largely moved on from their role in his death, the episode is titled "What Have They Done?"—and the motley crew has summarily been dubbed "the Monterey Five" by their suspicious neighbors. Perry lingers, even in death.
With the introduction of Meryl Streep, who plays Perry's mother, Mary Louise, and whose casting single-handedly justifies the existence of the show's second season, Big Little Lies is beginning to plumb the depths of Perry's character. In doing so, the show excavates larger questions about masculinity and its recesses. In an early scene, Mary Louise (incidentally, Streep's given name in real life) intervenes when her twin grandsons fight in the back seat of the car she's driving to their first day of second grade. "Quiet! Fine young men don't suddenly become fine young men all of a sudden in a whoosh, you know," she spits through a prosthetic overbite. "It starts with being fine young boys, and part of being a fine young boy is listening [to] and respecting your mother."
The fate of Celeste and Perry's twin boys, who showed early signs of violent behavior in Season 1, hangs over the show's second season. Celeste seems petrified that Josh (Cameron Crovetti) and Max (Nicholas Crovetti) will take after their father. In charting Celeste's fears, Big Little Lies unfurls the kind of psychological inquiry it has mastered: Is violence inherited? Without the continuing specter of their father's abuse, can the twins develop a healthy understanding of self, of relationships, of family?
Celeste's twins, whose early years were spent in a house shaped by their father's abuse of their mother, provoke much of the forward-facing analysis the new season offers. Following Perry's death, it's understandable that the series would home in on the far-ranging effects of his violence. Mary Louise, who injects some welcome frisson into the women's dynamics, also inadvertently vocalizes the tensions that undergirded Celeste and Perry's outwardly perfect relationship. "Your daddy was the most amazing man, and you were so lucky to have him. And it's very unfair and wrong that he died, and you still feel angry about it, don't you?" she tells Max and Josh at dinner one evening after the two have fought again. "The other day, I was with some friends and their sons were not a patch on your dad. Not a patch. I felt so angry—angry!—that their mediocre, spindly, pudgy, balding, middle-management sons were still alive, and my Perry—my Perry!—I just wanted to scream."
Another underlying tension, of course, is that Mary Louise is the person who raised Perry. While pondering how Perry could've become the man Celeste knew, Season 2 also addresses a detail revealed at the end of the prior season: Perry raped Jane during a one-night stand years ago and subsequently fathered her son, Ziggy (Iain Armitage). In a gorgeously lit scene late in the premiere, Celeste asks Jane why she's not cashing checks, presumably for back child support, from Perry. "It's rape money, you know I can't do that," Jane offers, and Celeste reminds her of a financial fact that doubles as a treatise on inheritance: "Ziggy's entitled to it. He's part of Perry's estate."
The series offers plenty of nuanced commentary on Perry's behavior, and it resists the temptation to depict masculinity as some sort of good-evil binary. Some of the show's most deft treatment of male characters and their motivations is now emerging via the development of its less explored characters. Bonnie, for instance, is finally getting some much-needed backstory. As she distances herself from friends and family, Bonnie creates opportunities for others to bridge that gap. The Perry-shaped wedge in her marriage leads to one of the more revelatory discussions between the men of Big Little Lies.
In one conversation, Bonnie's rugged husband, Nathan (James Tupper)—who is also Madeline's ex—begs Madeline's husband, Ed (Adam Scott), for help reaching out to Bonnie. "Could I ask you a big favor? Could you maybe take her out to lunch?" Nathan begs Ed. "You've always been better at talking to women than I have. You certainly got Madeline in a way I never could. I think you might be able to get [Bonnie] to open up, you know? You have your little way." Ed balks at that characterization, suggesting that he's not uniquely equipped to speak to women—and that Nathan needs to try harder, to not accept that trite essentialism.
The show could lean into depictions of the outdoorsy Nathan, who first regards his newly closed-off earth mother of a wife with fear instead of inquiry, as a stereotypically unfeeling TV husband. But later in the season, when he employs a drastic tactic to get Bonnie to speak to him again, Nathan's voice cracks as he reveals to her just how much his divorce from Madeline shook his core, and how terrified he is of losing Bonnie and the life they've created together. It's a welcome depiction of a man whose existence had thus far been largely relegated to his contentious relationship with Madeline.
The series also teases further developments among other men: Ed, for his part, gets some different shading. Jane flirts with a male co-worker who might be on the spectrum, and who first informs her of the "Monterey Five" nickname. And later episodes reveal fissures in the relationship between the tech all-star Renata, who appears on the cover of a magazine's "Women in Power" issue, and her finance-industry dolt of a husband. Big Little Lies, which has so often been framed as a show about women behaving badly, reframes its characters' actions and motivations not by offering new plot points, but by slowly peeling back the motivations of the men who surround them.