Ayesha Curry's Comfort Television
The author's new ABC competition series refreshingly emphasizes the importance of cooking as a relationship-building mechanism.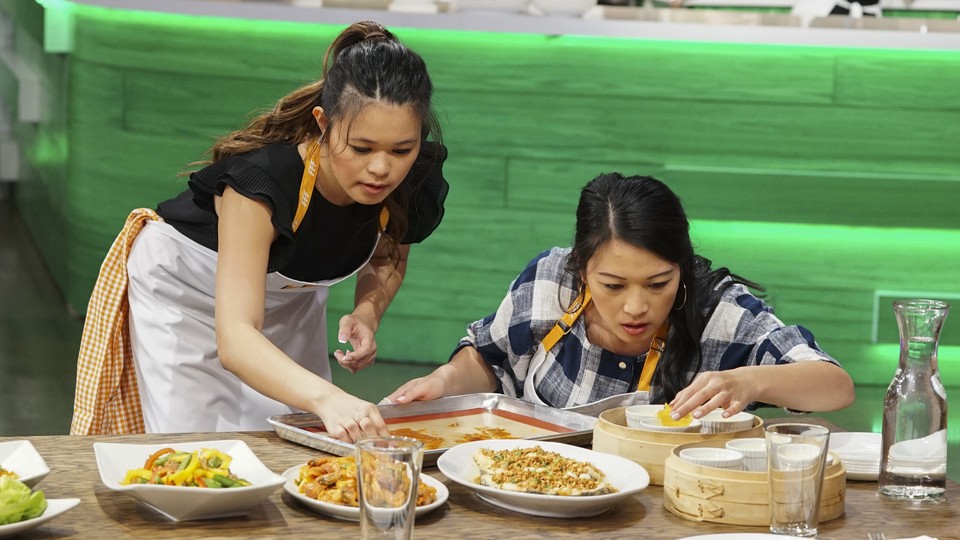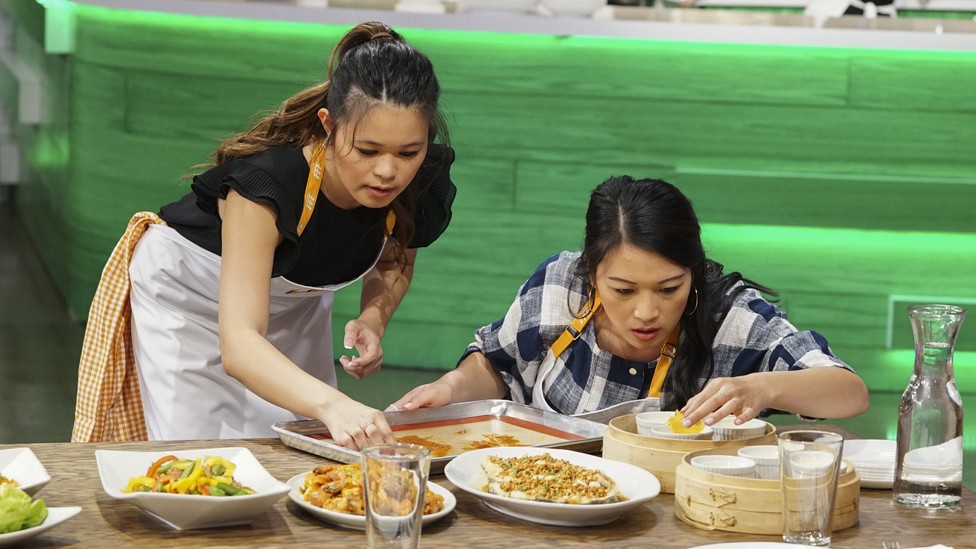 On Family Food Fight, a new show hosted and executive-produced by the restaurateur Ayesha Curry, cooking is competitive, but it's not a ruthless game. The ABC series pits four families against one another each week, with one group being eliminated and the others claiming their spot at the show's official competition tables. The remaining families will compete for a $100,000 prize. Along the way, they prepare long-held recipes, bicker about culinary responsibilities, and banter with the show's judges.
The series, which premiered Thursday, draws on a formula that will undoubtedly feel familiar to anyone who watches game shows or cooking series. If the show were a dish, it'd be a largely pleasant fusion of Chopped, The Great British Baking Show, and Family Feud. Though moments of inter- and intra-family tension emerge, there are no cutthroat scenes, no Gordon Ramsay–esque yells, no uncontrollable meltdowns. It's fun to watch with audiences of all ages; it's mercifully nice.
Each episode, Curry evaluates the contestants' dishes alongside her fellow judges, the restaurateurs Graham Elliott and Cat Cora (the first woman to hold the Iron Chef title). Elliott has served as a judge on MasterChef Junior, the popular kid-focused spin-off of Ramsay's apoplectic MasterChef. And though there are no young children on Family Food Fight, the show finds Elliott channeling the same gentle energy. The judges lavish praise on families for their successes, such as a banana pudding that inspired Elliott to "believe in a higher power." It's comfort television.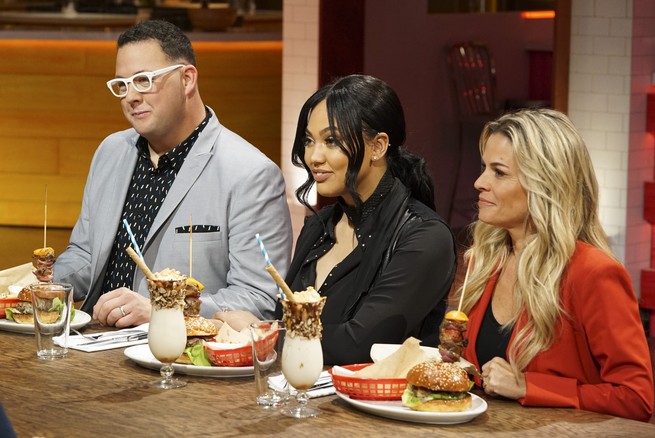 As on MasterChef Junior, none of the judges, even in their critiques, condescends to their participants. Errors that would earn scorn or outrage on Chopped—undercooked fried chicken, for example—are met with light admonition and suggestions for how to correct the mistake moving forward (in this case, giving on-the-bone poultry more time in the oven post-frying). For viewers who may not know what tempering an egg means, this can be a welcome tonal choice. Family Food Fight also features miniature cooking lessons from Curry and the other judges, which serve as entertaining instruction for producing classic dishes such as eggs Benedict.
Much of the show's genteel, celebratory sensibility comes from the presence of Curry herself. As the author of a New York Times best-selling cookbook and the wife of the Golden State Warriors phenom Steph Curry, Ayesha Curry has spent several years carefully curating a (nearly) unobjectionable public image. In her post as executive producer, host, and co-judge of Family Food Fight, she is supportive even as she challenges participants to think critically while cooking. She reminds them that "one of our biggest criteria … is working together as a family."
Indeed, the most satisfying moments of Family Food Fight emerge when contestants collaborate to produce recipes that clearly hold a lot of personal significance. During the premiere, for example, the Graves brothers prepared a meal in honor of their late mother, including a chocolate bundt cake they made using her recipe. When they competed in the "breakfast for dinner"–themed elimination round afterward, they made a brunch dish inspired by a military meal their grandfather had often prepared for them. The show intersperses the avuncular brothers' teasing banter with their tender recollections of the moments they began learning to appreciate the kitchen as a space of connection—a simple revelation that nonetheless works.
The focus on simplicity shines elsewhere, too. Many of the dishes produced on Family Food Fight look appetizing, but they're not the kind of Michelin-star culinary fare that characterizes professional cooking programs such as MasterChef. The show notes its emphasis on family recipes, and the resulting food is as accessible as Curry's disposition. Participants are also notably diverse—the first two episodes' families prepared dishes inspired by their roots in the American South, China, Korea, Pakistan, and Greece, among other places. Thankfully, the judges don't attempt to litigate the cultural authenticity of the meals; contestants speak on these lineages themselves.
The interactions among family members provide the dynamism that makes show a satisfying addition to the bloated landscape of food-focused television. Family Food Fight markets itself not as an educational or cutthroat reality series, but as a show about families, in all their chaotic synergy, working together to win something. So when children make outrageous declarations about their culinary progenitors—such as when one bossy young participant suggests that "once you reach 30 you get to be your parents' boss"—the show lets their elders respond with some necessary spice.