The Subtle Subversions of Always Be My Maybe
How three Fresh Off the Boat colleagues created a classic love story—and filmed that already infamous Keanu Reeves scene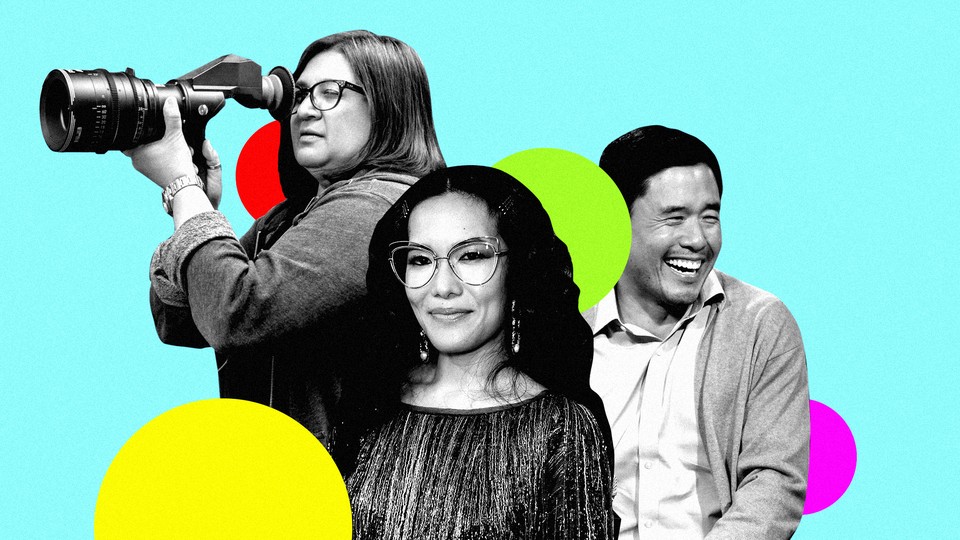 This story contains minor spoilers for Always Be My Maybe.
Nahnatchka Khan didn't intend to make her directorial film debut with the Netflix rom-com Always Be My Maybe. She'd been the showrunner of Fresh Off the Boat, the cheeky ABC sitcom about a Taiwanese American family living in '90s Florida, for five seasons. She was ready to make the leap with a buddy comedy produced by Elizabeth Banks's company for Lionsgate when turnover at the studio brought the film to a standstill and dashed her hopes. "It was a whole crazy thing," Khan told me. "Suddenly Liz called and was like, 'We've been put on hold,' which eventually meant a bunch of movies were lost to the void."
But Khan didn't have to wait long for another opportunity to make her first movie. The actor Randall Park and the comedian Ali Wong had a script in need of a director—and Khan had been their first choice all along. "When [the Lionsgate film] went away, they went, 'Heeeeey! What about oooour movie?'" Khan said in a singsongy voice to mimic her leads, who were out of earshot, in another room.
"As soon as she was available, we were like, 'Start the engines,'" Park had told me earlier. Next to him, Wong nodded. "We snatched her," she deadpanned.
Indeed, scoring Khan was a no-brainer for Park, who stars as the good-natured patriarch on Fresh Off the Boat, and for Wong, who had written for the show. Both have been on a hot streak in Hollywood—Park delivered memorable turns in blockbusters (Aquaman, Ant-Man and the Wasp) and TV comedies (Veep), while Wong broke out with a one-two punch of Netflix stand-up specials (Baby Cobra, Hard Knock Wife) and a supporting role on ABC's American Housewife. For their first film together, which they'd co-written and produced with the screenwriter Michael Golamco, they needed someone behind the camera who understood their goals.
Though the film tells a classic tale of boy remeets girl—it follows a pair of childhood sweethearts, Marcus (Park) and Sasha (Wong), who reunite as adults after leading very different lives—Wong and Park didn't just want to tell a love story; they wanted to tell a distinctly Asian American love story. They drew from their own upbringings, from their real-life friendship, and from two rom-com touchstones for inspiration: 1989's When Harry Met Sally, which broke the genre's format by delving into its leads' contrasting lives, and 1992's Boomerang, which depicted a predominantly black cast navigating love.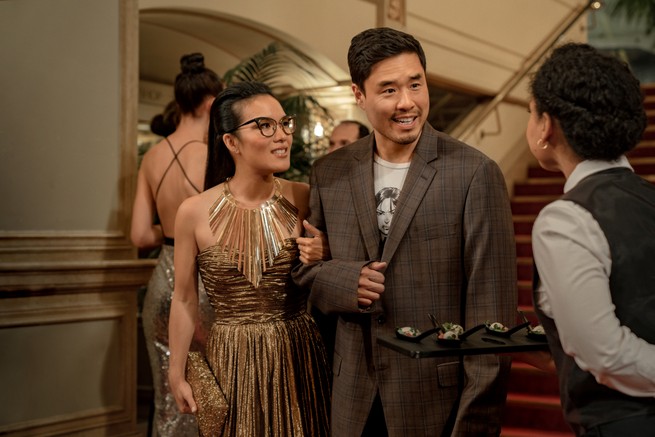 Khan proved the perfect match for the material. As the showrunner of Fresh Off the Boat—the first Asian American–centric sitcom to be syndicated—for five seasons, she deftly imbued the show with a tricky blend of cultural nuance and observational humor. With Always Be My Maybe, she achieves a celluloid sleight of hand: The film is a portrait of contemporary middle-class Asian America wrapped in a conventional, mainstream rom-com. Young Sasha makes herself some Spam musubi for dinner and watches Clarissa Explains It All while her parents work late at their convenience store. Marcus fronts a comedic rap group, just as Park once did. Adult Sasha and Marcus have significant others—a tracksuit-wearing playboy (Daniel Dae Kim) for her, a hippie with dreadlocks (Vivian Bang) for him—who aren't defined by being Asian. "It's such a cool, confident thing when you don't explain the premise, you just have the premise," Wong said. "It's our reality, and we're not going to take time to explain it."
Khan grasped that reality. The Iranian American writer-director cut her teeth on TV comedies—she created Don't Trust the B---- in Apartment 23 before launching Fresh Off the Boat—and paid careful attention to world-building. For a scene set at a birthday party, Khan was determined to open the sequence on two little girls running into the house and taking off their shoes—a small but significant cultural flourish. "I spent more time on that shot than I think a director would have if that wasn't an important detail," she admitted to me. "We had to get that timing right. You could get into [that scene] in any number of ways, but I liked showing that … It's a part of this world."
Even the film's biggest set piece is a sly celebration of Asian American identity. Keanu Reeves swans into the film for a scene-stealing sequence in which he plays a heightened version of himself who competes with Marcus for Sasha's affections and delivers nonsensical one-liners. ("The only stars that matter are the ones you see when you dream," he purrs to Marcus's girlfriend.) But Reeves wasn't chosen just because he's an A-lister with a popular franchise in the zeitgeist. "We thought, Who would be Marcus's worst nightmare? It should be an Asian American icon who's a great actor and who's funny but also willing to make fun of himself," Wong said. "[Keanu] was flattered that we remembered he was Asian American."
While the gag had always been in the script, Khan enhanced its absurdity. "In our heads, it was, Keanu's going to walk in, and that's gonna be magical," Park said, "but she took that and really made it dreamlike and surreal." In Khan's hands, time almost stops as Reeves enters (in a moment that's already been GIFed to oblivion) and Marcus's face falls in slow motion.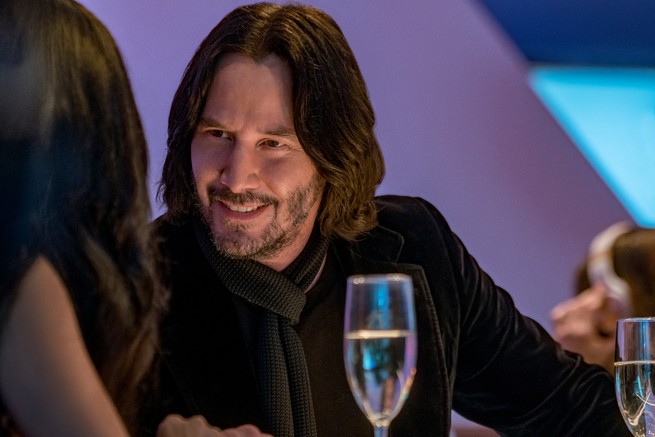 Then again, Khan knew how to deploy the celebrity-as-himself-but-worse trick. She'd used it on Don't Trust the B---- in Apartment 23 with James Van Der Beek to hilarious effect: The joke played with the actor's Dawson's Creek legacy to comment astutely on celebrity. With Reeves, Khan does the same—and she didn't stop there when it came to bringing her stamp to Always Be My Maybe. On set, she liked to cross-shoot, pointing cameras at both leads at the same time so they'd capture on-the-fly jokes as they came rather than resetting and re-creating them to complete the shot. And every night, Khan would mark up the next day's shooting pages with alternative jokes and leave room for her stars to improv—a strategy she'd used while writing and directing TV episodes. "It frees you up as a writer to not have to craft the one perfect joke, and then you also have the improv capability," she said. "Like, you have Ali and Randall. You have two racehorses. You've got to let them run!"
Together, they've created a film that challenges rom-com norms not by reinventing the genre wholesale, but by complementing its most timeless elements with the minute details of a world rarely seen on-screen. To Wong, Always Be My Maybe works not only because she, Park, and Khan know that world intimately, but also because they understand one another's sensibilities. "With comedy, it's so much about trust and communication," Wong told me. "You don't want to be on a comedy movie set and get into a screaming match with somebody because you don't trust that what they're suggesting is a good idea … [Randall and I] both have a huge amount of respect [for Nahnatchka], but also, we're friends with her. Sometimes I panic when I think about, like, if I don't have a project with her coming up." Wong will just have to snatch her up for whatever comes next.