What We're Reading This Summer
Atlantic staffers pick 14 books to spend time with this season, including Freshwater, Republic of Spin, Killing and Dying, and more.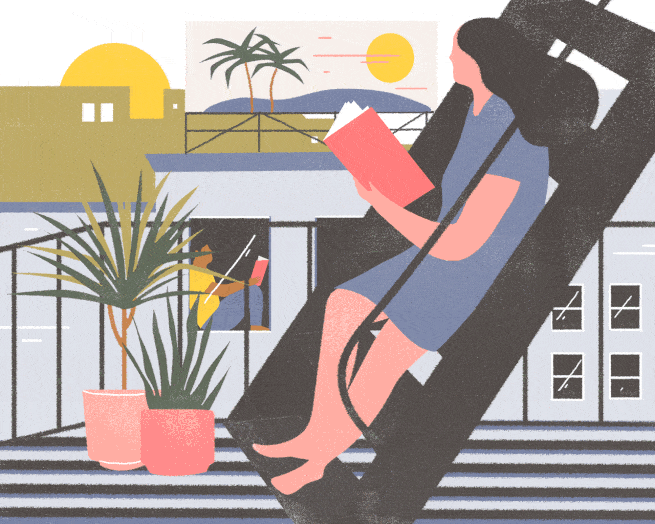 Hollywood's Eve, by Lili Anolik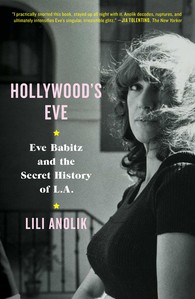 I usually avoid biographies. Too often, they can be dry, overly calculated (particularly if they're written about a subject who just happens to be running for president), or didactic to a fault. None of these traits appear in Anolik's exuberant, eyebrow-raising tale of the L.A. writer and "it girl" Eve Babitz. The book is a quick but memorable read and a fascinating work of journalism. I haven't stopped thinking about the hazy, drug-fueled soirées for Hollywood's elite that Babitz frequented; or the time she was photographed playing chess in the nude with Marcel Duchamp to get revenge on a former lover; or the biting phrases that Babitz used to simultaneously flatter and destroy her subjects.
Babitz is by no means someone to naively idolize; her stories illustrate the privilege afforded to attractive, white women, and her experiences of L.A. are certainly not representative of the entire city. Beyond its generous helpings of parties, sex, and celebrities, though, Hollywood's Eve tracks the rise, fall, and reemergence of one of L.A.'s most evocative writers. It's a tale of glitzy grime and grimy glitz that won't fail to keep you entertained.
Book I'm hoping to read soon: Trick Mirror, by Jia Tolentino
---
The Cook, by Maylis de Kerangal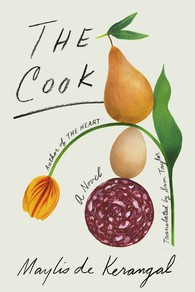 Maylis de Kerangal's The Cook combines three genres that inevitably draw me in: thoughtful narrative journalism, formally inventive fiction, and hypnotic Instagram cooking videos. It's a novel that reads like an essayistic profile and renders its clamorous kitchens and elaborately prepared dishes with cinematic flair. The book follows an ambitious young chef, Mauro, on a punishing restaurant-industry career that threatens his relationships and health. Although the narrator—a longtime friend of Mauro's—appears in scenes occasionally, she's more often just a set of eyes over his shoulder, so closely attuned to his perspective that her own seems to dissolve. In this way, The Cook is a story about two consuming obsessions: Mauro's with cooking, and the narrator's with the cook himself.
There isn't much plot here, and what there is will be only tentatively resolved. Instead, the most compelling feature of The Cook is de Kerangal's prose, translated by Sam Taylor from its original French. With the same intense focus that her character Mauro applies to his cooking, de Kerangal homes in on every luminous sensory detail, immersing readers in a world boiled down to pure sight, sound, and taste.
Book I'm hoping to read soon: Furious Hours: Murder, Fraud, and the Last Trial of Harper Lee, by Casey Cep
---
Freshwater, by Akwaeke Emezi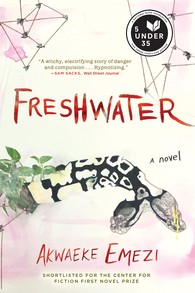 "How do you survive when they place a god inside your body?" This is the question at the heart of Akwaeke Emezi's exceptional debut novel, Freshwater, which follows a young Nigerian woman named Ada who is tormented by the ogbanje. From infancy through early adulthood, this consortium of malevolent spirits—the "godly parasite with many heads, roaring inside the marble room of her mind"—tries to drive Ada toward self-annihilation. These multiple personalities narrate the book in dizzying and propulsive fashion, demonstrating just how fractured Ada's identity is by the voices in her head.
I was captivated by the book's use of Igbo cosmology to paint a disturbing and darkly poetic picture of mental illness—including struggles with eating disorders, cutting, and suicide attempts—without perpetuating the stigma often associated with it. There was something reassuring about watching Ada grapple and make peace with her other selves, embracing the daunting task of simply existing.

Book I'm hoping to read soon:
Normal People
, by Sally Rooney
---
I Feel Bad About My Neck: And Other Thoughts on Being a Woman, by Nora Ephron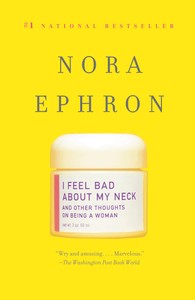 I don't feel bad about my neck (yet), but that didn't stop me from picking up this collection by Nora Ephron, whose maxim that "everything is copy"—that you have the ability to shape and share all sorts of narratives, about yourself and others—has stuck with me for years. For a 20-something like myself, her essays about growing older present an idealized version of adulthood (on her New York City apartment: "It was home in a profound, probably narcissistic … way, and it seemed to me no place on earth would ever feel the same") while not shying away from the sometimes painful milestones that aging can bring (on becoming an empty nester: "You're still a parent, but your parenting days are over … Except for the worrying. The worrying is forever").
At slightly more than 100 pages, I Feel Bad About My Neck is exactly the sort of book to be consumed voraciously. In "On Rapture," Ephron writes about reading a novel and being "dazed by the playfulness of the author and his ability to do something so difficult with such apparent ease." The same can be said of her own work. Excavating your own life for an audience isn't a simple undertaking, and neither is confronting your own sense of mortality, but Ephron does both in such an unruffled and lighthearted way that I almost can't wait for the day when I do feel bad about my neck.
Book I'm hoping to read soon: This Will Only Hurt a Little, by Busy Philipps
---
Life With Picasso, by Françoise Gilot and Carlton Lake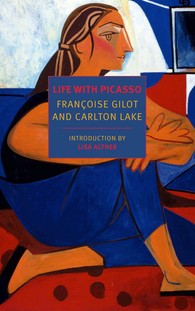 Françoise Gilot was 21 when she met Pablo Picasso at a Paris café in 1943 during the German occupation in France. Beautiful and self-possessed, she was a painter who defied her French bourgeois family to pursue her art. Picasso was three times her age, but the two immediately felt as if they spoke the same language. They spent a decade together and had two children—Picasso wanted more—before she left him, the only of his longtime partners to do so. The years they were together were intense ones in which life and work reflected each other.
Gilot recounts all this in lucid detail in Life With Picasso, the extraordinary memoir she co-wrote with the art critic Carlton Lake. The book, which Picasso tried to block from being published, also includes Gilot's astute analysis of his work and character against the backdrop of 20th-century politics and art history. First released in 1964 (and excerpted in The Atlantic) it has, happily, just been re-released by New York Review Books Classics. Gilot was a model for much of Picasso's work, figurative and nonfigurative. Life With Picasso is her response: her own stunning portrait of the artist—and double portrait of the couple—in words.
---
Republic of Spin, by David Greenberg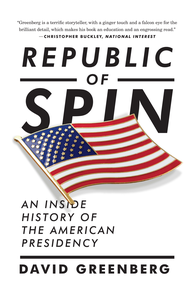 Republic of Spin, I should warn you, is definitely not a classic beach read; if you take it to the shore, there's a decent chance that David Greenberg's history of presidential media-manipulation will drop your jaw so often that you'll end up with a mouth full of sand. But the book's insights are especially urgent this summer, as the American president ramps up his attacks on the American press in ways that are at once democratically destructive and patently absurd. ("Donald Trump lies more often than you wash your hands every day," a recent headline went.)
Greenberg's research puts the tragicomedy into context: Many presidents have lied to the public, he argues. Most have attempted to manipulate the press. (Teddy Roosevelt, who did both with characteristic aplomb, conducted informal press conferences while sitting for shaves—and could get so agitated while spinning the reporters gathered around him that he'd swivel in his chair, foam flying, risking a sliced neck to make his point.) Republic of Spin, like all good histories, offers a warning about the present. Spin has been institutionalized, Greenberg suggests. It is now as American as apple pie—pie that is made, it will insist that you know, from the sweetest fruit in all the land.
Book I'm hoping to read soon: Exit West, by Mohsin Hamid
---
The Swimming-Pool Library, by Alan Hollinghurst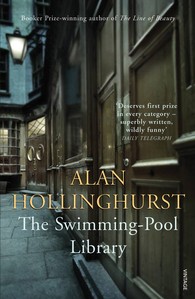 As I've found researching my article on the topic for The Atlantic's July issue, the etiquette and politics of gay cruising are complex things—and were more so in less-tolerant eras before our own. But to William Beckwith, a lord's grandson in 1983 London, anonymous sex seems like the simplest hobby in the world. He lives a breezy existence of picking up mates wherever his flaneuring feet take him, from the subway to the gym showers. A modern reader of this 1988 classic may note a queasy twinge to his romping: hints of class exploitation, racial fetishization, violence, and predation. But nothing pierces his cozy, entitled relationship with sex—at first.
Will doesn't undergo an awakening about his precarious place in the world so much as he faces a series of shocks that should awaken him, but don't quite, because the truth is too ugly. His cognitive dissonance, rendered in precise, viciously funny, and stupendously beautiful prose, speaks to the internal knots that queer people of all social strata often must tie themselves into. Hollinghurst also tells a historically rich, sensorially powerful, and flat-out raunchy story, the likes of which you may find yourself barely believing you're allowed to read.
Book I'm hoping to read soon: Revenge of the She-Punks: A Feminist Music History From Poly Styrene to Pussy Riot, by Vivien Goldman
---
The Blurry Years, by Eleanor Kriseman
Eleanor Kriseman's debut novel opens on a comradely scene: a girl and her mother eating together in bed, hearing mice scramble through the walls. "What are we gonna do?" the girl, named Callie, asks. "I don't know. Ask 'em to leave?" her mom replies, her mouth full of pasta. The exchange, all of three paragraphs, deftly encapsulates the casual intimacy of two-person families. But after introducing this camaraderie, the author creaks open the door to reveal a harsher dynamic: the mother is struggling with alcohol and work and relationships, while Callie figures out her high-wire existence under the same roof.
The Blurry Years unfolds almost as a collection of impressionistic scenes that capture nascent romance or summer tedium or ongoing crisis. It follows Callie as she moves through adolescence, veering from passively observant (watching her myopic mother steal an ex-boyfriend's dog) to charmingly opportunistic (collecting friends and allies in unexpected places). The story's indolent pacing brings into clear focus moments of cruelty and betrayal. The painful pleasure of this slim work is that it treats Callie's various leaps toward adulthood—whether via the faintly sweet doldrums of everyday life or the extreme episodes that will forever stick with her—with equal care.
Book I'm hoping to read soon: Bunny, by Mona Awad
---
Little Fires Everywhere, by Celeste Ng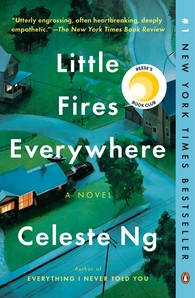 The first time I read Little Fires Everywhere, I finished it in one sitting. I began in the middle of the day; by the time I was done, night had fallen and my neck hurt. It was worth it, though. Set during the Clinton era in the idyllic suburb of Shaker Heights, Ohio, Ng's novel opens with an act of arson that sparks a whodunit plot, then quickly evolves into an exploration of race, class, and the burdens of secrecy.
Ng, who's remarkably adept at shifting among her characters' distinct voices, weaves a tale of two radically different families. The photographer Mia Warren and her teenage daughter, Pearl, live a freewheeling lifestyle that excites and intimidates the Richardsons, a clan of six led by the mannerly Elena. A local scandal prompts Elena to investigate Mia's past—allowing Ng to examine sexual politics, evolving family dynamics, and, most of all, what it means to be a mother. The novel is currently being adapted for the small screen—which is my excuse for rereading it now. Last time, though, I let Little Fires Everywhere consume me; this time, I'll let the details smolder.
Book I'm hoping to read soon: What Do We Need Men For?, by E. Jean Carroll
---
A Thousand Mornings, by Mary Oliver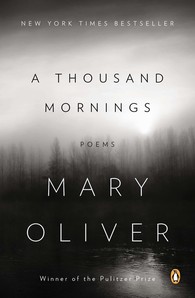 Summer's the time to read Mary Oliver; like the season, her poetry is abundant with natural beauty. Her collection A Thousand Mornings is filled with ecstatic poems about the forests and coasts near her home of Provincetown, Massachusetts. Oliver celebrates things from the majestic to the mundane: the mountains, sure, and the sky and the sea, but also an ant, a defoliated tree, a caught fish, or even a clump of dirt. She treats her environment as holy, describing "the resurrection of the morning. / The mystery of the night."
These are poems of worship, exalting nature page after page. Some may find them sappy or overwrought, but to me, their power lies in their thematic repetition. Oliver's work is an exercise in wonder; to open your door every morning to the same view and see it anew, again and again, is a craft in its own right. Together, these poems teem with life and everything in it; they themselves become ordinary things made numinous and strange.
Book I'm hoping to read soon: The Overstory, by Richard Powers
---
The Farm, by Joanne Ramos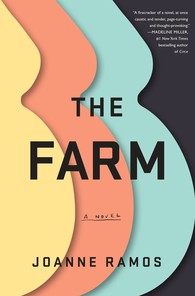 The politics of caregiving, and the impossibly complex threads of trust and resentment between people who have children and the people who take care of those children, feel like subjects made for writers to explore. The Farm, Joanne Ramos's 2019 debut novel, is a potent tangle of these themes: the corrosive allure of privilege, the ethics of putting a price on fertility, the fine line between employment and exploitation. Jane, the novel's protagonist, is a Filipina nanny who, after losing her job, agrees to become a gestational "host" at the Golden Oaks farm. There, the amenities are luxurious (cashmere clothes, private chefs, a daily schedule filled with meditation classes and yoga), but the hosts soon find they have very little freedom.
Ramos's idea for the book came when she read an article about surrogacy farms in India and wondered what such an institution—catering to the richest of the rich, and propped up by women with far fewer options—might look like in the United States. While the plot of The Farm isn't always as energetic as those of the best topical thrillers, the ideas it raises prickle uncomfortably, and the scenario it imagines feels disturbingly conceivable.
Book I'm hoping to read soon: Fleishman Is in Trouble, by Taffy Brodesser-Akner
---
Save Me the Plums, by Ruth Reichl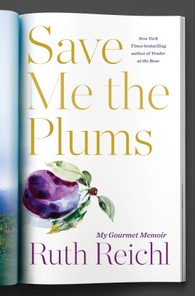 In 1999, Ruth Reichl quit her job as a restaurant critic at The New York Times to become the editor in chief of Gourmet, the self-proclaimed "magazine of good living." For the next 10 years, Reichl would work to bring Gourmet out of its white-gloved past and into the 21st century, where chefs were the new rock stars and Google was fast becoming a cook's first stop for recipes. In her new memoir, Save Me the Plums, she regales readers with wryly observed tales from that mostly glorious age of metamorphosis—some of which seem almost mythical after the passage of another decade, this one decidedly less triumphant for magazines and their editors.
Knowing how this story ends (spoiler: not well) doesn't make it any less enjoyable, or poignant. Reichl describes subjects as far-ranging as the resilience of New York chefs after 9/11 and the pleasures of luxury hotel–hopping on a staff trip to Paris (for research purposes, of course). Her prose makes the meals she ate along the way as vivid as the finest of her Gourmet covers—which, as Reichl sets out to broaden "the exclusive little world of food," become a source of narrative tension in their own right.
Book I'm hoping to read soon: Spring, by Ali Smith
---
Killing and Dying, by Adrian Tomine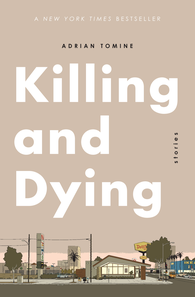 The six stories that compose the cartoonist Adrian Tomine's collection Killing and Dying might well leave you with pinprick sensations all over your body. The people in these vignettes feel ordinary, even if their experiences are far from prosaic. A man finds a weird new creative calling in "A Brief History of the Art Form Known as 'Hortisculpture.'" A young woman's life mutates into a surreal nightmare after she learns that she has a famous doppelgänger in "Amber Sweet." "Translated, From the Japanese" is a brief tale about dislocation that's either a meditation, a memory, or a dream.
Almost every entry in Killing and Dying, which is drawn in a minimalist style with a subdued color palette, concludes with a scene that's still holding something back, like an unfinished sigh. In particular, the title story—about the family of a teenage girl who decides to pursue stand-up comedy—chases after catharsis only to land in a space where the dislodged sadness and hurt remain. An often sobering and frequently funny examination of obsession, loss, and loneliness in America, Killing and Dying is a book that can be gulped down in a couple of hours but is worth savoring.
Book I'm hoping to read soon: Split Tooth, by Tanya Tagaq
---
American Spy, by Lauren Wilkinson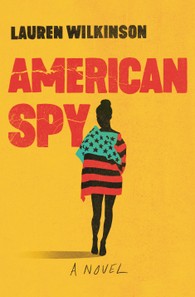 Wilkinson's debut novel, a sharply written thriller, zigzags across time and space. American Spy is narrated by Marie Mitchell, an African-American FBI agent who flees to her mother's home in Martinique after an intruder breaks into her Connecticut home. Safe—or as much so as possible—on the Caribbean island, Marie narrates her life and work in a letter to her sons. Her story, which spans decades, traces an American intervention in the West African nation of Burkina Faso, revealing rifts in her conception of self—and in the project of black diasporic solidarity.
Marie is a complicated, at times frustrating character. Wilkinson carefully depicts the challenges she faces as a black woman occupying a predominantly white, male-dominated intelligence agency, without losing the larger stakes of Marie's own complicity in the violence that the U.S. perpetrates elsewhere. The resulting novel is a marriage of classic spy exploits, interpersonal psychology, and international critique. It's a refreshing, energizing read that I couldn't put down.
Book I'm hoping to read soon: Go Ahead in the Rain: Notes to a Tribe Called Quest, by Hanif Abdurraqib