Viceland's Dark Side of the Ring Shows the Sleaze and Humanity of Wrestling
The series explores the disaster and reality of the shadowy sport.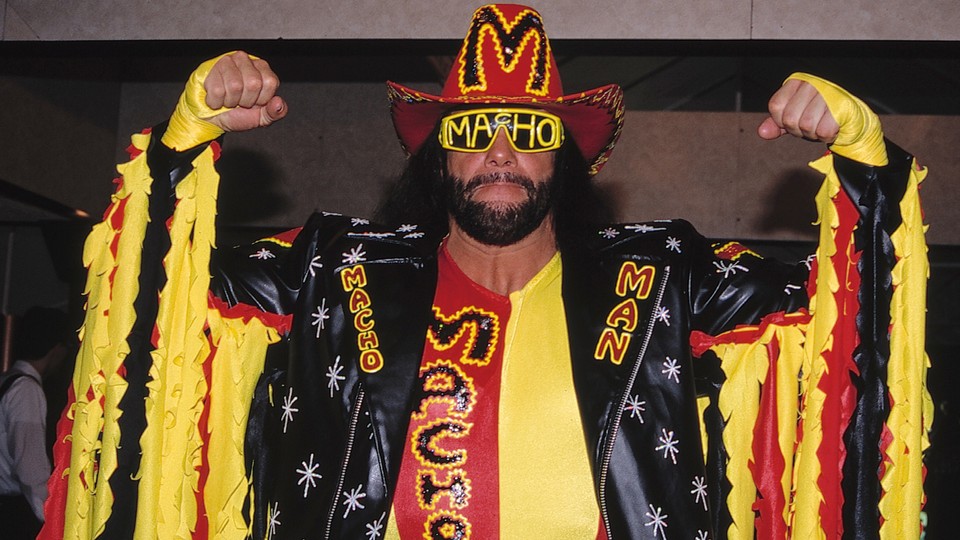 Pro wrestling: Is there a deeper homage to the innocence of the American character? Around these gifted performers, these godlike men with their huge and brilliantly crude personas, spreads the American public at its most medieval, its most pageantry-besotted and morally inflamed. Boo! Hiss! Hooray! Not everybody believes it's real, of course. Maybe nobody believes it's real. But many choose to be persuaded by its magnificence. "The public appears disposed to be amused even when they are conscious of being deceived," said P. T. Barnum, who knew what he was talking about.
Viceland's six-part series Dark Side of the Ring gets at the real/not-real question by zooming in on a series of shadowy happenings from the golden age: the pro-wrestling boom of the '80s, when the rise of cable and pay-per-view coincided with an evolutionary leap in promotional razzmatazz. The series' episode titles have the voltage of pure pulp: "The Killing of Bruiser Brody," "The Last of the Von Erichs," "The Montreal Screwjob." And the stories are told via smudged and dreamlike dramatizations—like Dateline on opioids—and a roster of excitable, voluble, unreliable talking heads from the world of pro wrestling.
The announcer/writer Jim Cornette, aroused by the memory of a particularly tricky moment of wrestling meta-drama, demands that the camera attend to the raised hairs on his forearm. Bruce Prichard, now a WWE executive, once played the character "Brother Love"—a manager/barker, face painted red like Henry Rollins in the "Liar" video, wearing a suit of televangelist cocaine white, and roaring in a southern accent about how he lurrrved everyone. As an analyst, he sits somewhere near the center of Dark Side of the Ring, genially in possession of all the angles. "Sometimes," Prichard says, "when people want more of a story to be there, that just isn't there … they try to create it."
And then there's just simple, beautiful credulousness. In the first episode of Dark Side of the Ring, Jake "The Snake" Roberts explains the difficulties that his fellow WWE wrestler "Macho Man" Randy Savage had when he went to visit his in-laws in Tennessee. The problem was this: Savage's real-life wife, Elizabeth Hulette, also played his in-the-ring manager/helpmeet "Miss Elizabeth"—immaculate, demure, largely mute, a source of fluttering reaction shots (worshipful-eyed, hand-to-mouth, etc.). And when The Snake, the python-toting heel, "abused" Miss Elizabeth during a bout with Macho Man, there were domestic consequences.
"Whenever I slapped Elizabeth, and then they tried to go home to see her family … Grandpa meets him on the porch," The Snake recalls. "Says, 'You're not coming in this house, boy. You promised us you'd always protect our little girl.' The only way he could gain access back into their home was basically kicking my ass. Getting even, so to speak." Musing on the complications of Savage and Hulette's marriage, Prichard has the best line in the whole show: "Life imitating art? Sometimes art imitates life. And then you get really fucked up."
Frank Goodish was a former NFL player with a wife and a young child. In the ring, and sometimes out of it, he was Bruiser Brody: an archetype of American wildness, a long-haired, fur-booted, chain-swinging, 300-pound amalgam of Hugh Glass and Ted Nugent. Goodish/Brody's forehead was thickly seamed with scar tissue from the regular "bladings," or controlled bloodlettings, with which he would enhance his act. "He was a pretty decent guy," allows his fellow wrestler Tony Atlas. "If he liked you."
Goodish was killed before an event in Puerto Rico in 1988, stabbed to death in a shower stall. Had the unhinged frontier spirit of the Brody persona finally delivered him to a hinterland too far? His assailant, José Huertas Gonzélez, who wrestled under the name "Invader I," was acquitted by a local jury on the grounds of self-defense. "The fans in Puerto Rico believed wrestling was real," declares the former wrestler and commentator Dutch Mantel. "It was the major reason José was acquitted—because they believed Brody was this character, this wild-looking psychopath hulking figure." No resolution, no clarity: Justice blunders, lost somewhere between the fantastical force of the Bruiser Brody image and the too-real squalor of his death.
A "work," in pro wrestling, is a scripted sequence. A "shoot" is what happens when the script, for whatever reason, is left behind and the wrestlers or their handlers start improvising. And in Dark Side of the Ring, it all comes together—or falls apart—in the Montreal Screwjob: the epic 1997 real-unreal mash-up in which WWF Heavyweight Champion Bret Hart, on live TV, was "cheated" of his belt by the dastardly machinations of the WWF owner Vince McMahon. Hart was set up—unexpectedly subdued with a move called "the sharpshooter" so that the belt went to his opponent, Shawn Michaels. That's Hart's story, anyway, and he's sticking to it.
Certainly, the rivalry between him and Michaels seems to have been real enough: Hart describes a dressing-room confrontation in Hartford, Connecticut, that found the two wrestlers tearing at each other's beautiful long hair "like two prostitutes fighting in downtown." Cornette remembers what happened next: "Here comes Shawn, and he's hot, and he's got in his hand a handful of his hair. It looked like a small opossum. And I'll never forget this—he said, 'This is an unsafe working environment!'" Anyway, the Screwjob goes down, Michaels takes the belt, Hart berserks around the ring, smashes up some equipment, leans over the ropes, and spits on McMahon. "It's a total work," pronounces the former wrestler Scott Hall. "Everybody was in on it and they all did it together."
Sleaze and disaster wash around Dark Side of the Ring. Along with the capacity to create those huge, crude personas come some huge, crude appetites and some huge, crude vulnerabilities. Did the handsome Gino Hernandez—imagine the Miami Vice theme tune with muscles—overdose, or was he murdered by drug people? How is it possible that Fritz Von Erich, the iron patriarch of the Von Erich wrestling dynasty, lived to see five of his six sons predecease him, three of them by their own hand? Was "The Fabulous Moolah" a pioneer of women's pro wrestling and a wonderful mentor, or an abusive den mother running a factory farm of love-starved apprentices? Unanswered questions. If there's truth in or around pro wrestling, the producers seem to suggest, it's nonbinary.
It makes a great spectacle, this show. The old wrestlers are fascinating: battered, charismatic hulks; gentled-down titans. Hall—whose eventful life could comfortably fill another six episodes—from time to time drops his voice into a kind of thunderbolt-tossing growl. He chews a tiny, twinkling toothpick. We see close-ups of his large, exquisitely manicured hands. How could they ever hope to be ordinary, these people, to have ordinary existences? Hulk Hogan's ex-wife, Linda, does an amazing impression of Savage, his engorged vocal style. It's a tawdry, loopy, ultra-vivid world. Work or shoot, you keep it going. What's larger than life? More life.