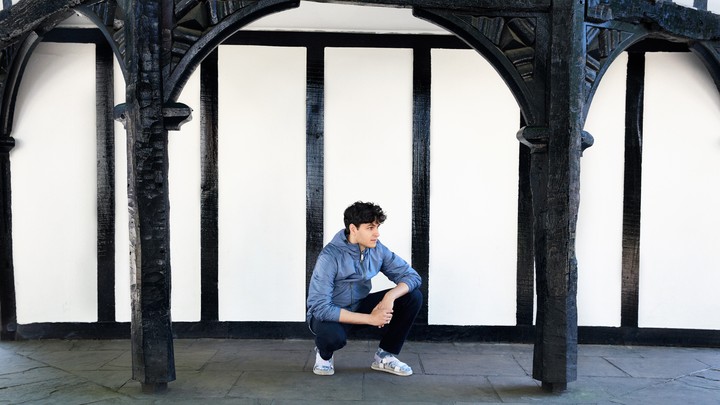 Remember world peace? It's been a while since that dream was so common as to be a punch line. Beauty queens now skip the pleas for global harmony and instead get specific about Latin American territorial disputes. The peace symbol was initially designed to rally for nuclear disarmament, one of the many international consensuses unraveling lately. Peace as a cultural obsession, a meme, belongs to other eras: the hippie marches of the '60s and early '70s, and the end-of-history mirage of the '90s.
Vampire Weekend's Father of the Bride is an album about world peace, which might explain why it uses very particular, almost forgotten sounds and images from more idealistic times. The cover features a globe styled like something that Another Mother for Peace would have sent to Lyndon B. Johnson, or that AOL would have put on a CD for 500 hours of free internet. Intricate roots guitar draws not only from Boomer bands—the single "This Life" is nearly a remix of Van Morrison's "Brown Eyed Girl"—but also from Clinton-era buskers such as Blind Melon and Counting Crows. When Ezra Koenig name-checks "Simple Twist of Fate," it seems as much a reference to the Bob Dylan classic as to its rendition on the 1991 self-titled album by the Jerry Garcia Band. Tie-dye is back yet again, and Vampire Weekend are the nu, nu flower children.
The groovy aesthetic reads as a homecoming of sorts. In the three addictive albums they released from 2008 to 2013, Vampire Weekend captured the very particular perspective of an overeducated American male growing up in a globalized age. Koenig's characters made pilgrimages to Dharamsala on spring break and spent December drinking horchata, all the while streaming Fela Kuti compilations, Fleetwood Mac B sides, and hyphy mixtapes. On densely allusive and yet miraculously light-feeling pop songs, hyperconnected 20-somethings wrangled, in their neurotic way, with universal concerns: love, God, punctuation. "I'm ready for the house," Koenig sighed on 2013's wearily beautiful Modern Vampires of the City, seeming to yearn to settle down.
In the six years since then, the singer has explored other creative outlets (creating a Netflix anime; podcasting; writing a hook for Beyoncé), lost a bandmate (the keyboardist and songwriter Rostam Batmanglij quit amicably), and had a child with his partner, Rashida Jones. These changes feel intrinsic to Father of the Bride, which is shaggier, grander, brasher, and yet more ambivalent than any previous Vampire Weekend album. With 18 ornate and overwhelming songs, it gives the feeling of sorting through a fabulously cluttered garage, which befits Koenig taking on 30-something-dad concerns: family, the planet, and the connection between the two.
The album kicks off with a wedding. On "Hold You Now," Koenig and Danielle Haim of Haim play a groom and bride considering splitting up rather than walking down the aisle. The gentle-voiced singers trade verses twice more over the course of the album, and each time it evokes classic country-couple banter (Koenig has said he was thinking of George Jones and Tammy Wynette). But each time, there's also a strange sonic twist. For "Hold You Now," it's a chanting choir sampled from Hans Zimmer's soundtrack for the 1998 World War II epic The Thin Red Line, conveying not only sanctity, but also apocalyptic stakes. "Why's your heart grown heavy, boy, when things were feeling light?" Haim asks. "Turning this June morning into some dark judgment night."
That question—how can dark exist in brightness?—recurs throughout. Amid the PLUR-rave vibes of the lead single, "Harmony Hall," Koenig laments "wicked snakes inside a place you thought was dignified." The mischievous bass line and kooky bwoings of "How Long?" are like a laugh track as Koenig sings of heartbreak at midnight Mass. Accompanied by a cha-cha metronome, "Spring Snow" tells of a freak storm enabling a bonus night of cuddling. It ends, "Here comes the sun / Those toxic old rays." On Father of the Bride, makeups are breakups, givers are takers, and love means leaving.
The double-edged motif well suits anxieties about humankind's self-endangerment from climate change and war. The finale, "Jerusalem, New York, Berlin," concludes with what could be a warning about the West's recent fascist tingles: "Let them win the battle / But don't let them restart that genocidal feeling that beats in every heart." Yet Koenig's more interested in drawing connections—metaphorical and literal at once—between personal and global serenity. He's realized bliss is a gift that expires.
The album's at its best when it confronts that reality with enjoy-it-while-it-lasts equanimity. Take the stanzas of "This Life," each one rich in meaning but also plainspoken. "Baby, I know pain is as natural as the rain," goes the first line. "I just thought it didn't rain in California." Later, the breathing and teeming anthem "Stranger" conjures a cozy scene of dancing at home with Jones and her sister Kidada. In a fun bit of sacrilege, Koenig rewrites the chorus of the Five Stairsteps' "O-o-h Child" to say that things are going to "stay strange," not "get easier." Then he plays clever games with party clichés, yelping that he "might get low" but for now he's "too high to know."
Not all the songs are so delectable. Vampire Weekend's music once gave the feeling of complex problems being solved effortlessly, but here, the riddles tend to remain and the work is visible. As plummy acoustic sounds and fidgety digital bits pile up symphonically, the emotions behind them can remain remote. Father of the Bride thus may leave longtime fans wondering on first, third, or fifth listen if they'll love this album like they've loved the previous ones. Certainly there's a depth and courage that's admirable, but there's also a buoyant tone that teeters between defiance and sarcasm. Koenig's sweetest-sounding chat with Haim offers this sad paradox: "We belong together … Baby, it don't mean we'll stay together." It also chipperly makes a comparison that's all too ominous today: "We stay united like these old states."
We want to hear what you think about this article. Submit a letter to the editor or write to letters@theatlantic.com.
Spencer Kornhaber
is a staff writer at
The Atlantic,
where he covers pop culture and music.