A Generation of Stars Working Out Queerness in Their Songs
Distinctive new albums from Steve Lacy and Tyler, the Creator, seem to build on the example set by Frank Ocean.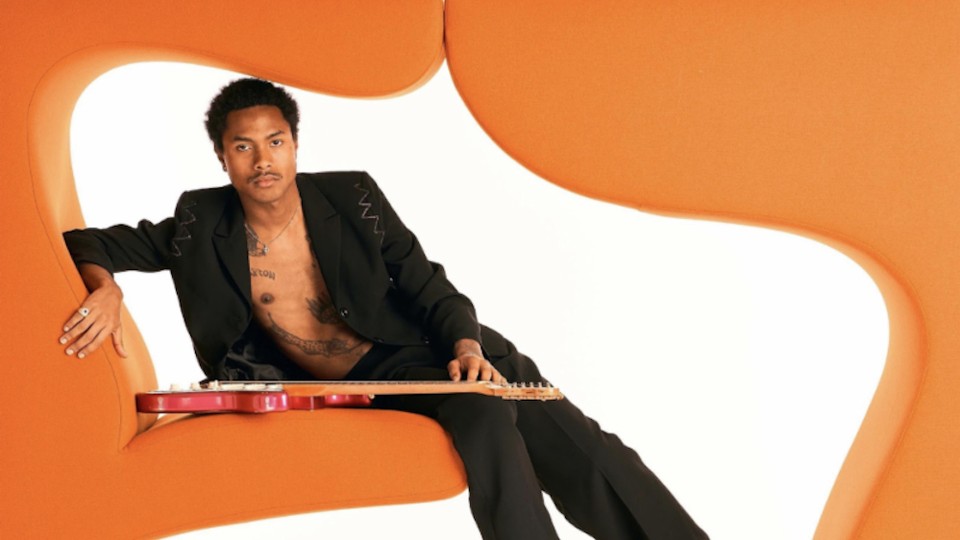 When in 2012 the buzzy new singer Frank Ocean said he'd fallen in love with a man, the admission was a landmark: Mainstream pop, R&B, and rap—the genres Ocean was deftly bridging—were still overwhelmingly straight. In a grateful letter to Ocean, the writer and filmmaker dream hampton put his news in perspective: "You're a Black man in America whose star is on the rise, working in hip-hop and soul, where gender constructs are cartoonishly fixed. Your colleague Drake is often attacked with homophobic slurs when he simply displays vulnerability in his music. He seems to respond by following those moments of real emotion with bars that put 'hoes' in their proverbial place." The rapturous response to Ocean's debut album, Channel Orange, then proved that queerness need not be a career breaker.
The text of Ocean's coming-out statement—like hampton's words above—also implied that his reckoning with his sexuality might have musical, not just social, implications. In his open letter, Ocean described confessing his attraction to a close friend ("He did his best, but he wouldn't admit the same. He had to go back inside soon, it was late and his girlfriend was waiting for him upstairs. He wouldn't tell the truth about his feelings for me for another 3 years"). Ocean's epiphany, that this was his first love, made him reminisce "about the sentimental songs I enjoyed when I was a teenager. The ones I played when I experienced a girlfriend for the first time. I realised [sic] they were written in a language I did not yet speak."
As an artist, Ocean has offered a new take on the "sentimental" tradition that he referred to. Themes of love, sex, nostalgia, and loneliness were rendered in a classic kind of croon, but with an enigmatic, cliché-averse perspective. By the time of his 2016 masterpiece, Blond(e), Ocean had helped transform the sound of popular music into something hazier and more introspective, with ever more liquid boundaries between rapping and singing. That album's achingly strange songs were governed not by pop structures but by emotional logic, and his lyrics often described feeling between. That he slipped between pronouns to describe the objects of his obsessions somehow felt both incidental and integral to that approach.
Influence is a tricky thing to define, and it's too simplistic to say that many of the rising young men writing songs adjacent to hip-hop and R&B sound like Ocean, even if many of them really do seem to imitate him. What's more important is they often appear to think like him. They stake their stardom on idiosyncrasy, vibes, and visions expressed in cohesive, album-length wholes and fascinating micro-moments rather than tidy songs. Ocean's take on sexuality is becoming less unusual, too, with inevitable implications for the performance of masculinity in music. Queerness is not required for, nor does it ensure, a questing sensibility. But they often seem to go together.
The 21-year-old Compton guitarist and singer Steve Lacy sings with smoothness and casual swagger, but that's as far as his sonic resemblance to Ocean goes. They're affiliated with the same scene, though. A gifted producer, Lacy has contributed wandering, loopy tones as a member of the Grammy-winning R&B group The Internet—whose founder, Syd, was once the only openly gay member of Odd Future, the L.A. rap collective that Ocean was also part of. Lacy's debut solo album, Apollo XXI, out last week, has the feel of a scrapbook or tone-poem collection, with songs that are pert, funky, and dappled with California light. It's shaggy, yet it hangs together; it's loose, yet detail-packed; and it lends itself to the backgrounds of barbecues or to close listening.
It's also informed by queerness. Lacy identifies as bisexual and traces his awakening back to being kissed by a guy on New Year's Eve 2017 (Lacy initially recoiled, but then came on to the friend and was rejected, according to his account). His music was relaxedly raunchy on his 2017 EP Steve Lacy's Demo, but now it is so in a more omnidirectional way. There's a "girl" on his lead single, "N Side," whose chorus repeatedly asks, "Is it inside?" But for the breeze-in-hair anthem "Hate CD," he yearns for "his affection." The "Outro Freestyle" has Lacy rapping, "You be talking 'bout the pussy, pussy, you don't hit it / You be sucking dick, you be, you be sucking dick." Given the context, what might seem like a homophobic diss becomes something more ambiguous. So unbothered is Lacy's delivery throughout that it's easy to miss the ways in which he's playing with gender. But why should he be bothered? It's 2019, and his generation is, in greater and greater numbers, ditching the binary.
The truth is, though, there are still plenty of reasons for an artist to have anxiety about lyrics like these, as Lacy recognizes on the nine-minute reckoning of Apollo XXI's second song, "Like Me." "This is about me and what I am," he begins. "I didn't wanna make it a big deal." Yet what unfurls makes clear that it—sexuality—has had to be a big deal. Over itchy rhythms and queasy chords, he speak-sings about seeing "energy" rather than "gender," before clapping back at people wanting a list of men and women he's slept with (maybe it's a reference to when Lacy received blowback for saying he wasn't attracted to black men, betraying him as having a blinkered outlook all too familiar in the gay world). "How many out there just like me?" he asks in the chorus. "How many others not gon' tell their family?" The message is straightforward—verging on didactic—but the song, dying and reinventing itself multiple times, isn't. He's working a problem over in his head, and it's a thrill to hear that translated to music.
Lacy's album arrives a week after the latest from Tyler, the Creator, a collaborator of both Lacy's and Ocean's. Tyler first drew notoriety in 2009 as the leader of the infuriatingly irresistible troublemakers in Odd Future, whose sound was most defined by Tyler's deep rasp delivering murder fantasies and hate speech. He was an art-school teen raised on Eminem's trolling tactics, but as time wore on, the art-school side came more to the fore. With his impressive 2015 album, Cherry Bomb, Tyler began to present himself more as a sonic sculptor and emotional expressionist. Then, on 2017's lush Flower Boy, the man once maligned for relying on the word faggot did something yet more surprising: rap about being attracted to men.
Flower Boy tracks such as the woozy "Garden Shed" did the job of Ocean's "Bad Religion" in 2012 and Lacy's "Like Me" in 2019, documenting a fight with the closet door. "Truth is, since a youth kid, thought it was a phase," Tyler rapped. "Thought it'd be like the phrase; 'poof,' gone / But, it's still goin' on." Other songs dropped lines about crushing on Leonardo DiCaprio and kissing boys, and the music ranged from clattering, fast-paced raps to spaced-out vision quests. But only with this month's follow-up album, Igor, has Tyler used his full and diverse arsenal of techniques to talk about same-sex love on its own terms—as a psychodrama less about repression than about romance.
Tyler has long cultivated alter egos in his work, and for this album, his character is the namesake of Dr. Frankenstein's assistant. An ugly, menacing haunted-house synth note sounds for 35 seconds at the album's start. Breakbeats crash in. A modern opera is beginning. For much of the album, Tyler's voice is pitch-shifted from its signature growl to a high, cutesy whine. Rather than rapping much, he sings in off-kilter soul styles like a George Clinton imitator. The cut-and-paste motif of the album art continues through the arrangements, which are thick with samples and chopped-up vocals across goosebump-making chord changes. It sounds nothing like Ocean or Lacy, but, as with them, this is absolutely the sound of being inside someone's head.
That someone's story, at least to my ear, is pretty straightforward. At the beginning of the album, Igor is besotted with some boy. That boy has a girlfriend. Igor pleads. They have a dalliance. A woman reenters the picture. The dalliance ends. There's rage, sadness, and acceptance. As ever, Tyler is a master at conveying neurosis—in its hopeful form, in its despondent form, and in the form that staggers between both poles. "What the fuck is your motive? / Man, I wish you would call me by your name," he raps on the standout "I Think," adding, "'Cause I'm sorry / This is not apology." In the background, a marching refrain—"Four! Skate!"—recalls the guards in The Wizard of Oz.
If the openness to same-sex love would seem to undo Tyler's old, un-PC image, he's still got a savage and troubling side. In the middle of the album, his jealousy toward his beloved's girlfriend takes the form of murderous anger, and all of a sudden it's like it's 2009 again, and Tyler is fantasizing about violence against women. The bloodthirst passes, though, and the narrator starts to mellow. "You never lived in your truth, I'm just happy I lived in it," he sings in "Gone, Gone / Thank You," in which he seems to make peace with his heartbreak, but also vows to never love again. You never lived in your truth—this is the language of identity confusion and closeting. But it could also be used to describe a lover, of any persuasion, too timid to follow his or her heart.
Back in 2012, Ocean's coming-out note began like this: "Whoever you are. Wherever you are … I'm starting to think we're a lot alike." The statement of universality is an appealing one, and as folks like Ocean, Tyler, and Lacy sing loss, longing, and sex across genders, the message holds. Anyone can relate. Yet still, there are specifically queer dynamics that emerge across these albums and the stories behind them: the struggle for self-acceptance and against social disapproval, the possibility of being attracted to someone who fundamentally can't requite, the conflicted relationship with internalized machismo. There's no subgenre to be identified here, just freedom to be admired, resulting in music chock-full of creative decisions that only these particular creators would make, and tales only they can tell.