The Rare Home-Improvement Show That Spotlights Skilled Workers
In 40 years on air, PBS's This Old House inspired a more flashy genre of TV while giving tradespeople the attention they deserve.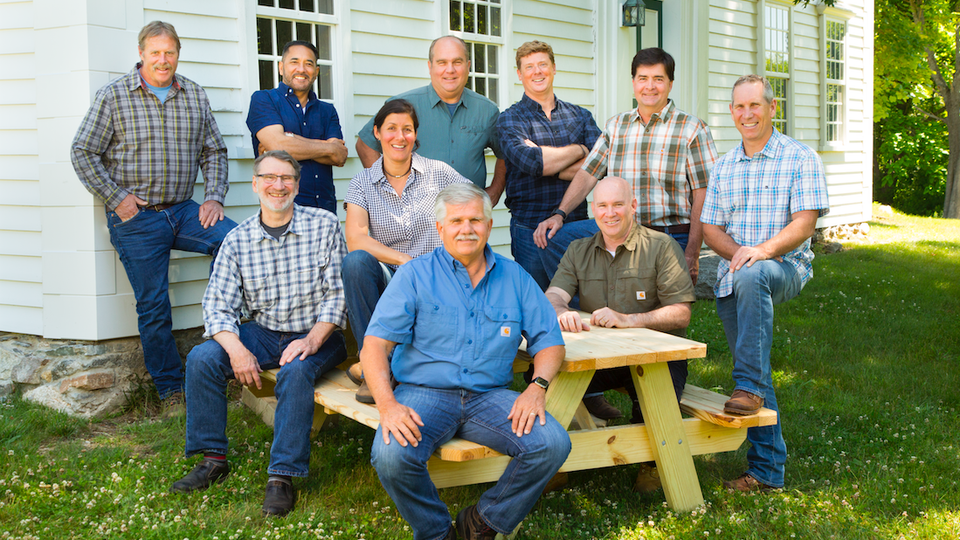 Now in its 40th season, the PBS home-improvement show This Old House feels like the TV equivalent of New England clam chowder: hearty, wholesome, and old-school. The cast—headed up by the master carpenter Norm Abram and rounded out by the contractor Tom Silva, gardener Roger Cook, plumber Richard Trethewey, and host Kevin O'Connor—returns autumn after autumn, as consistently as uncles you might see every year at Thanksgiving dinner. The look and feel of the series hasn't changed much since its debut in February 1979. Each episode still zeroes in on a few elements of home construction, such as installing a skylight or shoring up a foundation. In one of the rare, subtle signs that four decades have passed, Silva appears to be wearing an Apple Watch in a recent episode.
Every program on HGTV arguably owes its existence to This Old House, which first turned home renovation and real estate into television. Without it, viewers might never have gotten Property Brothers, or Fixer Upper, or probably even House Hunters International. All the same, it can be difficult to locate the similarities between This Old House and its descendants. These newer programs often unfold like reality TV–esque hero's journeys, with the hosts figuring as creative geniuses who marshal old or otherwise sad houses through a rapid-fire rehabilitation and beautification process. This Old House, meanwhile, has no single star and little concern for dramatic narrative arcs. Its chief goal is, as it always has been, to put skilled tradespeople and the work they do in front of the camera.
On This Old House, workers solve technical problems that seldom merit a mention on programs of the HGTV variety. In a recent episode, the crew is briefly flummoxed over where to install electrical outlets in a modern, minimalist kitchen that has prioritized windows over usable wall space. The building code mandates that outlets should be placed every few feet, but O'Connor clarifies the problem for the audience, asking, "Where do you put an outlet when there's no wall?" The supervising electrician, Heath Eastman, devises an ingenious solution: He conceals the outlets in receptacles that can be pressed down into the countertop. The homeowner, Sunil, isn't enthused about the prospect of disrupting the clean lines of the counter with pop-ups, but he takes a sensible view of the matter. "I personally wouldn't want anything on the surface, but code is code and we have to have it," he says.
The scene is quintessential This Old House. What could've been framed as a melodramatic battle of the wills is instead presented as a teachable moment between the tradesman and the homeowner. The show is fairly unusual among home-renovation programs in allowing workers like Eastman to speak at length and explain their craft to a national audience. This Old House keeps them at the forefront of the action, perhaps realizing that, without them, there'd be no action at all.
---
When This Old House launched, it didn't look like the progenitor of a new genre of TV. That first, 13-episode season from 1979 initially seemed to be a Boston-area curiosity, accessible only to local residents via WGBH. But it struck a chord with viewers, almost 250,000 of whom tuned in every week to watch the titular house—a Victorian in Boston's Dorchester neighborhood—undergo its gradual metamorphosis. The surge of interest allowed This Old House to vault into the primary PBS lineup a year later, where it has remained ever since.
Since the 1980s, the show has developed into a multiplatform media powerhouse. In addition to the flagship program, viewers can tune in to the spin-off TV show Ask This Old House, in which the cast helps homeowners with smaller-scale repairs and upgrades. Fans can also read This Old House magazine or follow the brand on Twitter, where the account cheerfully dispenses home-maintenance advice to 198,000 followers.
This Old House, of course, competes for eyeballs with a slate of newer shows hosted by highly telegenic and charismatic individuals. Audiences marvel at the gracious collectedness of Fixer Upper's Joanna Gaines (who alone has 1.4 million Twitter followers), and wonder how she puts up with her goofy husband, Chip, as she floats around imposing a neutral-hued elegance on recalcitrant domestic interiors. Drew and Jonathan Scott hold together each episode of their various Property Brothers shows with their banter, fraternal competition, and identical good looks. It's not for nothing that the Gaineses and the Scotts regularly feature on the covers of tabloids. These stars are their shows, because they seemingly carry the entire weight of the production on their shoulders.
All the celebrity attached to home-improvement show hosts means that little attention is paid to the skilled tradespeople who improve the homes in question. When these workers do appear on camera, it's usually in montages. Their movements are often sped up for the sake of time, so they scuttle around like chipmunks, hammering, carrying, plastering, painting. Their work, whether intentionally or not, is positioned as secondary to the dynamism of the main stars.
We see this clearly on HGTV's new show Windy City Rehab, which recently ended its first season. The title suggests that the show is about renovating homes in Chicago, but it's really about Alison Victoria, the star, who poses with a sledgehammer in promotional shots. Victoria is a professional home flipper, and it's hard not to admire her style. She evaluates properties with a caustic realism that brings to mind Simon Cowell: "The windows are a mess, the awning is awful, the glass block is disgusting." As a home flipper, Victoria chiefly aims to turn the largest profit possible from selling her creations, and we watch her battle against time, weather, and occasional bureaucratic red tape to accomplish it.
Victoria has an edge to her, which is likely a requirement for a woman trying to succeed in a field that is still dominated by men. "It's not for the weak," she says of her chosen profession in a March episode. Understandably, she strives to control as many aspects of the project as possible. "If you want something done right, you do it yourself," she remarks, after a set of kitchen cabinets turns out too short due to a measuring error on the part of a contractor. When she sources vintage pieces at a furniture restorer's workshop, the exchange largely consists of her telling the craftsman what she wants. Workers only fleetingly appear in the usual construction montages. This overlooking of tradespeople is certainly not unique to Victoria's show—it's only the latest manifestation of a pattern that has come to define home-renovation TV as a whole.
If skilled workers are largely written out of television shows that rely on their expertise to function, it's not surprising that fewer young people than ever are pursuing careers in trade. There is a genuine shortage of skilled labor in the United States, caused by, according to The Washington Post, lingering effects of the Great Recession, the retirement of veteran laborers, and "the fact that many high-school graduates are not interested in blue-collar jobs." This issue is undoubtedly a complex one, but media representations of trade might bear at least some scrutiny. Who wants to be reduced to the backdrop while the true drama takes place in the foreground?
This Old House stands apart from its competition by keeping its workers in the spotlight—young apprentices included. The 16th episode of Season 40, titled "Apprentice Sill School," features the great Norm Abram instructing two apprentices, Carly and Erick, in how to install a "sill," or layer of wood, on the foundation of a home. This hidden piece keeps our walls from falling in on us—it supports a building's frame and floor joists. As viewers watch, they see Carly and Erick learning exactly how a house comes together. Their movements are a little awkward as they use hammers to smooth the edges of the foundation before the sills can be installed. Their work is slow and hesitant. The only noticeable sounds in these scenes are Abram's voice and the clink of metal on concrete.
It's no accident that This Old House devotes so much time to apprentices like Carly and Erick. They're on-screen as part of the show's "Generation Next" initiative—a broad program aimed at recruiting more people to the trades. In launching this initiative, the show is attempting to counter the U.S. labor shortage by making carpentry and other hands-on professions seem more accessible to young men and women alike. Generation Next has been putting apprentices on the show since 2017, providing them with training and national-television exposure. "There's every reason to go into the building trades today," Tom Silva has said. "If you are good, you will absolutely have work." He's not exaggerating: The Bureau of Labor Statistics forecasts enticing job prospects for workers in a variety of fields, including plumbers, glaziers, and masons.
Generation Next is a natural offshoot of what was already present in the structure and priorities of This Old House from the beginning, especially in the way that it provides a voice and visibility to skilled tradesmen and women. As the series moves into its fifth decade, its investment in younger workers signifies a promising new direction: a way for this admittedly old show to reach the audience that most needs to absorb its message.