A New Film Reveals How Larry Nassar Benefited From a Culture of Silence
The sports doctor was able to assault so many athletes for so long. Erin Lee Carr's HBO documentary, At the Heart of Gold, explores the environment that protected him.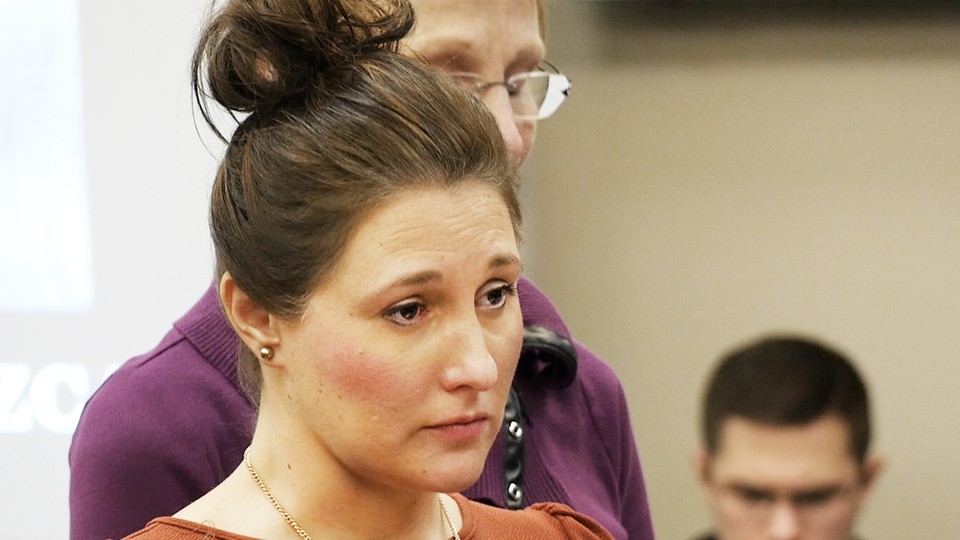 What's hard to comprehend, now, is how much of Dr. Larry Nassar's sexual abuse of more than 300 preteen and teenage girls was conducted in plain sight. Erin Lee Carr's new HBO documentary, At the Heart of Gold, includes excerpts from instructional videos Nassar posted online for other sports doctors to observe. In them, he runs his hands over girls' bodies clothed in leotards; points out (and touches) one athlete's gluteus muscle; massages one girl's chest; pats yet another on the butt. Nassar went even further in private sessions with athletes, giving procedures he called "intravaginal adjustments" with ungloved hands and without prior warning. Often, when he did this, the girls' parents were standing in the same room, watching while Nassar abused their daughters, listening as he talked nonstop the whole time.
Nassar, as At the Heart of Gold documents, was uniquely positioned to get away with what he did. He was a trusted, even beloved figure in his Michigan community, volunteering at his church and at local high schools, and offering free therapeutic sessions to girls who were cheerleaders, rowers, dancers. He had almost unchecked access to young athletes in his role as a sports doctor for USA Gymnastics and Michigan State University. And, crucially, he was operating within a sport in which girls are primed from the beginning to silently endure what happens to their body, one with a philosophy of "athletic Darwinism" where only the strongest and most stoic will go all the way. "It's almost like being a wounded animal," the former Olympic gymnast Kathy Johnson tells Carr. "You don't show your weakness. You don't show that you're hurt."
At the Heart of Gold arrives almost 18 months after Nassar was sentenced to between 40 and 175 years in prison. It has also landed in a moment when plenty of filmmakers are grappling with stories about alleged abusers whose status has insulated them from scrutiny for decades. While Nassar had neither the star power nor the money of R. Kelly or Michael Jackson, he did benefit from a culture that closed ranks around him and defended him long after he'd been exposed. The first time an athlete accused Nassar of abuse, Carr notes, was in 1997. It would be another 18 years—and hundreds of victims—before any of the accusations against him would stick.
USA Gymnastics, the Wall Street Journal reporter Rebecca Davis O'Brien says in the film, is a "money machine, and at the heart of it are teenage girls and their bodies. It seems like an arrangement that's bound to create abuse." The movie begins with archival footage of a gymnast mid-competition, leaping, falling, and then lying prone, sobbing in pain on the ground. A doctor is summoned to help take her away, but she shakes her head and unsteadily rises to her feet as the crowd vigorously applauds. "This is gutsy stuff," the commentator says. That impossible grit, that mastery of pain, is what athlete after athlete tells Carr that the sport is all about. The sense of power, the former gymnast Jessica O'Beirne says, "the command over your body, doing stuff that regular people can't do."
The film runs through some of the practices in gymnastics that might seem egregious to outside observers—such as racking, where coaches put their weight on girls to force their bodies into splits. The athletes, in turn, are taught not to cry or yell out. The movie notes how the culture of gymnastics changed after the Romanian coach Béla Károlyi defected to the United States in the 1980s. It quickly became routine to train girls who were younger and younger, and to do so more intensively, with monthly camps at the Károlyis' isolated ranch in Texas, where Nassar often was.
Compared with coaches such as Károlyi and John Geddert (whom one gymnast likens to Satan), Nassar wasn't an obvious bad guy at first acquaintance. He often played good cop to the coaches' bad ones, being kind to the gymnasts and helping them recover from the physical impact their bodies were taking. Geddert, the former gymnast Isabell Hutchins recalls, would "belittle you … break down every single girl until they thought they were nothing." Nassar, in contrast, was "kind of like a friend I could go to."
When some girls expressed alarm that Nassar was touching and manipulating their genitals, what they'd hear in response was that it was normal, nothing out of the ordinary. The gymnast Larissa Boyce recalls how, after reporting Nassar to her coach, Kathie Klages, in 1997, Klages responded by immediately warning her of the consequences of filing a report, both for Boyce and for Nassar. "So I convinced myself I must be the problem," Boyce says. "And then I hopped back up on that table and he continued to abuse me for the next four years."
More versions of this scenario played out. In 2014, Amanda Thomashow also reported Nassar for assault while she was a student at Michigan State University, only for the institution to find that no violation had been committed. "They gaslighted me," she tells the camera, incandescent with rage. Carr contrasts footage of women talking about the emotional toll of reporting Nassar with tapes of Nassar being interviewed by the police, in which he's folksy, cracking jokes with the cops, and seeming aghast that someone could have mistaken him for a predator.
What Carr manages to indict in the film is both a specific environment and a more general culture disinclined to believe what women say about their own body. The world of gymnastics, where girls were trained to suffer silently, to tough it out, and to never complain, let an abuser like Nassar operate with impunity for much of his career. But the ways in which the women who did confront him were silenced speaks to a larger phenomenon. They were warned that they'd ruin a man's life, damage his career, hurt his family. They were told that they were misinterpreting things. They were encouraged even to silence one another.
The most powerful moments in the movie come in the final third, as Carr captures the week in January 2018 during which 156 women gave victim-impact statements before Nassar's sentencing in criminal court. Kyle Stephens recalls how she was abused by Nassar, a former family friend, starting at 6 years old, and how her father ended his own life in 2016 shortly after realizing he'd believed Nassar's word over his own daughter's. The women speaking that week included some of American gymnastics' biggest stars. "We," the former Olympian Aly Raisman tells Nassar, "are now a force, and you are nothing." To see such a vast group of women speaking out is shocking, but also encouraging—together, they represent something undeniably powerful. But you're left wondering what it means that there had to be so many of them for Nassar to finally get justice.