The Houston Rapper Taking the Industry by Storm
Megan Thee Stallion's much-anticipated debut album, Fever, is a remarkable mix of braggadocio, lyrical acuity, and self-awareness.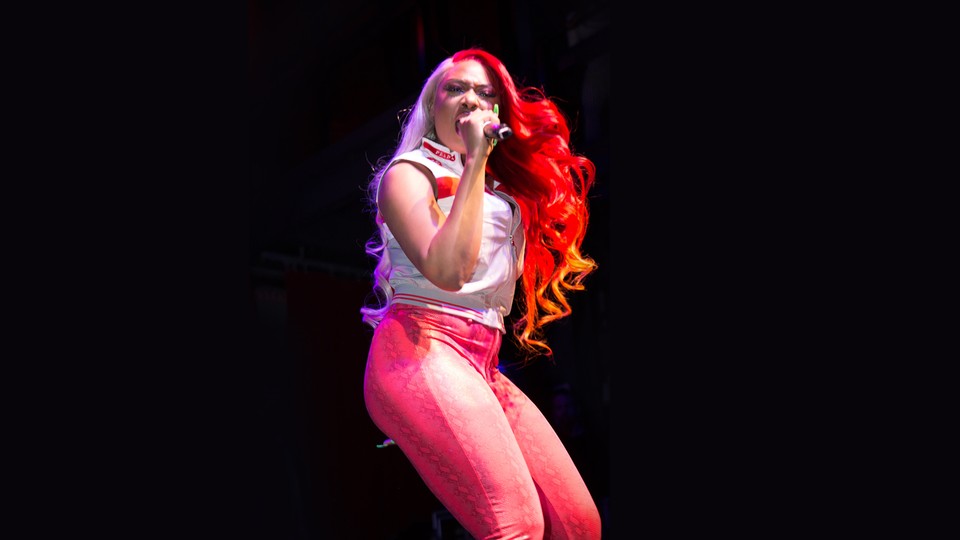 Megan Thee Stallion only takes big swings. Late in 2017, at age 22, the artist recorded "Stalli Freestyle," a video of herself rapping in the middle of a street somewhere in a suburb of her native Houston. The backdrop of her deceptively simple video was prosaic, but Megan's performance electrified. Switching up her flow about halfway into the track, she unleashed a cheeky, rapid-fire missive that married braggadocio and pointed commentary: "Your favorite rapper only use onomatopoeias / You don't wanna hear it cuz you only wanna see her / I'ma show you how a real rap bitch tee up / Get up in the booth and beat the motherfucking beat up."
In the video, which has since racked up more than 2 million views on YouTube, she strutted around and danced with the confidence of someone who knew she'd be a star. And now, a year and a half later, the artist born Megan Pete has released her debut studio album under 300 Entertainment, the label responsible for the rapper Young Thug and the group Migos's first two albums. For Megan, it's also a kind of coronation.

Fever continues the artistic dominance the inventive rapper has been establishing since even before "Stalli Freestyle." Early videos of her freestyling over classic beats showcase a confident young artist, and by late 2017, she'd already put out a mixtape, Rich Ratchet, and an EP, Make It Hot. Last year was a catalytic one for Megan. While still a college student at Texas Southern University, she released Tina Snow, one of 2018's best records. The EP was named for one of the alter-egos she inhabits: a female version of Tony Snow, the alias of the late Houston rap legend Pimp C. Bold, brash, and skillfully crafted, it introduced Megan as a rapper to be taken seriously.
And she does—but not without sacrificing her signature ebullience. A perfectly timed pre-summer record, Fever is a 14-track testament to Megan's oft-stated wish that her fans have as much fun as she does. The album introduces listeners to another one of her many characters, the party-loving Hot Girl Meg. (The rapper refers to her legion of fans as her "Hotties," and often dubs her own activities and theirs "Real Hot Girl Shit.") Indeed, Fever is packed with bouncy tracks that inspire—or, more accurately, insist upon—twerking. The Juicy J and Crazy Mike–produced "Dance" evokes the former's 2012 strip-club mainstay, "Bandz A Make Her Dance." And there's the aptly titled "Ratchet," which begins with a nod to one of Megan's most infamous onstage activities: "Drinking Henny out the bottle."