Killing Eve Betrayed Its Central Character
In the second season of the BBC America series, the MI6 agent played by Sandra Oh has languished in Villanelle's shadow.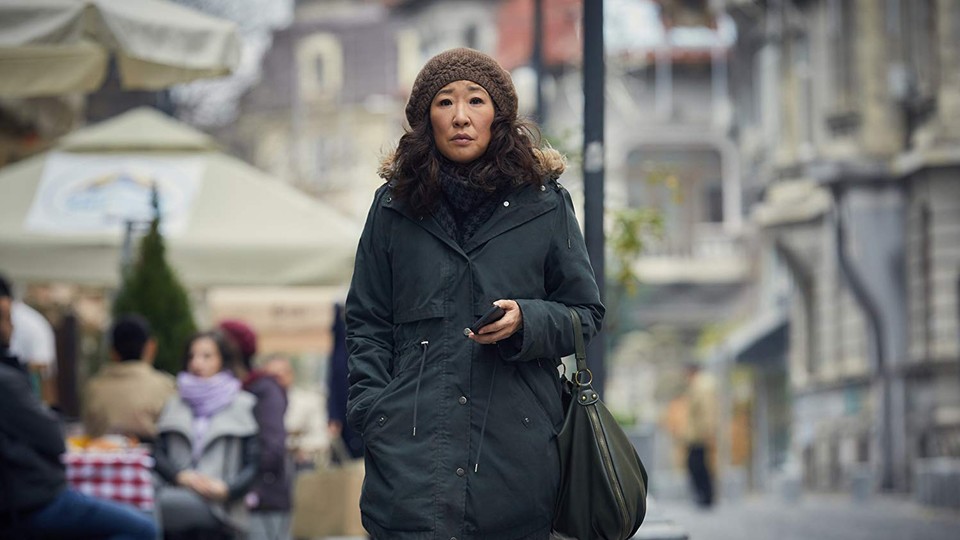 This article contains spoilers throughout the second season of Killing Eve.
"Don't forget," Villanelle (played by Jodie Comer) said to Eve Polastri (Sandra Oh) during the second season of Killing Eve, "the only thing that makes you interesting is me." For 16 episodes now, the psychopathic assassin and the MI6 agent with boundary issues have circled each other with animal interest and growing urgency, their mutual obsession intensifying after Eve stabbed Villanelle in the stomach in the latter's Paris walk-up. But something, over the course of Season 2, changed. When viewers first met Eve, she was compelling all on her own—a paper-pushing bureaucrat who unexpectedly proved she had the raw instincts to catch murderers; a happily married, childless woman with friends and interests and a sense of humor. Oh's spiky charisma made Eve a good foil even for Comer's ravishingly unstable Villanelle. They were fascinated by each other, and plausibly so.
The danger with any cat-and-mouse story is that once the characters get within striking distance of each other, the chase is over and the game is done. Killing Eve, which was created by Fleabag's Phoebe Waller-Bridge, took a strikingly audacious turn at the end of Season 1 when it made the sexual tension between Eve and Villanelle explicit rather than implied. Had Eve maintained even slightly more detachment, she could have kept on playing the Will Graham to Villanelle's Hannibal Lecter over the course of several seasons. Instead, Eve stabbed Villanelle, Villanelle escaped, and the writers of Season 2 were left with a conundrum: What now? To kill off either of the two characters seems unthinkable. To pretend they can engage in a functional relationship is ludicrous. But to repeat the exact same story again is undeniably dreary.
The compromise struck by Killing Eve's new showrunner, the actor and writer Emerald Fennell, was to repeat the story but flip the characters. They've always existed in opposition to each other anyway, with Villanelle seeming to embody all the wanton, impulsive parts of Eve that she's learned to suppress over the years. From one of the earliest scenes of Season 2, in which Eve callously snatched a marshmallow out of the grasp of a small child, it was clear that the show was suggesting Villanelle was rubbing off on Eve, making her colder, selfish, and more in thrall to her own desires. Turned on by Villanelle, she sought out emotionless sexual gratification—from her junior co-worker (played by Edward Bluemel), and from her husband, Niko (Owen McDonnell), appalling him and wrecking her marriage in the process. Standing on a tube platform, she even fantasized about pushing a stranger onto the tracks.
Eve's pivot toward darkness was supposed to add complexity to her character. In reality, though, Oh has never had less to work with. Eve's escalating psychosexual fixation on Villanelle robbed Oh's character of all the things that made her interesting—her professional capabilities, her emotional intelligence, her heightened awareness of trouble, even her capacity for joy. In the final episodes of Season 2, Eve seemed either totally flat or hopelessly needy. She stalked Villanelle with calls and voicemails while Villanelle was on assignment for MI6, investigating a ruthless tech baron with a psychopathic streak of his own. Frantic to get back to Villanelle, Eve left a colleague to bleed out alone, even as he begged her not to. And she let herself be easily manipulated—by Villanelle, who conspired to have Eve "rescue" her by murdering a man with an axe, and by her former boss Carolyn (Fiona Shaw), who used Eve's attachment to Villanelle to organize an off-the-books assassination of her own.
Season 2 drained Eve to the extent that, in the final episode, all she could do was limply follow Villanelle through a series of tunnels beneath Rome, peppering her with questions like a truculent toddler. ("Where are we?" "Where are we going?" "Do you know the way out of here?") Villanelle, by contrast, became more vibrant, more complex, and—in one of the show's most off-note decisions—more human. If Eve was absorbing Villanelle, as I wrote in my review of the first two episodes, Villanelle was softening, or at least pretending to. In a group therapy meeting, while in the guise of an addict, she acknowledged her inability to feel things, and the perpetual emptiness and boredom that spur her to kill. But in Amsterdam, just a few episodes earlier, she'd sought solace in pills and broken down in tears after Eve failed to show up—a moment of vulnerability that felt jarringly out of character, just as it belied the idea that she feels nothing.
It may be too much to expect fictional characters to stay totally consistent across multiple seasons of television. But it's also hard to think of a series that's elevated its antagonist to such an extent in its sophomore season while sidelining its central character. The show, after all, is called Killing Eve, and yet it's easier to imagine it functioning now without Eve than without Comer's mesmerizingly weird and compelling performance of Villanelle. Oh, who's equally gifted and addictively watchable onscreen, just hasn't been given the material this season to measure up. (It's worth noting that the vast majority of GIFs ripped from the show this season feature Comer, an unscientific analysis that nevertheless suggests how little fun Eve has been allowed.) Being unsympathetic is one thing; being dully idiotic because you're in the throes of sexual mania or possibly embracing psychopathy yourself is another entirely.
In its second season, Killing Eve seemed to get mired in patterns, echoes, and the idea that its two primary characters should converge. ("What is it about her?" Villanelle's handler, Konstantin, asked Villanelle, of Eve. "We're the same," Villanelle replied, to which even Konstantin seemed skeptical.) Eve, rampaging through the bedroom of a love rival and snapping off the ballerina in her jewelry box, directly mimicked the way Villanelle had rifled through Eve's home in an earlier episode. Both Eve and Villanelle were in some way betrayed by their handlers, who have their own complicated relationship with each other. Villanelle, pursuing the tech baron Aaron Peel (Henry Lloyd-Hughes) for MI6, found herself in the position she put Eve in during Season 1, with a closetful of fiendishly expensive new clothes selected expressly for her. And, in the final scene of Sunday's episode, Villanelle shot Eve and left her for dead in Rome after Eve rejected her, a mirror image of how Season 1 concluded.

With the story coming full circle, Killing Eve's next showrunner, Fear the Walking Dead's Suzanne Heathcote, can start afresh. There are plenty of threads left to unravel, such as Niko's horror after Villanelle asphyxiated his colleague, and Konstantin's hint that Villanelle still has family members who are alive. It is, according to Fennell, possible that Eve might be dead, although it seems highly unlikely that the series actually has the nerve to let a Golden Globe–winning actor go out this way. If nothing else, it would be a colossal shame—given all the talent Oh brings to Eve, and all the narrative potential embedded in her portrayal of the character—if this were the last we saw of her.