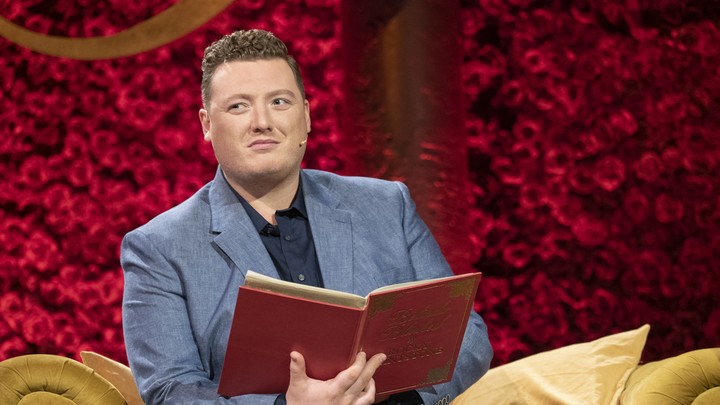 While watching the HBO comedy special My Dad Wrote a Porno recently, I recognized the look on Jamie Morton's face as he read passages aloud from his father's self-published erotica series, Belinda Blinked. The furrowed brow, the pursed-lip grimace, the eyes narrowing as the brain wrestles with the appalling imagery it's processing—that look is the specific countenance of someone who's encountered a truly horrific sex scene in fiction. I know that look because I bore it for several days last month while reading E. L. James's The Mister, a 522-page colossus filled with sandwiches, expensive consumer goods, and one privileged English aristocrat's attempts to deflower his Albanian maid, all from the same writer once compelled to liken a character's penis to "my very own Christian Grey–flavored popsicle."
It was, coincidentally enough, James's own success in the self-publishing world with her Fifty Shades series that inspired Morton's father, in his 60s, to start writing his own works of erotic fiction in his garden shed, under the pseudonym Rocky Flintstone. But if James's Anastasia Steele is an insipid dishrag of a character, Flintstone's Belinda Blumenthal is a late-capitalist siren for the LinkedIn demographic, a woman who, in Morton's words, "shags her way around the world selling pots and pans." Belinda Blinked is writing so bad that it transcends mere constructs of quality and becomes its own absurdist feat of virtuosity. The actor Michael Sheen has likened it to Hamlet. Emma Thompson has called Rocky Flintstone a "genius." Morton's friend, the broadcaster Alice Levine, describes it as "the best bad book ever written."
Accidental work of art? Yes. Successful crossover into mainstream culture? Affirmative. Before it was an HBO special, My Dad Wrote a Porno was a podcast hosted by Morton, Levine, and James Cooper with more than 150 million downloads. And yet, Belinda Blinked, for all its inadvertent comedy and experimental grammar, still manages to be a model of absolutely terrible erotica. In the first chapter, Belinda arrives for a job interview at Steeles Pots & Pans, a dynamic homeware company with an unorthodox interview process that involves immediately taking all your clothes off. From there, she experiences a maelstrom of X-rated misadventures, like an Emmanuelle of the cookware-sales industry. She's perpetually getting entangled with characters with names like Mistress Sweetjuice and Alfonse Stirbacker, all detailed in Flintstone's florid, curiously specific prose. (In one chapter, he describes a character's nipples as being "as large as the three-inch rivets which had held the hull of the fateful Titanic together.")
Read: The indelible awfulness of E. L. James's 'The Mister'
In Britain, where My Dad Wrote a Porno originated, the art of bad (-ly written) sex is so entrenched that it's celebrated once a year at the Literary Review's Bad Sex in Fiction Awards. While neither Belinda Blinked nor E. L. James's The Mister would qualify for the prize—it rewards only badly written sex scenes in otherwise good novels—they do have plenty in common with works by luminaries in the publishing world: Salman Rushdie, Paul Theroux, Tom Wolfe, John Updike, Morrissey. In fiction, it turns out, bad sex is the great democratizer.
Consider Rocky Flintstone's particular yen for unnecessary information. In the HBO special, Morton reads from a chapter in which Belinda goes on a kind of corporate retreat, spearheaded by a woman named Natasha Biles, who doubles as "the local female lifeboat member," and who's wearing a "comfortable yet sexy black leather trouser suit." During the orgiastic events that follow, Natasha produces dice for a game, which Flintstone specifies were purchased at "Humphrey's Dice and Mice Joke Shop … suppliers to royalty." Later, one character removes his clothes and places them on the edge of a wing-backed chair perched on the carpet of the "recently vacuumed room." This is reminiscent of a postcoital interlude in Newt Gingrich's surprisingly racy 1995 speculative novel, 1945: "[John] stretched in turn, reached over for his cigarettes and gold-plated Ronson on the Art Deco nightstand with its Tiffany lamp."
Extraneous detail, though, can seem sweetly innocent when compared with the propensity in bad literary sex to get food involved. Rocky Flintstone is infamous for describing a woman's breasts as hanging "freely, like pomegranates." He's nevertheless in the shadow of Siddharth Dhanvant Shanghvi, who in the 2004 novel The Last Song of Dusk describes a woman's "weasel-like loins clutching and unclutching his lovely, long, louche manhood, as though squeezing an orange for its juice." Nicola Barker, in her 2012 book The Yips, leans fully toward patisserie: "She smells of almonds, like a plump Bakewell pudding; and he is the spoon, the whipped cream, the helpless dollop of warm custard." E. L. James, of course, joins in. "Oh my," Anastasia Steele thinks during one coupling in Fifty Shades of Grey. "Sweat and body wash and Christian. It's a heady cocktail—so much better than a margarita, and now I can speak from experience."
Nor do writers in search of similes for eroticized scenes stop at the refrigerator. During their 26-year history, the Bad Sex in Fiction Awards have become a veritable Richard Scarry compendium of sexual imagery featuring animals, machinery, and even municipal day jobs. The historical novelist Simon Sebag Montefiore concluded a sex scene in 2008's Sashenka thusly: "When it was over, they had become creatures of the sea, their bodies as sleek and wet and lithe as leaping dolphins." Paul Theroux, in the 2005 book Blinding Light, likened an orgasm to "a demon eel thrashing in his loins and swimming swiftly ... one whole creature of live slime fighting the stiffness as it rose." Morrissey's 2015 debut novel, List of the Lost, features a couple "screaming and shouting as they playfully bit and pulled at each other in a dangerous and clamorous rollercoaster coil of sexually violent rotation." In Kathy Lette's 1998 novel, To Love, Honor, and Betray, a character observes that "Sebastian's erect member was so big I mistook it for some sort of monument in the centre of a town. I almost started directing traffic around it."
All of which is to say that Belinda Blinked might secretly be an elaborate work of satire riffing on everything eroticized fiction does wrong. For instance, metaphor. (Nicholas Royle, The Matter of the Heart: "He sensed that unmistakable stirring common to all men, that loosening, as he liked to think of it, of the bow ropes on the big white submarine.") Improbability. (James Buchan, The Gate of Air: "Light billowed out of her, and warmth in damp gusts as if from a garden after a rainstorm.") Bodily fluids. (Nadeem Aslam, Maps for Lost Lovers: "Areas of their bodies [stuck] together with sweat that was like the weak glue that holds segments of an orange together.") Animals, vegetables, and minerals. (Rowan Somerville, The Shape of Her: "Like a lepidopterist mounting a tough-skinned insect with a too blunt pin he screwed himself into her.")
Rocky Flintstone's understanding of anatomy might be questionable. (In no situation should any person who's not a practicing gynecologist ever grab another person's cervix.) He might be mysteriously fascinated with the sexual possibilities of selling pots and pans. But he's also just one among a pantheon of more esteemed writers who are fascinated by sex and yet comically inept when it comes to translating it onto the page. Some have the consolation of Man Booker Awards. Others battle valiantly in their sheds, alone, armed only with a vivid imagination and boundless enthusiasm for sex, stainless steel, and well-vacuumed carpets.
We want to hear what you think about this article. Submit a letter to the editor or write to letters@theatlantic.com.
Sophie Gilbert
is a staff writer at
The Atlantic,
where she covers culture.