Taylor Swift's 'ME!' Is Everything Wrong With Pop
The star's first single since Reputation has almost none of the elements that once made her interesting, but it does have a dolphin screech for a chorus.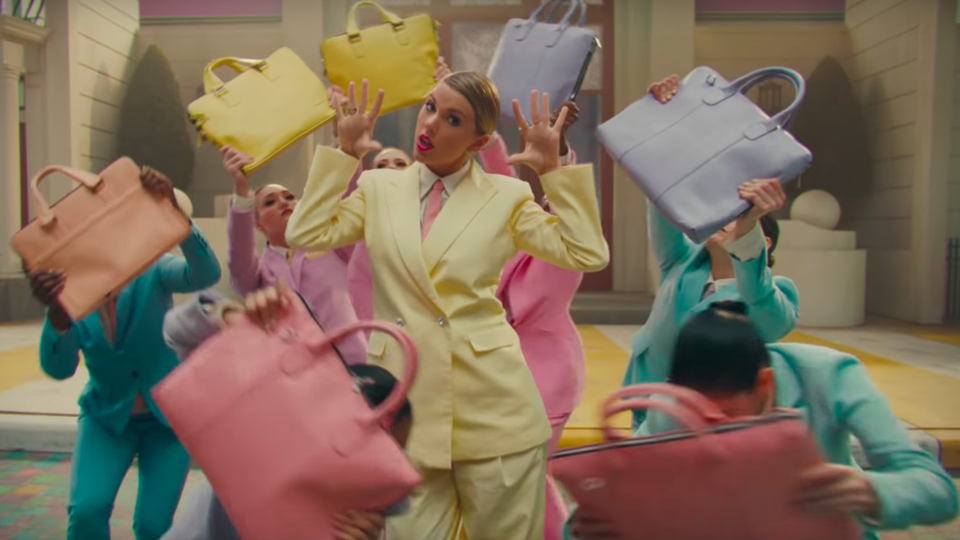 One of the most impressive things about Taylor Swift is that she keeps finding a way to offend people simply with sound alone. The story's been the same every album rollout since 2012's Red: Swift, the onetime mascot for speaking your own truth over humble country strums, "goes pop," garishly and greatly. The bungee-jump yodels of "We Are Never Ever Getting Back Together," the Jazzercise drum line of "Shake It Off," and the rude robotics of "Look What You Made Me Do" each represented a fresh, unapologetic kind of tackiness. The first listen, in every case, had to trigger a Yikes.
That Yikes, for both die-hard fans and more reluctant admirers, tended to flip to Yes! as Swift's idiosyncratic cleverness came out with repeat listens. Even the dour Reputation, her 2017 album that amounted to a slight commercial disappointment for her, is more charming than it initially seemed. But at the present moment, hours after Swift kicked off a new album cycle with the single "ME!," it's very hard to imagine the reconciliation process replaying this time. The song is everything that gives pop a bad rap.
Reputation represented Swift's attempt to have fun with the backlash that formed after her winsome persona curdled into a perceived smugness in the public eye. Packed with hip-hop tricks and electronic frazzle, the album sounded clanking, confrontational, and gray. Pastel images that flooded her Instagram in recent weeks advertised that she'd be rebooting somewhere sunnier for the follow-up, but few could have expected "ME!," whose harsh cheer evokes a megachurch concert mass-dosed with ketamine.
It does open with a Reputation callback, in the form of Swift singing with the same ethereal vocal effect she used on her lovely single "Delicate." This probably means Swift is working her story lines, hinting at a continuation of the "Delicate" meet-cute that was presumed to be about her current boyfriend, Joe Alwyn. This musical touch is the last personal note from Swift, who used to be known for small, concrete details of remarkable economy. In "ME!," she sticks to highly generic scenes of phone fights, rain fights, and rainbows under which no one fights. The most memorable lyric comes when she shouts "Spelling is fun!" and then declines to spell out anything.
The only thing Swift reveals with this song is that she really, really wants a hit. The kind of hit whose royalty payments will be as sturdy and long-lasting as an oak planted in one's front yard. The kind of hit that will play in Gymboree classes and cruise-line commercials until a meteor hits Earth. Quantization, the studio-software practice of aligning beats to a rigid grid as to nix any human variation, appears to have been used as not just a production tool but an art ethos. A marching beat creates fascistic order; the verses call to mind a ball bouncing across a sing-along screen. Every phrase's conclusion is triple-underlined by blunt multitracking, as if the listener would otherwise miss the slant rhyme of rain and name.
The sense of a cruel grin reaches Effie Trinket levels for the pre-chorus and chorus. A tongue twister of clichés—c'mon, Taylor, "Livin' in winter, I am your summer"?—tumbles down before Swift ricochets up, up, up into a dolphin screech: "Me-ee-ee!" This sound alone may ruin summer 2019. Horns exalt, but they sound like they're ironic, in air quotes. This helium pep rally resembles the ones recently staged by Panic! at the Disco, as the former punkish types have settled into jock jams—which explains the presence of Panic!'s Brendon Urie, his voice at its most handsome and hollow here.
The song is less of a selfie than the title suggests, and it's too bad. Swift's cry of individuality has the air of vintage–Katy Perry empowerment-core, and though there is a Swiftian theme of embattled love, it's buffed of any details. Amid all the "cool chicks" and "lame guys," there's only one "me" and "you," and the song declines to specify any attributes to those two individuals, allowing everyone to plug in. And it barely makes sense: How rare is "a rainbow with all of the colors" anyway? The real message might just be that catchiness is an end in itself. The "you" that's uniquely you-oo-oo is as susceptible to brain hijacking by melodic math as anyone else. Check your cabinets, because it feels as though all the world's salt has been turned to Splenda.