Why Hollywood Writers Are Firing the Agents They Love
The conflict comes at a time when economic realities are changing for both parties in the digital era, but the tension dates back to 1962.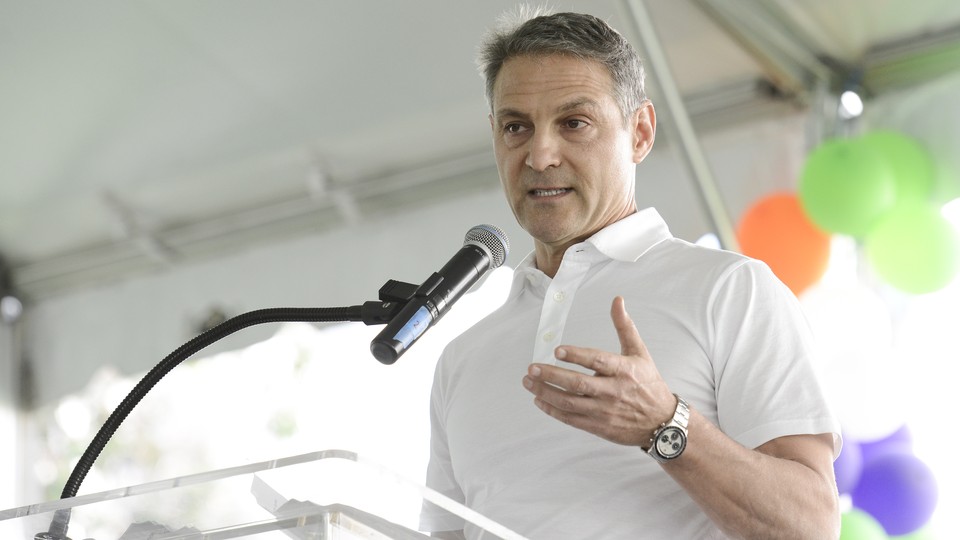 In the summer of 1962, MCA Inc.—the giant Hollywood talent agency so dominant in its field that industry insiders called it The Octopus—acquired a majority stake in Decca Records and Universal Pictures, giving it control of a full-fledged movie studio and a major recording company. For the better part of a decade, MCA had already been the country's largest creator of television programming. The agency was known for controversially "packaging" its star actors with writing and directing clients into ready-made shows for one-stop, near-monopoly sale to the networks.
But the Universal acquisition was a bridge too far for Robert Kennedy's Justice Department, which filed a civil antitrust suit against MCA and forced it to dissolve its agency business, on the grounds that being both a buyer and seller of talent posed an inherent conflict of interest. For most of the past 60 years, mindful of this precedent, Hollywood's agents have largely steered clear of trying to produce movies and television that would give them control of the content that their own clients create.
Not anymore.
In recent years, powerful über-agents like William Morris Endeavor's Ari Emanuel have realized what the legendary MCA boss Lew Wasserman himself understood so well when he agreed to get out of the agency business: Producing and owning entertainment is ultimately more lucrative than simply taking up to a 10 percent commission on its creation. That's why the big agencies have not only reverted to The Octopus's old practice of bundling their clients into package deals for movies and television—in the process, waiving their standard commissions while pocketing hefty (and often undisclosed) fees for themselves—but also created independent production companies that could amount to mini-studios of their own.
Now the Writers Guild of America is fighting back. The union represents about 13,000 screenwriters—some 8,500 of whom have agents—and it provides them with health and pension benefits and advocates for writers' interests with studios and producers. Last week, the guild sued the four biggest talent agencies—WME, Creative Artists Agency, ICM Partners, and United Talent Agency—on the grounds that their packaging practices violate California and federal laws by pitting the financial interests of the agencies against those of their clients. The union also instructed its members to fire their agents after failed negotiations on a new industry code of conduct to replace the compact that governs how agents represent writers. The WGA says that 92 percent of its more than 800 members—including Saturday Night Live's Tina Fey and Adam McKay, and House of Cards' Beau Willimon—who signed a statement in support of ending packaging fees last month have complied.
"This is incredibly painful," one veteran television writer who signed the union's letter firing his longtime agent told me, speaking on condition of anonymity. "This is chaos. I've been with my agent for 23 years and he's a good friend of mine, and he's shown nothing but integrity and commitment for 23 years. To sign something terminating that, even though we know it's a labor move and part of a larger dance that hopefully gets some resolution, it's a very disconcerting thing."
At the moment, the two sides seem locked in a standoff with no end in sight, in a battle that could ultimately upend television and movie production and threaten the livelihoods of thousands of people. This conflict comes at a time when fundamental economic realities are changing for both writers and agents in the digital Hollywood era, pitting their interests against each other in new ways.
The period of peak TV has meant more content creation—and perhaps a greater need for writers than ever before. But it has also meant shorter production seasons, lower salaries, less predictable work cycles and, in the case of Netflix, no potential back-end reward for the sales of successful shows to other markets (the streaming service retains ownership of all its original content). At the same time, the agency business has changed dramatically, as the big players have expanded and taken on capital from outside investors, lessening individual agents' ownership stake in their business and requiring an ever-larger revenue stream to be profitable. It's a perfect storm, one that will test whether prevailing industry practices draw renewed scrutiny by the Justice Department.
In recent years, the major agencies have taken in hundreds of millions of dollars in private-equity money—the majority owner of CAA, for example, is now TPG Capital, a giant private-equity firm—and their prime mandate is growth. Last month, The Wall Street Journal reported that WME is planning for an initial public stock offering this year. "They aren't agencies any more, in their view," one former top network executive told me. "They're entertainment conglomerates."
That is precisely the situation that the 1962 federal consent decree with MCA was intended to prevent. Founded in 1924 in Chicago by Dr. Jules Stein, an ophthalmologist, MCA initially booked bands into the Windy City's Prohibition-era nightclubs and speakeasies, often in peaceful collaboration with the city's mobsters. By 1939, it had moved to Beverly Hills and acquired other talent agencies representing stars such as Bette Davis and Henry Fonda, with the leadership of Wasserman, a former theater usher from Cleveland who became Stein's right-hand man. As an agent in postwar Hollywood, Wasserman revolutionized prevailing industry practices by getting the first-ever back-end percentage deal for James Stewart in Winchester '73. In the 1950s, MCA moved into television production with its Revue Productions arm.
MCA was able to do so in part because the agency received a friendly waiver from the Screen Actors Guild, then headed by Ronald Reagan, and from the Writers Guild as well. By the end of the decade, the agency held a virtual stranglehold on TV production, to the exasperation of network executives. Sylvester "Pat" Weaver, the onetime head of NBC's entertainment division (and the father of Sigourney), explained to Justice Department investigators what happened when the network wanted to develop a new series starring Phil Silvers, an MCA client.
"We had production facilities; top scripts, writers, and directors; our own production facilities in Burbank," Weaver would recall. "All we wanted was a star. MCA agreed to furnish us Phil Silvers, but only if it took a package commission: 10 percent from every producer, director, writer … everyone who worked on the show. If we protested that we wanted our own writers because the best ones were not MCA clients, MCA would simply say, 'That's the deal. That's the way it's got to be.'"
In the end, giving up the agency business wasn't really a tough choice for Wasserman and Stein. By 1961, MCA's gross revenues were about $82 million, according to Wasserman's biographer, Connie Bruck, with the agency's share only accounting for about 10 percent of that. As head of Universal, Wasserman would go on to create the studio's lucrative back-lot tour, and would pioneer the summer blockbuster with films like Jaws.
The modern packaging system that has evolved over the past couple of decades is somewhat different. The agencies—often two or more together—waive standard commissions for their clients, who are lumped together on a particular project, while taking fees and back-end ownership stakes for themselves. The agents contend that this works in favor of the clients by saving them their 10 percent commission, and for some nonstar writers and actors, it may well do so. But the union complains that the system is not transparent, and that there is no way to know whether an agent might have negotiated a higher fee for a writer or performer in a nonpackaged deal.
David Simon, the creator of The Wire and Homicide: Life on the Street, recently wrote an impassioned blog post, reprinted on Deadline, about the inherent conflict that packaging presents:
The problem is that the agency incentive to package shows and provide larger payments to themselves has obliterated any serious thought about aggressively negotiating on behalf of any writer, or actor, or director, large or small. Why bother to fight for 10 percent of a few dollars more for this story editor or that co-executive producer when to NOT do so means less freight on the operating budgets of the projects that you yourself hope to profit from? Why serve your clients as representatives with a fiduciary responsibility and get the last possible dollar for them, when you stand to profit by splitting the proceeds of a production not with labor, but with management—the studios who are cutting you in on the back end? Why put your client's interest in direct opposition to your own?
The WGA is seeking an injunction in Los Angeles Superior Court. It would prevent agencies from accepting packaging fees, and seek damages from those fees it argues were obtained illegally. Union officials have said they do not yet know whether the guild would file a second suit seeking to block the agencies' moves into the production field, but a union lawyer told me the guild is looking at it. The agencies have mostly maintained silence. But attorneys for their trade group, the Association of Talent Agents, are contending that lawyers and managers assuming the negotiating responsibilities currently reserved expressly for agents would violate both New York and California state laws governing the industry.
Most experts seem to agree that the agencies are pushing the envelope in a gray area of the law. The MCA consent decree just covered a single company, and one that no longer exists, at that. The major talent agencies also hold considerable political clout, functioning as reliable fundraising ATMs for politicians by perennially hosting high-ticket dinners and parties for candidates from all over the country—especially liberal Democrats who might otherwise look askance at issues like packaging of entertainment. "State law is a little bit muddled as to what they're allowed to do as agents," says a senior lawyer at one major studio. "Even if you're over the line, who has the balls to bring a lawsuit against them?" Well, the Writers Guild, for starters.