The Genre-Defying Rage of Rico Nasty
The Maryland rapper's new project, Anger Management, is a collaboration with the producer Kenny Beats that continues an electrifying repertoire.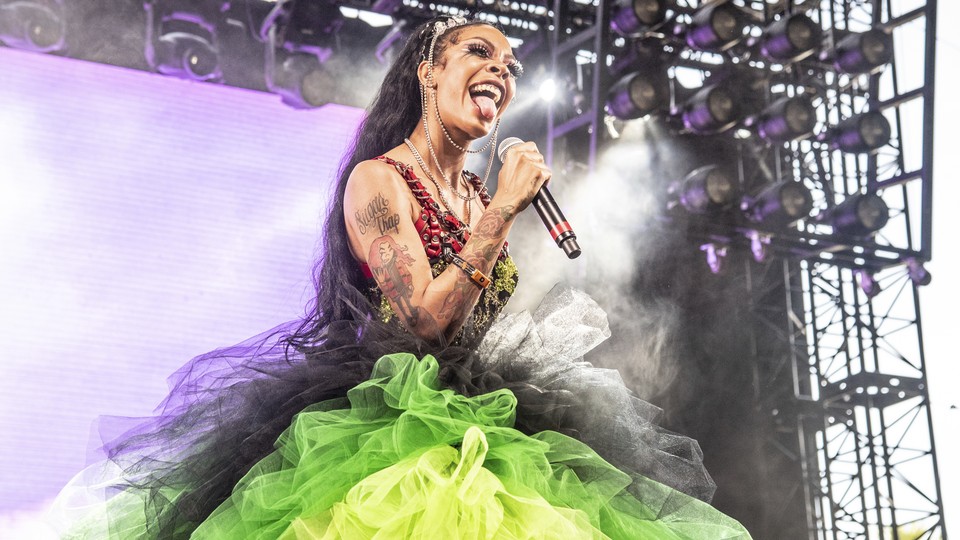 The rapper Rico Nasty begins her latest project, Anger Management, with a scream. For fans of the eclectic Maryland-raised artist, that yell conjures a feeling akin to the pleasant stomach churn of a roller-coaster climb: When Rico shouts "KENNY!," the name of her longtime producer, you know electrifying chaos is about to ensue.
Rico metabolizes life's frustrations by raging about them—and invites her audience to do the same. Anger Management is Rico's first tape released entirely as a collaborative project with the DJ and producer Kenny Beats, but the two have already established a signature sound, one that spans a wide range of influences, particularly punk and heavy metal. The 21-year-old rapper has been a prolific musician since she was in high school, and her work showcases not just her own tremendous range but also the limitless sonic possibility within rap as a genre: For every subdued "Sugar Trap," there's an amped-up "Smack a Bitch."

Kenny helped shape two of the defining tracks of Rico's massively successful 2018 tape, Nasty. Both "Rage" and "Trust Issues" are metal-inflected anthems of suspicion and fury, and Kenny's production lends Rico's missives an eerie, knocking quality. The rapper channels her anger with a menacing wail, her throat scratching and her face often contorting when she performs. Anyone who's seen her live can attest to her dynamism onstage; Rico's energy is contagious, and her concerts feel like one giant mosh pit. When the rapper shouts that she loves "bad bitches who be ragin'," it's hard not to believe her.