Oklahoma! Gets a Dark, Brilliant Remake
More than 75 years after the classic Rodgers and Hammerstein musical debuted, a daring new production seeks to re-create the frisson of the original—with some changes.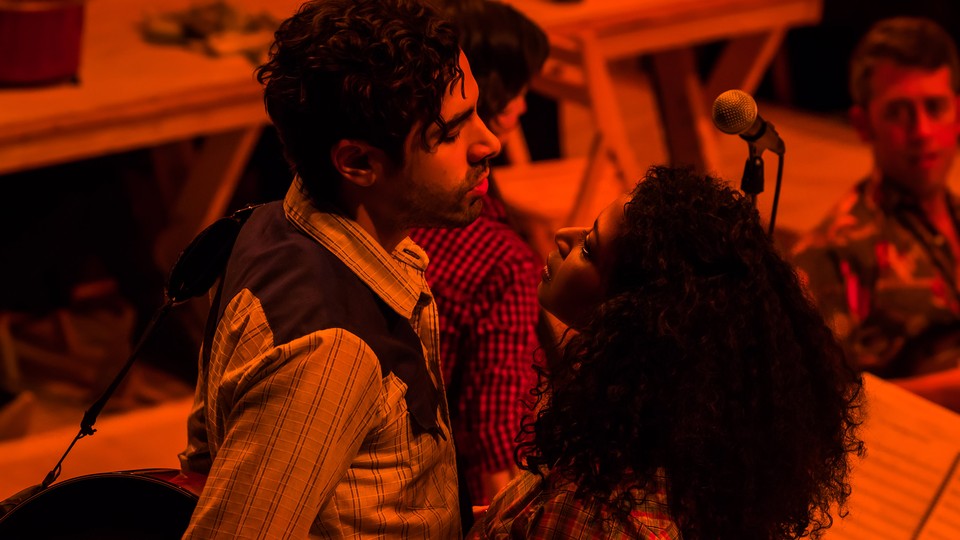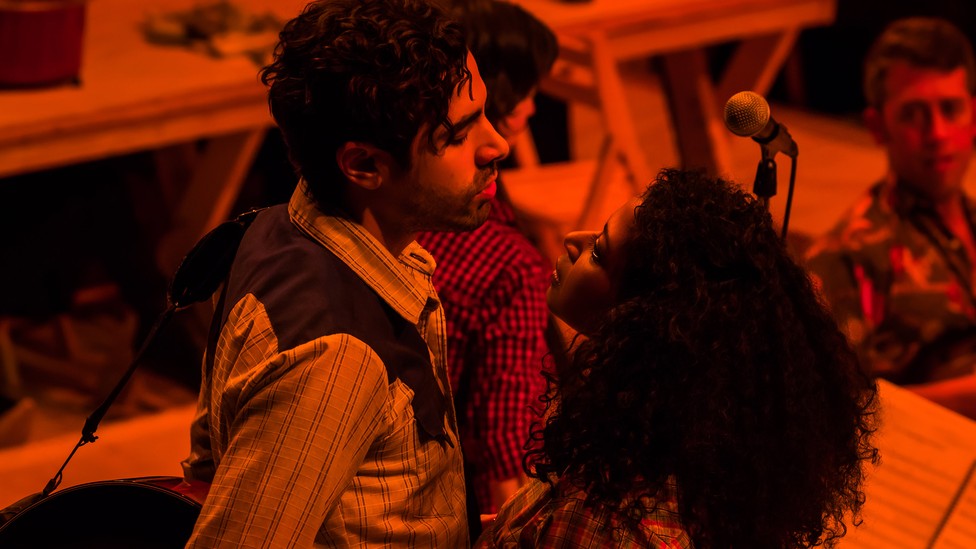 This article contains spoilers for the Daniel Fish production of Oklahoma!
In 1979, during the opening of a smash-hit revival of Rodgers and Hammerstein's Oklahoma!, the New York Times drama critic Walter Kerr walked up the aisle at intermission and noticed that everyone in the audience was beaming. "Some were smiling because they remember," he wrote. "The others were smiling because they will."
I felt much the same way when I saw the latest Broadway incarnation of Oklahoma! at the Circle in the Square Theatre in New York City—an oval-shaped auditorium in which the action takes place on what might be the blond-wood floor of a gymnasium or a barn. The house is so brightly lit for much of the show that the smiling faces of audience members seated across from me were visible for most of the first act.
But after intermission, there were empty seats where some of those smiling faces had been, and as the second act wore on, still other theatergoers walked out, evidently repelled by the director Daniel Fish's dark and daring reinterpretation of this enduring classic from Broadway's golden age. By the usually rousing final chorus of "Oh, What a Beautiful Mornin'," many of those remaining in their seats—and many of the actors onstage—were in or near tears.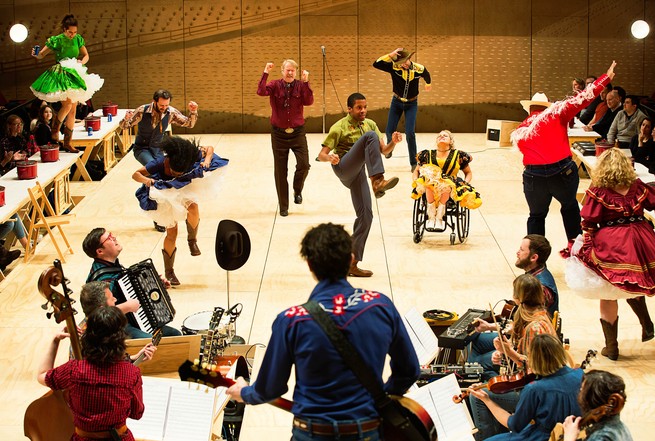 Oklahoma! turned 76 in March, and the newest production changes barely a word of the original text. Nevertheless, Fish renders a show that is most famous for its "bright, golden haze on the meadow" in chiaroscuro, highlighting the somber, ominous undertones that were there from the beginning, when the show landed with such a radical naturalism and authenticity that it revolutionized musical theater forever.
For anyone just arrived from Mars, the basic plot of Oklahoma! revolves around nothing more earth-shattering than which of two suitors—a cocky cowboy named Curly McLain, or a brooding farmhand named Jud Fry—will take Laurey Williams, a winsome farm girl, to a party. But just beneath the surface, sex and violence and the tension between order and lawlessness are always lurking. Fish's version, which began as a student production at Bard College in 2007, makes those subterranean themes explicit, and in the process comes as close as anything could to re-creating the frisson that the original production must have packed on March 31, 1943.
Fish does so, in the first instance, by stripping the show to its bare essentials. There is no overture, no chorus, no corps de ballet; the entire cast consists of just 12 players. The orchestra is a seven-piece band that performs onstage in full view of the audience, its roots-music arrangements by Daniel Kluger more Ralph Stanley than Robert Russell Bennett, the show's legendary original orchestrator. The famous dream ballet in which the hero is torn between two lovers pays only the barest passing reference to Agnes de Mille's original choreography (it has been reimagined by John Heginbotham), and it appears at the beginning of the second act, not at the end of the first. Indeed, the production doesn't have much dancing at all. Some audience members are seated at long tables at the edge of the playing space, where bubbling, red Crock-Pots hold the chili that will be served at intermission.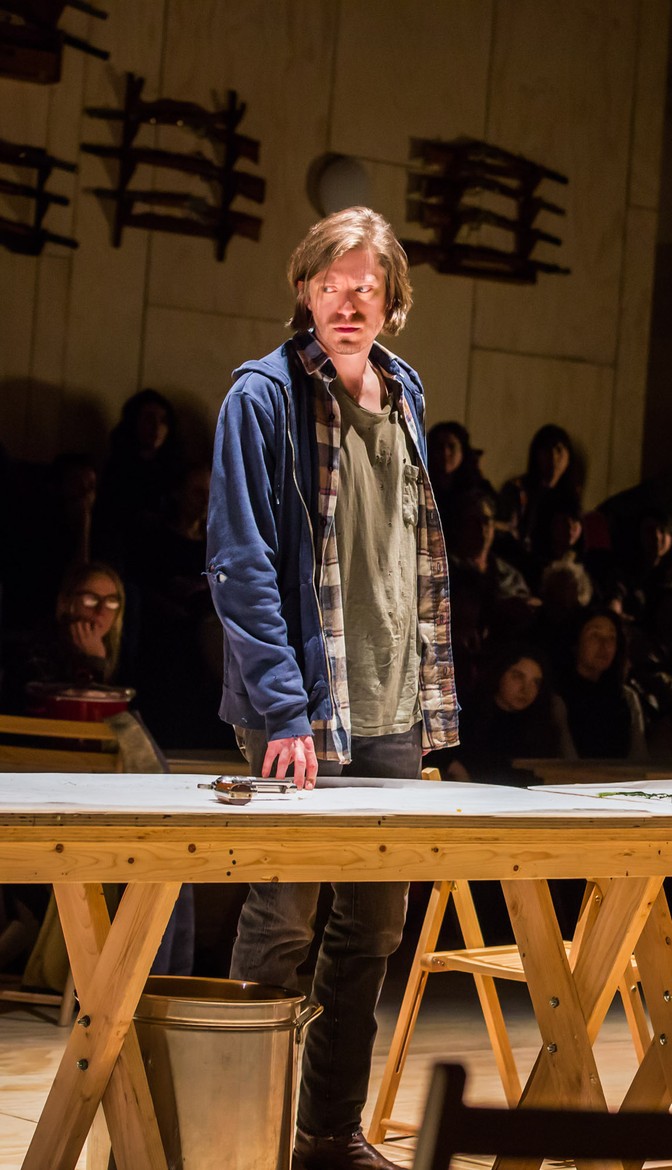 But those are details—and in the case of the chili, a bit of a stunt. The essence of Fish's reinterpretation is the character of Jud Fry, played by Patrick Vaill (who originated the role as a Bard student) not as a burly lout—think Rod Steiger in the 1955 movie version—but as a lean, tortured outsider condemned to a life by himself "like a cobweb on a shelf," as he sings in his agonized soliloquy, "Lonely Room." This Jud is a much more sympathetic contender for Laurey's affections, and his sex appeal is palpable. In the original libretto, when Laurey finally not only rejects Jud's advances but also fires him from his job, he retaliates by pulling a knife on Curly and dies after falling on it in the fight that ensues. In this production, Jud presents Curly with a pistol as a wedding present and more or less begs to be killed. Damon Daunno, who up to this point has been a genial guitar-plucking Curly with a Harry Nilsson tenor-baritone, is suddenly splattered with blood all over his white wedding suit, as is Laurey, played by Rebecca Naomi Jones. So when the community swiftly acquits Curly on the grounds of self-defense in a summary trial, the result feels less like justice and more like rough complicity in vigilantism. Hence the quivering, feel-bad ending, and the tears.
Some Rodgers and Hammerstein purists have already hotly debated whether this climax—slightly softened since the first professional staging at Bard's SummerScape festival in 2015—is necessary or even valid, and God only knows what the musical's creators would make of it. They were both famous for insisting that their shows be performed with a frozen-in-amber fidelity to the original productions—even if those originals had been cobbled together with blood, sweat, and caffeine in out-of-town tryouts in New Haven, Connecticut, and in Boston. In a tense exchange of letters with the director Joshua Logan, with whom he had tangled over Logan's changes to the first national company of South Pacific, Hammerstein made his case for sticking not only to the original text but also to the original staging:
Making changes can so easily become an accumulative pastime, not only on the part of one who makes them, but—and this is the main danger—those who follow are likely to be encouraged too much to make further changes. "Oh!" say they, "you can make changes, can you? Well, now I'll try my hand." And after a succession of directors who have not had the sacredness of the original work drummed into them and the inviolability of the original conception, all add their own and put their dirty little fingers in the pie and what have you got—Hollywood!
But for all his deserved reputation as an earnest sentimentalist, Hammerstein was also a thorough cosmopolitan, and a consummate man of the theater. He once said that if sex is not at the core of a story, it's probably not worth telling. So I'd like to think he would admire this production's frankness on that score. And it's also worth noting that Theresa Helburn, one of Oklahoma!'s original producers (it had been her idea to turn an old 1930 play called Green Grow the Lilacs into a musical), described the difficulty of raising financing for the first production by noting the reaction of skeptical backers. "Musicals, they said in disgust," she recalled in her autobiography, "don't have murders in the second act." So the notion that Jud's death is at least a kind of murder was there from the beginning, too.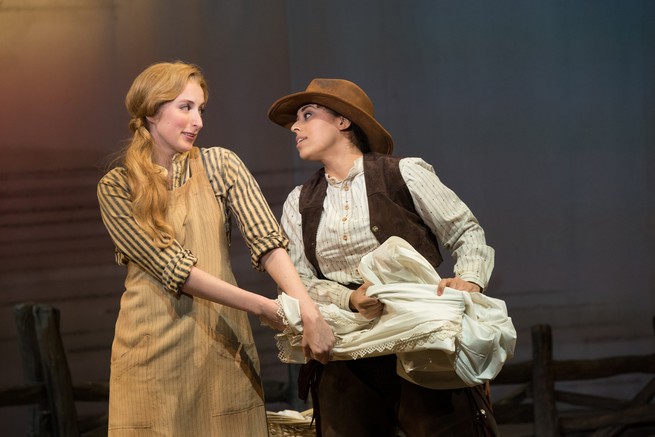 Rodgers's music is, of course, indelible, but what this newest production—along with another that ran last summer at the Oregon Shakespeare Festival—really proves is the indestructibility and the adaptability of Hammerstein's book. The casting of the Oregon production, conceived by the festival's artistic director, Bill Rauch, was gender-inclusive. That is, Curly and Laurey were lesbians; the secondary romantic couple, Will Parker and Ado Andy, were gay men; Laurey's Aunt Eller was a trans woman; and Ali Hakim, the traveling peddler, was an exuberant bisexual man. I saw that production in the company of Ted Chapin, the longtime chief creative officer of the Rodgers & Hammerstein organization, now a unit of the Concord Bicycle Music Company, on the day that Justice Anthony Kennedy, the Supreme Court's swing vote on gay marriage, announced his retirement. When Curly proposed to Laurey by saying, "Country-a-changin', got to change with it!" and "Keep up 'th the way things is goin' in this here crazy country!" the audience offered up something between a sigh and a groan of recognition and regret. If Fish's production seems emotionally rooted in contemporary America, Rauch's version, with its more traditional period costumes and design, seemed to float in a kind of arcadian idyll, an Oklahoma! that probably never was, but that open-minded modern audiences could still imagine.
That this warhorse of a play can speak to 21st-century audiences with topical relevance should come as no surprise, because that is precisely what the first production did. The original Oklahoma! opened barely 15 months after Pearl Harbor and was received by wartime audiences not just as a story about incipient statehood in Indian territory in 1907 but also as a reflection of the sacrifice—and, yes, the shattering violence—that World War II would require. Our own global political moment is fraught in different ways, of course, but it is fraught all the same. Without resorting to any overt references to current American politics, these new productions might serve as touchstones of resiliency and fortitude for audiences in Donald Trump's divided America. "You gotta be hearty," Aunt Eller tells Laurey at the story's end. "You got to be. You cain't deserve the sweet and tender things in life less'n you're tough."
So how is Oklahoma! doin' as it embarks on its fourth quarter century as the model of the modern American musical? The answer seems obvious, inescapable: just fine.