The Mind-Boggling Art-House Film That Broke China's Box Office
Long Day's Journey Into Night is a gorgeous and impossible puzzle of a movie that could become a cult hit when it arrives in the United States.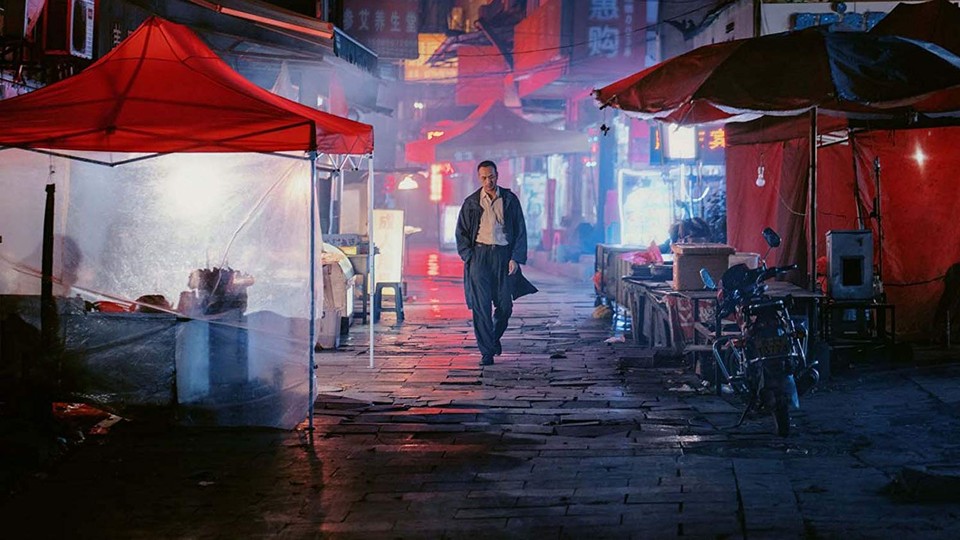 There are plenty of ways in which Bi Gan's new film, Long Day's Journey Into Night, resembles a superhero blockbuster. It's epically long—two hours and 20 minutes, just a little shorter than the last Avengers movie. It requires 3-D glasses, though only for a specific section of the film. And upon its release in China in 2018, it broke box-office records, earning more money in pre-sales than any of the year's other biggest hits. But Long Day's Journey Into Night, which arrives in U.S. theaters starting this weekend, is an esoteric piece of avant-garde storytelling, one that will likely require multiple viewings, and maybe some intense note-taking, for audiences to untangle.
The plot of Long Day's Journey, which has nothing to do with the Eugene O'Neill play of the same name, centers on three characters: Luo (played by Huang Jue), a man haunted by his time as a youth in 2000; Luo's long-lost lover, Wan Qiwen (Tang Wei); and a childhood pal named Wildcat, who was murdered. Roughly 20 years after Wildcat's death, Luo tries to find Qiwen again and dig into the mystery of what happened between them decades prior. But any simple explanation for what's going on is never offered. As Long Day's Journey progresses, its meaning becomes more elusive, and its narrative strands stubbornly refuse to tie together.
How did such a strange project make an astounding $38 million on its release day of December 31, 2018? In the same way so many of its big-budget rivals did throughout the year—with good marketing. According to industry reports, the film was rolled out in China as a romantic epic, a perfect date movie for the last night of 2018. Screenings were timed so that the film ended precisely at midnight. And because its closing image is of two lovers kissing, Long Day's Journey Into Night was promoted as a movie that would offer viewers the ideal cue to kiss their own partner right as the new year began.
Three weeks after its triumphant opening night, the movie vanished from box-office charts with a total gross of $41 million, meaning it made almost all of its money on December 31. The hashtag "can't understand Long Day's Journey Into Night" trended on social media, while users of the ticketing platform Maoyan flooded it with bad reviews for the film, which received an aggregate rating of 2.8 out of 10. Still, the movie is an undeniable success, grossing much more than art films from more established, less aggressively cryptic directors such as Jia Zhangke (whose Ash Is Purest White made about $10 million in 2018). Long Day's Journey isn't being marketed in the U.S. with the same kind of "must-see" gimmick, but it's a singular theatrical experience that's worth setting aside the time for—even if you end up as confused as the romantically inclined theatergoers who saw it on New Year's Eve.
The film's success is even more surprising when you consider that the director wasn't already a big name in China. Bi is a 29-year-old, self-taught filmmaker who made his first short movie at the age of 19; five years later, he debuted his film Kaili Blues at festivals around the world and immediately became a talent to watch. The 2015 mystery drama was a meditative journey through southwestern China, following a man who moves through weird environments in the past and future on a quest to find his nephew. The story was set in Bi's hometown, the agricultural city of Kaili in China's southwestern Guizhou province—a territory of lush forests and farms that's relatively overlooked in Chinese cinema. The director himself has acknowledged how unusual it is for a filmmaker to emerge from that part of the country. "In Kaili, Guizhou, if you said you wanted to be a TV host, or an artist, there were classes you can attend," he said in a short documentary available on the Criterion Channel. "But if you want to be a film director, there's no way forward for you in Kaili. Film schools are so far away."
Like Kaili Blues, Long Day's Journey Into Night is a surreal reverie set in Guizhou, but it's a major step forward for Bi in terms of budget, star power, and sheer scope. I could describe everything that happens in Long Day's Journey Into Night without spoiling the experience at all. The film unfolds through mostly baffling storytelling, with scenes that aren't meant to be pieced together into a linear narrative. Instead, the viewer should soak up Bi's gift for stark imagery: The first half of the film is spent visiting beautiful locations and is filled with long, slow shots of, say, a truck passing through a tunnel, or a glass rattling across a table as a train rumbles by.
In the film's second half, the action coalesces in the most bizarre way. Luo decides to see a movie by himself, so he goes to a ratty theater and puts on a pair of 3-D glasses. That's the signal to the audience to don their own glasses in preparation for Bi's bravura finale. The last shot of the movie is a 59-minute unbroken take that follows Luo through several dreamlike environments as he encounters much of the film's cast and travels through locales such as an abandoned mine shaft and a run-down prison. It's a feat of choreography and visual acuity that's astonishing to behold, even though it's as enigmatic as the rest of the film.
Given the movie's art-house rollout in the U.S., Bi might not see the same record-setting box-office success as he did in China. But that doesn't make his sophomore effort any less significant. Long Day's Journey Into Night is aesthetically driven in all the right ways—it's not a swooning blockbuster romance, but a gorgeous and impossible puzzle of a project, something to be pondered long after seeing it.