How 'Old Town Road' Transforms the Listener
Whether or not Lil Nas X's No. 1 hit is country music, it definitely shows the anarchic power of pop.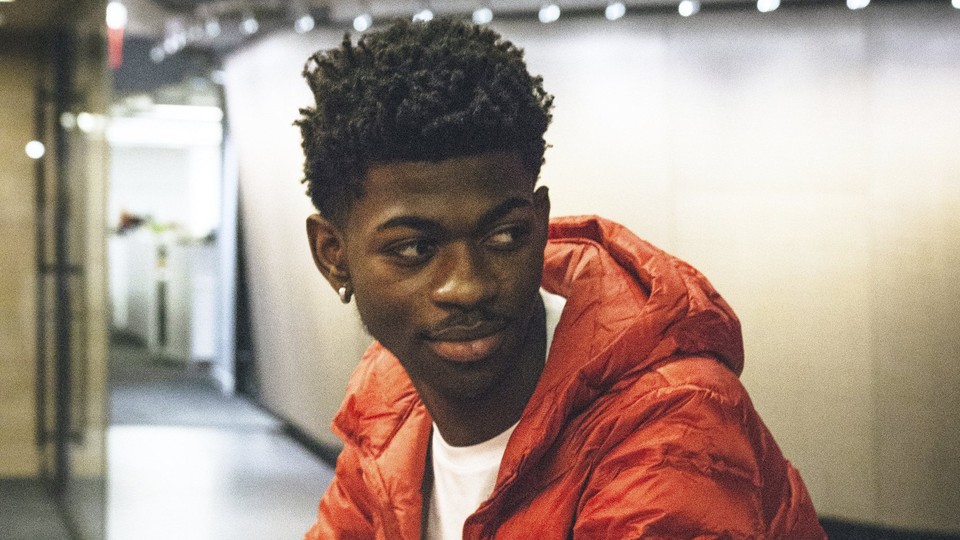 The last time country music produced the most popular song in America was 2005, when American Idol catapulted Carrie Underwood's "Inside Your Heaven" to the peak of the Hot 100. Nashville's drought at pop's top will continue this week, technically, even though Ariana Grande's reigning No. 1 was overtaken by a banjo-laden song about horses, cowboys, and porches.
That song, Lil Nas X's "Old Town Road," has profited from the very question of whether it is, in fact, country. In mid-March, the track by the then-19-year-old Atlantan appeared at No. 19 on the Billboard country charts, prompting certain Nashville pundits to protest; this was rap, not country, they argued. Billboard was convinced and kicked the song off the country charts. Publicity over that episode, the continued simmering of a social-media meme related to the song, and last week's release of a remix featuring Billy Ray Cyrus has helped the song surge 14 spots on the Hot 100. Also contributing: "Old Town Road" has a nutty-sweet catchiness, and it represents the latest amazing performance of one of pop's most reliable magic tricks.
Lil Nas X is both meme-maker and rapper, and the "Old Town Road" phenomenon drew on both skills. Over a loop of plucked banjo (sampled from a Nine Inch Nails instrumental), grounded with electronic claps and bass rumbles, and in a rolling, folksy cadence, he brags of his Buffalo Bill swag: "Cowboy hat from Gucci / Wrangler on my booty." The music video, such as it is, is all clips of the Wild West–set video game Red Dead Redemption 2. On the app TikTok, teens have played the song over edited footage of themselves transforming from street wear to denim, plaid, and cowboy hats. Watch a compilation and the wacky routine takes on a dreamy rhythm. Poof—you're George Strait, you're Dolly Parton, you're Paris Hilton in The Simple Life.
It's a perfectly straightforward meme given what "Old Town Road" has come to represent: genre as plaything. The 2019 mixtape on which this song originally appeared is a collection of feisty, internet-steeped rap. "Old Town Road" is a digression, but only mildly so. In a familiar hip-hop ritual of announcing one's greatness by listing stuff—cars, clothes, substances—Lil Nas X simply swapped in the sort of items you'd find at a Santa Fe boutique. He pushed his thin, hoarse voice into a strained evocation of outlaw singers, sampled some plucking worthy of an old Wells Fargo commercial, and sang about horses—but all on the way to a Kanye West refrain about invincibility: "Can't nobody tell me nothin'."
Some of the country-diehard pushback to the song has been about pure sound. "Country music is about stringed instruments, simple melodies, and vocal harmony," the YouTube critic Grady Smith said in a Lil Nas X response video titled "That Ain't Country." But he went on to tell country at large to "take yourself more seriously than just letting anyone walk in [and] say something is country when it's clearly not." Others have rejected the song in harsher terms, saying its country classification comes from a "bigoted stereotype bred from the fact that horses and cowboy hats are referenced in the lyrics," as Saving Country Music put it. Such arguments are oddly reminiscent of the cultural-appropriation charges that hip-hop fans have often had to level against interlopers to their genre. The common logic: You can't just parachute in.
But the question of who has a right to claim country culture is not simple. Lil Nas X's song follows other rappers who have presented themselves, for a song or two, as earthy rural workers (see Lil Tracy's "Like a Farmer," basically a prototype for "Old Town Road"). It comes amid a cultural boom semi-jokingly referred to as the "yee haw agenda," which sees black people donning cowboy garb. This has been a fun aesthetic movement, but it's also one that has spotlighted black Americans' actual historical association with country music and rural life. Solange's recent album, When I Get Home, for example, drew on the thriving tradition of black cowboys in her native Texas.
Meanwhile, in recent decades, country has borrowed more and more from hip-hop. There have been a smattering of collaborations between rappers and denim-swathed singers, but the larger trend has been for country stars to simply, themselves, rap. And when they do so, they're often not just taking the formal technique of rhyming fast over a beat. They're taking hip-hop's lyrical tropes. Look to the exemplary "hick-hop" hit "This Is How We Roll" by Florida Georgia Line: "The mix in our drink's a little stronger than you think," "All up in my new Maybach," and so on. They're using the same sort of imagery as Rick Ross, just put into a backwoods context.
The flirtation between the two genres makes sense, because they're fundamentally more similar than is often recognized. Both mainstreams of country and rap typically present themselves as highly tied to place and to realness, and artists in both love to express pride with lists of material possessions and hometown references. They're genres of self-styled underdogs and go-it-alone types, but when they score a hit, what they end up selling is a portable, feel-great alter ego for anyone to try on. This means they're vulnerable to their traditions being used as costumes, which can be an asset—but also a problem when it ends up distorting or undermining the original meaning.
What "Old Town Road" does is make this shape-shifting process super-duper explicit, right down to the video-game music video: Turn on the song and you're playing as a heroic sharpshooter. Such imaginary makeovers aren't just for fun, either. They can be coping strategies for life. Lil Nas X has said he wrote the song when he was at a place of total desperation while living at his sister's house after having dropped out of college. The chorus ("I'm gonna take my horse to the old town road / I'm gonna ride till I can't no more") "was me saying, 'I want to leave everything behind,'" he told Time. Or, as he tweeted, "just because old town road has funny lines doesn't mean it's parody. it has a theme. anybody with ears can tell i put some kind of effort into that song."
Now Billy Ray Cyrus—who's had a rocky relationship with the country establishment since 1992's crossover hit "Achy Breaky Heart"—arrives to scramble the song's alchemy a little bit more. He sings in a soulful groan that contrasts starkly with the reedy yelps of Lil Nas X's original chorus. The results do sound more "Nashville," but if Billboard takes the remix's bait and reclassifies "Old Town Road" back on the country charts thanks to a white man's involvement, get ready for renewed and justified cries of racist double standards. Still, the most fascinating change is in Cyrus's new bridge. "Hat down, cross town, livin' like a rock star," he roars, before delivering a rather un-country image of riding down Rodeo Drive in Beverly Hills in a Maserati. Living' like a rock star: There it is, another music genre's archetype of success added to the stew.
What does it mean that a rapper imagining himself to be a cowboy has brought in a country singer imagining himself to be a rock star? It means that "Old Town Road" represents artistic anarchy of the best kind, the kind that demolishes walls and pushes forward. To add a level, Cyrus quotes Post Malone's 2017 No. 1 hit "Rockstar," which culminated in a long history of rappers claiming a title previously reserved for the likes of Mick Jagger. And Malone, of course, forged a new and polarizing sound by importing folk affectations into Drake's template. Meanwhile, the No. 1 song that "Old Town Road" dethroned, Ariana Grande's "7 Rings," is also a work of cultural costume-shopping: a white dance diva swiped phrasings once used to describe poverty and drug dealing so as to trill about her record sales. Country, rock, rap—these are all terms for distinct sounds with distinct lineages, and it's fair to argue over their boundaries. Pop, where "Old Town Road" now reigns? That's free range. Giddyup.