Donald Glover's New Film With Rihanna Just Dropped—And It's a Breezy Romp
Guava Island, the first feature project from the Atlanta creator and the director Hiro Murai, is a charming warm-weather tale.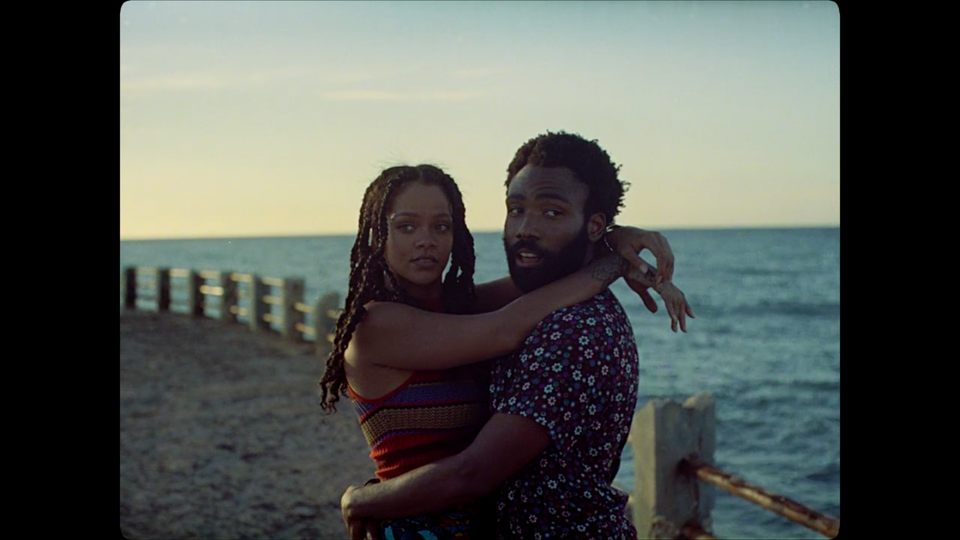 Donald Glover has a lot of tricks up his sleeve. Earlier this week, the Emmy-winning Atlanta creator and musician unveiled a new project at Coachella. Guava Island, the secret film he'd snuck off to Cuba to film with Rihanna and the frequent Atlanta director Hiro Murai last year, debuted Thursday evening at the music festival as a lead-in to Glover's headlining performance (as his musical alter ego, Childish Gambino). On Saturday, the film began streaming on Amazon, where viewers well outside the funky haze of Coachella can catch it in front of the platform's paywall until Saturday evening, when it'll become exclusive to Prime subscribers.
The massive rollout, which was largely kept under wraps prior to this week, is a testament to the influence Glover's built as a multi-hyphenate entertainer, and as an artistic mind. Jennifer Salke, the head of Amazon Studios, told Vanity Fair she knew she wanted to commit the streaming giant's funds to the project after watching a four-and-a-half minute sizzle reel. The teaser arrived via a onetime viewing link that expired 30 minutes after Salke received it, but "I would have committed to Donald sight unseen," she said of the decision. "I knew whatever he wanted to amplify would have relevance and be entertaining. He has that ability to create cultural moments and spread a message that's interesting."

Though different in tone, Guava Island does indeed demand the kind of attention that Glover's previous projects have. It's a slim production, with a runtime of 54 minutes. But within the short snapshot, Glover and Murai assemble a magnetic cast who are, quite simply, a joy to watch. The film follows Deni Maroon (Glover), a charming and goofy musician with strong anti-capitalist leanings who wants to host a festival for the hardworking people of Guava. As his girlfriend, Kofi Novia, Rihanna is delightfully unimpressed with Deni's songs and soapbox alike. Letitia Wright of Black Panther plays Yara Love, Kofi's friend, though she's not on-screen nearly enough. The three gallivant around a beautifully shot Havana, with bright clothing and even sunnier dispositions.
The film opens with a stunning animated sequence, an immediate indication that Guava Island is an aesthetics-driven production. Murai's attention to color and contrast is particularly impressive: There are royal purples and bold reds, calming deep blues and sunny yellows. Guava seems alive, even before the film shifts to live-action footage. The animation, narrated by Rihanna's Kofi, tells the story of how she and Deni met, and how the island came to be governed by a ruthless businessman named Red (Nonso Anozie). The screen crackles with an electrifying vibrance in these scenes; Kofi and Deni's animated avatars engage in lively banter. When Deni says he will keep playing Kofi music until he writes a song as beautiful as she is, her retort is peak Rihanna: "Fortunately no song is that beautiful." For fans of the famously nonplussed singer, it's particularly satisfying to see her (lovingly) dismiss Glover's character like this.

Inspired by the Brazilian crime film City of God and the Prince musical drama Purple Rain, Guava Island has a somewhat political conflict at its core. Deni is frustrated by Red's domination of the island's impoverished workers, and often uses music to express his ire. "What's wrong with me is that we live in paradise, but none of us have the time or means to actually live here," he tells one factory co-worker early in the film. Later, when another person speaks about saving up enough money for a bribe to move to America and start his own business, Deni scoffs. "This is America. Guava's no different than any other country," he says. "America is a concept. Anywhere where in order to get rich you have to make someone else richer is America."
The aggressively on-the-nose commentary then leads into an interpolation of Glover's "This Is America," the song (and eerily dance-heavy music video) he released last year. The Guava Island rendering is largely about money, and the island workers' impossible economic position. In this, and in its somewhat anticlimactic ending, the film parallels much of the story behind Bob Marley's 1976 Smile Jamaica concert. This political commentary, and the final 15 minutes of the film, are thinner than the celebratory moments throughout its run.
Still, Guava Island is a fun warm-weather romp full of charming melodies and breezy interactions. Rihanna and Glover regard each other with curiosity and verve that doesn't quite land as romantic chemistry, but is clearly driven by mutual affection. The film is buoyed by a supporting cast primarily composed of black actors, a welcome reflection of Cuba's large Afro-Latino population. (There are, it's worth noting, some general inconsistencies on the accent front, but that's a forgivable distraction.)

Glover has been honing his craft as an auteur for years, and Guava Island is a fascinating study in how he applies it to material with less emotional gravitas than his acclaimed Atlanta. But most important, the actor spends a solid chunk of his screen time dancing around an island with Rihanna. It's hard to argue with that.