Giannis Antetokounmpo Is Thinking Like the MVP
The Milwaukee Bucks' do-everything prodigy has simplified his approach and become the NBA's best player.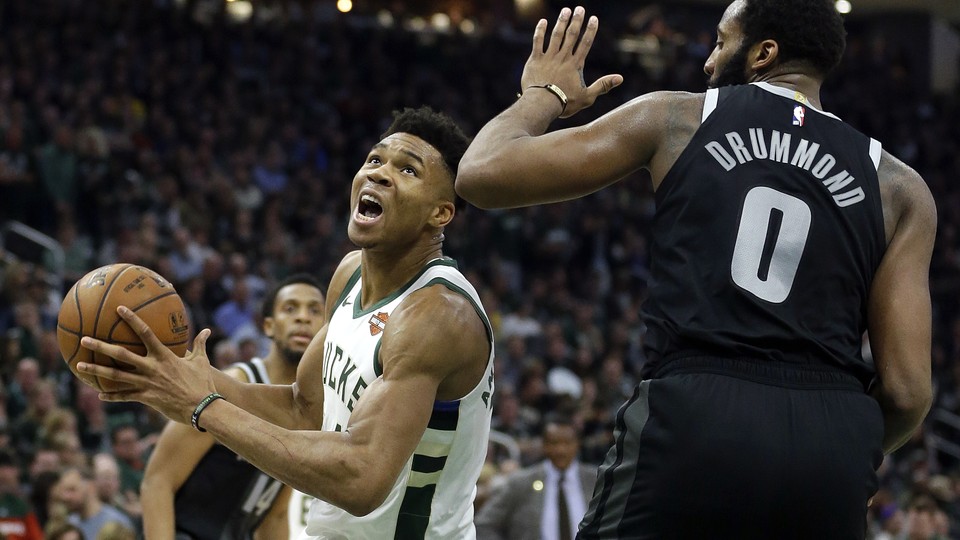 Late in a blowout win over the Washington Wizards back in February, Giannis Antetokounmpo of the Milwaukee Bucks snatched an opposing player's dribble and sprinted the other way. Fans of the 24-year-old MVP front-runner knew what to expect next. Antetokounmpo spanned the court in just a few long strides, sidestepped the last unlucky defender between him and the rim, leapt and stretched out his 6-foot-11-inch, 242-pound frame (with its 7-foot-3-inch wingspan), and drummed home a one-handed dunk. The sequence belongs to that slightly disorienting category of athletic accomplishments only the NBA's best players have access to. It was spectacular—a merging of reflex, strategic intuition, quickness, and power into five unimprovable seconds. But it was also familiar, verging on routine. Bucks season-ticket holders see something like it from Antetokounmpo probably 50 times a year.
What wasn't familiar was Antetokounmpo's reaction. "I'm the fucking MVP!" cameras caught him yelling as he stomped toward the courtside seats, flexing and thumping his chest. Over his six seasons, the native of Greece has earned a reputation for humility. He talks regularly about all he has left to learn, having come to the sport at the relatively late age of 12. He engages fans with such warmth that it sometimes moves them to tears. But however uncharacteristic, the celebration seemed to capture something important about the story of this season, in which Antetokounmpo has staked out a place near the top of the NBA hierarchy, and Milwaukee has opened the playoffs as the favorite to reach the Finals out of the Eastern Conference. In years past, despite climbing stats and All-Star accolades, Antetokounmpo remained a figure of potential. This year, he and the Bucks have announced that they're ready to make good on it.
When Mike Budenholzer was introduced as Milwaukee's new head coach in May, he spoke of Antetokounmpo with excitement and relief. "It was miserable coaching against him, and I'm so happy to be saying, '34's on my team?'" Budenholzer gushed. "That's, like, really cool." Antetokounmpo was coming off his second straight All-NBA season, but the Bucks had sputtered down the stretch and lost to an undermanned Boston team in the playoffs' first round. The Milwaukee brass had fired the former coach, Jason Kidd, in January, and the hiring of Budenholzer, the 2015 Coach of the Year with the Atlanta Hawks, signaled a belief that there was room for more substantial growth.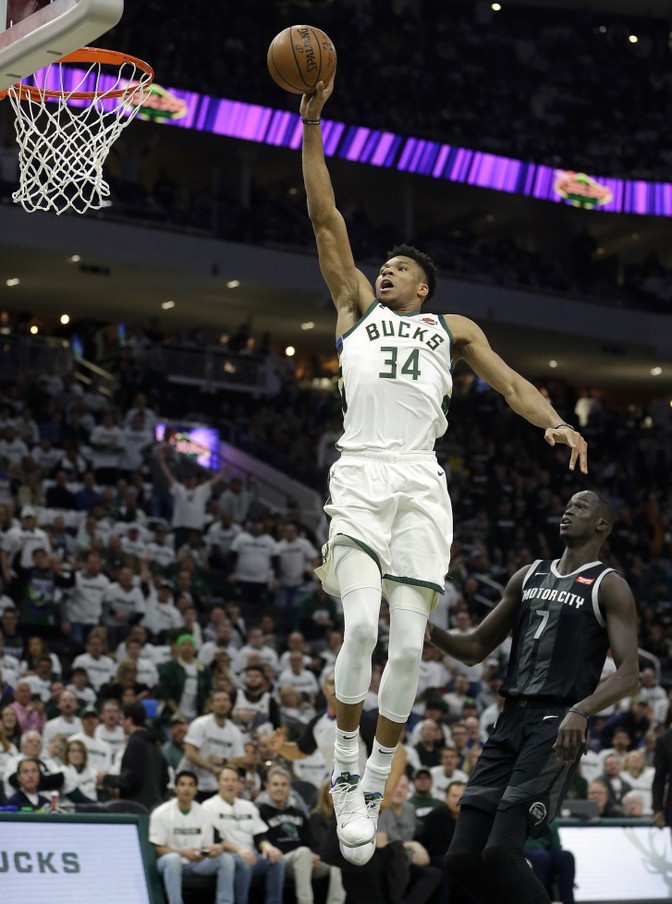 The Bucks' management had perhaps taken a lesson from recent NBA history. Every mid-market team is looking for its version of Antetokounmpo, a young player who can lift it to a period of the sort of relevance that organizations such as the Celtics and Lakers take as a birthright. But after the initial euphoria of finding these players, frustrating failures in capitalizing on them often follow. The Cleveland Cavaliers surrounded LeBron James, during his seven-year first stint on the team, with now-forgotten fringe stars such as Mo Williams and Antawn Jamison—all brought in to provide the supposed last push to a championship—and were swept out of the only Finals they reached during that era. The New Orleans Pelicans have put a rotating cast of coaches and second fiddles around Anthony Davis, who's now eager to leave town for a more stable and winning environment. Supposed saviors can sometimes delude higher-ups into thinking that the hard part is done, that titles are only a few tweaks away.
Budenholzer arrived in Milwaukee with a plan to connect the skill set of Antetokounmpo to forward-looking tactics. Where Kidd had run an offense reminiscent of the paint-by-numbers systems James suffered through early in his career, Budenholzer prioritizes putting knock-down shooters around his star. The off-season addition of Brook Lopez, a 7-foot-tall center who can launch from 30 feet, typifies the approach. Milwaukee shot 1,110 more triples over the course of this regular season than they did last year, and graded out as the league's fourth-most potent offense.
The defense has improved even more drastically. With Antetokounmpo stationed in the lane to wall off passes and smother shot attempts, the Bucks allowed only 104.9 points per 100 possessions—the lowest mark of any team. "Coach Bud did a great job," Antetokounmpo said recently after Budenholzer's peers again named him Coach of the Year, "just putting a great culture together, bringing a great atmosphere, making everybody have fun." He acknowledged that part of that fun might owe to simple winning; Milwaukee's 60 regular-season victories were the most in the NBA.
As the Bucks have emerged, the shape of Antetokounmpo's approaching prime has started to come into focus. The job of a franchise player is to stabilize, not experiment—to provide the kind of dependable nightly contribution around which a team can maintain a broader identity. Last year, Houston's James Harden won MVP honors by dancing through pick-and-rolls and hoisting step-back three-pointers, his activity igniting the Rockets' offense. Antetokounmpo, in turn, barges into the lane and finishes the play himself, or, if the defense collapses, flicks the ball out to one of the waiting marksmen. Clarity of purpose has suited him. The regular season saw him set career highs in points (27.7), rebounds (12.5), assists (5.9), and field-goal percentage (57.8). Advanced analytics conclude that he's the most disruptive force near the rim since Shaquille O'Neal's heyday. If Harden plays like a riddle, Antetokounmpo is an emergency.
Milwaukee's opening playoff series has proved mostly ceremonial, with a pair of easy wins against the already outmatched Detroit Pistons, who are missing their hobbled forward, Blake Griffin. Still, it's been a serviceable enough summary of the progress team and star alike have made this season. In Game 1, Antetokounmpo put up 24 points and 17 rebounds in just 24 minutes as the Bucks won by 35. He bore toward the basket, breaking out of a defender's grip for an and-one layup or reaching over the scrum for a jam. In the third quarter, with another highlight imminent, the Pistons center Andre Drummond shoved Antetokounmpo out of the air. Drummond, a big and tough All-Star center in his own right, didn't seem to mind the resulting ejection; he looked like he'd had enough of trying to keep up.
This is still the era of Kevin Durant and Stephen Curry. If the Bucks manage to reach the Finals and face the Golden State Warriors, they'll be heavy underdogs. But where the Warriors might be a dynasty in twilight, the Bucks are the envy of the rest of the league: an already accomplished team still on the upswing, with a plan in place and a star player sure of his role. "I was just trying to be aggressive," Antetokounmpo said after that first playoff win. "I knew if I was in that aggressive mode the whole game, good things were going to happen."