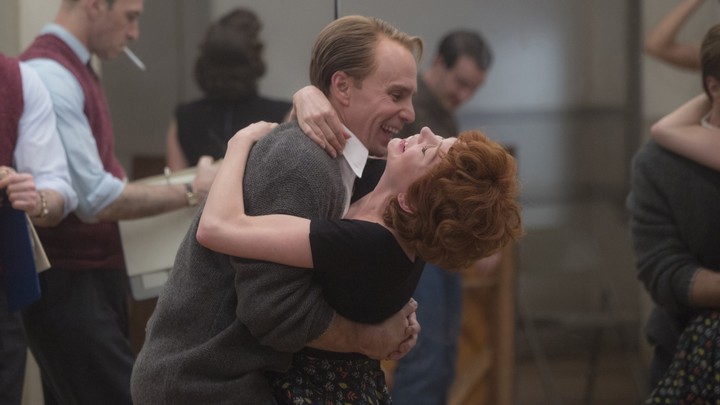 Forty years ago, the director-choreographer Bob Fosse made All That Jazz, his semiautobiographical meta-statement on the meaning of life, death, dance, love, and the ecstatic, addictive emptiness of show business. The film was a surreal blend of styles and genres—"Meet Me in St. Louis meets Citizen Kane," as Fosse's biographer, Sam Wasson, wrote—and it ended with the corpse of Fosse's alter ego, Joe Gideon, being zipped in a plastic body bag at the apex of a fantastical production number. It won four Academy Awards and the Palme d'Or at the Cannes Film Festival.
So any filmmaker daring enough to dramatize Fosse's actual life story for the screen could fairly be said to face a daunting challenge, one perhaps akin to creating a biopic of Federico Fellini in the shadow of his film 8 1/2. What to do? For a platinum-pedigreed team of Broadway veterans—led by the writer Steven Levenson (librettist of Dear Evan Hansen) and the director Thomas Kail (of Hamilton)—the answer is a sprawling, eight-episode limited series, Fosse/Verdon, which debuts on FX this month. It tells the tortured tale not just of Fosse, but also of his 30-year artistic and emotional collaboration with his dance partner, third wife, and too-often-unsung muse, Gwen Verdon.
"Absolutely, that was a major anxiety—it was a question before even starting," Levenson, the series' showrunner and principal writer, told me. "With All That Jazz in existence, what is the reason to tell this story? Is there a reason to tell this story, or is it impossible?" In the end, Levenson said, after digging into Fosse, Wasson's authoritative 2013 biography, on which the series is based, he and his collaborators realized that "Bob Fosse presented his story the way he wanted it presented, and he had a very clear editorial angle, and there were certain things he left out, and certain ways he framed his story and choices he made as an artist."
It turns out that the biggest thing Fosse omitted from his accounting was Verdon herself, who is presented in All That Jazz as "a pretty tertiary character" and "sort of a nag," according to Levenson, instead of as what she actually was: a crucial partner in Fosse's work—his "creative cohabitant," in Wasson's words. At the same time, with her pitch-true, sandpaper singing voice and gamine air, Verdon was "widely regarded as the best dancer ever to brighten the Broadway stage," as her New York Times obituary put it. At the 25th annual Tony Awards, in 1971, when Broadway's living royalty reprised their signature roles, she was the only performer to appear three times.
Fosse/Verdon goes a long way toward redressing this hagio-biographical imbalance. If Roy Scheider's Joe Gideon in All That Jazz was a priapic, pill-popping egomaniac auteur, Sam Rockwell's Bobby Fosse in Fosse/Verdon is a wounded, vulnerable artist—scarred by the sexual abuse he suffered as a teenage hoofer at the hands of strippers with whom he shared the bill in his native Chicago—who relies again and again on the emotional support and clear-eyed theatrical judgment of Verdon, as embodied by a luminous Michelle Williams.
The series took shape in 2017, just as the #MeToo movement was exploding, and from the beginning, the creative team (Hamilton's Lin-Manuel Miranda is an executive producer) knew it would have to grapple with Fosse's notorious womanizing; the director could be an unyielding—and sometimes vindictive—harasser of his dancers. The show is unflinching on this point. There are scenes of suave seduction, but also a shocking moment (based in fact) in which Fosse first offers unwelcome kisses, then gropes a dancer outside her apartment, after dangling a plum number in Pippin; when he won't stop, she kicks him in the groin. Later, trying her out for the role, he savages her dancing, then gives the part to someone else.
Still, Levenson and Kail understood that the Fosse-Verdon partnership would have to be the heart of their story only after spending the better part of 24 hours with Fosse and Verdon's daughter, Nicole, herself a veteran dancer and actor, who became an executive producer on the series.
"At that point, we were still very much thinking we were making a show called Fosse, and we left that meeting certain that the only way to tell this story was to make it a two-hander, because Bob's story is incomplete without Gwen," Levenson said. "There's something about his relationship with Gwen, and that love story—however strange and twisted it was—that really fills out the picture of who he was. It felt that at every point in Bob's career, if you widen the angle just a bit, you find that she's there—and that felt really important."
Wasson told me that he sees the Fosse-Verdon partnership as something like "an Ingmar Bergman rendition of a Noel Coward play, a folie à deux between them, a quatre when you include their careers, a six when you invite their lovers. At every permutation, the emotional geometry is insatiably rich." In the series, when Fosse's confidence is shaken during the filming of the movie version of Cabaret in Germany, Verdon is enlisted to calm him and assures the anxious producer, Cy Feuer (played by Paul Reiser), "I just know how to speak Bob. It's my native tongue."
Fosse and Verdon met when he was a washed-out contract player in MGM musicals—he was a superb, limber-limbed dancer, but had an elfin quality that couldn't compete with the star charisma of Gene Kelly and Fred Astaire. However, he had just made his mark as a Broadway choreographer with The Pajama Game (think of those signature bowler hats and white socks in "Steam Heat"), and Verdon was the redheaded toast of New York, having stopped Cole Porter's Can-Can cold with a fervid Apache dance that produced a seven-minute ovation, forcing her to return to the stage from a quick-change in her dressing room, wearing a towel. Their first collaboration was Damn Yankees in 1955, in which she played Lola, the devil's alluring assistant, who seduces a sad-sack baseball fan willing to sell his soul to the devil if the Washington Senators can beat the New York Yankees. Fosse, who had cut his teeth in burlesque, devised a striptease for Verdon that again helped her steal the show.
One of the many pleasures of Fosse/Verdon is watching Rockwell—with Fosse's trademark dangling cigarette, cocked hat, and louche charm—teach Williams this number in a meet-cute pas de deux of wary mutual attraction disguised as skepticism and hostility. In real life, Verdon and Fosse were soon enough lovers. Fosse eventually left his second wife, the brilliant dancer Joan McCracken, and they married in 1960.
As Fosse's career exploded through Broadway hits with and without Verdon (Redhead, How to Succeed in Business Without Really Trying, Sweet Charity, Pippin), and then in films (Cabaret, Lenny), Verdon's dancer's body aged, and her star faded. Fed up with Fosse's serial infidelities, she separated from him in 1971, though they never divorced. On the contrary, over the years, Verdon repeatedly came to Fosse's aid in the crunch, helping him choreograph the movie version of Sweet Charity (even though she had lost her starring Broadway role to Shirley MacLaine), providing costumes from her own wardrobe for Liza Minnelli in Cabaret, and sitting with Fosse as he edited that film's dance numbers in the cutting room. (She would also be at his side when he died, at 60, just as a new production of Sweet Charity was opening in Washington, D.C.) In 1975, the couple reunited for the iconic original Broadway production of Chicago, whose preproduction period coincided with Fosse's frantic editing of Lenny and led to the heart attack and open-heart surgery that is at the center of Joe Gideon's odyssey in All That Jazz. (The fifth episode of Fosse/Verdon, the last released for media previews, edges up to this chaotic period.)
Nicole Fosse, now 56, was intimately involved with the production of the series—she told me she was present for perhaps 90 percent of the filming, mostly at soundstages in the Bronx over about four months ending in March—and pronounced herself "extremely happy" with the result. She found Rockwell and Williams "incredible to work with, as well as just so insightful and receptive to taking in little tidbits of information and personal stories about my parents, and then utilizing them to create characters that are absolutely plausible and emotionally authentic."
That said, she also acknowledged that the series has been emotionally challenging—if enlightening—to watch. "There have definitely been times where I've realized, I have two parts of my brain working," she said. "I have my brain that grew up with me as a child that normalizes a lot of behavior, that can watch people drinking and smoking and taking drugs" and having "multiple girlfriends, and in part of my brain, that's absolutely natural and normal. And then I have a newer part of my brain that I want to say I have trained to look at things more objectively, that can look at those same things and see the dysfunction in them, not to place blame, but to understand where certain role models and behavior have come from. I smoked for 40 years. And for four years now, I haven't smoked. It was normal to me. I'm a Fosse."
A case can be made that, as a director, Fosse himself "invented modern film grammar—the flashiness, the quick cutting, the atomization of scenes, the fucking around with time," as Bruce Handy once put it in Vanity Fair. It's a testament to the power of that singular style that Fosse/Verdon, while telling its story in roughly chronological order, also employs flashbacks, dreams, and fantasies in a narrative that is nonlinear. For Levenson, though, one of the satisfactions of the series is that its tone is so un-Fosse-esque—it's tender, not cynical, not dark—the filmmakers can feel they have told their story "in a way that the subject would not have told it himself."
"The big thing that I've taken away from it," Levenson said of the show, "and from the work that I've done in theater, is in our culture, there's this obsession with the idea of the singular genius, and the auteur, and who created this film or who created this musical. And the truth is, it's an army of people every time. And Bob Fosse in particular was someone who was desperately in need of collaborators, in part because he was a choreographer and director" and thus never a star himself. "He was also someone who deeply resented the fact that he needed collaborators. It was a struggle for him to admit that he needed collaborators and couldn't do it all himself. Any story that is truthful about how art is made is about how many people it takes. And when it works, it feels like one singular vision."
We want to hear what you think about this article. Submit a letter to the editor or write to letters@theatlantic.com.