CNN Is About to Host a Hunger Games Town Hall
The televised Q&A is a sometimes awkward fusion of politics and entertainment—and it's becoming a key element of the 2020 hype cycle.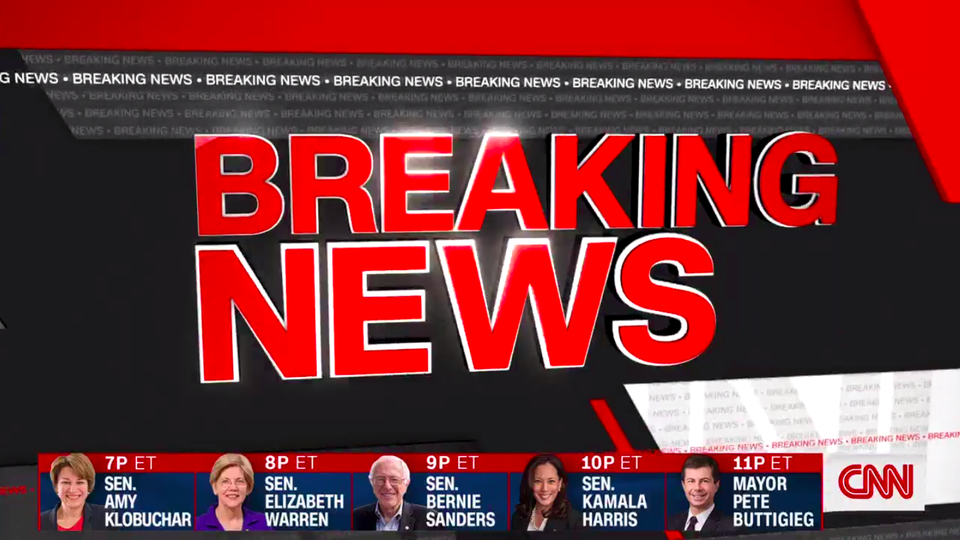 On Sunday morning, Rudy Giuliani, as he so reliably will, made news on cable news: Appearing on the CNN show State of the Union, the president's lawyer turned surrogate told Jake Tapper that—despite the Mueller report having found insufficient evidence to conclude that the Trump campaign had colluded with a hostile power in the run-up to 2016—there's "nothing wrong with taking information from Russians." The revealing goal-post displacement got as much attention as you'd expect, and that meant that something else got attention as well, as video of Giuliani's comment pinged around the internet: the April 22 event that CNN has been advertising, in recent days, with gladiatorial gusto. "CNN PRESIDENTIAL TOWN HALLS: TOMORROW," went the chyron underneath the viral "Giuliani: 'Nothing Wrong' With Getting Info From Russians" clip. The graphic helpfully informed viewers about the timing of that event: back-to-back town halls featuring Amy Klobuchar (at 7 p.m. ET), Elizabeth Warren (8 p.m.), Bernie Sanders (9 p.m.), Kamala Harris (10 p.m.), and Pete Buttigieg (11 p.m.). The coverage, CNN's chyron promised at one point, via a countdown clock aired later on Sunday, is "25 HRS 45 MIN 20 SEC" away.
It wasn't that long ago that cultural critics worried about TV's way of turning politics into a form of amusement, coining terms such as infotainment and media events to convey anxieties about what happens when the high stakes of politics collide with the low ones of daily distraction. Those days seem quaint now, and they seem quainter still when CNN spends weeks plugging the quintuple-header that it is hosting on Monday in conjunction with the Harvard Kennedy School's Institute of Politics. Town halls, merging the intimacies of direct democracy with the implied distance of the TV screen, are throwback events that also neatly capture some of the tensions of politics as they're practiced in the present: They marry versions of policy wonkery—discussions of health care, immigration, education, gun safety—with the primary-colored flashiness of cable news. And they tangle the promises of American politics with the demands of American celebrity.
In the months-long lead-up to Monday's combined event, Kamala Harris did a town hall; Cory Booker did a town hall; Bernie Sanders did a town hall; Elizabeth Warren did a town hall; John Hickenlooper did a town hall; Tulsi Gabbard did a town hall; Howard Schultz did a town hall; Pete Buttigieg did a town hall; Amy Klobuchar did a town hall. There have been many more. Each appearance has tested not only a given candidate's stances on some of the issues that will be at play in 2020, but also broader questions: What does political charisma look like now that the definition of that quality may finally be expanding? What does an American leader act like in the year 2019?
The town halls work, basically, like this: They put presidential candidates and potential voters together in a single room, to exchange ideas—a mass-mediated version of the flesh-pressing politics that used to be, and in some formats remains, the American norm. In CNN's version, members of the audience, preselected for the opportunity, ask questions of the candidates, typically reading—and sometimes shaking with understandable nervousness—from slips of paper; the candidates answer the questions; the audience, often, applauds. (The crowds are frequently but not always self-declared supporters of the candidates.) The moderators of the events—CNN anchors such as Tapper, Don Lemon, Erin Burnett, and Wolf Blitzer—occasionally intervene, asking their own questions or following up when a candidate has neglected to answer an audience member's query.
"Oh, this is fun!" Elizabeth Warren exclaimed during the town hall she held in March. The remarkable thing was that she appeared to have meant it.
For the audience, part of the appeal of the town halls comes from the fact that they can be much more than fun: They are also thoroughly high-stakes for the politicians participating in them. Buttigieg has risen in the polls and in the national conversation in part because of his performance last month at his (first) CNN town hall, before an audience at the South by Southwest festival in Austin. "Buttigieg Feels Momentum After CNN Town Hall, With $600K Raised in 24 Hours," a headline—from CNN—went, a few days after the March 10 event concluded, citing numbers from a Buttigieg campaign aide. CNN wasn't alone in that analysis: In a piece explaining the recent "Buttigieg boom," Vox traced the bump in attention and funding to the South Bend, Indiana, mayor's "breakout performance at a CNN town hall in early March." Google Trends agrees with the assessment: It records the search interest in "Pete Buttigieg" as spiking in mid-March—just after he joined Tapper on CNN's makeshift stage.
The town halls, in that way, can have the feel of a religious ritual: They profess a faith in the power of the political conversion experience. They assume that there are minds, among both studio audiences and those watching at home, that are capable of being changed. Last week, Sanders appeared at a town hall on the Fox News channel, an event co-moderated by the anchors Martha MacCallum and Bret Baier, and the collision of left and right resulted in … a small political victory for the democratic socialist. "By the end of the town hall," Vox noted, "audience members were booing the occasional Baier or MacCallum follow-up, even doing call-and-response with Sanders."
For CNN, the town halls offer a different kind of proposition: They offer ratings without an overt admission of political partisanship. In March, CNN's average audience from 7 p.m. to 11 p.m. ET numbered 884,000, while Fox's was 2.66 million and MSNBC's was 2.12 million. The latter networks use that time for opinion shows that in turn bring in audiences. And the town halls, Reason's Matt Welch notes, have offered CNN some fairly reliable ratings bumps: Harris's first town hall, on January 28, brought in 1.96 million viewers; Klobuchar's brought in 1.17 million; Warren's brought in 1.09 million.
And, so: As the Democratic field grows, so do the events that promise to showcase that field's hopefuls to potential voters. On April 9, Kirsten Gillibrand participated in one with Burnett. On April 10, it was Washington Governor Jay Inslee (with Blitzer). On April 11, it was former Housing and Urban Development Secretary Julián Castro, with Lemon. On April 14, the network hosted a doubleheader with the businessman Andrew Yang and the author Marianne Williamson—the latter of whom is perhaps best known as Oprah Winfrey's spiritual adviser. These are opportunities for candidates and for CNN itself, which also uses the events to practice a version of vertical integration. CNN hosts the town halls, using its anchors as moderators; it airs the events; and then it reports on the town halls' happenings, dividing their action into video clips and sound bites and fact-checks and article-length assessments of the candidates' performances. After Buttigieg's town hall, a commentator praised his "star turn"; the commentator was writing for CNN.
It's turtles, all the way down to Super Tuesday. And while Fox and MSNBC have run their own town halls, it is CNN that has most eagerly invested in them. (It has done so, sometimes, at its reputational peril: See the criticism the network received after devoting a town hall to the former Starbucks CEO Howard Schultz, the as-yet-undeclared independent candidate who has seemed to assume his chief qualification for a presidential run to be his status as a billionaire.) That might give the network king- (or, given this field, queen-) making power in a crowded primary; it might simply mean that CNN is adding to the noise of a hectic nominee-selection process. Or it may be that the town halls find a new way to call the culture's bluff. While the town halls are ostensibly realizations of voters' hunger for more substantive conversations with candidates, they can also double as showcases for the opposite: sound bites. Gaffes. Memes. Viral moments. The fireworks of the presidential debates, without presidents or debates.
"This is just a theory," the MSNBC anchor Nicolle Wallace put it, leading a panel discussing Buttigieg's CNN town-hall performance, "but I think as many people are watching and waiting for these moments … as are watching the polls." It's a good theory. And it helps to explain why, on Monday morning, CNN repeatedly cut away from its news coverage to show an empty stage in Manchester, New Hampshire: a set lit dramatically in red and blue, devoid as yet of actors or audience—an embedded advertisement for CNN that doubled, if you squinted in just the right way, as an ad for democracy.