Homecoming Is One of Beyoncé's Masterpieces
Who else is making spectacle this awesome, this intricate, and this meaningful?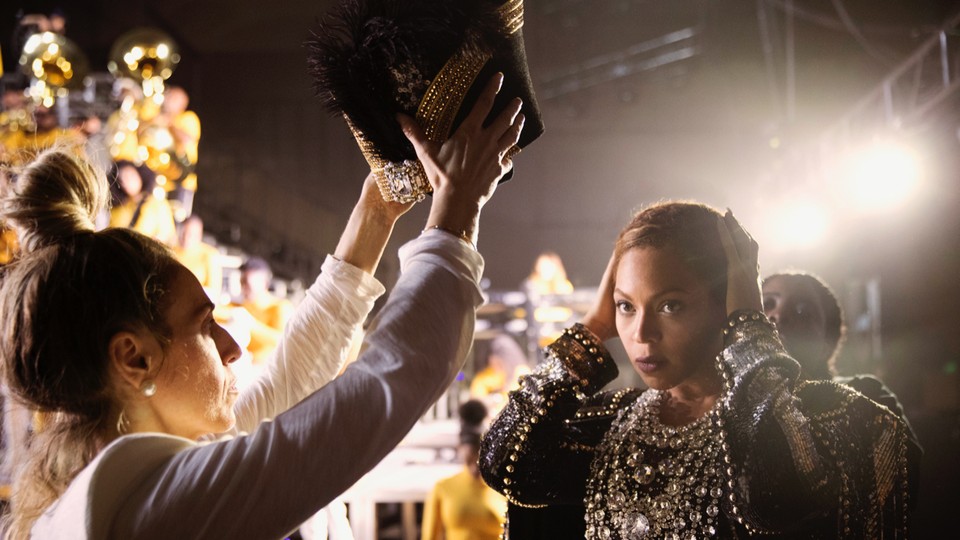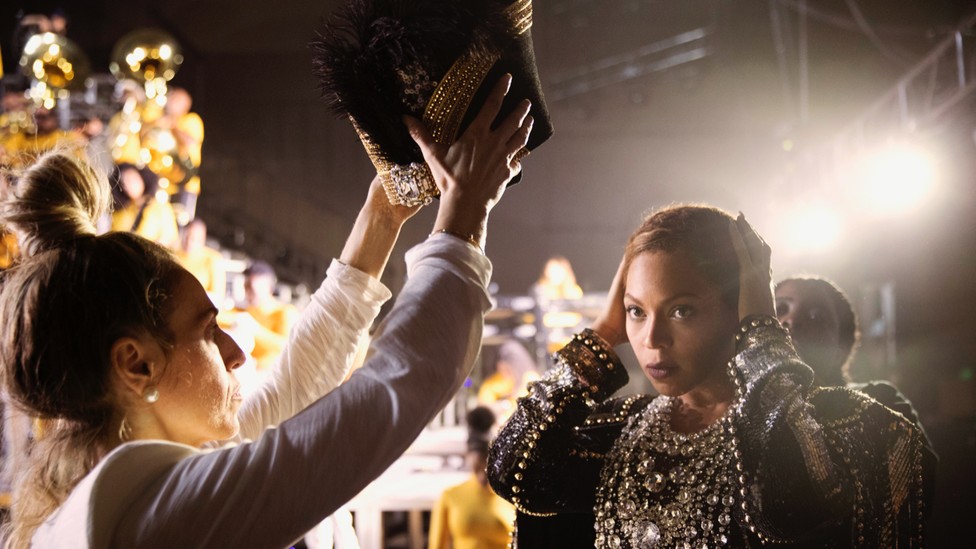 An onstage pyramid, two hundred performers, and an audience sprawling across a desert field: Beyoncé's 2018 Coachella show was big. Yet it was little, too. One could spend the two hours of Netflix's new documentary Homecoming just taking in facial expressions—the furious widened eyes of the majorette who kicked things off, the stuck-out tongue of a male drummer gyrating low to the ground, the knowing wink of Destiny's Child's Kelly Rowland. Beyoncé gives supermodel smolder, and glistening pageant grins, and kiddy giggles. Individuals in the crowd perform the Wile E. Coyote jaw drop, or they just cry.
Macro, micro, personal, political: Beyoncé always works on many levels, achieving the kind of complexity one might call "effortless" if she didn't go out of her way to show how much sweat it took. Last year's Coachella set wowed the festivalgoers and fans live-streaming it online, but the full footage hasn't been available officially until now. Released today, Homecoming cuts together the two weekends of performance—yellow-costumed for the first and fuchsia for the second—with a multiplicity of camera angles and filters. As importantly, it zaps from the stage to the prep, which took eight months of intensive labor. You're seeing the magic trick, and you're seeing how it was done.
It's an amazing trick, still. In a voice-over, Beyoncé says she tried to make the show as "graphic" as it could be, which would seem to refer to bold shapes, bright colors, and other elements of clean, militant bombast. But she also talked about fussing over mini details, and now the world can rewind and scrutinize them as well. Someone's seen stitching tiny jewels in a constellation pattern to the top of a beret. Beyoncé, fatigued post-pregnancy, struggles to learn intricate hand choreography. She says she personally picked each dancer, wanting to showcase "different characters" in the ensemble: unique faces, unalike body shapes, personal ways of moving.
This was smart stagecraft, hypnotizing spectators with mass movement and surprising them with divergence. It also served a deeper purpose. Beychella, as the event was nicknamed, celebrated historically black colleges and universities, which is to say it was an outpouring of pride in black traditions and excellence. Beyoncé played teacher, and her teaching text was the body. "It was important to me that everyone who had never seen themselves represented felt like they were on that stage with us," she says in the film. "Black women often feel underestimated. I wanted us to be proud of not only the show, but the process … I wanted everyone to feel thankful for their curves, their sass, their honesty—thankful for their freedom."
Motivation such as this has long been her mission, expressed in what appears to be her favorite kind of choreography: the formation. Pop stars and marching bands both, of course, routinely order human beings into synchronized onenesses. But in Beyoncé's case, a shiver of excitement often comes from slight difference. For the performance of "Partition" at Coachella, she sat at the bottom of her bleachers, with a single-file line of women extending up the pyramid behind her. As she opened her legs, they opened their legs. But they did so microseconds behind, for a waterfalling effect. It was like a hall of mirrors, but with each reflection her own person, with her own agency.
Some of the most blazing moments, in fact, came when Beyoncé surrendered or shared the spotlight. Ligament-twisting ballerinas, the fluid-and-robotic breakdancers known as Les Twins, Francesca Simone's heavy-metal shredding, Solange jerking and high-kicking: The excellence was diverse, and viral stars are already emerging from the film (hello, Bugaboo Rocket!). Homecoming spends a little time with a few team members' personal stories but puts more focus on simply watching their talents at work. Beyoncé's voice-over makes clear that she's as amazed as the viewer must be: "The things that these young people can do with their bodies, and the music they can play, and the drumrolls, and the haircuts, and the bodies … It's just not right! It's just so much damn swag."
The soundtrack to this teeming human pageant was inclusive, too, going beyond the star's oeuvre to a wider black canon, including the rap classic O. T. Genasis's "Everybody Mad," the cherished "Lift Every Voice and Sing," and Nina Simone's anguished take on "Lilac Wine." But Beyoncé's own music wasn't lost. As cuts from across her catalog were reanimated with new acoustic vibrancy—bass became brass, drum machines rendered back into drums—so too were their meanings. The portable empowerment messages of "Flawless" and "Feeling Myself," the smitten ecstasy of "Drunk in Love" and "Deja Vu," and the marital drama of "I Care" and "Don't Hurt Yourself" all came through. Over the years, she's sold the idea that these are songs about an actual woman with an actual husband who just happens to be actually famous. But on this stage, Beyoncé cheered how they'd become everyone's songs.
She's released the Coachella set as a live album, and it's a thunderous, welcome addition to her catalog. It's not its fullest self, though, without the images, which gratifyingly are no longer confined to bootleg clips. But the Homecoming movie's combo of well-edited stage spectacle and behind-the-scenes segments—intimate, hard-fought, occasionally tense, politically explicit, personally specific segments—make it a career-defining document. Like Beyoncé's great visual albums, it's about obsession, created by obsession, and sure to inspire obsession. Like all masterpieces, it's almost angering, because so little else compares to it. "If my country ass can do it," Beyoncé says at one point when talking about her desire to inspire others, "they can do it." If only!