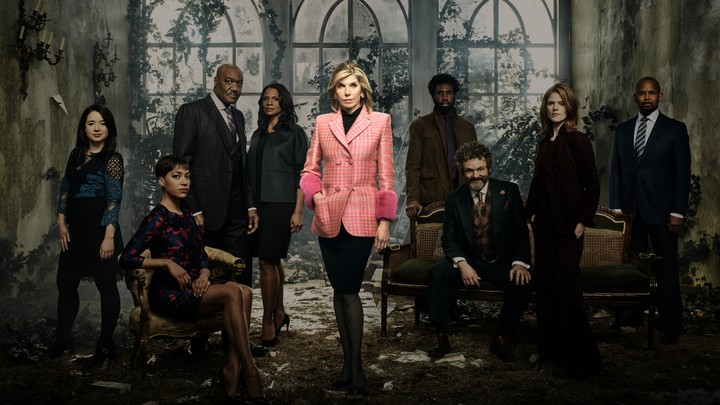 The February 2017 series premiere of The Good Fight, the spin-off of CBS's Emmy-winning legal drama The Good Wife, was meant to usher in a season of triumph for both its characters and the country.

Set to arrive on the heels of what left-leaning pundits assumed would be a historic 2016 presidential election, The Good Fight would follow the resolutely liberal Diane Lockhart (Christine Baranski), one of the name partners at the law firm where The Good Wife's Alicia Florrick (Julianna Margulies) had first found her footing after her husband's political scandal. As the new show's protagonist, Diane would be self-assured, glamorous, and confident in the weight of her accomplishments. She would stand in front of her male co-workers in her iconic statement jewelry and tell them her retirement was deliciously inevitable: Why continue to practice law now that there were no more glass ceilings?

There was, of course, one minor hiccup: Three months before The Good Fight premiered, Hillary Rodham Clinton did not win the 2016 presidential election. As polling results began to roll in, the show's cast and crew realized that their show about Diane Lockhart's post-Hillary world would need to account for a seismic culture shift. "It was uncanny—that the beginning of The Good Fight became more about this sea change that we psychically and spiritually and politically experienced as a country," Baranski said as we sat in the courtroom on the show's set in Brooklyn recently. "It was as though we were starting again as women, or we were swept back by something we weren't anticipating. So it was Season 1, and the day after the inauguration, the women on the show got on buses to Washington [for the Women's March], and I remember saying to my friend, 'Can you believe we're still marching? For reproductive rights?'"
That sense of incredulousness pervades the show, which quickly embraced the seeming ridiculousness of Trump's win—and the installation to the White House of a man who openly derides women and has been accused of sexual assault by several—as a staple of its narrative tension. The Season 1 premiere found the lawyer reacting with shock and horror to footage of Trump's inauguration. She is visibly devastated, unquestionably angry. But then, right after Trump's solemn swearing-in, Diane shuts off her television. She drops the remote and walks offscreen, a small gesture of defiance. It's a bold start for a pilot, but it's also the kind of scene that neatly encapsulates The Good Fight's approach to the absurdity of the current political climate: leaning way, way in. (Fittingly, the episode is titled "Inauguration.")
For the co-creators Robert and Michelle King, the decision to embrace Diane's frustration with Trump's election, and to follow that simmering fury throughout various corners of her life, was a natural extension of their own political anxieties. "With the Trump win, we kind of found an emotional rationale for doing the show," Robert King said when I spoke to the pair on the phone recently. "As Michelle often says, the politics of our characters tend to be very liberal because they're working as lawyers in Chicago, and so a lot of it was trying to honor how they would react. But it also was helpful because I think Michelle and I were both having to deal with what felt like was off about the country, that there was a loss of guardrails.

"There are day-to-day repercussions of that, and it also seemed to be a little can't stop talking about it," he continued. "So to kinda make that Diane's problem too was exciting, 'cause it was a way of working through our own problems."

The election also made for a new kind of creative challenge for the veteran showrunners, who led The Good Wife through its seven critically acclaimed seasons. It caused a rupture in how left-leaning television shows conveyed the ideological underpinnings of their characters. The Good Fight was no exception. Trump's win "turned this into a very different show than the one we thought we were gonna be making," Michelle King said. "And there's something exciting about that—suddenly you're working without a net."
Whereas some shows have tried to assuage the fear that modern politics stokes in viewers, The Good Fight takes great care to reflect it. Its characters' conflicts mirror the surrealist tone of the world around them. By actively incorporating the chaos of the political sphere into The Good Fight, the Kings have created a show that doesn't attempt to address grotesque realities with aspirational politesse. The pair also avoids the opposite trap: forsaking aesthetic and narrative considerations in favor of heavy-handed social commentary. With its consistent focus on character development and its willingness to interrogate the moral compasses of all its leads, The Good Fight is a far more thoughtful and compelling series than nearly any other television show that has flirted with #Resistance story lines.

The show, which will premiere its third season on the proprietary CBS All Access platform on Thursday, grounds its political analysis in Diane's ever more frantic reactions to the changing world around her. Where a Hillary-era Diane might have been most concerned about her own professional legacy, the Trump-era Diane weighs the events of her own life against much larger social dynamics. She is perennially plugged in. "Diane, of all the characters, I would think, would be the most addicted to cable news, being the liberal feminist. In Season 1 … Trump had just been elected; the presidency hadn't quite taken hold enough," Baranski said. "By Season 2, it became a show about trying to process this new reality slash unreality that is the Trump era, no matter what your politics. We are living in a truly strange, mind-bending age.

"I love that the Kings just chose to write her as a woman who was always—for the seven or eight years we saw her on The Good Wife, we saw her be a sane, centered woman who prided herself on a kind of liberal sensibility but moral authority, willing to try to see the other side," she continued. "And … [to] watch that person become unhinged [in Season 2], it's like when the sanest person in the room loses it, you know, Oh my God."

But even as Diane struggles to stay afloat amid the changing political tide, The Good Fight never paints her as hysterical or overly dramatic; instead, the show presents her anxieties as natural responses to the dizzying world around her. The second season, for example, began with a series of targeted killings of lawyers, a spate of violence that rocks Diane partly because of how she lost her former law partner Will Gardner (Josh Charles) during The Good Wife's run. (It also eerily recalls the recent uptick in violence against journalists.) By the season's end, Diane has been rattled by several shootings of lawyers, including one of her colleagues. She's been contacted by a student from Russia who claims to fear deportation because she was on the so-called pee tape. Diane grows weary.
As she gradually lost her composure, Diane elected to micro-dose on psilocybin, a naturally occurring hallucinogen. The show resisted the impulse to demonize substance usage (or to explicitly condone it), instead offering Diane's micro-dosing and the attendant consequences as one part of a larger look at her attempts to cope with the new administration and the hostility its policies and rhetoric engender.

Though her own coping methods skew more benign, Baranski noted that she feels a growing kinship with Diane, because "Diane and Christine are moving on a parallel rope on history." Baranski is particularly energized by her character's prominence in the series in light of movements to address gender-based discrimination and violence. "The Diane Lockhart moment has come into the culture. It's time for women—women are saying, 'No, we've had enough,'" she said. "And you're seeing women of all ages, from their late 20s and 30s and certainly women in their 50s and 60s, who've said, 'Actually, no. I've been around, I have an education, and I've raised a family. I've held things together. I have the experience and wisdom. It's time for us to be in the center of the room.'

"It wasn't planned that way, but I feel like I moved from a supporting to a lead player metaphorically as well as professionally."

The two also have more tangible similarities: Like Diane, the 66-year-old actor, who also characterizes herself as a liberal feminist, finds herself unable to look away from political news now. The ritual has become a core part of her preparation process and an unlikely balm. "Like Diane, I was never a morning-television person. Now I'm afraid, after listening to a little bit of Bach with my coffee, we're on to Joe and Mika [of Morning Joe], and I watch them till I have to get in the van for work. And I have a television in my dressing room," Baranski said. "I've often been in my dressing room and watched breaking news and then come down and played scenes where I get to channel the rage or the confusion. And then when I go home, it's time for Chris Hayes and Rachel [Maddow]."
Though the Trump administration remains a consistent target of Diane's ire, some of The Good Fight's most satisfying conflicts emerge not just across party lines, but also within progressive circles, where assumptions of shared ideology can lead to dangerous dogmatic shortcuts. The office where Diane lands after the financial chaos that occurs in the show's pilot is a historically African American law firm, an environment that routinely challenges the white lawyer's self-identification as a so-called good liberal. The firm also introduces a stellar supporting cast to viewers, and complicates Diane's perspective in the process.
One of the firm's partners, the magnetic and deeply principled Liz Reddick-Lawrence (Audra McDonald), regularly dispels Diane's delusions about her own progressivism. Their relationship is buoyed by mutual respect, but it's not uncomplicated. The friendship that slowly develops between them, in which the two become what Baranski calls "co-conspirators" instead of adversaries, is a fascinating snapshot of the fissures that can exist between liberal white women and the black women with whom they assume solidarity. Speaking about an upcoming episode that finds the characters discussing what lengths they would go to in order to win an election, Robert King noted, "Diane is kind of the liberal heart who believes everybody must have goodness in their heart, … and [that] progressives would never hack an election. And Liz is telling her, 'You and I have different histories here. The African American vote is being crushed in many states, so you are speaking from this place of entitlement.'"
The face-offs between the two characters are scintillating snapshots of star power: Both Baranski and McDonald are Tony winners, and their capacity for delivering heated, complex dialogue is tremendous. For McDonald, playing opposite Baranski was an especially thrilling prospect. "Some days it feels a little bit like Batman and Robin, or Electra Woman and Dyna Girl—I guess that ages me," McDonald said with a laugh when we spoke on the phone recently.

"[Diane and Liz] don't pussyfoot around each other at all. If they need to get in each other's faces, they do. They do. It's a powerful relationship," she added later. "There's certain things that Diane just couldn't—wouldn't be able to conceive because it's just not her cultural experience, and Liz has had to step in and educate her, which is something that I think is in the zeitgeist right now as we're dealing with what feels like an uptick in racism throughout the country."
Naturally, the political climate also caused rifts in Diane's marriage to the conservative-leaning ballistics expert Kurt McVeigh (Gary Cole), and The Good Fight teases out the intimate effects of social turmoil. Even in these tense moments, though, the show makes room for necessary comic relief: "We have one scene this year with McVeigh having to write a speech for the Trump administration … And he can't do it because he doesn't seem to have that kind of lying gene in his nature. And it's not about Trump; it's just that he doesn't do that," Robert King noted. "Diane comes home and sees these lines written on a legal pad, and she actually first thinks he's writing a valentine to her 'cause it's all very much about things that he loves."
The Season 3 premiere finds Diane regaining some of her trademark composure, but she remains hyper-connected to the nascent anti-Trump movements in her circles. She joins a shadowy women's group, spurred into action by what she sees as the lack of urgency in some liberal spaces. This provides some of the show's #Resistance-era soul-searching. Or, as Robert King phrased the guiding question of the upcoming season: "If you were to fight and you were to use the same Machiavellian methods, what are the difficulties of that, and what are the ups and downs of that?"

For Baranski, The Good Fight's incisive focus on a Trumpian world has been both an overwhelming mandate and a therapeutic outlet for her own frustrations. "It's been an extraordinary thing to draw so heavily from politics and the danger and confusion of the world," she said. "But normal would be nice, wouldn't it?"
We want to hear what you think about this article. Submit a letter to the editor or write to letters@theatlantic.com.
Hannah Giorgis
is a staff writer at
The Atlantic
, where she covers culture.