The Bombastic Matriarch of Schitt's Creek
With her eccentric vocabulary and fashion sense, Moira Rose (played by Catherine O'Hara) deploys her words and her wardrobe as a kind of plumage.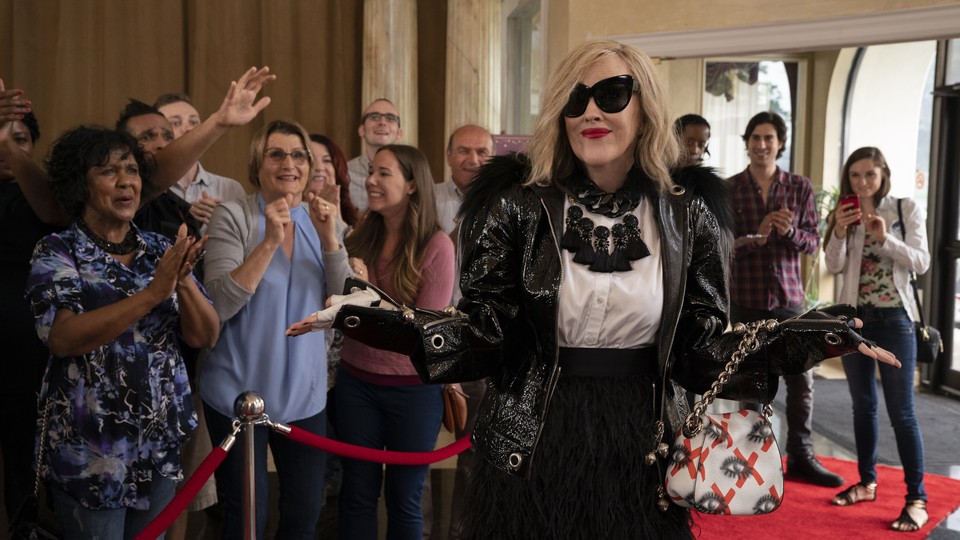 Shakespeare had it wrong: All the world's a script, and all the men and women merely players missing opportunities to zhuzh up their dialogue. At least, that's what he might've meant if he'd had the ear for chin-wagging that the actor and matriarch Moira Rose (played by Catherine O'Hara) regularly displays on the Canadian series Schitt's Creek. It's not often that a modern-day sitcom entwines a character's speech with sesquipedalian terms like jabberwocky, callipygian, and prestidigitator. Yet Moira's vocabulary is so highbrow, it's practically vertiginous.
O'Hara's penchant for character comedy has found form in an array of personalities, taking shape through affectations like Delia's screeching snobbery in Tim Burton's 1988 film Beetlejuice or Cookie's wobbled walk in the 2000 comedy Best in Show. In O'Hara's latest role, Moira's absurdity comes across visually and verbally. She uses her words in tandem with her wardrobe, employing both as a kind of plumage. Whether it's her diction or her elocution—a throwback to the famed transatlantic accent that actresses like Katharine Hepburn, Barbara Stanwyck, and Irene Dunne perfected—it all folds into her over-the-top self-presentation. "[O'Hara is] really brilliant when it comes to understanding the minutiae of a character and really squeezing every last laugh," the show's co-creator Dan Levy told Vulture.
Levy and his father, the comedian Eugene Levy, created and star in Schitt's Creek, which is set to end its fifth and current season in early April. (The show found a wider audience after landing on Netflix, but airs Wednesdays in the U.S. on the channel Pop.) The series follows the formerly wealthy Rose family—the video magnate Johnny (Eugene Levy); his wife, Moira; and their two adult children, David (Dan Levy) and Alexis (Annie Murphy). After an errant business manager pilfers their fortune, the four retreat to the impishly named Canadian town that Johnny had purchased for David as a joke in 1991. It's the only asset the government allows the Roses to keep, so Johnny's prank becomes the family's salvation.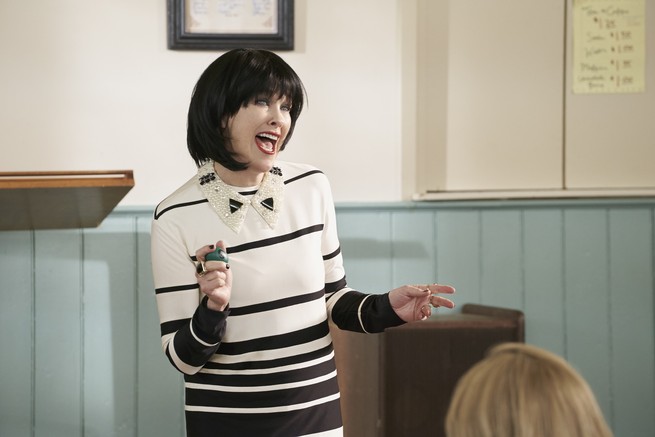 But while Johnny, David, and Alexis have built new lives over the show's five seasons, Moira resists the possibility of staying in Schitt's Creek for good. Despite winning a seat on the town council and performing in the local a cappella group, she views the family's current predicament as a temporary one. "Our futures lie outside this town," she tells her husband in a recent episode. "It feels these days like I'm the only one who hasn't veered off course." Her hilarious peacocking through garb and gab, therefore, functions as a means of self-preservation—a reminder of who she feels she really is.
The costume designer Debra Hanson dresses Moira in high-end monochromatic fashion, including pieces from Alexander McQueen and Isabel Marant. But rather than signaling cosmopolitanism, the outfits border on comical. Whether wearing a Shakespearean collar that calls to mind a dilophosaurus's cowl, or a waist-length brunette wig reminiscent of 1970s-era Cher, Moira uses her appearance to make a statement. Her attire is a way of distinguishing herself from the "little townie friends," in her words, that the family has made. Speaking with The New Yorker, O'Hara explained, "[Moira's wardrobe is] strong and it's armor, which is perfect when you've had your life ripped out from under you … and you're in this place that's like the town you got out of earlier in life."
Moira's diction, like her sartorial aesthetic, is yet another accoutrement. The Rose matriarch flaunts her words as if they were three-carat diamonds. When her husband makes the mistake of calling himself hip, she chastises, "In our children's eyes, we are the polar antonym of hip." When a local vintner asks her to be in a commercial promoting his fruit wine, she confesses, "His turns of phrase leave much to be desired, but the wine is potable."
Moira's verbal posturing is all the more hilarious given her professional background. The show takes great joy in revealing the family's former life in quick asides that highlight the disparity between their past and present. (Alexis's fraught international escapades are one such example.) Moira not only played a leading role on the popular fictional soap opera Sunrise Bay, but she also had renowned stints performing as Lady Macbeth during a "Shakespeare at Sea" week on a cruise, and hosting "the nontelevised portion of the People's Choice Awards." There's an aspirational sense to her fabulousness, as if it were a mask she's afraid to let slip.
As Schitt's Creek has progressed, Moira's vocabulary has evolved from erudite to eccentric. "Why must you be so constantly irksome?" she asks Alexis in the first season, after her daughter complains that Moira doesn't know her middle name. But by the fifth season, Moira has traded "irksome" for more expensive baubles. While encouraging the sardonic motel owner Stevie Budd (Emily Hampshire) to play Sally Bowles in the town production of Cabaret, Moira tells her, "Underneath the brambly tartan blousant is a chrysalis bursting with potential." Moira doesn't wait for a director to call Action! to elevate a casual moment between the two of them. In treating her pronouncement like a performance, and her observation like scripted dialogue, Moira turns Stevie's preference for long-sleeved plaid shirts into something far more elegant.
"[The writers] have added a lot more vocabulary as we've gone on," O'Hara has said. "I have a couple of books that have arcane and archaic words that nobody's ever heard, and it's fun to play with my dialogue a bit and … accessorize with a few of those words." In the fifth season, Moira discovers a trove of old love letters another woman ostensibly wrote to John. When he blames her paranoia on a lack of sleep and encourages her to get some rest, she chides him, "Easier said than done, John, when your only husband is longing for his epistle-writing inamorata." Moira's word choice speaks to her character's deep desire for a glamorous life, but the fact that it falls within the lexicon of a sitcom is all the more amusing.
More than infuse her speech with the "arcane and archaic," Moira adopts an affectation that transforms monosyllabic and disyllabic words into something simultaneously lofty and ridiculous. The most famous has been baby, which she delivers with a French intonation mired in a transatlantic accent. In fact, Moira regularly adopts what The Atlantic's James Fallows called the "lah-dee-dah American diction" so popular in 1930s and '40s cinema. Actors of the time learned the accent, perfecting their enunciation of fast-paced and rhythmic dialogue. Parsing that very essence in the film Casablanca, Trey Taylor wrote for The Atlantic, "Staccato t's and accordion-stretched a's lend a musical flavor to [the actress Ingrid] Bergman's lilt."
In the world of Schitt's Creek, Moira doesn't need a movie script to shine—she comes up with her own gems. While filming the fictional "apocalyptic fantasy" feature The Crows Have Eyes III in Bosnia, she calls John, distraught that her first real shot at fame since landing in Schitt's Creek might be foiled by an incompetent filmmaker. "Our director appears to be on a kamikaze mission to sink this ship, and I refuse to be the goddess on its prow," she cries, delivering "goddess" with a galloping cadence and dipping into the vowel of "prow." As O'Hara told EW, "It's how people speak when they want to reinvent themselves over and over again." For Moira, every day is a reinvention of sorts, and she treats the details of her life as if they were the close-ups she's been waiting for.
Given the crude cheek of the show's title, Schitt's Creek has turned out to play with language in more cerebral ways than one might otherwise expect. Moira's antiquated parlance might seem out of place in the world of television comedy—and in her adopted hometown—but with O'Hara's magnificent character work finding full volume once again, it's a send-up for fans of wit and words alike.