A Change for Rotten Tomatoes Ahead of Captain Marvel
The review-aggregating site has stopped allowing users to rate unreleased movies. Will the decision be enough to stem bad-faith attacks on certain films?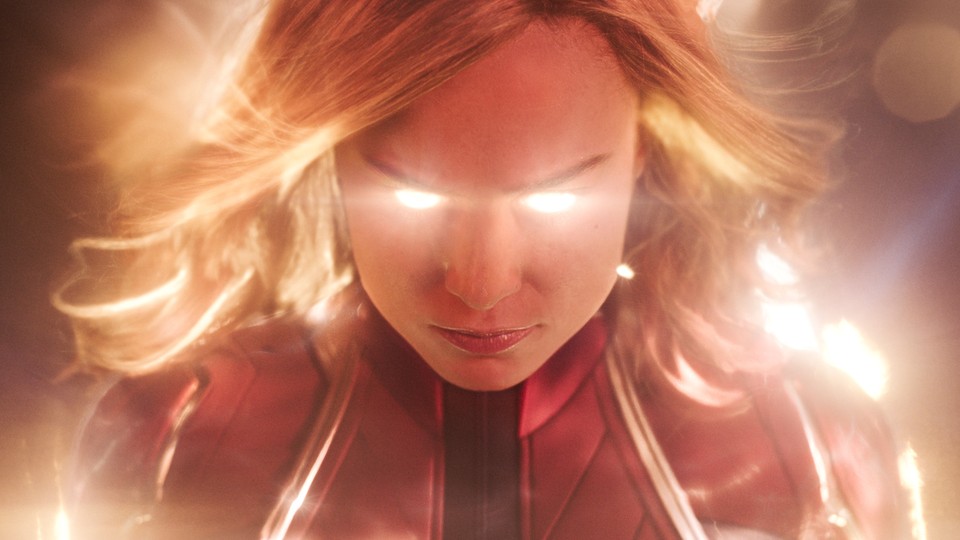 In the world of film criticism, there's one inviolable rule: You can't offer an opinion on a movie you haven't seen. But on Rotten Tomatoes, the review-aggregating website that wields serious influence over many theatergoers, that rule was broken all the time. Until last week, any site user could leave a review and rating for a film before its release date, something that would affect the movie's "audience score" (though not the official critical score that determines whether a film is labeled "fresh" or "rotten"). Then, on February 25, Rotten Tomatoes announced a series of changes, the most significant of which is that fans can only rate or review a movie once it's come out.
This might sound like the most logical sort of adjustment. Why would people even need the opportunity to weigh in on something that hasn't been screened to anyone except critics? But this is the internet in 2019, where any benign pop-culture topic is a potential powder keg for online discourse. Rotten Tomatoes' decision proved to be just that. The announcement came less than two weeks before the highly anticipated March 8 release of Captain Marvel—the first movie in the Marvel Cinematic Universe to center on a female superhero (played by Brie Larson). In response, an angry segment of superhero-movie fandom claimed that the site's changes amounted to censorship. But Rotten Tomatoes is just trying to stem the tide of organized campaigns against movies.
Captain Marvel hasn't hit theaters, yet it garnered a dismal audience score of 54 percent—far below the totals for other recent Marvel movies. The poor grade is the result of "review bombing," a practice that's also widespread in the highly charged world of video gaming. Different groups organize campaigns to drag down the audience rating for a film (or a game) in response to a particular controversy, sometimes for sexist or racist reasons. Many culture writers noted that Captain Marvel, in particular, was likely being targeted for featuring a female hero. It's become common to see online backlashes to female-led blockbusters—most notoriously with the 2016 iteration of Ghostbusters, but also with films such as Ocean's 8 and even projects that never exited development. In the case of Captain Marvel, many online commenters seemed upset by Larson's forthright remarks in interviews about how she hopes to increase diversity in the blockbuster world.
Review-bombing campaigns, which are run by a small (if loud) sliver of online fandom, don't factor much into the larger cultural conversation around a movie. These efforts don't even always affect a film's box-office performance. In 2017, Star Wars: The Last Jedi was pilloried by unhappy viewers who drove the movie's Rotten Tomatoes audience score to 44 percent; it was still the highest-grossing film of the year by more than $100 million. Certainly, there was legitimate debate among fans involving The Last Jedi's characters and story lines. But the audience score was often cited in news articles as evidence of the film's massive unpopularity—despite the fact that the metric is easily manipulated and not necessarily reflective of how most viewers felt about a movie.
The new Rotten Tomatoes changes, of course, apply to unreleased movies. In addition to restricting users' ability to leave ratings, the site will also disable comment functions before a film's release date. "Unfortunately, we have seen an uptick in non-constructive input, sometimes bordering on trolling, which we believe is a disservice to our general readership," Rotten Tomatoes said in a statement on the site. "Don't worry though, fans will still get to have their say: Once a movie is released, audiences can leave a user rating and comments as they always have." The site has also said that Captain Marvel wasn't the explicit reason for the change, which was reportedly part of a long-term strategy.
Captain Marvel wasn't the only film under attack ahead of the Rotten Tomatoes change. J. J. Abrams's Star Wars: Episode IX, which hasn't announced its official title yet and won't be out until December, was being barraged with negative comments on the site, perhaps owing to lingering resentment over the last Star Wars film. But the ire toward Captain Marvel appears especially heated. YouTube videos with hundreds of thousands of views have called the Rotten Tomatoes decision a "disgusting" act of "censorship" aimed at "protecting" the new film. Meanwhile, Larson has been the subject of all kinds of absurd complaints in tweets and YouTube comments, such as that she didn't smile enough in the film's trailer. "It's just how it goes," Larson told Yahoo. "This is part of why art that depicts the female experience is so important."
The Rotten Tomatoes change makes perfect sense, but it likely won't quash review-bombing campaigns, which can simply move to other online platforms such as YouTube, Reddit, and Twitter—at least until a movie is released. Then, site users, including those who haven't seen a film, will be able to rate and comment as usual. After all, the site doesn't require proof that users actually saw the movie in question, though perhaps it should. It could easily ask people to "check in" online when seeing a movie, or upload a ticket stub afterward as proof of viewing before commenting. That would confer more legitimacy on the site's overall audience rating, making it similar to the surveys conducted by CinemaScore. (Rotten Tomatoes has said it plans to eventually roll out "verified reviews from ticket purchasers.")
The site has made several strides in the past year to improve its rating experience; in 2018, it attempted to broaden and diversify its list of approved critics, who were largely white and male. But if it sincerely wants to convey with greater accuracy how most viewers feel about a film, more thorough changes are needed. Until then, the audience score will be open to exploitation by a narrow, outraged corner of the internet.