Reality Bites Captured Gen X With Perfect Irony
The 1994 studio film was written by a 20-something who mined her own life to tell the story of a generation that disdained "selling out."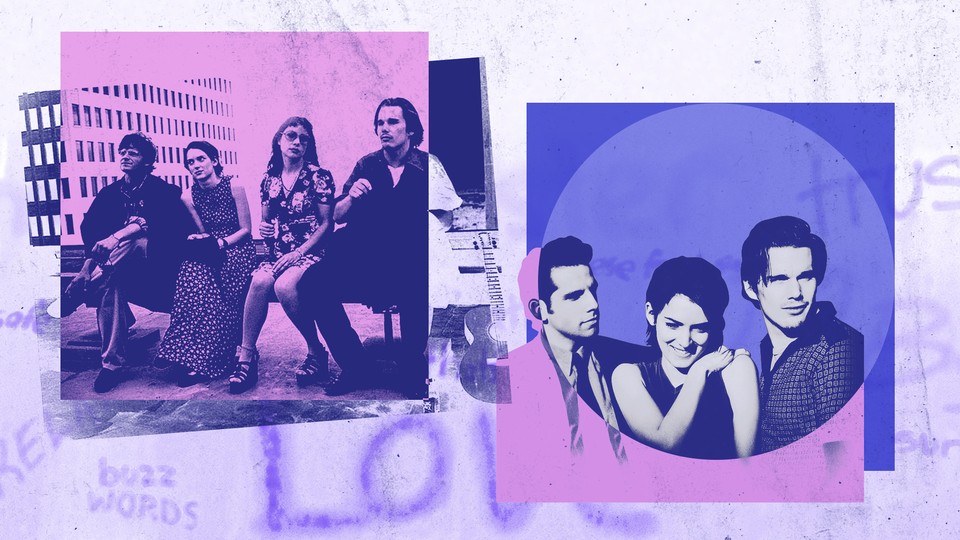 Updated on March 20, 2019.
If Reality Bites has a defining moment, it's got to be that scene at the gas station. Four 20-something friends with uncertain futures are bearing armfuls of chips, soda, and cigarettes as The Knack's "My Sharona" starts up on the radio; three of them immediately drop everything to bop along to the song. Cut to exterior: The trio dance in the glowing light of the Food Mart, their car abandoned at the pump to the left, the astral darkness reaching over it all. The tableau is reminiscent of an Edward Hopper painting, at once desolate and bright. But the movie's producer, Michael Shamberg, compared it to pop art. "The Ed Ruscha gas station where they're dancing under the stars," he told The New Yorker in 2012, "that's all Ben."
"Ben" is Ben Stiller, the director and co-star of Reality Bites, which marks its 25th anniversary this year with a reunion event at the Tribeca Film Festival. Just as the 1994 movie was the first feature-length film Stiller ever directed, it was the first that the writer Helen Childress had ever scripted. She drew from her own life to create the story of Lelaina Pierce, a disaffected college grad (played by Hollywood's grunge icon, Winona Ryder), who is herself producing a documentary about her equally disaffected friends. As if that weren't work enough, Lelaina is also attempting to choose between two men who represent her divergent prospects: to sell out or not to sell out. That particular quandary was styled as a hallmark of Generation X, and Reality Bites was perhaps the most polished of a bunch of mainstream attempts to portray the ambivalent cohort. "This is the movie that has been both praised as the last word on X-ers and damned as Hollywood's slickest effort yet to exploit them," Frank Rich of The New York Times declared upon the film's release.
Define irony: It's when you try to sell a Hollywood movie to a DIY generation. "There was nothing we could do," Childress told me when we spoke recently. "It was going to be a studio film." And while Lelaina struggles with the idea of selling out, Childress was so excited that TriStar had hired her to write a movie based on her own life that she produced the first draft in about six weeks. But she isn't always remembered as the woman behind the film—Childress hadn't even heard about the Tribeca reunion when I mentioned it to her (after this piece came out, the festival added her to the roster)—and she knows it.
Take the gas-station scene, which Shamberg credited entirely to Stiller. Childress sent me a snapshot of the script to show that she had written it exactly as it was filmed: EXT. GAS STATION—FOOD MART … They are seen THROUGH THE WINDOWS, everyone except Troy dancing around the food mart as stars pepper the night sky above … FADE OUT. "I've heard a lot of different people get and give credit for that shot but it was written in the script," she wrote via email. "Not trying to grab credit for myself, I just like to point out that women can have a 'visual' and cinematic sensibility, which we seldom get our due for." In an email sent after this story was published, Shamberg admitted that he had forgotten Childress staged the scene in her script. "[So] she deserves credit for guiding Ben's direction," he wrote. "I think the reason that I mistakenly gave Ben all the credit is that he was determined to give his feature-film directorial [debut] a strong visual style."
Here's another definition of irony: It's when the woman who writes the story of her life feels she has to prove that the story is hers.
---
The term Generation X hadn't entered the cultural lexicon when Reality Bites was conceived. It was 1990, and Douglas Coupland had yet to publish the novel that popularized the term, though in July a Time cover story titled "Twentysomething" dubbed Childress's generation "the baby busters," for how few they were. "Money is still important as an indicator of career performance, but crass materialism is on the wane," the article stated, citing the effects of "a depressed Wall Street and slack economy." That year, Richard Linklater became arguably the first director to commit Gen X to celluloid with Slacker, a $23,000 meditation on aimless youth in downtown Austin, Texas. Though the Sundance Film Festival favorite helped launch the indie-film movement of the '90s, Michael Shamberg wanted to commit this noncommittal generation to studio format. And he did—for 500 times Slacker's budget.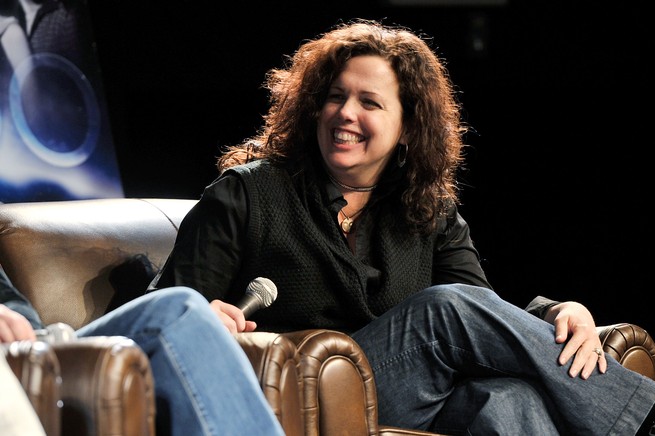 Twenty-year-old Helen Childress's insight was essential to the plot. In 1990, she was a student at the University of Southern California when a theatrical performance of one of her scripts secured her an agent, who sent it to Shamberg. "Her writing was extraordinarily good for her age," the producer recalled in a 2014 oral history of Reality Bites. "When she started talking about herself and her friends and what they were doing, that gave me the idea that she should write about herself, because nobody had done a movie about that generation." In the summer of 1990, the duo went to TriStar with their idea, which became known as "Untitled Baby Busters Project." Shamberg would produce; Childress, for $75,000, would write. "I had no point of reference," she said of what now sounds like a fairly low-ball fee. "I felt like I had just won a scratcher."
Reality Bites was "meta" before the word went mainstream. The film's heroine is a recent college grad who makes $400 a week while knocking back Diet Cokes and cigarettes, toiling on a documentary that is, in the character's words, "about people who are trying to find their own identity without having any real role models or heroes or anything." Childress, meanwhile, was a college student making roughly $500 a week while knocking back Diet Cokes and cigarettes, toiling on a film about the same subject.
When the executive producer Stacey Sher joined the production, she urged Childress to go even more autobiographical. "It's embarrassing to watch now, to be honest with you, just because it feels like my diary's being read out loud," Childress said. Like Lelaina, the writer came from a family of divorce. Childress had also known a guy named Troy Dyer, whose character in the film, played by Ethan Hawke, moonlights as a musician while competing for Lelaina's affections with an uptight exec played by Stiller. (The real Dyer, who aligned more with Stiller's character, ended up suing over the use of his name in the film; the suit was later settled.) Childress also had a friend named Sammy—the name of the closeted gay character played by Steve Zahn—who once said, "Evian is naive spelled backwards." In the finished film, the observation ends up in the mouth of Vickie Miner, the deadpan Gap manager played by Janeane Garofalo.
The original script boasted a lot of characters with a lot of stories, but it didn't stay that way. "I felt like I couldn't really bring all those stories together, couldn't really tell them all fully," Stiller said in 1994, "so I just wanted to make it more about Lelaina and her relationship with Troy." The uptight exec evolved into Michael Grates, who inadvertently sells out Lelaina's film to his MTV-style company, In Your Face. "When [Childress and I] sat down to talk about it, I came from the place of wanting to find my truth in that world," Stiller wrote via email after this article was published. "I knew I wasn't her or them and I wanted to know why and how I could co-exist and justify my own self. And saw Michael as a way into that for me as a character and filmmaker ... I felt his point of view, which was similar to (though not of course totally) mine, was important to portray."
Like his character, Stiller was Gen X, but he didn't have Boomer parents; his mother and father were part of the Silent Generation, and more important, they were in showbiz. "He grew up in that world," Childress explained. Stiller thus arguably occupied a rarefied space between the ambitions of Hollywood and the existential philosophies of his peers. ("It helped me as an actor and director to feel somewhat outside their world," he explained in an email). Childress saw Reality Bites as "kind of a microcosm of that outside tension." As the director, she said, Stiller had to balance the darker aspects of the characters' daily lives with the glossy imperatives of a mainstream rom-com.
That the studio behind Jurassic Park eventually picked up Reality Bites only added to the paradox. "It's a strange thing because it was a studio movie," Stiller said at Sundance, "about ideas of commodification and dissent or whatever, and the idea that it was a Universal movie that was really sort of independent-minded was something that we struggled with." On top of a soundtrack that included U2, World Party, and Lisa Loeb, Reality Bites featured "ironic" product placement (for McDonald's, Gap, Domino's), which popped up between catchy one-liners ("Hello. You've reached the winter of our discontent"). These snarky asides, surrounding a central romance, formed an ad for a generation that appeared to prefer, in the end, to be overlooked.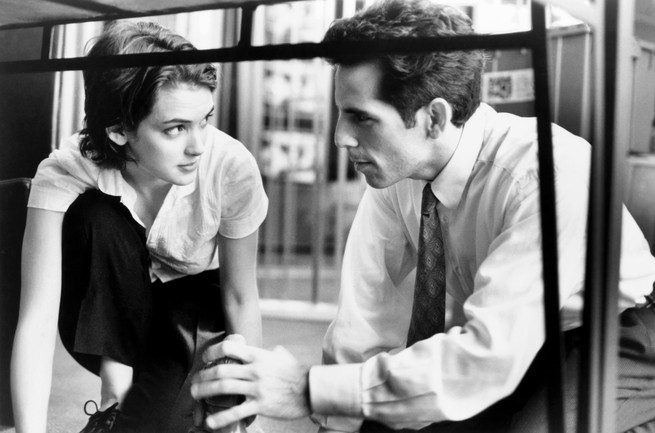 Reality Bites opened fifth at the box office. At best, critics considered it a low-stakes distraction—"intentionally commercial and breezily entertaining," said The New York Times. At worst, it was a mess of "clichés and conventions," Roger Ebert wrote. "I think the movie was rejected in a way by the very people it was trying to appeal to," Childress admitted, but the studio didn't seem particularly pleased either. She recalled hearing that a Universal executive said, in a meeting after opening weekend, "We're not in the business of making movies that open for $5 million." But the film's major players—Ryder, Stiller, Shamberg, and Sher—stayed in the business anyway. It was Childress who didn't have another writing credit for 22 years. Like an ouroboros, the story created and informed by the writer's own experience suddenly flipped back on itself, Childress's life now reflecting the story rather than the other way around.
---
Despite the middling reviews, there's a reason Reality Bites hangs around: The film embodies both the potential of its original story and the failure to fully live up to it. This tension is a recurring Gen-X theme, one that resides in the clash between the at times opposing sensibilities of the film's writer and its director. Yet in the odd moments when Childress's and Stiller's approaches do converge, Reality Bites gestures toward something greater.
For example, late in the movie, Michael and Troy end up on an empty street outside a club after offering Lelaina two conflicting futures: remain a struggling artist with Troy by her side, or sell her documentary to In Your Face with Michael. There's no music, only the sound of the two men's voices and the city. Michael, referencing Troy's crude behavior in the club, compares him to Hamlet's Yorick: "They find his skull in a grave, and they go, 'Oh, I knew him, and he was funny.' And the guy, the court jester, dies all by himself."
Troy appears to prove Michael right by mocking him, but there's another layer to Hawke's performance in this scene. Troy makes the flippant remark, then, almost as an afterthought, says, in a lilting way, "Besides, everyone dies all by himself." Hawke then gives a sideways, almost defensive, glance, as if to say that even Troy—this man who holds nothing sacred—can have faith in this one thing. In response, Stiller as Michael, such a bumbling fool through the rest of the film, draws from a hidden store of calm to say, "If you really believe that, who are you looking for out here?"
Michael was born of both Stiller and Childress: The writer said the two spent "kind of a long time" at a hotel improvising the character's interactions with Lelaina, with Childress playing the latter role. In the scene outside the club, though Michael has, until that point, played Troy's opposite—in appearance, in manner, in ambition—the men suddenly find themselves in the same role: Both have been left behind by the woman they love. The question Michael asks Troy highlights this likeness; it implies not only that they want the same thing out of life, but also that they're equally unable to get it. The opposing Gen-X forces of Michael and Troy are finally united through the alliance of Stiller and Childress—a moment of synergy that looms over the 25 years of work they never made as a team. As of 2011, they were developing at least two films together for Fox, which never came to fruition. And a planned Reality Bites TV series for NBC announced a few years later wasn't completed either. "They felt it was too '90s," Childress said. (Shamberg, who helped develop the pilot with Sher, recalled that the script Childress wrote was "excellent.")
Stiller has made several movies since 1994. Childress has not, though she has written a number of them. "I have worked … consistently and constantly for 29 years," she declared, estimating her total output at about 40 screenplays. Most were paid assignments for studios, with more than half reaching a level where directors or talent was attached. Of the "handful" that Childress wrote on spec, half were sold or optioned. ("Most of them [feature] female protagonists," she said of her oeuvre. "In all sincerity, I think that was a problem.") The other project she worked on with Shamberg and Sher was a script for Paramount about a group of Manhattan women who met through an online mommy board. "[Childress's] writing was again crisp and insightful," Shamberg wrote. He told me that Childress's "writing was again crisp and insightful. It was ahead of its time and now would probably easily find a home as a TV series or streaming movie." Indeed, while the number of spec-script sales has plummeted since the mid-'90s, Childress said the odds for writers seem better in television. Earlier this year, for the first time since 1994, a movie she wrote was released: Lifetime's Escaping the Madhouse: The Nellie Bly Story.
With all those unproduced screenplays, Childress has asked herself whether she's "cursed." "She deserves much more credit as a screenwriter [in general]," Stiller wrote to me. But Childress doesn't want to sound disappointed. She emphasizes the privilege of writing for a living and the importance of finding fulfillment in the process. Plus, she regularly sees proof of her film's legacy on at least one front. "I'll see it on [a] CNN banner, or if I'm watching MSNBC—it'll be like, 'Reality Bites for Trump,'" Childress said.
By the way, the words don't mean what most people think they do. "Reality bites" wasn't meant to be "reality sucks," though it's usually defined that way. In the summer of 1992, ahead of the U.S. presidential election, Childress kept hearing references to "sound bites," which made her think of Lelaina's recorded vignettes of her friends—"little bites of reality," Childress calls them. Now the phrase is everywhere—and of course it's everywhere wrong, because that's the Gen-X plight: to be sold out. "There are so many things I would change," Childress said of Reality Bites. "But in a way, what's great is, I don't think that movie could have been written by a 30-year-old who knew better."