Patricia Arquette's Second Act
At 50, the Oscar, Emmy, and Golden Globe winner is getting some of the most exciting roles of her career.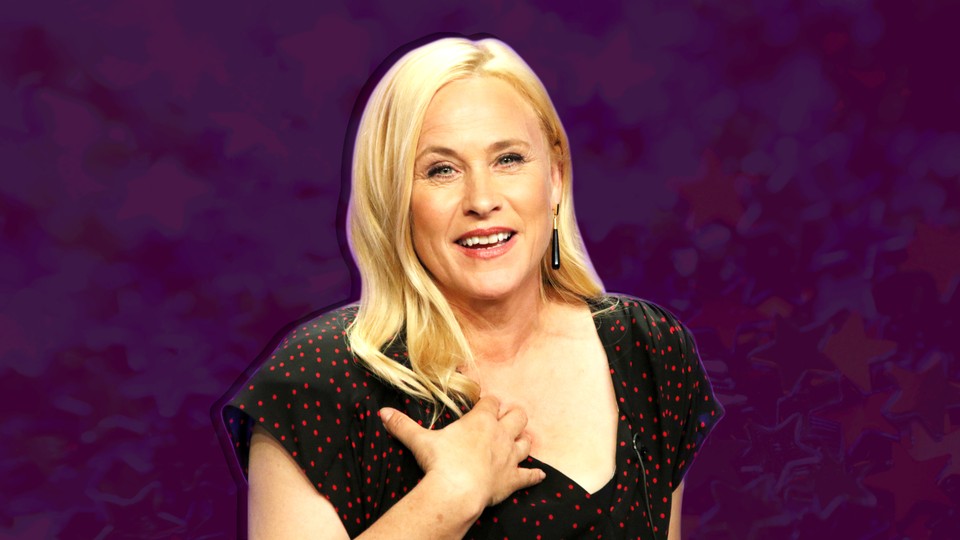 It's 4 o'clock in the afternoon in a hotel in Pasadena, and Patricia Arquette, wearing a full-length crimson dress and red velvet heels, is being chased down a hallway by Dr. Ruth Westheimer. It's not the most frenetic of action sequences—Dr. Ruth, a nonagenarian, moves slowly, but she pursues Arquette with the intention and focus of a bloodhound pursuing a scent. When she finally catches up to the actor—with the help of a publicist who bounds ahead—the two women are thrilled to encounter each other. They pose for a picture together, Arquette bending almost into a right angle to get closer to the diminutive German sex therapist. "You're going to be on my Twitter," Dr. Ruth tells her, with some pride. "You're going to be on mine," Arquette replies.
Arquette does indeed later tweet the photo, and Instagrams it too, with the hashtag #DrRuthArquette2020.
Whether or not she ends up as one half of a Westheimer presidential ticket, Arquette, at 50, is indisputably working through one of the most fascinating and gratifying moments of her career. In January she won a Golden Globe for her mewling, hypnotic portrayal of the prison worker Joyce "Tilly" Mitchell in Showtime's Escape at Dannemora, a seven-episode miniseries based on a 2015 prison break in upstate New York. Later this month, Arquette stars as the monstrously manipulative Dee Dee Blanchard in Hulu's The Act, a true-crime story based on a BuzzFeed feature about a mother and daughter locked in a poisonously codependent charade.
"I am a little exhausted of playing crazy women," Arquette had earlier confessed to a panel at a Television Critics Association presentation to promote The Act. In addition to the mental and emotional toll of getting inside two such ferociously complex characters, she'd transformed herself physically, gaining 40 pounds to play Tilly, and keeping much of it on for Dee Dee. Various people she was close to, Arquette told me later, people she loves, tried to convince her that the weight gain wasn't necessary, that she could wear a fat suit instead. They were worried about how deglamorizing herself might affect her career. But Tilly—who in the series is embroiled in relationships with both of the inmates whose escape she helps facilitate—had a number of sex scenes, and Arquette wanted them to be as authentic as possible.
"I want to have these conversations about women being sexual who don't have that certain Hollywood body type," she said when we talked a few hours after the panel, inadvertently quenching some of the glamour of her scarlet gown by hunching all the way over the table toward the audio recorder until she's almost supine. "If you look around you in the real world, does everyone look like that? Aren't we supposed to be telling the stories of human beings?"
This push-pull, between the industry wanting Arquette to be one thing—a luminously blond, almost feline movie star—and Arquette wanting, well, more, has defined the course of her career. For every concession she makes, there's a correction. In her first major role in 1987, while still a teenager, she played the wholesome ingenue drop-kicking Freddy Krueger in A Nightmare on Elm Street 3: Dream Warriors. A few years later came an Edith Wharton adaptation, Ethan Frome. She's been the exuberant, adorable call girl in True Romance. A grieving mother who somehow becomes a freedom fighter in Burma in Beyond Rangoon. Not one but two femme fatales in David Lynch's psychosexual neo-noir thriller, Lost Highway. In Charlie Kaufman's Human Nature, Arquette portrayed a woman whose hormonal disorder left her covered in thick body hair. In Little Nicky, she was the genial love interest to Adam Sandler's gurning, adolescent demon. In Richard Linklater's Boyhood, she did what for many actors would be unthinkable—she let audiences watch her visibly age over the course of 12 years, in a role for which she won her first Academy Award.
For the 30-plus years Arquette has been acting, critics haven't always known how to respond. A male journalist profiling her for The Independent in 2000 observed something "unpredictable and Lorena Bobbitty" within Arquette's performances, concluding that "the male characters who come into contact with her never seem to know whether they should snog her or jump on to a chair and scream." Roger Ebert, a palpable fan, seemed enamored of most everything she did, although he was frequently dubious about the material she was attached to. (Of the ill-fated Catholicism-meets-body-horror movie Stigmata, he wrote, "Arquette is vulnerable and touching in an impossible role.")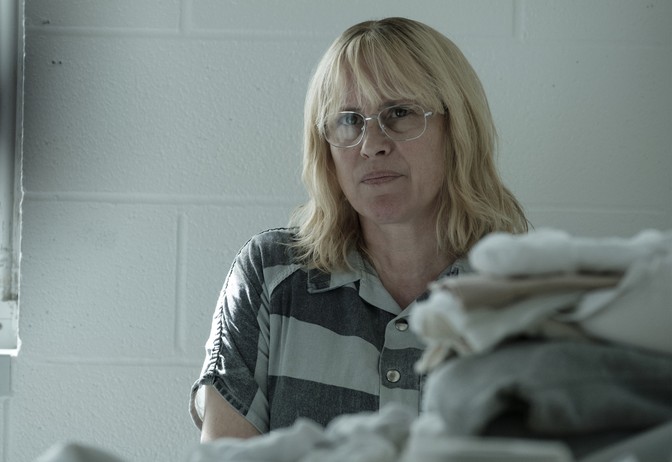 More recently, though, television's artistic renaissance—and its willingness to tackle complex stories about older women—has offered Arquette some truly challenging characters, roles in which she can physically and emotionally transform herself. She was nervous about playing Tilly, a frowsy, painfully drab character who defies sympathy. She didn't know whether people were ready to engage with characters like Tilly: ordinary-looking, middle-aged women having affairs, being depressed, and being lonely. "It's a vulnerable thing, to act," she said. "And there's a very narrow definition of what's acceptable." The performance she gave in Dannemora was arguably her most spectacular work to date. Tilly is a toothache of a character, inflamed and unpleasant and raw. But her need is so desperate and encompassing that it's hard to tear your gaze away.
Four years ago, shortly after winning her Oscar, taking advantage of the podium to plead for equal pay in Hollywood, and starring in CSI: Cyber, Arquette made a guest appearance in a sketch on Inside Amy Schumer. The conceit is that Schumer is jogging in the park when she runs into Julia Louis-Dreyfus, Tina Fey, and Arquette, who've gathered to help Louis-Dreyfus celebrate her "last fuckable day." Being in your 50s in Hollywood, the women tell Schumer, means being cast out into a kind of arctic, desireless hinterland, where your movie posters are pictures of kitchens and you're too old to realistically play Larry King's wife.
What's funny about watching that sketch now is how thoroughly its stars have since debunked the notion that aging as a woman in Hollywood means sacrificing influence, or artistic vision. Louis-Dreyfus has won six Emmys in a row for her role as Selina Meyer in HBO's Veep. Fey created a hit Netflix series and a Tony-nominated Broadway musical. And only three years since CSI: Cyber was canceled, Arquette has capitalized on TV's new wave of streaming series to remind everyone of her power.
---
The Act's Dee Dee, a woman with Munchausen syndrome by proxy, is a less flamboyantly difficult character than Tilly, but no less complicated. Virtually everything she says or does is a lie, so the lines Arquette delivers usually have no relationship to what her character actually means. Dee Dee's acts of kindness and caretaking are wounds in masquerade. Her love for her daughter, Gypsy Rose (played by Joey King), manifests itself entirely in Dee Dee creating damage that she can then repair. There are seemingly infinite layers to the way Arquette plays her—a woman who's constructed such an elaborate edifice of lies around herself that she can't get out. Her most transparent emotion in the series, which Arquette communicates with quietly darting eyes and sudden physical rigidity, is panic.
The series is based on the writer Michelle Dean's account of a shocking true-crime story (Dean also co-created the adaptation). The real Gypsy—after a lifetime of enduring agonizing medical procedures and being effectively kept prisoner by Dee Dee's insistence that she suffered from cancer, muscular dystrophy, cerebral palsy, epilepsy, asthma, and more—secretly plotted with her boyfriend to kill her mother. The murder is teased both in the title of Dean's feature and in the first scene of the show, so it doesn't seem unfair to spoil it. But in the series, even as brutally and violently as it's portrayed, the act of killing itself is less horrifying to watch than the ongoing abuse Dee Dee inflicts on her daughter, disguised, always, as love.
The Act's co-showrunner, Nick Antosca, told me that the team felt it was crucial to cast an actor who could find the humanity in Dee Dee, not just the darkness. Initially Antosca used the word likable, but immediately corrected himself. "It's not about being likable. It's about having depth. No one's going to like Dee Dee at the end of this show, but they're going to understand that she's a human being. And that every human being, no matter the monstrous things they do, needs love, needs connection."
This issue of likability, though, has been on Arquette's mind. Sometimes people ask her how she makes her characters likable, or whether she's worried that they won't come across that way. "I say, I don't want to worry about a woman being likable. I feel like everything in our lives is informed by that question. In our anger, are we likable? If your kid dies, and you wail, are you likable? I really am happy to throw that question, concern, whatever it is, into a Dumpster fire and just be free."
While shooting The Act, she said, she noticed that male directors would bring up the question of likability, while female directors wouldn't. She started laughing, with increasing force, at how nonsensical it seems. "I said, 'At the end of it, if you guys like Dee Dee there's something wrong with you.' [Giggling.] You can't get away from the fact that this woman has her daughter have surgeries! [Full-on guffawing.] Stop! It's almost absurd! [Wheezing through laughter, almost in tears.] I told them 19 times, 'Stop with that silly talk.' I really find it ironic."
She pulled it together, kind of, and brought it back to Tilly. "Then I told them, 'I just won all these awards for this lady no one likes! Leave me alone.'"
On set, Arquette forged a particular and profound bond with King that helped both actors get through their more grueling scenes. "After super intense scenes, a lot of the time we would both start laughing, because it's so emotional," King told me. "It takes everything out of you, and for it not to take that little last bit away, you've got to find some humor in it." Arquette is enormously protective of King, in an unmistakably maternal way. During the TCA panel, when King mentions an app she uses, Arquette jumps in and shakes her head. "Don't tell everyone! Don't print that," she says, motioning at the entire room. For The Act, King had to do nudity for the first time, and in those scenes, she said, even though Arquette wasn't in them, she took over, making sure monitors were turned off and the only people watching were the people who absolutely needed to be there.
"It was so amazing," King said. "Because I didn't know what to ask for, I didn't understand, and it was a big deal, and I was super nervous. And to know that she was in my corner and was fighting for me, it just felt so good."
Onscreen, the closeness between the two actors makes for powerful chemistry, the kind that only makes the subject matter in the series more disturbing. Right before she started shooting The Act, Arquette's youngest child left home, and she tried to use that energy—that feeling of worrying about her daughter and missing her—in her work, amplifying it to an extreme level. With Dee Dee, she said, "I don't think about it as sympathy or empathy. Just: How does she think? Once I understand how [the characters] think, it feels like the truth to me."
Up next, Arquette features in another project exploring the maternal imperative, the Netflix movie Otherhood. She describes it as a "comedy ... kind of a momedy," about three women with empty-nest syndrome who decide to go to New York together to reconnect with their adult sons. (The other mothers are played by Angela Bassett and Felicity Huffman; the latter's recent legal issues may or may not affect the movie's release.) "It was just really fun to be a part of," she said. "And it wasn't heavy. And no one dies." She's exhilarated by how much television's streaming wars have reinvigorated production in the entertainment industry: "The competition is for good content now and that only makes things better."
What really gratifies her, she said, more than awards, are the opportunities she's getting in this moment. She thinks of her career in different phases, different boxes, all confining in their own way, all encouraging her to limit herself. But now, at 50, a word she uses repeatedly to describe herself is liberated. "It's really kind of a shocking time in my career," Arquette said. "I didn't see it coming."