One Day at a Time Taught Its Fans How to Say Goodbye
The beloved Netflix sitcom understood loss as an inevitability. But the show's cancellation after three seasons is still difficult for many viewers to accept.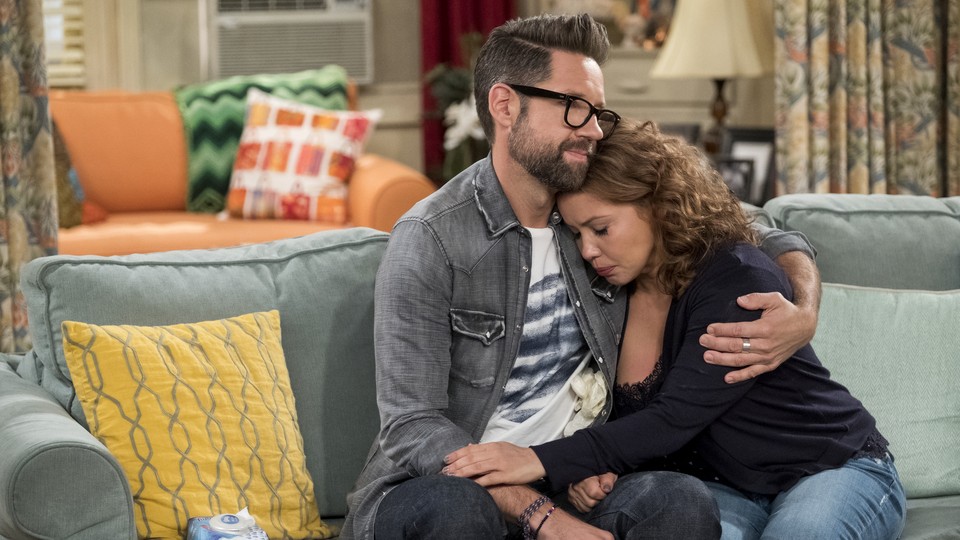 One Day at a Time, which was canceled by Netflix on Thursday after three seasons, was always preparing fans for its own ending. It isn't that the beloved sitcom wanted to end—far from it. Every year, the cast and creatives clawed their way to a renewal, spearheading impassioned Twitter campaigns to save the consistently on-the-bubble show. But on-screen, One Day at a Time understood loss as an inevitability, just as it understood that the sun would rise the next day. The hard fight to survive, and to do so vibrantly, was baked into the DNA of the series itself.
A remake of Norman Lear's classic 1970s sitcom, One Day at a Time centered on the Alvarez family, a Cuban American household led by a single mom, Penelope (played by Justina Machado). It was Penelope's live-in mother, Lydia (a splashy, scene-stealing Rita Moreno), who stared down the specter of death when she suffered a stroke at the end of the penultimate episode of Season 2. The gutting season finale brought her loved ones—Penelope; Penelope's kids, Elena (Isabella Gómez) and Alex (Marcel Ruiz); and the family friends Leslie (Stephen Tobolowsky) and Schneider (Todd Grinnell)—to her bedside, where they grappled with the awful certainty that one day they would have to say goodbye. "Not yet," Lydia declared—but eventually.
Following Lydia's stroke, Season 3 framed itself around the question of what comes after a life-changing event. Lydia resisted adjusting the habits that put her health at risk. Elena, whose father reacted poorly when she came out to him as a lesbian in the first season, struggled with her dad's attempts to make amends. Schneider, a recovering alcoholic, relapsed and despaired at the thought of starting over in his sobriety. One Day at a Time's final season at Netflix wound up being the one that most lived up to its title: Change, the show argued, is possible only in small steps taken daily. While Lydia was in the hospital, Schneider recalled a visit she paid him during one of his previous stints in rehab: "You told me, 'You eat this, you get some sleep, and tomorrow, you try again.'"
One Day at a Time was that kind of show: relentlessly hopeful not in spite of how hard life can be, but because of it. In Season 3, Lydia drafted what she called a "bouquet list," her spin on a bucket list. "It is an arrangement of all of the beautiful things you still want to do before you kick the bucket," she explained. The heartbeat of One Day at a Time was its spirited insistence that beauty can thrive alongside pain. The series blended multicam-sitcom laughs with a fearless willingness to tackle heavy social issues. It was entertaining for reasons beyond its cultural relevance, but it was relevant, and it gave voice to a number of demographics that are still underrepresented on television, including Latinx families, immigrants, single mothers, LGBTQ teens, and veterans dealing with PTSD.
Netflix understood why fans clung to the show, which only made the optics of the cancellation worse. The streaming service took the rare approach of using Twitter to announce the "very difficult decision" not to renew One Day at a Time for a fourth season. "We spent several weeks trying to find a way to make another season work," the thread reads, "but in the end simply not enough people watched to justify another season." Netflix is notoriously tight-lipped about program ratings, except when they're staggering, meaning the statement placed blame on the one factor in the cancellation that no one outside the company could really understand or accept. It was like passing the buck to a ghost.
But the idea that One Day at a Time's future was ever outside Netflix's control was an illusion. The cast, showrunners, and fans were left to push for the show's renewal on social media because Netflix had failed to give the throwback sitcom the same robust promotion it had given other buzzy original series, such as Stranger Things and 13 Reasons Why. Hot off an expensive Oscars campaign for Roma, the company has been touting itself as a platform for diverse voices, but that commitment feels hollow when one of its most inclusive shows was given so few opportunities to find an audience.
For many, Netflix's online eulogy for One Day at a Time was too little, too late. Addressing fans who felt "seen or represented" by the show, the company wrote, "Please don't take this as an indication your story is not important. The outpouring of love for this show is a firm reminder to us that we must continue finding ways to tell these stories." The use of "we" and "us" in such a corporate context is patronizing, drawing a line between the people in "these stories" and the people with the power to broadcast them. It grates precisely because Netflix seems to know exactly what reputational damage it needs to control but refuses to acknowledge playing any role in the problem. And, ultimately, noble mission statements don't speak as loudly as a $100 million deal to retain the rights to stream Friends.
As Vanity Fair's Sonia Saraiya pointed out on Twitter, Netflix's early brand as an original-content provider was defined by the revival of the cult favorite Arrested Development, framing the platform as a space where ratings matter less than the passion of a fan base. The streaming service has since stoked that reputation by reviving broadcast dramas such as Lucifer (from Fox) and Designated Survivor (from ABC). One Day at a Time's situation stings, in part, because it comes from a company that has identified itself as an ally to fans; the cancellation is a reminder that the entertainment business is fundamentally a business, everywhere.
The co-creators Mike Royce and Gloria Calderón Kellett are currently exploring potential new homes for One Day at a Time, so there's a chance the characters will live on somewhere else; the show allowed for that kind of hope. But regardless of its fate, the sitcom has already accomplished something special. In a pep talk, Schneider once urged an anxious Penelope, "Don't quit before the miracle happens." The team behind One Day at a Time isn't quitting, but the miracle has already happened.