Baseball's Best Player Deserves More Than $430 Million
Mike Trout just signed a record-breaking contract extension with the Los Angeles Angels. What he really needs is a team that can win championships.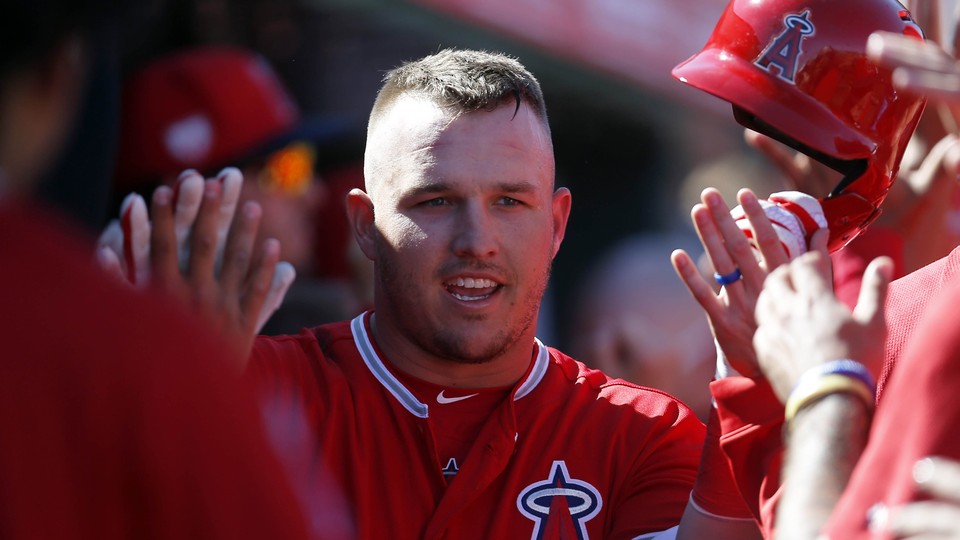 Tuesday morning, ESPN reported that Mike Trout—the Los Angeles Angels' star center fielder and, by almost unanimous estimation, the best player of his generation—was preparing to sign a 12-year, $430 million contract extension. The deal is the largest in the history of American sports; its official signing on Wednesday, with two years left on Trout's current contract, preemptively squashes an entire subgenre of drive-time-radio prognostication. Just weeks ago, the All-Star free agents Manny Machado and Bryce Harper changed teams and inked huge new deals of their own. But while Machado's and Harper's winters were festivals of promotion and public negotiation, Trout reached his record-setting terms with the same inconspicuous ease with which he compiles his record-setting seasons.
From the Angels' perspective, this is the rare big-money signing that carries almost zero risk. At 27, Trout has proved himself to be the most roundly talented and consistently successful player in the sport. He has the strength of a linebacker and the speed of a sprinter. His swing looks reflexive and seems immune to slumps. He steals bases and takes flight for catches near the outfield wall. His statistics—a career on-base percentage of .416 and slugging percentage of .573, with 224 doubles and 240 home runs—resolve into a picture of dominance. In four of the seven seasons since his rookie year, in 2012, Trout has led the American League in wins above replacement, and on two occasions he's been named the league's Most Valuable Player. Albert Pujols, Trout's Angels teammate and a three-time MVP, calls him "one of those players that come probably once every 50, 100 years in the game."
Trout is good enough to invert the usual conversation surrounding a megadeal. The question isn't whether he's worth the money; it's whether his team deserves to be the one paying it. The only gripe about Trout's career, to this point, is that the Angels have been unable to build a contender around him, reaching the postseason just once since 2012—a trip that ended in a divisional-round sweep in 2014. Now that they've secured his services for the duration of his prime, the baseball world waits to see what the Angels will do with him.
On the one hand, when Harper signed for $330 million earlier this month, analysts wondered if his up-and-down production matched the sum. In December 2000, when Alex Rodriguez joined the Texas Rangers for a then-preposterous $252 million, the organization struggled to pinpoint the combination of celebrity and talent that could make him worthy of the contract. An ESPN headline on Tuesday, on the other hand, asked whether Trout was a "$430M bargain." "Mike Trout might be worth a billion dollars over the next 12 years," Sam Miller wrote in the article that followed, citing Trout's projected wins above replacement and the patterns of inflation in the MLB market.
But baseball is unique in its ability to tamp the effects of its best players. Unlike the NBA's Kevin Durant or the NFL's Patrick Mahomes, Trout cannot choose to be at the center of the action at a game's crucial moment. The Angels, in assembling a roster to support Trout, have largely come up short. Pujols built a Hall of Fame–caliber career in St. Louis but has made only one All-Star team as an Angel, and his $240 million deal is now an example of how heavy spending can go wrong. Josh Hamilton, a former MVP for the Rangers, contributed expensive and lackluster L.A. seasons of his own in 2013 and 2014. Even the team's bright spots have been qualified. Shohei Ohtani, last year's two-way rookie phenom, underwent Tommy John surgery on his pitching arm in the fall and will work only as a batter when he returns this year. Despite Trout's efforts, the Angels have failed to even reach .500 in each of the past three seasons.
The gap between Trout's accomplishments as a player and his broader notoriety, brought on at least in part by his lack of appearances in big games, has in recent years become a sort of stand-in for MLB's larger PR problems. "MLB must grapple with an uncomfortable, perhaps unavoidable dilemma," The Washington Post's Adam Kilgore wrote in July in a piece lamenting Trout's Q score, which measures celebrities' familiarity. "Trout is the ultimate all-star, and yet he is not a star." Days later, the MLB commissioner, Rob Manfred, groused about the player's seeming disinterest in self-promotion. "Mike has made decisions on what he wants to do, doesn't want to do, how he wants to spend his free time or not spend his free time," Manfred said. "I think we could help him make his brand very big … But he has to make the decision to engage."
Possibly the simplest solution—and certainly the one most amenable to the evidently all-business Trout—would be for him to play for a championship hopeful. If the long haul of baseball's regular season doesn't captivate the country's sports audience the way it used to, the postseason still has star-making power; in recent Octobers, Houston's José Altuve and Boston's Mookie Betts have parlayed their considerable reputation among baseball diehards into broader admiration. When Harper signed with the Phillies and began recruiting Trout, a native of nearby New Jersey, to join him, the Angels complained to MLB about tampering, but some members of the league office surely delighted at the prospect in private. It would've marked the arrival of a scenario common in other sports but unimaginable, over the past half-dozen years, in baseball: the best player becoming the biggest story.
Wednesday's deal undoes that particular possibility and other dreamy ones: Trout in the Yankees' pinstripes, Trout in Dodger blue. Instead, for the foreseeable future, it'll be up to the Angels to give his career the stakes and attention it has thus far lacked. It's possible to discern the outline of a contending Angels team in the coming years, with Trout cracking homers, a healed Ohtani doing double duty, and a cadre of additions arriving knowing that they'll be joining the game's best player in the lineup. In the shorter term, though, the mind-blowing economics do little to change Trout's story. He's still the best, and baseball fans still wait for that to mean something more.